The Great 1952 Florida International League Pennant Race
This article was published in the Spring 2014 Baseball Research Journal.
South Florida is notoriously hot in the summer, but conditions heated up another notch in 1952 when the Miami Sun Sox and the Miami Beach Flamingos fought it out in one of the great pennant races of minor league baseball. The 1952 dash for the pennant involved two colorful managers: the contentious Johnny "Pepper" Martin of Miami Beach and former Brooklyn Dodger Max Macon of Miami. The Florida International League was headlined by many former and future major leaguers including Charles "Red" Barrett, Humberto "Chico" Fernandez, Miguel "Mike" Fornieles, Dick Gray, Jesse Levan, and Camilo Pascual. The 1952 season was notable because it played out against the backdrop of the integration of the league and declining attendance; the latter would cause the demise of the league less than two years later.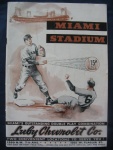 The FIL was born in 1946 at the dawn of the minor league "Golden Age" with six franchises: Havana, Lakeland, Miami, Miami Beach, Tampa, and West Palm Beach. Jumping from 12 leagues in 1945 to 43 the ensuing year, the growth of minor league baseball was spurred by a booming economy. Returning servicemen who had served in World War II found jobs at home, along with time and money to spend on entertainment like baseball. In this environment, the FIL opened for business as a league with "International" as its designation due to the inclusion of Havana, the first franchise in organized baseball outside continental North America. Accordingly, the FIL was the first league to use airplanes to transport its teams. Other cities were added and dropped over the years, but the aforementioned clubs were the core franchises of the league.1, 2
From 1946 to 1950, Havana dominated the FIL, winning the regular season crown five consecutive years. The Havana Cubans dominated the regular season championships, but the league was highly competitive and the Cuban team won only two league championship series (1947 and 1948). In 1946, the Tampa Smokers won the championship playoffs. They finished in third place in the first half of the split season and bounced back to take first place in the second half, edging Havana by 2 1?2 games.3 In 1947, Havana won 105 games, beating out Tampa, who won 104, and swept the Smokers in the championship. Tampa finally broke the Havana domination in 1951 by winning the regular season, but lost to St. Petersburg in the playoffs.
Initially, the league was designated as Class C, but many observers—including players—thought it should be a higher classification due to the inclusion of many Cuban players and former big leaguers. Rogers McKee, who played in the league for three seasons after the FIL received its Class B designation, stated, "In those years, I think the FIL was possibly the best 'B' league in the country. I also think the Havana teams could have been in Triple-A, and had winning records. Some of their pitchers would pitch in the FIL one week and the next week in Washington winning in the major leagues."4, 5
Consequently, the league moved to Class B for the 1949 season and for the remainder of the league's existence.
The FIL drew much attention for its former major league players and managers: Paul Waner (1946 Miami), Jimmie Foxx (1947 St. Petersburg), Tony Cuccinello (1947 Tampa), Lou Finney (1947–48 St. Petersburg, 1949 West Palm Beach), Ducky Medwick (1949 Miami Beach, 1952 Tampa), Travis Jackson (1949 Tampa), Pepper Martin (1949-1951 Miami, 1952 Miami Beach, 1953 Fort Lauderdale, 1954 Miami Beach/Miami), Wes Ferrell (1949 Tampa), Dolf Luque (1951 Havana), and Ben Chapman (1951 Tampa).6
Havana employed virtually all Cuban players, many who would be in the majors at one time or another including Luis Aloma, Sandalio "Sandy" Consuegra, Fermín "Mike" Guerra, Conrado "Connie" Marrero, Julio Moreno, Carlos Pascual, Gilberto Torres, Raul Sanchez and Jose "Tony" Zardon.7, 8, 9, 10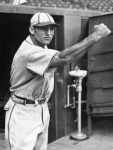 After the 1951 season, Pepper Martin moved from managing the Miami Sun Sox to take over as field boss of the crosstown rival Miami Beach Flamingos. The Flamingos had finished sixth in 1951. Miami, an affiliate of the Brooklyn Dodgers that had finished third in 1951, hired Max Macon as their manager.11
A full five years had passed since Jackie Robinson's debut with the Dodgers and in 1952 it was high time that the FIL followed suit with integration. Thus, the stage was set for the pennant race of 1952, the last great stand of the league, as well as many other minor leagues that were in decline by 1953. The FIL disbanded for good on July 26, 1954.12
LEADING UP TO THE SEASON
As charter members of the FIL, the Miami Sun Sox and Miami Beach Flamingos had developed arguably the most heated rivalry in the short history of the league. Their proximity fomented contentious feelings between the combatants. The fiery and competitive nature of Johnny Leonard Roosevelt "Pepper" Martin further magnified the emotions.
A mere 5 1?2 miles separated the two Miami clubs, yet by comparison, they were different as night and day. The Sun Sox played their home games at Miami Stadium. Built in 1949, on the corner of Northwest Tenth Avenue and Twenty-Third Street, it was considered to be the most state-of-the-art ballpark in the minor leagues. Built at a cost of $1.4 million (later reports stated closer to $2 million13) its most distinguishing feature was its one-of-a-kind overhanging steel cantilever roof. The overhang wrapped around and covered the infield portion of the grandstands, providing protection from the ever-present rains as well as shade from the oppressive South Florida sun.
The design required no steel support beams that would have blocked the view of the field. Other stadium amenities included a private lounge for the ballplayers and their wives, large dugouts with cushioned seats, tunnels leading to well-appointed locker rooms with steel lockers, an oversized press box with elevator access, individual rooms, some with showers for visiting dignitaries, and a lounge for patrons with a fully stocked bar.14, 15
Across Biscayne Bay to the east resided the Flamingos, who played in the "band box" known as Flamingo Park (sometimes referred to as "Flamingo Field"). The park, built in 1925, was located on the corner of North Fifteenth Street and Michigan Avenue near the now-popular South Beach area. With an estimated seating of around 3,000, it offered few of the creature comforts enjoyed by their neighbors to the west.16, 17
The other major contrast: most Flamingos games drew half or less of the attendance at Miami Stadium. Over the years, the team had failed in their efforts to lure fans across the bay and the Flamingos generally played "second fiddle" to their chief competitor.
Both clubs had enjoyed varying degrees of success during their six seasons in the league, although none had won a pennant. Miami participated in four playoff appearances (1947, 1949, 1950, and 1951) and garnered one championship in 1950, finishing the regular season in second place with a glossy 98–55 record during Pepper Martin's second year as their skipper.
The Sun Sox (77–61) dropped to third place in 1951, but again reached the finals and were swept by the St. Petersburg Saints in four games. The Flamingos experienced three winning seasons, along with four playoff appearances (1946, 1947, 1949 and 1950), but failed each time to get past the initial round. The only campaigns when Miami Beach finished ahead of Miami in the standings were in 1946 and 1947.18
With the Flamingos and Sun Sox approaching their seventh season, both clubs would go through significant changes on and off the field. The financially troubled Flamingos were near disbanding before a last minute intermediary stepped in to save the day. Paul D. Rust Jr.—a semi-retired businessman, with controlling interest in a Kansas City, Missouri, lumber company, and a self-proclaimed sportsman who enjoyed yachting and tennis—agreed to purchase the club and assume all of its debts. Consummation of the transfer of ownership came on January 12, 1952. The Flamingos secured another year as a member of the FIL. As part of the changeover, Rust shrewdly renewed the services of Joe Ryan as his General Manager and righthand man. Rust, an intelligent administrator, was keenly aware that Ryan was a good baseball man, had an eye for spotting talent, and a knack for producing winning results.19
One of Ryan's first tasks was to secure a manager. In a surprising move, the Flamingos announced ex-Sun Sox skipper Martin would take over the reins. Martin's firing the previous winter was accompanied by no reason from his employer, although his repeated confrontations with umpires and fans may have played a role in his demise.20
Two of Martin's incidents in particular stood out. In Havana on August 26, 1949, in the midst of the pennant race, the petulant Martin got into a heated exchange with umpire Clem Camia and grabbed him by the throat with both hands. Martin expressed to the press that he thought Camia was being unfair to his team. The game was forfeited to the Cubans and the former "Gas House Gang" leader was fined $100 and suspended for the remainder of the season.21, 22
In August of 1951, the FIL fined Martin again, this time for $25, for hopping a chain link fence during the seventh inning of game against Lakeland and punching a fan.23
Although Martin was none too popular with the men in blue, his likable nature, down-home charm, and ability to relate to the fans made him popular throughout the FIL.
To take Martin's place, the Sun Sox chose a less flamboyant personality in the fair-minded Max Macon. He would serve as player-manager. Macon, born on October 14, 1915, in Pensacola, Florida, began his major league career as a pitcher in 1938 with the St. Louis Cardinals where he was a teammate of Martin's. He later joined the Brooklyn Dodgers (1940, 1942, and 1943) where he had moderate success before re-inventing himself in 1944 as a first baseman (106 GP, .273 BA, 3 HR, 36 RBI) with the Boston Braves. Macon made a last one at-bat appearance in 1947 before concluding his big league career with a career mark of 17–19, a 4.24 ERA, and a .265 batting average.24
Humberto "Chico" Fernandez fondly remembered his manager and shared a few stories about the positive impact that Macon had on his career.
Oh yes, to me he was the best manager for me, because he used to be crazy about me... We came over here to Miami and nobody took me to eat or nothing. And I didn't know Miami and he showed me. He was in a restaurant and he saw me walking and asked me what happened. He said, 'Did you eat?' and I said, 'No.' He called a team meeting and he told all the Cubans that if they ever asked me if I ate, and if they didn't take care of me that they had a fine. Yeah, Max Macon was crazy about me.25
Coming into the season, the Sun Sox enjoyed the benefits of having ample young talent through their affiliation with the Brooklyn Dodgers, as well as abundant financial resources supplied by their 20-year-old millionaire owner, Jose Aleman Jr. He had inherited a vast fortune, the byproduct of his deceased father's investments and alleged stolen money from the Cuban treasury. In short, Miami had the means to sign quality veteran players. Three of the freshest faces on the scene were shortstop Fernandez, third baseman Dick Gray, and right-handed pitcher Billy Harris. All three would eventually make it to the majors. Fernandez, the most intriguing and highly-touted prospect after being spotted in the Cuban Winter Leagues, brought a reputation as an excellent glove man who wasn't too shabby with the bat. Fernandez stroked a solid .284 batting average while starring the previous season at Class-C Billings (Mustangs) and earned the Pioneer League's designation as its best shortstop.26, 27, 28
Mixing with the youngsters were returnees from the 1951 squad: left fielder Paul Armstrong (5 HR, .305), catcher Ed Little (5 HR, .223), right fielder Charles "Rocky" Rotzell (9 HR, .278), and hurlers Arturo Seijas (10–8, 3.02) and 36 year old Gilberto "Gil" Torres (7–13, 3.34, splitting time between Havana and Miami the previous year).29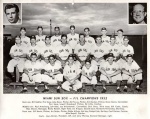 Only two position players were back from the 1951 Flamingos squad: catcher Charles "Chuck" Ehlman and outfielder/infielder Morton "Mort" Smith (the latter who was also used as a pitcher and the team's bus driver). More encouragingly, three frontline starting pitchers were returning: Richard McMillin (9–8, 3.74), Ernesto "Chico" Morilla (13–13, 4.01), and Marshall O'Coine (11–18, 3.34). Two of the most interesting young prospects that had a positive impact on the Flamingos' fortunes were slick-fielding shortstop Jack Caro, coming off his first season of organized baseball having hit .298 at Waycross of the Class-D Georgia-Florida League, and Charles "Pete" Morant, who went 15–7, 3.13 ERA with Landis/Elkin of the Class-D North Carolina State League.30
Ryan made headlines during the offseason by signing two former major leaguers, an experienced minor league jack-of-all trades, and a Negro League star. Twenty-five year old Jesse Levan, who had a brief fling with the Philadelphia Phillies in 1947, and Mizell "Whitey" Platt (1942–43 Chicago Cubs, 1946 Chicago White Sox, and 1948–49 St. Louis Browns) brought experience to the club as well as potent bats. Coming out of retirement was utility man Augie "Knobby" Rosa, who upon hearing that his old skipper Martin was returning to the dugout immediately inked a contract.31
On the mound side, Ryan took a flyer on 38-yearold Dave Barnhill. The wily veteran had broken into organized ball in 1937 with the Miami Giants before moving up to the barnstorming Zulu Clowns and Ethiopian Clowns. He had also spent time in the Negro Leagues with the New York Cubans, building an impressive won-lost record (32–28), the Puerto Rico Winter Leagues (11–9), and the Cuban Winter Leagues (23–19).32, 33
Barnhill had previously pitched with Minneapolis of the American Association.
The Oakland Oaks of the Pacific Coast League purchased him, where he later complained of arm trouble. It was a risky move for Ryan to sign him. Barnhill told Mel Ott, "I might as well go home because I know I can't help you. Not this season at any rate." He later said that after throwing in an exhibition game his armed pained him so much that he could not sleep and soon after left the team to retire to his home in Miami. Barnhill would be one of the first black players signed to play in the FIL, although his Garcia and Angel Scull, would be collectively the first to break the league's color barrier.34, 35, 36, 37, 38, 39
Interestingly, Ryan's best signing during the offseason almost did not make the final roster. Charles Morant remembered in spring training that Martin needed to witness the athleticism and speed of one veteran before deciding to keep him in the fold.
We were getting ready for the season, and Jesse Levan, who wound up leading the league that year, I think there was a question mark as to whether he was going to make the ballclub or not. He [Martin] lined people up and they had races, and Jesse outran everybody, and he [Martin] put him on the ballclub. And he [Levan] won the batting title that year by; I'd have to look it up, by thirty points or so.40
LET THE GAMES BEGIN
The consensus by sportswriters favored the Sun Sox making a run for the pennant and the Flamingos to finish in the second division. Columnist Morris McLemore predicted St. Petersburg to take the flag with Miami running a close second place. He was less than optimistic about the Flamingos, prognosticating they would finish in fifth place and out of the playoff picture. Ultimately, the two rivals would prove him wrong.41
Both clubs kicked off their seasons on April 9 with the Flamingos playing on their home turf, in front of 2,021 paying customers hosting the Havana Cubans. Meanwhile the Sun Sox traveled 225 miles north to Lakeland to take on the Pilots. Martin's choice for his opening day starter was 26-year-old righty Morilla, set to face former Washington National Santiago "Sandy" Ullrich. In a classic duel, both pitchers went the route before Morilla walked Ullrich with the bases full in the bottom of the twelfth inning, handing the Cubans a 1–0 victory. Further north, the Sun Sox spoiled the Pilots' home opener by pounding out twelve hits, four by Macon, to notch an easy 10–0 win.42
Curiously receiving little press coverage was the fact that the FIL color barrier was broken opening night when George Handy took his position at second base for the Flamingos, outfielder Angel Scull batted lead-off, and Silvio Garcia played shortstop for visiting Havana.43
Much to the surprise of fans and scribes, it was the Sun Sox who got off to an inauspicious start, while the "Pink Birds" came out of the gate faster than a filly at the Kentucky Derby. On the evening of May 7, the Sun Sox, who had dropped seven of their previous nine games, took another loss in heartbreaking fashion to Havana, 2–1. Pedro Formental scored from first base on a Roberto Ortiz double in the bottom of the tenth inning, sending starter Labe Dean down in flames. At the end of the evening's action, Miami Beach and Tampa were tied atop the standings with 21–9 records. Miami would drop to their lowest point, falling to 15–15 and in fifth place, six games off the pace.44
Not wanting to remain stagnant, and complying with FIL league rules trimming team rosters to seventeen players thirty days after opening day, Ryan made more moves. In reaction to the deadline, he optioned second baseman Handy to Keokuk (he would return to Miami Beach later in the season) and relief pitcher Ken Munroe to Thibodaux (Giants) of the Evangeline League. Ryan also announced that he would deal outfielder Clark Henry and pitcher Harry Raulerson before the deadline.45
The moves opened up playing time for infielder George Wehmeyer and outfielders Oscar Garmendia and Edmond Wilson.
On May 8 and on the verge of losing their fourth game in a row, Macon decided to take matters into his own hands and turn things around. Macon had already committed an error playing first base earlier in the game that cost his charges two runs, but he was not about to let Tampa and their burly star chucker, Chet Covington, send his Sun Sox to the south side of .500.46
"We lost three in a row in Tampa and we had to win this one," said the indignant Macon. Although Macon admitted his arm had been dead as yesterday's news since 1938, the old soup bone seemed to have sprung to life. Macon swapped positions with pitcher Torres, and with one out in the eighth inning, proceeded to retire five of the next six batters including four by strike out. The winning run was thanks to some clever base running by Fernandez who beat out a drag bunt, then tagged up all the way to third base on Armstrong's long fly ball. The Cuban speedster later scored on Rotzell's sacrifice fly ball to center field.47
The win over Tampa served as the turning point for Miami, and from there on the Sun Sox played as if they were on fire. Fueled by Harris, Torres, and starter/reliever Lowell Grosskopf the Sox began a run winning twenty-seven of their next thirty games and blowing by the Flamingos for the league lead. During the streak the staff was nearly untouchable with Harris going 6–0, Torres 4–1, and Grosskopf 4–0, including two of his victories in relief. The Sun Sox built a 3 1?2 game cushion over their second-place rivals.48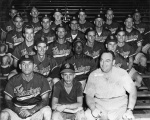 When the Flamingos woke up the morning of June 6 they found themselves looking straight into the eyes of a critical three-game series against the Sun Sox with pennant implications. Pitching the lid-lifter for the Sun Sox was Vicente Lopez who was riding a 21-game win streak as a member of the Sox dating back to 1950 when he won his last sixteen decisions, before his promotion in 1951 to the Fort Worth (Cats), and his first five starts of the 1952 season. Opposing Lopez was hard throwing left-hander Walt Nothe.49
The Flamingos struck first in the third inning on successive singles by George Wehmeyer, Ray Williams, and Levan. Combined with a couple of walks and an error Miami Beach jumped ahead, 2–0. Nothe was nearly flawless scattering six hits while throwing shutout ball. The two tallies would prove to be all the offense needed as Lopez dejectedly walked off the mound at end of the nine innings.50
After a rainout on June 7, the Sun Sox returned the next day to face the Flamingos in a make-up doubleheader. Southpaw Morant bested Harris in the first game, 1–0 holding the Sun Sox to three base knocks. In the second game, newly inked former University of Miami football star Frank Smith sparked a ninth inning rally with a pinch-hit single as the Flamingos came from behind to beat the Sox, 4–2. The Flamingos not only relished the series sweep, but they had closed the gap behind the front-running Sun Sox to a half a game.51
For the remainder of the summer, not much seemed to slow either club down except when they played each other. Through the entire month of June, the Flamingos nipped at the Sun Sox's heels, but were unable to overtake them. On June 30, the two met in a three-game series at Miami Stadium. In a classic pitchers' duel, veteran gray beard Barnhill squared off against the peach-fuzzed Harris. Both twirlers traded zeroes until the sixth inning.
Barnhill had begun to develop a blister on his fingertip in the bottom half of the same inning, and with two outs and "ducks on the pond," Barnhill delivered a pitch that went awry sailing over the head of his backstop Ehlman. Harris raced home with the go-ahead run spotting the Sun Sox a 1–0 lead. An inspired Harris continued his mastery of the Flamingos by scattering seven hits over the course of the game and only allowed one free pass earning the complete game shutout win.52
With 3,023 customers looking on, Torres topped Bob Palmer the next night, 5–1 and in the July 2 finale, lanky right-hander Billy Darden completed the sweep in a hard fought 3–2 victory.53, 54
Miami stood at 4 1?2 games ahead of Miami Beach, their widest margin of the season.
July proved to be a month full of highlights. On July 10, Torres made history when he tossed the first no-hitter in Miami Stadium. With two outs in the bottom of the ninth inning, West Palm Beach's Gordon Bragg stepped to the plate. Torres, who had been relying on his knee-buckler knuckle ball all night, changed his repertoire and on his third pitch threw an overhand curve. "I hadn't tried one all night," said Torres after the game. Bragg connected, but the ball drifted foul and left fielder Armstrong raced over to make the catch and set off the celebration.
The Sun Sox had persevered shutting down the Indians, 1–0. Torres's battery mate, Little, recalled in a recent interview that although the press frequently referred to Torres as a knuckle ball pitcher he had many other tools in his arsenal, "He was a regular pitcher with the ability to throw a knuckle ball. He could also throw a curve ball. He could throw any pitch you can think of."55
With the onset of July, and the hotter than a firecracker weather in South Florida bearing down, on July 14, the Sun Sox traveled to Flamingo Park for a three game set. Martin was in rare form all season having been especially vocal in expressing his distaste for several calls by umpires. For his actions "The Wild Horse of the Osage", as the press liked to call him, had drawn a three game suspension and a $75 fine dating back to games on May 26 in West Palm and June 10 in Havana. The former involved a verbal altercation with umpire Art Talley's failure to call a game that went beyond the curfew; the contest ultimately won by the Indians, 1–0, and the latter involved a heated exchange between home plate umpire Archie Jones and Martin on a call at home plate that allowed the Cubans to win, 7–5.56
Martin was always seeking to get a leg up on his competition. On July 14, for the lid-lifter against the Sun Sox, to the surprise of the fans, the Flamingos took the field in shorts for the first time. No doubt, Martin felt his troops would perform better if they were cooler and might even improve their speed.57
Fernandez remembered how Martin would use any means at his disposal to gain an edge on an opponent, whether it was uniform modifications or the use of deception.
Dave Barnhill, he was warming and he was the one that was going to pitch...They had Barnhill warming up some place else and the one that was supposed to be pitching was right there in the ballpark. After that, he didn't pitch that guy. That I remember. Pepper Martin was like that. He didn't like to lose nothing.58
A large crowd, by Miami Beach standards, of 1,841 packed Flamingo Park to witness Harris square off against Barnhill. Returning from his three-day suspension, Martin was none the mellower. After Miami scored in the top of the fourth frame when Armstrong raced around from second on a Macon single, the Flamingos attempted to answer in the bottom half of the same inning. With one out Lou Colombo hit a slow grounder towards Jimmy Bragan, at second base. Bragan threw to Macon on a bang-bang play at first base that umpire Albury called out.
Once again, thrown into the middle of a melee, Albury drew the ire of Martin who charged at him from the dugout. Albury, obviously not in the mood for another confrontation with Martin, gave him the thumb, ejecting him from the game. Tempers further erupted in the top of the ninth inning when Ehlman got into a verbal altercation over the determination of the infield fly rule. The husky catcher was restrained by coach Johnny Podgajny, to avoid getting the heave-ho.59
Podgajny's quick response to Ehlman proved to be his best strategic move of the night. Ehlman got his revenge in the bottom of the ninth. With one out and Harris closing in on his eighth shutout of the year, the burly catcher singled driving in Wehmeyer from second base to tie the game. Macon, not to be outdone by his peer on the opposite side of the diamond, then got into the act arguing with the umpiring crew claiming that the Flamingos were using illegal players for pinch-hitting roles setting off an angry eruption by the fans who sent a shower of catcalls cascading down on Macon. Harris settled down to finish the inning, but in the bottom of the eleventh frame, with the bases loaded, Ehlman hit a long fly to center allowing Levan to tag, and score, giving the Flamingos the 2–1 victory. The Flamingos had closed the gap to half a game.60
An even larger crowd of 2,187 crammed into the little Miami Beach ballpark for the following day's doubleheader with expectations of more drama, and they were not to leave disappointed. Fighting a bad back, Torres held the Flamingos in check as the Sun Sox staked him to a 4–0 advantage going into the bottom of the sixth inning. Miami Beach mounted a comeback in the bottom half of the same inning on Levan's three-run home run, but failed to score again as Miami prevailed, 4–3.
In the nightcap tempers flared again. In the third inning, Joe Kwiatkowski took a half-swing on a full count that umpire Butch Henline called a ball allowing him to trot to first. On cue, Martin came charging out of the dugout. In short order, the angry skipper was tossed from the game. Martin's response to Henline's call was to throw a couple of handfuls of dirt on his footwear before slowly marching to the showers. Bragan, the next batter, swung at a third strike and Kwiatkowski broke for second base. A head-high throw delivered by Ehlman reached second baseman Wehmeyer who tagged Kwiatkowksi in the face and fisticuffs followed. Both benches cleared, and by the time the dust had settled, Kwiatkowski and Wehmeyer both found themselves ejected. Nevertheless, the Flamingos continued to rally chasing Billy Darden in the sixth inning and coming out on top thanks to some fine hurling by Nothe, to beat the Sun Sox, 3–2.61
The two teams would not tangle again until August 5. Still battling for first place, the Sun Sox came into the three-game set two games in front of the Flamingos. Once again, Miami Beach would get the better of the two. Barnhill's shutout, along with his two base hits in three at-bats, were the keys in the 2–0 whitewashing in the series opener.
The next evening was one of the best games of the season. Nothe, facing Harris, had a perfect game going into the eighth inning. With two outs, Kwiatkowski hit a hard grounder to second that Handy booted. Nevertheless, not discouraged, Nothe then retired Levan to escape the inning. Nothe completed what would have otherwise been a no-hitter in the ninth inning, except for the fact that his teammates had failed to score a run. In a still scoreless game, in the bottom of the tenth, Bragan hit a "laser" past Handy for a single to break up the "no-no." Armstrong then sacrificed Bragan to second and Rotzell hit a shot to right field scoring Bragan that proved to be the only tally of the night.
It was the most disappointing defeat of the season for the Flamingos. "Who cares whether I pitch a no-hitter or not. I go out there on the mound to win the baseball game; all other things are incidental," said a subdued Nothe following the game. Amongst the celebration in the Sun Sox locker room, Harris and his teammates were relishing his nineteenth win against five losses and ninth blanking of the season.62
In the series "curtain closer," the "Pink Birds" got a modicum of revenge. However, the sweet taste of victory was brief when a protest lodged by the Sun Sox would change everything. Mort Smith, who was used by Martin as an infielder, outfielder and occasionally on the mound, relieved McMillin in the second inning and proceeded to pitch eight shutout innings. Martin chortled after the game that he had found a new secret weapon for the stretch drive. Smith relied on his change-up to baffle the Sun Sox batters. Final score Miami Beach 5, Miami 2. The Flamingos were now within a game of the top of the heap, but the win was to be short-lived.63
Jerry Waring, the Sun Sox's business manager, filed charges with FIL President Henry Baynard that Miami Beach had used an ineligible player during the August 7 game. The protest centered on Rosa's return from his suspension for insubordination. The FIL league rules stated that for a player to be eligible, the league must be informed before game time of a player's return to the active list. Baynard stated that the wire sent from GM Ryan to the league offices arrived after the game began and thus, Rosa was ineligible. On August 18, Baynard handed down his decision in favor of the Sun Sox. "The fact that we sent a wire showed we were acting in good faith," stated GM Ryan.64
The decision ended up having a critical bearing on the pennant race, much like the famous "Merkle's Boner" decision would on the 1908 National League finish.
The Flamingos went on a thirteen-game winning skein before dropping a double-header to Havana on August 21. Meanwhile, Harris and Torres both passed the 20-win mark and ended the season with 25 and 22 W's respectively. Torres notched his twentieth victory on August 28, defeating the Tampa Smokers, 3–2 the same night that O'Coine tossed a two-hit gem against St. Petersburg in a 6–1 win. Harris earned his recordtying twelfth shutout of the year blanking Havana on August 30, 4–0. Harris and Torres would both end up tying the FIL record for most shutouts in a season with 12.65
As the month of September dawned, the Flamingos found themselves 3 1?2 games off the pace with seven games remaining. Needing some help, the Flamingos got it in the form of the Tampa Smokers' impressive play. Dale Matthewson allowed the Sun Sox a solitary base hit in the first game of the double-dip and "Red" Barrett followed in the night cap limiting the visitors to only four base knocks as the Smokers won two games in shutout fashion.
At the same time, Miami Beach was taking both ends of a doubleheader from seventh place Lakeland. Levan hit his tenth home run of the season in the opener sparking the 8–7 win and Platt led the charge in the second game with his twelfth round-tripper of the year, as part of a 14-hit attack, during the 8–1 shellacking.66, 67
Going into the final day of the season, the same 1 1?2 games that separated the two clubs on September 3 had not changed by September 6. In order to steal the pennant, the Flamingos would have to sweep their doubleheader against Tampa and hope that Miami would lose at home to St. Petersburg. While Miami Beach was doing their part by taking both ends of a twin bill from the Smokers, 4–1 and 4–0, the Sun Sox were less than cooperative. Miami did all of their damage in the third inning when, with one out, Oscar Sierra started a rally by drilling a single.
Macon followed suit by also singling and backup catcher Cecil Dotson was intentionally walked by Vicente Amor to load the bases. Gray knocked the third single of the inning, plating two runs and wound up at second base when center fielder Rudy Tanner threw wild to the infield. Fernandez singled in Gray, and nothing was left but for Torres to apply the finishing touches. Torres induced Frank Gallardo into a game-ending double play and the celebration was on. Miami had won the game, 3–2 and the pennant.68
In one final salvo, Joe Ryan charged that St. Petersburg did not give their all in the Miami series losing all three games. In question was the September 5 game when Saints manager Bill Herring left starter Joe Kirkland in the game, despite the fact that he was roughed up for five runs in two innings of work. Regular shortstop Billy Spears was also benched in favor of Max Gnagy who would finish the season with a microscopic .145 batting average.69 Despite the protest, the results stood.
Table 1: Final Standings
 
W
L
GB
Miami Sun Sox
104
48
-
Miami Beach Flamingos
103
49
1
Tampa Smokers
85
68
19.5
St. Petersburg Saints
84
70
21
Havana Cubans
76
77
28.5
West Palm Beach Indians
68
85
36.5
Lakeland Pilots
51
103
54
Ft. Lauderdale Braves/
Key West Conchs
40
111
63.5

* Final standings as listed by 1953 Sporting News Official Base Ball Guide and Baseball-Reference.com
THE PLAYOFFS AND QUEST FOR THE CHAMPIONSHIP
With the regular season wrapping up on September 6, the "Shaughnessy Playoffs" system, which the Miami Herald strangely defined "in an effort to prove nothing," matched the league's top four teams beginning on September 8.70
In what today would seem unconventional, third place Tampa opened against first place Miami, and second place Miami Beach played at fourth place St. Petersburg in a best of five series. It was reported that the winning team in the playoffs would be awarded $1,000 and the second place team $500.71
Miami opened with their ace Harris, while Tampa countered with Rogelio Martinez. In a bit of pre-series gamesmanship, Miami General Manager Jerry Waring said he was still without permission to use reserve catcher Mike Napoli and instead would go with Cecil Dotson behind the plate pending Joe Ryan's approval. Waring earlier stated he would forfeit the playoff games if Dotson came up injured. Ryan had been silent on the matter and as the Miami Herald proclaimed, "Waring's not going to beg 'im." Ryan eventually gave his permission to use Napoli only if a Dotson injury forced him from the game.72
In the series curtain raiser, Leonard Pecou's two-run single in the fourth inning was the deciding base knock and Martinez went the distance in Tampa's 3–2 victory before a crowd of 1,072 in Miami Stadium. According to the Miami Herald, attendance suffered due to the rain that fell during the day. Fernandez starred for Miami in the losing effort. Indicative of his aggressive style of play all season, in the first frame, Fernandez walked, stole second base, went to third on an infield grounder and beat a throw to home plate on another grounder. In the third inning, the speedy Cuban walked again, stole second base, went to third on a grounder and stole home on a play that was not even close.73
Meanwhile in St. Petersburg, the hometown squad defeated Miami Beach 10–9, in a ten-inning thriller. The winning run scored in the bottom of the tenth inning on a wild play. Eddie Wilson lost Neb Wilson's wind-blown fly ball in left center and Rogers McKee walked. After a pop fly out, Billy Spears lofted another pop-up in front of home plate which third baseman Ray Williams failed to catch. Although Spears was out on the infield fly rule, Neb Wilson took third and scored when Williams threw wide and low behind third. In all, there were nine errors in the game; three by St. Pete and six by Miami Beach.74
The Miami-Tampa game was rained out on Tuesday, while Miami Beach bounced back and beat the Saints 6-5 to knot the series at one apiece before 2,497 at Al Lang Field. The Flamingos overcame a 4-0 deficit by scoring five times in the fourth inning to take the lead and hold onto the win.75
On Wednesday, because of the postponement, there were games at both Miami and Miami Beach. In front of 1,040, Miami committed five errors (three by Fernandez and two by Dotson), but Torres pitched a five-hitter allowing only an unearned run as Miami evened their series with the 5–1 win over Tampa.76
Across the bay, St. Petersburg edged Miami Beach, 7–6 to take a 2–1 series lead. Neb Wilson's homer that traveled 360 feet in the eighth inning tied the game and Gil Valdivia's walk-off single in the ninth frame was the game winner. Neither of the starting pitchers, Barnhill or Hooks Iott, lasted past the fifth inning of the slugfest and thanks to 5 1?3 innings of scoreless and brilliant relief work by ex-Flamingo O'Coine the Saints prevailed.77
Miami Beach bounced back the next evening when Andy Elko pitched a two-hit shutout and Levan blasted a three-run home run as the Flamingos beat the Saints, 6–0 knotting the series at 2–2. Only 600 partisans attended the contest.78
Meanwhile in Tampa, the Smokers outlasted the Sun Sox 7–5. In a sloppy affair, both teams combined for eleven errors, six by the Sun Sox. Tampa got off to a 6–0 lead and Red Barrett cruised along with a shutout before a trio of Smoker errors in the seventh inning led to three Miami runs. Two more errors in the ninth added a couple more Miami tallies, but it was not enough as Tampa took a 2–1 lead in the series.79
On Friday night, before 861 fans in Flamingo Park, the Flamingos scored five runs in the fourth inning and went on to beat St. Petersburg, 5–4 advancing them to the finals. In the fourth inning, the first six batters reached base on three walks and three singles leading to three runs. Pepper Martin, not taking any chances, used four pitchers during the game to limit the Saints to four hits. Barnhill saved the game by striking out Rudy Tanner in the ninth on three pitches with the tying run on second base.80
In Tampa, Harris pitched a six-hit complete game as Miami beat Tampa, 3–2 and evened the series. A single by Dotson in the sixth inning drove in the winning run. Although Martinez went the distance, he fell short in his effort to beat Harris twice in a row.81
On Saturday night, with the Flamingo players and Martin rooting for a Miami victory, the Sun Sox obliged besting Tampa, 3–1. Martin and his charges wanted to face the Sun Sox especially after losing the pennant by one game due to the August protested game ruled in Miami's favor. The five hit pitching of Gil Torres, and a costly error by Tampa outfielder Cecil Kaiser, were the main factors in Miami's win. In the second inning, Sierra and Bill "Gabe" Gabler, whom Miami acquired late in the season, singled and with two out came home when Kaiser misplayed Gray's long fly ball.82, 83
Miami and Miami Beach advanced to the finals upending their opponent three games to two, both coming back from 2–1 series deficits to snatch victory from the jaws of defeat. The teams advanced to what the Greater Miami area referred to as the "Causeway Series," reminiscent of the "Subway Series" played between New York clubs. Now the teams would play for the championship, a seven-game series, and after facing each other 22 times during the season in which the Flamingos held a 13–9 advantage, it would prove to be a "battle royal." Opening on Sunday with the first two games in Miami Stadium, the series would then shift for three games to Flamingo Park, and then back to Miami.
Miami Beach had completed their series on Friday night. However, due to the aforementioned rain out, Miami had not completed their series with Tampa until Saturday. Thus, the Sun Sox had to travel on a day that the Flamingos got to rest.
The series began in Miami Stadium before a crowd of 3,303 with Barnhill of the Flamingos facing off against Labe Dean. With Barnhill allowing only four hits, Miami Beach defeated the Sun Sox, 4–2. The Flamingos scored two in the second inning on singles by Levan and Colombo. First baseman Gabler made a throwing error on Mort Smith's grounder that allowed Levan to score. Ehlman followed by singling as Colombo raced home giving the Flamingos the early edge.
Miami Beach added a run in the fifth frame on an RBI single by Levan, and then another tally in the eighth on three consecutive singles with two outs. Barnhill's shutout was ruined in the ninth inning, thanks to second baseman Handy's dropping of Gray's fly ball that allowed two runs to score. All the same, the miscue was the only gift the Flamingos would hand out as they prevailed in the end.84
Game Two was played on September 16 at Miami before a crowd of 2,639 and was to be the "Billy Harris Show." The stocky right-hander scattered eight hits, struck out three, walked one, and drove in the winning run in a 5–4 Miami victory that deadlocked the series at one game apiece. The Flamingos trailing 5–3 scored a run in the ninth inning and had runners on first and second with none out. Harris settled down, induced Williams to ground into a double play, and then retired Mort Smith on a ground ball. Miami, the FIL's leading defense, uncharacteristically committed four errors, two by Harris, which led to two of the Miami Beach runs.
However, Harris kept a cool head and overcame his early miscues by escaping out of several jams.85
Game Three moved to Flamingo Park. Errors continued to plague the Sun Sox. Torres allowed only five hits and one tally, but Elko garnered his second consecutive whitewashing in post-season play in a four-hit shutout and a 1–0 Flamingo victory. The only run came in the second inning when Rotzell misplayed a Colombo fly ball and Colombo later scored on Platt's sacrifice fly. The victory amounted to the eleventh in the past twelve on the "Pink Birds" home turf.86
In Game Four, Miami squared the series at two games apiece with a 3–1 victory behind the five-hit pitching of Darden and Dean. The Sun Sox scored two runs in the top of the first off Nothe on a walk to Fernandez, and singles by Bragan, the younger brother of Bobby Bragan (formerly of the Philadelphia Phillies and Brooklyn Dodgers), and Armstrong. Rotzell's sacrifice fly scored Bragan, prompting Martin to bring in Morilla. Morilla escaped the inning and allowed only one run the rest of the way on a sacrifice fly given up to Handy.87
Friday night's Game Five found the Sun Sox leading 1–0 in the second inning when the rains came forcing a cancellation. The Miami Herald noted that "unless the series reached completion quickly the Sun Sox will have to do without the services of their third baseman Gray since he has to report to Pittsburgh Tuesday for his Army draft physical much to the concern of skipper Macon."88
The specter of sloppy played reared its ugly head again as the Sun Sox committed four errors during Saturday's Miami Beach, 7–3 victory; six of the Flamingo runs were unearned. Miami Beach scored five in the fourth inning to seal the win before 1,624 fans, a surprising turnout according the Miami Herald. A single by Colombo, an error on a fielder's choice by Fernandez, an error by pitcher Seijas loaded the bases. Wehmeyer then stepped up to the plate and promptly singled in a run followed by Gray's wild throw wide of home plate on an attempted force out allowing two additional runs. Fernandez booted Rosa's bunt for another run and Eddie Wilson executed a perfect squeeze play for the fifth marker. Bob Palmer, who allowed only two hits in five innings in relief of Barnhill, earned the win and Seijas absorbed the loss.89
Down three games to two, the Sun Sox shored up their defense in an error-free Game Six at Miami Stadium as Torres pitched a shutout allowing Miami to even the series with a 2–0 whitewashing in front of 2,934 enthusiastic rooters. Gray was the hitting star for the Sun Sox as he doubled in the seventh inning, took third on a sacrifice bunt by Little who was safe at first when the throw was late and scored on a sacrifice fly by Bragan. Gray's second double of the night plated Gabler with an insurance run in the eighth. Elko's efforts went for naught as he went the distance allowing only four hits in the losing effort.90
In the series finale on Monday night in Miami, before 4,007 fans, the Sun Sox played their second consecutive error-free game and unleashed a 10-hit attack to claim the championship with a 5–1 victory. Manager Martin had surprised Miami by starting Mort Smith who rewarded his skipper's faith by failing to last through the first inning. In the opening frame, Fernandez walked and scored on Armstrong's double. Two base hits by Gray and Harris tallied a run in the second frame, and in the third inning Armstrong reached on a walk, stole second, and scored on Sierra's single to right field. In the fifth stanza, Fernandez doubled, and scored on Armstrong's single. In the seventh canto, Fernandez tripled, and later scored on Bragan's single, spotting Miami a 5–0 lead. The fans began to celebrate early.
The Flamingos, refusing to throw in the towel, answered with three runs in the top of the eighth inning. Then in the ninth inning Manager Macon went to the mound to remove a tiring Harris and brought in Torres who had pitched a complete game the night before. The Sun Sox bench showed concern when Torres was greeted with a single by Caro that scored Williams and sent Morant to second. Then with Rosa batting next, Torres threw his knuckle ball and Rosa popped out to the backstop, Little. In disgust, a frustrated Rosa threw his cap and bat to the ground. It was all up to Eddie Wilson. Wilson slammed a long fly ball to left field, and Armstrong ran it down to end the game. Final score Miami 5, Miami Beach 4.
Torres flung his cap high in the air as his jubilant teammates swarmed him at the mound. The Sun Sox had proved they were genuine champions and no one could dispute their right to the pennant. "I'm delighted. That proves it," said Macon. Losing manager Martin came to the Sun Sox dressing room to congratulate the winners. All animosity, was forgotten in that moment as Macon said, "I'm pleased that Pepper came in to congratulate us like the good guy that he is." Martin pronounced, "That Gil Torres is great. His knuckle ball was too much for us."
A personal letter from Macon's old friend Adolph Rupp (University of Kentucky's legendary basketball coach) read, "Congratulations on winning the championship. We were really pulling for you. This should help put you in line for a nice promotion one of these days."
Macon concluded his thoughts by saying, "We came here to win the pennant. We didn't come here to finish anywhere but first place and we did it. We had a bunch of fighting players and they would not give up. They [Miami Beach] challenged us. They had a good ball club but we had just a little better one. There was no bitterness. Both teams fought hard and fairly."91
EPILOGUE
Max Macon (1915–89) left the Sun Sox after the playoffs due to alleged disagreements with Sun Sox management. He went on to manage the Dodgers' Fort Worth affiliate in 1953.
Pepper Martin (1904–65) left the Flamingos at the end of the season to pursue a short-lived career in law enforcement before returning to manage the FIL Fort Lauderdale club in 1953.
Gil Torres (1915–83) became player/manager of Valdosta of the Georgia-Florida League in 1953. In 2007, he was elected posthumously to the Federation of Professional Cuban Baseball Players in Exile Hall of Fame.
Billy Harris (1931–2011) finished the 1952 season with a 25–6 record and an ERA of 0.83. He pitched 13 more seasons in the minor leagues and had two cups of coffee with the Dodgers in 1957 and 1959 finishing with a lifetime mark of 0–1, 3.12.
Humberto "Chico" Fernandez played eight years in the majors with the Dodgers, Phillies, Tigers and Mets. Chico is retired and lives in south Florida.
Dick Gray (1931–2013) went on to play three years in the major leagues with the Cardinals and Dodgers.
Charles "Pete" Morant's last season in professional baseball was 1952. He suffered shoulder problems while serving in the military and became an educator; is retired and lives in North Carolina.
Jesse Levan (1926–98) played seven more years in the minor leagues and made it back to the big leagues with the Washington Nationals in 1954 and 1955. In 1959, he was banned from baseball for trying to fix games.
Jack Caro played eight more years in the minors before hanging up his cleats. As of this writing, he currently lives in Texas.
Ernesto "Chico" Morilla played one more year in the minors and two years in the Mexican League. He later returned to Cuba. As of this writing he is still alive and resides in Cuba.
Lou Colombo (1927–2012) played minor league ball for two more years before moving on. He went on to a long career as a professional musician. He died in an automobile accident in Fort Myers, Florida in 2012.
Dave Barnhill (1913–83) was 38 years old in 1952. He pitched one more year with Fort Lauderdale of the FIL and later worked for the city of Miami Parks and Recreation Department where he retired after serving 30 years.
SAM ZYGNER is the author of the book "The Forgotten Marlins: A Tribute to the 1956–1960 Original Miami Marlins." He has been a member of SABR since 1996 and is Chairman of the South Florida Chapter of SABR. He received his MBA from Saint Leo University. His writings have appeared in the "Baseball Research Journal," "The National Pastime," "NINE," and "La Prensa de Miami." A lifelong Pittsburgh Pirates fan, he has shifted some of his focus to Miami baseball history.
STEVE SMITH is a retired CPA who has been a SABR member since 2000. His primary passion is researching Keokuk, Iowa, baseball history and he attended many minor league games in his hometown while growing up. He was able to see players such as Gordy Coleman, Jim "Mudcat" Grant, Gary Kolb, Jeoff Long, Tim McCarver, and Fred Whitfield as they made their way to the big leagues. His second passion is researching the long-forgotten Florida International League in his adopted state of Florida, where he now lives in Englewood, near the Tampa Bay Rays spring training site in Port Charlotte.

Acknowledgments
Special thanks to Jack Caro, Humberto "Chico" Fernandez, Rogers McKee, Ed Little, and Charles Morant for contributing their personal experiences. Gerry Garte receives special kudos for his assistance with 1952 Florida International League statistics. Our gratitude to Dawn Hugh and Ashley Trujillo at History Miami for their support and help. Last, but not least, a special thanks to Barbra Zygner and Nancy Smith for supporting their husbands in their work.
Table 2: 1952 FIL players with major league experience (former or future)
| Player | Team(s) | Years |
| --- | --- | --- |
| Humberto "Chico" Fernandez | Miami | (1956-1963) |
| William "Gabe" Gabler | Miami | 1958 |
| Dick Gray | Miami | (1958-1960) |
| Billy Harris | Miami | (1957, 1959) |
| Max Macon | Miami | (1938, 1940, 1942-1944, 1947) |
| Karl Spooner | Miami | (1954-1955) |
| Gil Torres | Miami | (1940, 1944-1946) |
| Jesse Levan | Miami Beach | (1947, 1954-1955) |
| Mizell "Whitey" Platt | Miami Beach | (1942-1943, 1946, 1948-1949) |
| Charles "Red" Barrett | Tampa | (1937-1940, 1943-1949) |
| Earl Brucker | Tampa | 1948 |
| Chet Covington | Tampa, Lakeland | 1944 |
| Rogelio Martinez | Tampa | 1950 |
| Dale Matthewson | Tampa | (1943-1944) |
| Rogers McKee | Tampa, St. Petersburg | (1943-1944) |
| Joe Medwick | Tampa | (1932-1948) |
| Elisha "Bitsy" Mott | Tampa, Havana | 1945 |
| Camilo Pascual | Tampa, Havana | (1954-1971) |
| Vicente Amor | St. Petersburg | (1955, 1957) |
| Charlie Cuellar | St. Petersburg, Havana | -1950 |
| Ramon Garcia | St. Petersburg, Havana | 1948 |
| Clarence "Hooks" Iott | St. Petersburg | (1941, 1947) |
| Howard "Howie" Moss | St. Petersburg | (1942, 1946) |
| Miguel "Mike" Fornieles | Havana | (1952-1963) |
| Julio Gonzalez | Havana | 1949 |
| Fermin "Mike" Guerra | Havana | (1937, 1944-1951) |
| Roberto Ortiz | Havana | (1941-1944, 1949-1950) |
| Carlos Pascual | Havana | 1950 |
| Napoleon "Nap" Reyes | Havana, Fort Lauderdale/Key West | (1943-1945, 1950) |
| Fernando "Freddy" Rodriguez | Havana | (1958-1959) |
| Raul Sanchez | Havana | (1952, 1957, 1960) |
| Santiago "Sandy" Ullrich | Havana | (1944-1945) |
| Charles "Bubba" Harris | West Palm Beach | (1948-1949, 1951) |
| Billy Holm | West Palm Beach | (1943-1945) |
| Garland Lawing | West Palm Beach | 1946 |
| Elmer "Pep" Rambert | West Palm Beach | (1939-1940) |
| Hubert "Bud" Bates | Lakeland | 1939 |
| Ted Cieslak | Lakeland | 1944 |
| Ted Pawelek | Lakeland | 1946 |
1. The Sporting News, February 28, 1946, 15.Clark Griffith wasn't taking any chances on the big air transport lines in flying his Nationals from Florida to Havana for exhibition games as he announced his players would make the trip in groups on several smaller planes.
2. At time other members of the league were Fort Lauderdale, Key West, St. Petersburg and Tallahassee. Several of the teams had major league affiliations: Fort Lauderdale (Boston Braves, 1947), Havana (Washington Nationals, 1947–52), Miami (Brooklyn Dodgers, 1949–54), Miami Beach (Boston Braves, 1946, Milwaukee Braves, 1954), St. Petersburg (Cleveland Indians, 1949), West Palm Beach (Philadelphia Athletics, 1950).
3. Baseball-Reference.com. In 1946, Havana had 17 victories taken away from them by FIL league President Wayne Allen for using too many "experienced" players.
4. McKee pitched for Philadelphia (NL) 1943–44 with a lifetime record of 1–0, 5.87 in five games.
5. Rogers McKee, personal correspondence, September 25, 2007.
6. Baseball-Reference.com. The same Ben Chapman made famous in the recent movie "42."
7. There were also other Cuban players throughout the league.
8. Peter C. Bjarkman. "Connie Marrero." SABR BioProject. During the three years with Havana in the FIL, Marrero compiled a 70–25 record.
9. Brother of major league pitcher Camilo Pascual who played in the FIL with Havana and Tampa in 1952.
10. Baseball-Reference.com.
11. Havana was the only other FIL franchise with a significant major league affiliation (Washington Nationals).
12. Jimmy Burns, "Fla-Int. Tosses in Sponge When Cut to Two Clubs."
The Sporting News, August 3, 1954, 13.
13. Guy Butler, "New Era Dawns In Miami Sports." The Miami News, August 31, 1949, 2-B.
14. Guy Butler, "Chandler Will Head Opening Celebrities." The Miami News, August 31, 1949, 2-B.
15. Guy Butler, "13,007 View Opening: Colossal They Agree." The Miami News, September 1, 1949, 2-B.
16. Wikipedia.org, "Flamingo Field."
17. Phil Halpern, "High Cost May Have Killed Proposed Beach Ball Park." The Miami News, April 25, 1956, 14-A.
18. Baseball-Reference.com. In 1947 and 1948 Miami changed their name to the Tourists before reverting back to the Sun Sox in 1949.
19. Don Cuddy, "Big Jump for Paul Rust—From Kid Loop to Pros." The Sporting News, January 23, 1952, 17.
20. Jimmy Burns, "Wild Horse Leaps Over Miami Bay." The Sporting News,
February 27, 1952, 18.
21. Thomas Barthel, Pepper Martin: A Baseball Biography (Jefferson, NC: McFarland, 2003), 191.
22. "Pepper Martin Suspended Rest Of Season For Choking Umpire." The Evening Independent, September 2, 1949, 8.
23. "Martin Fined For Socking Fan." St. Petersburg Times, August 26, 1951, 27.
24. Baseball-Reference.com.
25. Humberto "Chico" Fernandez, telephone interview, April 11, 2013.
26. Emily Witt, "Park and Politics. The Miami New Times, May 10, 2007, miaminewtimes.com.
27. Baseball-Reference.com.
28. MiLB.com.
29. Baseball-Reference.com.
30. Ibid.
31. "Caught on the Fly." The Sporting News, 32.
32. Baseball-Reference.com.
33. Jorge Figueredo, Who's Who In Cuban Baseball (Jefferson, NC: McFarland, 2003), 386–7.
34. "Arm Ailing, Barnhill Quits Oaks." The Sporting News, April 9, 1952, 28.
35. George Handy, an infielder, began his career in the Negro Leagues in 1947. He moved to organized baseball in 1949 and played in the minor leagues through the 1955 season.
36. The Cuban-born Silvio Garcia began his career in the Cuban Winter Leagues (1931–54). He also played in the Mexican League (1938–45, 1948). In 1949 he began a four-year career in organized baseball spending three years with Sherbrooke of the Provincial League and his final year with Havana of the FIL
37. Angel Scull (1928-2005) was a Cuban-born outfielder who starred in the Cuban Winter Leagues (1951–61) before embarking on an 18-year minor league career (1951–69). He is enshrined in the Cuban Baseball Hall of Fame. He went to Spring Training with the Washington Nationals, but never appeared in a major league game, even though he has a Topps baseball card issued in 1954 (#204).
38. Bruce Adelson, Brushing Back Jim Crow: "The Integration of Minor League Baseball In The American South (University of Virginia Press), 71.
39. James A. Riley, The Biographical Encyclopedia of the Negro Baseball Leagues (Carroll & Graf), 352.
40. Charles Morant, telephone interview, June 11, 2013.
41. Morris McLemore, "Now They're Off Here's The Finish." The Miami News, April 9, 1952, 3-B.
42. "Havana Edges Beach; Miami, Tampa Win." Palm Beach Post, 14.
43. Jorge Figueredo, Who's Who In Cuban Baseball (Jefferson, NC: McFarland, 2003), 155.
44. Howard Kleinberg, "Miami, Tampa Open Series At Stadium." The Miami News, May 8, 1952, 27-A.
45. Frank Fox, "Beach Releases 5, On Road Trip." The Miami News, May 8, 1952, 27-A. Henry would end up with Harrisburg of the Class-B Interstate League and Raulerson would land with Savannah of the South Atlantic League.
46. Baseball-Reference.com. Covington pitched for Philadelphia (NL) (19 g, 1–1, 4.66), and had a minor league career record of (220–126, 2.57). He was designated Minor League Player of the Year in 1943 also pitching a perfect game that year. Covington played in the FIL for eight years primarily with Tampa, but also with Miami, Fort Lauderdale, and Lakeland posting a combined record of 85–48. See SABR Bioproject: http://sabr.org/ bioproj/person/21dbe265.
47. Stanley Woodward, "Miami Seeks Second Victory Over Tampa." The Miami News, May 9, 1952, 4-B.
48. Statistics compiled from The Miami News, May 8 through June 6. 1952.
49. Lopez' Streak Is Snapped After 21 Victories In Row." The Sporting News, June 18, 1952, 35.
50. "FIL Roundup." The Palm Beach Post, June 7, 1952, 7.
51. "Minor League Class B Highlights." The Sporting News, June 18, 1952, 35.
52. Frank Fox, "Wild Pitch Enables Miami To Hike Lead." The Miami News, July 1, 1952, 11-A.
53. Frank Fox, "Balk Call Is Key To Miami Score." The Miami News, July 2, 1952, 4-B.
54. Frank Fox, "Miami Hikes Lead, Battles Key West," The Miami News, July 3, 1952, 3-B.
55. Ed Little, telephone interview, May 28, 2012.
56. Jimmy Burns, "Stormy Pepper Again Set Down Draws $75 Fine." The Sporting News, July, 1952, 34.
57. "Harris Suffers Third Loss." The Sporting News, July 23, 1952, 36.
58. Chico Fernandez, telephone interview, April 11, 2013.
59. Baseball-Reference.com. Podjagny compiled a lifetime big league mark of 20-37, 4.20 ERA in with the Philadelphia Phillies (1940-43), Pittsburgh Pirates (1943) Cleveland Indians (1946).
60. Howard Kleinberg, "Flamingos Face Sun Sox Twice." The Miami News, July 15, 1952, 3-B.
61. Howard Kleinberg, "Miami Maintains F-I Lead, Plays Lakeland." The Miami News, July 16, 1952, 7-A.
62. Howard Kleinberg, "Nothe's No-Hitter Spoiled As Sun Sox Win In Tenth." The Miami News, August 7, 1952, 3-C.
63. Howard Kleinberg, "Secret Weapon Found By Flamingo Manager." The Miami News, August 8, 1952, 12-A.
64. Jimmy Burns, "Beach Flaps Wings on Loss by a Forfeit." The Sporting News, August 27, 1952, 13.
65. "Minor League Class B Highlights." The Sporting News, August 3, 1952, 35.
66. Charles "Red" Barrett pitched 11 years in the major leagues (1937–49)
with the Cincinnati Reds, Boston Braves, and St. Louis Cardinals. He compiled a 69–69 including a 23 win season in 1945. Barrett's claim to fame is that on August 10, 1944, he earned a complete game 2–0 victory over the Cincinnati Reds by throwing only 58 pitches over the entire course of the one hour and fifteen minute contest. After his big league career ended he pitched another four years in the minor leagues winning 38 and losing 30 games with Tampa of the FIL. In 1952 he went 12–11 with a 1.77 ERA in 213 innings.
67. Associated Press, "Race Tightens, Miami Losing 2." St. Petersburg Times, September 3, 1952, 11.
68. Associated Press, "Miami Nips Saints, Clinches Flag." St. Petersburg Times, September 7, 1952, 1-C.
69. Bill Beck, "Miami Beach Charges Saints Played Dead In Sun Sox Series." St. Petersburg Times, September 7, 1952, 1-C.
70. "Miami, Tampa Clash In 1st Playoff Tonight." Miami Herald, September 8, 1952, 2-B.
71. Whitey Kelley, "Martinez Outduels Billy Harris." Miami Herald, September 9, 1952, 6-B.
72. "Miami Tampa Clash In 1st Playoff Tonight." Miami Herald, September 8, 1952, 2-B.
73. Whitey Kelley, "Martinez Outduels Billy Harris." Miami Herald, September 9, 1952, 6-B.
74. "Flamingos Guilty Of Six Errors." Miami Herald, September 9, 1952, 6-B.
75. "2,497 See Flamingos Connect For 12 Hits." Miami Herald, September 10, 1952, 4-D.
76. Stan Platkin, "Gil Torres Ignores 5 Errors To Even Series." Miami Herald, September 11, 1952, 5-B.
77. Whitey Kelley, "Brilliant Relief Work By O'Coine Stops Beach." Miami Herald, September 11, 1952, 5-B.
78. Whitey Kelley, "Levan's 3-Run Homer Helps Elko's 2-Hitter." Miami Herald, September 12, 1952, 2-C.
79. "Near-Record 11 Errors Mar Playoff Skirmish." Miami Herald, September 12, 1952, 2-C.
80. Whitey Kelley. "Beach Uses Big Fourth To Oust St. Pete, 5–4." Miami Herald, September 13, 1952, 16-A.
81. "Series Tied By Miami As Harris Wins, 3–2." Miami Herald, September 13, 1952, 16-A.
82. John Underwood, "Sun Sox Seek Power, Acquire New Infielder," Miami News, August 16, 1952, 8.
83. "Costly Muff Gives Sox 3–1 Victory." Miami Herald, September 14, 1952, 8-D.
84. The Sporting News, September 24, 1952, 32.
85. Luther Evans, "Sun Sox Halt Late Rally To Even Series, 1–1." Miami Herald, September 17, 1952, 2-B.
86. Luther Evans, "Elko Shuts Out Sun Sox, 1–0." Miami Herald, September 18, 1952, 2-B.
87. Whitey Kelley, "Early Lead Pays Miami Dividends." Miami Herald, September 19, 1952, 1-D.
88. "Sox, Beach Rained Out: Play Tonight." Miami Herald, September 20, 1952, 14-A.
89. Jimmy Burns, "Clubs Move To Stadium Tonight." Miami Herald, September 21, 1952, 4-D
90. Jimmy Burns, "Series End Tonight At Stadium." Miami Herald, September 22, 1952, 16-A.
91. Jimmy Burns, "Torres' Sparkling Relief Stint Saves Sox' Victory." Miami Herald, September 23, 1952, 15-A.