"Sparky"
This article was published in the Spring 2012 Baseball Research Journal.
The late George "Sparky" Anderson was born on February 22, 1934, in Bridgewater, South Dakota, to LeeRoy and Shirley Anderson. Although it was the birthday of President George Washington, he was named for his grandmother's boy George who died at birth. Anderson died on November 4, 2010, at his home in Thousand Oaks, California. He was 76. At Anderson's request there was no funeral or memorial service and he was survived by his wife Carol, sons Lee and Albert, daughter Shirley Englebrecht, and nine grandchildren.1
He was "Sparky" to his many fans throughout baseball, a nickname bestowed upon Anderson by former Fort Worth Cats broadcaster, the late Bill Hightower, when he observed that sparks were flying during an argument between Anderson and an umpire at a 1955 game at LaGrave Field, Fort Worth, Texas. "Bill said it on the radio and it stuck," said the late pitcher Carroll "CB" Beringer, Anderson's roommate that season, who coached in the majors with the Los Angeles Dodgers, 1967–72, and Philadelphia Phillies, 1973–78. "Today, everyone knows who you are talking about when the name 'Sparky' is mentioned."2
David Hatchett, former director of communications for the Fort Worth Cats, said Anderson told him a few years ago that "it was an opening for people to remember my name. For some reason it stuck. Baseball is a sport that lends itself to some unique nicknames."3
Anderson's initial six-season minor-league ride began in 1953 with the Class C Santa Barbara Dodgers. "I signed for $3,000, including the salary at Santa Barbara—and that was $250 a month for five months ($1,250). I didn't have any money," he said during an interview on the California Lutheran University campus. The $3,000 he signed for included a $1,750 bonus. "Travel—it was all bus. I know a lot of guys slept on the floor of the bus. I never did."4
Anderson, who hit .263 that season, said it was a very important benefit to have the late George Scherger as the team's manager his first season in professional baseball. "I played for a man that I consider one of the best baseball minds in the history of baseball," he said. "Nobody knows him. He's unbelievable. He was so far ahead of me. We weren't even in the same league when it comes to knowledge of the game."5
Also special to Anderson at Santa Barbara was the late Timmy Badillo, groundskeeper at Laguna Park. "He was my dear friend," he said. "Every time I would come to town I would go find Timmy. You have to be so lucky when you meet people. You have to let them know. Timmy was my pride and joy."6
Ralph Mauriello, pitcher on the 1953 Santa Barbara team who pitched in the majors for the Los Angeles Dodgers in 1958, remembers that Anderson, his roommate, played shortstop that season. "He shifted to second base the next season when it was apparent his arm wasn't up to it at short," the pitcher said.7
Because Anderson's nickname had not been coined in 1953, his teammates used a diminutive of his first name. "We called him 'Georgie,' not 'Sparky,'" Mauriello said. "He was the kind of a guy who was a spark plug, but we never called him that."8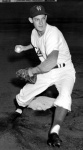 Anderson set a goal for runs scored at Santa Barbara: 100. "The thing I remember most," Mauriello said, "was his zeal for wanting to score 100 runs and he did it the last day in 1953, and was very excited about it."9
Anderson was married on October 3, 1953. "I knew her almost all my life, including about 10 years in school," Anderson said. "We met in third grade and I was in class with her in the fifth."10
Anderson's season after spring training was in Colorado, playing the home half of his season at Runyan Park for the Single-A Pueblo (Colorado) Dodgers. He hit .296 and led the Western League in fielding for second basemen. "We lived in the basement of a home," Anderson said. "Those were the really great times. There were times to me that were even better than the big leagues. The big league takes care of itself. The minor leagues were, to me, the real fun. The other is work. I wouldn't change it for anything."11
Mauriello said that in 1954 at Pueblo, he, Anderson, and George Witt played for that Dodgers team along with Maury Wills, who was Anderson's double play partner. Witt had also been on the 1953 Santa Barbara team, and later pitched for the Pittsburgh Pirates. At Fort Worth, Texas in 1955, Anderson played for the Double–A Cats, batted .266 and was named to the Texas League All-Star team.12
"Sparky didn't have the big strong body of a long ball hitter, but he certainly was sparky," said Beringer, on the Cats, 1949–50 and again 1953–57. "He did everything he could to win a ball game."13
The Cats had five players on that roster who would go on to manage in the major leagues. In addition to Anderson were the late Danny Ozark, Norm Sherry, the late Dick Williams, and Wills. Two other players on that team, Beringer and Joe Pignatano, became major-league coaches.14
According to Beringer it was Anderson's contention that it takes more than talent to win in baseball. "That's the way the game is played," he said. "He was a Dodger growing up. They had 600 ballplayers and fundamentals. This was how they won."15
From Fort Worth, Anderson's next stops were Triple-A Montreal to play for the Royals and then to Los Angeles where he played for the Triple-A Angels. Mauriello, referring to 1957, the last year that the Pacific Coast League was in Los Angeles, said the Angels were not a great team. "We finished in sixth place, but [Anderson] never seemed to get down. His enthusiasm was the best. I remember I took movies on the last day of the season since we knew that the ballpark was going to be torn down. We played Vancouver and we got beat and Sparky struck out to end the game. I also remember Georgie hit a grand slam in a 22–5 win over Sacramento. I was the lucky guy who happened to be pitching that day."16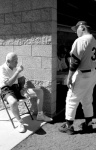 Anderson also remembered playing the field in Los Angeles where, while playing shortstop, he once skipped a ball off the mound while throwing to first base. "It's the same Wrigley Field as in Chicago," he said of the since-demolished ballpark. "There really wasn't any difference between those two stadiums. They had vines on the walls. Everything was the same as they had in Chicago."17
Hall of Fame manager Tommy Lasorda pitched for the Angels, as did Mauriello and the late Larry Sherry. They also had the late infielder Steve Bilko and outfielder Tom Saffell, former Gulf Coast League president.18
Anderson got a year closer to playing in the majors the next season. "Montreal, 1958, made the difference," he said. "The [minor league] Phillies had played very well in the International League. The Phillies needed a second baseman and the late Buzzy Bavasi [Brooklyn Dodgers vice president], made a deal with them. I always said that Buzzy was Jesse James pulling off that deal. To me, nothing was ever a big deal. I enjoyed playing so much. When I do something today, it's gone. I don't even keep a memory of it. I am not much for nostalgia. I never have been."19
"He was a good solid hitter, at least at the minor-league level," Mauriello said. "When I was pitching for Montreal and he was in Toronto, if I got the ball up, he would hit a line drive somewhere."20 After Anderson played four seasons with the Toronto Maple Leafs, he became the team's manager.
"When I left high school in Los Angeles, 1953, I knew as much baseball then as I know now," Anderson said. "I knew the game and I knew what to do. Everything was a picture to me. I have no idea why I knew this game as a 17-year-old."21
Mauriello said the most amazing thing was to run across Anderson at the Forum in Inglewood, California between the 1963–64 seasons. "I asked if he was still playing and, if so, where," Mauriello said." He said he was the manager of Toronto of the International League. I was surprised to hear that he was the manager of a Triple-A team. He was so young."22 Anderson was 30 at the time.
Anderson didn't forget George Scherger— his manager 17 seasons prior—when he made the big leagues. He named him as first base coach at Cincinnati, 1970-78. "Georgie wasn't the kind of guy to forget," Mauriello said.23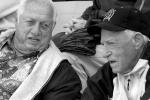 Anderson said that Scherger "was just magnificent. There would be no way to describe him and it is too bad that the public doesn't know the real people and the real things. This guy was for real."24
"I don't know how you could come from a little town in South Dakota that nobody even knows exists—with 600 people, and end up being in the Ohio Hall of Fame and the other Hall of Fame; [and] your number is retired," Anderson said.25 His number 1 was retired by the Fort Worth Cats, Number 10 by the Cincinnati Reds, and Number 11 by the Detroit Tigers in 2011.26 Anderson was also inducted into the Los Angeles Unified School District's Inaugural Sports Hall of Fame on June 5, 2011.27
"I don't know how that could happen. I would never try to find out. They always say funny things happen to funny people and I look at it that way," Anderson added.28
Beringer said he was coaching with the Dodgers when Anderson was at Cincinnati. "He did great at Cincinnati and then went on to Detroit and turned the ballclub around," he said. "There wasn't anybody who didn't want to play for him. There's never a problem when you have a winning ball club."29
Anderson never failed to talk with Beringer before the Reds played against the Dodgers. "He always gave me some ideas of what a major league manager should do. He said to have confrontations with your top five or six players is not a good idea because, if they are to drive in the runs for you, they have to be on your side."30
The late Ernie Harwell, longtime play-by-play announcer for the Detroit Tigers, who is himself honored in the "Scribes and Mikesmen" exhibit of Ford C. Frick award winners in Cooperstown, was an esteemed guest at the 2006 dedication of George "Sparky" Anderson Field at California Lutheran University, Thousand Oaks, California. He told the audience that Anderson's main asset was the fact that he knew how to work with people and that he was a people person.31
"I think that Sparky will probably tell you that all the honors that have come to him from national and international sources are really wonderful and satisfying," Harwell said, "but to be recognized in your own hometown by your own people is the highest honor of all. He appreciated goodness in people and had a lot of humanness in his own makeup, a great guy and a terrific person. I think that's what made him a good manager."32
STEVE AMES, Ed.D., taught college and university journalism and advised student publications for 38 years—including at Merced College, Pepperdine University and California Lutheran University. His BA degree in journalism and MS in mass communication are from San Jose State University; his doctor in education is from Nova Southeastern University, Fort Lauderdale, Florida. He has 15 years' experience as a newspaper reporter and magazine writer. Ames's love for baseball began with his first trip with his dad to see the Oakland Oaks play in 1948. His SABR interests include the minor leagues and baseball parks.
1. Joe Kay, "Hall of Fame Manager Anderson Dead at 76," Associated Press, November 4, 2010, http://sports.yahoo.com/mlb/news?slug=txobitanderson.
2. Carroll "CB" Beringer, telephone interview by author, April 25, 2006.
3. David Hackett, telephone interview by author, March 8, 2006.
4. George "Sparky" Anderson, personal interview by author, February 4, 2006.
5. Ibid.
6. Ibid.
7. Ralph Mauriello, telephone interview by author, April 5, 2006.
8. Ibid.
9. Ibid.
10. Anderson interview, op. cit.
11. Ibid.
12. Mauriello interview, op. cit.
13. Beringer interview, op. cit.
14. 1955 Fort Worth Cats team roster; http://fwcats.com/img/image/files/55new.htm.
15. Beringer interview, op. cit.
16. Mauriello interview, op. cit. Historical records suggest the opponent was actually San Diego, not Vancouver, that day.
17. Anderson interview, op. cit.
18. Baseball-Reference.com, 1957 Los Angeles Angels statistics; www.baseball-reference.com/minors/team.cgi?id=e1c8676a
19. Anderson interview, op. cit.
20. Mauriello interview, op. cit.
21. Anderson interview, op. cit.
22. Mauriello interview, op. cit.
23. Ibid.
24. Anderson interview, op. cit.
25. Ibid.
26. Jason Beck, "Sparky's No. 11 retired in emotional ceremony, MLB.com/ June 29, 2011, http://mlb.mlb.com/news/article.jsp?ymd=20110626&content_id=21026394&c_id=det&vkey=news_det
27. "Anderson to be honored in L.A.," Thousand Oaks Acorn, June 2, 2011.
28. Anderson interview, op. cit.
29. Beringer interview, op. cit.
30. Ibid.
31. Ernie Harwell, dedication of George "Sparky" Anderson Field, California Lutheran University, Thousand Oaks, California, January 28, 2006.
32. Ibid.