Tom Qualters's Amazing 1954 Season for the Philadelphia Phillies
This article was published in the 2013 The National Pastime.
Thomas Francis Qualters was a bonus baby whom the Philadelphia Phillies signed on June 16, 1953, for an estimated $40,000. He was a star pitcher at McKeesport, Pennsylvania and once struck out 21 batters in a seven-inning high school game and 24 in an eight-inning high school game, allowing only one hit in each contest.1 When he joined the Phillies, he felt that most of the players were pleasant to him. However, manager Steve O'Neill and the coaches did not believe he should be on the team. Thus, they pretty much ignored him.2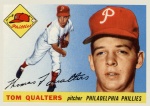 On September 13, 1953, O'Neill finally put Tom into a major league game when he relieved Tommy Glaviano in the bottom of the eighth inning, with the Phillies losing 11–1 to the Cardinals in St. Louis. Unfortunately, Steve Bilko greeted him with a home run and Peanuts Lowrey walked. After throwing a wild pitch, he hit Rip Repulski with a pitch. Harvey Haddix and then Solly Hemus singled, Red Schoendienst forced Hemus, Stan Musial doubled, and then Jim Konstanty replaced Qualters. A single by Enos Slaughter resulted in Qualters having faced seven batters and given up six runs on four hits, one walk, and one hit batter in the one-third of an inning he pitched (plus the one wild pitch).3 Qualters would not play in a major league game again until September 7, 1957, despite the fact that he was on the 1954 Phillies' roster for the entire season.
According to the Sports Encyclopedia Baseball, only four players have been on a major league roster all season without entering a game: Dick Rudolph in 1921 (Boston, NL), Joe Heving in 1935 (Chicago, AL), Grover Hartley in 1928 (Cleveland) and Qualters in 1954.4 All four have a designation in that volume after their names of "DP" for did not play. However, Rudolph had hurt his arm and was a coach, not a player in 1921.5, 6 Heving had been sent to the minors after the 1934 season, and Hartley, like Rudolph in 1921, was officially a coach in 1928.7, 8 Qualters was the only one to truly perform this odd feat of being on a major league roster all season, but never actually being in an official game.
A number of circumstances caused Qualters's unique 1954 season. Starting with the Detroit Tigers signing Dick Wakefield on June 21, 1941, teams were signing high school and college players for huge bonuses.9 This escalated after World War II and team owners felt that this spending of huge bonuses on unproven young players was out of control. A number of these bonus players did have outstanding careers such as Hall of Famer Robin Roberts, and others such as Johnny Antonelli, Curt Simmons, Dick Groat, and Herb Score also had significant success. Unfortunately, there were many players such as Frank House (Detroit Tigers), J.W. Porter (Chicago White Sox), Paul Pettit (Pittsburgh Pirates), Marty Keough (Boston Red Sox), Eddie Urness (Boston Red Sox), Jerry Zimmerman (Boston Red Sox), Tom Casagrande (Philadelphia Phillies) and Billy Joe Davidson (Cleveland) who were either complete busts or at best just journeyman players. In December 1952, the owners created a new rule to protect themselves from themselves.10 Any player who signed for more than a $4,000 bonus had to stay on the major league roster for two full seasons, or be released. They figured that no team would be foolish enough to spend all that money on untested players who had to use up precious spots on the 25-man roster. However, all 16 teams did sign such players. This rule was in effect from 1953 through 1957. Finally, after the 1957 season, the bonus rule was rescinded.11
Thus Qualters had to stay on the Phillies major league roster from June 16, 1953, through June 16, 1955. After 77 games in 1954, Phillies' manager Steve O'Neill was fired and Terry Moore replaced him.12 Unfortunately, Moore felt the same way about Qualters as did O'Neill.13 Many people have forgotten, but the Phillies from 1950 through 1955 were not bad teams. They had won the 1950 National League pennant but fallen to fifth place in 1951. However, they still had their nucleus of the 1950 Whiz Kids team including Robin Roberts, Curt Simmons, Jim Konstanty, Granny Hamner, Willie Jones, Del Ennis, and Richie Ashburn. They finished fourth in 1952 (only one game out of third place), were tied for third in 1953, and finished fourth in both 1954 and 1955. The fact that the team was very decent actually hurt Qualters's opportunity to pitch.
Starting in 1918, baseball divided up the World Series profit with all of the first-division teams.14 The amount of money could be quite significant. The 1953 Phillies had 30 full shares of $810 each (and six other cash awards).15, 16 In 1954, while it was apparent before the season was half over that they would not win the pennant, they were always in the fight for first-division money. On August 1 they were tied in the loss column with the St. Louis Cardinals for fourth place.17 By September 1 they were in fifth, behind the Cincinnati Reds but ahead of the Cardinals. As September progressed, the Phillies inched ahead of the Reds. Going into the last game of the season, they were only one game ahead of the Cincinnati Reds for fourth-place money. If the Reds won and the Phillies lost, they would be tied for fourth and have to split the money. Therefore the Phillies could not afford to pitch an inexperienced rookie such as Qualters with so much money at stake. Of note, both the Reds and the Phillies lost their September 26 game and thus the Phillies collected the fourth-place money.18 There eventually were 33 full shares at $648.36 each and four other cash awards.19 The average National League salary has been calculated to have been  $13,772 in 1954.20 Thus, the fourth-place money was a significant enticement for the Phillies to win games and finish fourth. Other teams such as the Pittsburgh Pirates, who were long doomed to eighth place (and would eventually lose 101 games that year), could easily use bonus pitcher Laurin Pepper, and thus started him in eight games and used him in relief in six more. Of note, the buying power of a dollar in 1953 compared to 2012 was $8.39 and thus the fourth-place money was worth $5,439.74 today.21 Thus for many Phillies—the coaching staff as well as the players—this would be a significant windfall.
Also, the Phillies were not in any long, extra-inning games during the season.22 Typically, extra-inning games involve many pinch hitters and thus multiple pitchers. In fact, in some long games, non-pitchers have been forced to pitch. For the 1954 Phillies the longest game was 15 innings on June 17, but Robin Roberts pitched a complete game, which was typical of him. There was a 13-inning game on July 23 that Bob Miller and Robin Roberts pitched. However, there were not any long games that required multiple pitchers.
Finally, there were no real "blow out" losses for the Phillies in 1954. On May 17, there was an 8–0 loss, but the game was only 5–0 going into the 8th.23 In the June 20 15–6 loss to Cincinnati, the Phillies used Herm Wehmeier, Jim Konstanty, Murry Dickson, Ron Mrozinski, and Bob Greenwood.24 That possibly could have been a chance for Qualters. There was a 10–0 loss on July 5 that was 10–0 after four innings that Wehmeier, Konstanty, and Greenwood pitched.25 Again, Qualters could have pitched. On July 30 in a 12–3 loss to the St. Louis Cardinals, the score was only 4–3 going into the seventh. Bob Miller, Wehmeier, Konstanty, and Mrozinski pitched.26 On September 18, the Phils lost 9–1 to the Giants; Dickson, Miller, Steve Ridzik, and Ron Mrozinski pitched.27 While there were no double-digit losses except for the July 5 game, there were a few games where Qualters felt he could have had a chance at major league pitching experience.28
Qualters went to the ballpark every day. He often pitched batting practice. Since they did not use any protective screen, this was a potential problem. Granny Hamner once lined a pitch that hit the bill of Qualters's cap. All pitchers, including Tom, had to have batting practice before the position players did. However, it was the batboy who pitched batting practice, not a pitcher or even a coach. After that, Qualters mainly went to the bullpen to watch the game, although he occasionally sat on the bench. He never was told by the managers or the coaches if or when he would pitch. He did not receive any pitching instructions from the coaches or managers until he was finally sold to the Chicago White Sox in 1958. There he was managed by Al Lopez and coached by legendary pitching coach Ray Berres.29
Qualters did pitch in an exhibition game on May 3, 1954, when the Phillies played their Terre Haute farm team (Class B, Three I League). He relieved Johnny Lindell in this 10–2 victory.30 Qualters did start a game in 1954 against a major league team but not a regular-season NL contest. The Phillies and the Philadelphia Athletics used to play an annual charity game and Qualters was selected for the seventh annual game. Thus on June 28, Tom Qualters started for the Phillies in this exhibition game.31 He unfortunately beaned Vic Power in the first inning, knocking him unconscious. Qualters gave up four hits, and struck out one batter in only three innings, but was declared the winning pitcher. On July 12 during the All-Star Game break, the Phillies played an exhibition game against the Schenectady team. However, the Phillies tried to use as many former Schenectady players as possible and thus Qualters did not play, nor did he play the following day against Syracuse.32 On August 23 the Phillies played the Fort Wayne American Van Lines. However, this was a semi-pro team, not a professional team. Behind Qualters's five-hitter, the Phillies won 6–4.33
Qualters was a fast runner.34 In the minors he later did pinch running. However, despite slow players on the 1954 Phillies such as Del Ennis and Smoky Burgess, Qualters was never used as a pinch runner.
Pitcher Jim Brady of the 1955 Detroit Tigers almost was in the identical situation as Tom Qualters. He was signed to a large bonus on June 9, 1955, and did not play in any games that year.35 However, the Tigers had played 52 games already and Brady was not with them all season.36 In addition, it has been suggested that Brady was injured in 1955, but there is no evidence of his being on the disabled list.37, 38
Perhaps Qualters, O'Neill, and Moore were the forerunners of Roy Hobbs and his manager Pop Fisher in the Robert Redford movie The Natural. When Roy Hobbs first came to the New York Knights, Fisher was very unhappy about his team signing Hobbs to a major league contract without his knowledge. Fisher said, "I ain't gonna play him," and for a long time he did not.39 That was how O'Neill and Moore deep down felt about Qualters. As he said recently, "I'd been better off taking less money and signing with another team. But I was just a young, dumb kid then."40
Acknowledgments
The author wishes to acknowledge the help of Robert Gorman and Thomas F. Qualters Sr. for their help with this article.
STEPHEN D. BOREN MD, FACEP is an emergency medicine physician and Assistant Professor of Emergency Medicine at the University of Illinois College of Medicine and was stationed in the U.S. Army in Korea. In addition to multiple publications in the "Baseball Research Journal," "The National Pastime," and "Baseball Digest," he has many medical publications.
1. Brent Kelley, Baseball's Bonus Babies: Conversations with 24 High-Priced Ballplayers (Jefferson NC: McFarland Press, 2006) 10.
2. Thomas F. Qualters. Personal phone interview. January 15, 2013.
4. David S. Neft, Richard M. Cohen, and Michael L. Neft, The Sports Encyclopedia: Baseball, 20th edition (New York, NY: St. Martin's Press, 2000).
6. Dick Leyden, "Dick Rudolph" http://sabr.org/bioproj/person/c7bc764a.
7. Bill Nowlin, "Joe Heving" http://sabr.org/bioproj/person/a4e4afdb.
8. Mike Cooney. "Grover Hartley" http://sabr.org/bioproj/person/ba3f05b5.
9. The Sporting News Baseball Register (St. Louis, MO: Charles C. Spink and Son, 1944), 179.
10. The Sporting News Baseball Guide and Record Book (St. Louis, MO: Charles C. Spink and Son, 1953), 97.
11. The Sporting News Baseball Guide and Record Book (St. Louis, MO: Charles C. Spink and Son, 1958), 110.
13. Qualters interview.
14. Reach Official American League Baseball Guide For 1919 (Philadelphia: A.J. Reach Company), 195–196.
16. The Sporting News Baseball Guide and Record Book (St. Louis, MO:
Charles C. Spink and Son, 1954), 106.
19. The Sporting News Baseball Guide and Record Book (St. Louis, MO: Charles C. Spink and Son, 1955), 28.
20. Doug Pappas, Business of Baseball, http://roadsidephotos.sabr.org/baseball/1957-63sals.htm.
28. Qualters interview.
29. Ibid.
30. Waterloo Iowa Daily Courier, May 4, 1954.
31. Art Morrow, The Sporting News, July 7, 1954, 15.
32. Schenectady Gazette, July 13, 1954, 21.
33. Valparaiso Vidette, August 24, 1954, 7.
34. Qualters interview.
37. Alan Roth, ed., Who's Who In Baseball (New York: Baseball Magazine, 1957), 77.
38. The Sporting News Baseball Register (St. Louis, MO: Charles C. Spink and Son, 1956).
40. Qualters interview.