SABR DAY 2012 – BOSTON CHAPTER'S "WALK OF INFAMY"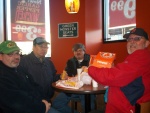 On Saturday, January 28, the SABR Boston Chapter, as part of the SABR Day In America festivities, conducted a "Baseball History Tour of Infamy" near Fenway Park and Kenmore Square. Boston has a thriving, vibrant tourist industry with a plethora of historical landmarks, sites of great battles, and institutions that have contributed much to the history and culture of America, therefore the Boston Chapter decided to cash in on such abundant opportunities. January is a rather slow time in Boston as just a few of the duck boats make sparser than normal touristical rounds, attractive only for the stalwart souls who brave the cold weather in open-air truck-boats, and since the swan boats on the Public Garden are all put away until the spring, the Boston Chapter saw an opportunity to take advantage of many sites of historical value that are, at this time of the year, clear of the usual throngs of out-of-town tourists. We had the whole adjectival place to ourselves. But I digress.
The weather cooperated. A temperature in the mid-forties is Red Sox t-shirt weather for the die-hard fan, but we were all just wicked thankful it wasn't raining or snowing as it did the day before. Fifteen souls met at The Baseball Tavern where packets of information were distributed featuring the places to be visited. Setting out from The Tavern, we marched on to Fenway Park where we stopped to ask: why Van Ness Street?? After commemorating the removal of unruly fans from the stands in 1912, and to reflect upon a story about a female fan of the New York Giants found by a groundskeeper inside Fenway Park several hours after the World Series game had ended – "dressed all in silk with a velvet purse" – who was taken to Boston City Hospital where she incessantly ranted for days on end: "Oh, Mathewson! Slam it out for a home run! Make it a lucky tenth!" Of course, she was crazy; pitchers don't hit home runs, even in a pinch.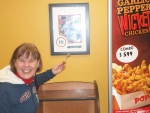 We also stopped near Gate A where Josh and Timmy Schiller played catch, and we played a recording of "Tessie" while sitting on the Fenway Park steps. We hope it'll help the upcoming season.
Popeye's, that fried chicken establishment that has been elevated to celebrity – or notoriety status –is located underneath the Hotel Buckminster. The staff have enjoyed all the attention they have been getting, but they would not divulge any inside dope about how they've claimed their baseball fame — "we must protect our legend!" We did learn that the code word for the clubhouse take-out gang was "John" but we still do not know who supplied the beer (a take-in, not a take-out). By the way, there's a framed photo of Josh Becket on the wall. Apparently Jim Rice is also a fan. We partook of the fried chicken and we can report it is — SO GOOD SO GOOD SO GOOD!!!! And we reminisced how last season the pitching wasn't so good, although the bullpen aced it with their choice of fried chicken. So far, we were learning a lot about Boston's baseball history, yes, indeed.
We walked along Commonwealth Ave. to the old Hotel Kenmore (where all the visiting teams stayed at one time or another, then across to Beacon Street to the Myles Standish Hotel — where Babe Ruth always stayed in room 818 and where Ellis Kinder almost burned the place down when he fell asleep with a lit cigarette. Imagine — players who smoked ...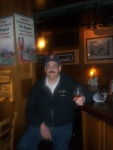 At the Hotel Buckminster, the staff invited us into the lobby while we waxed nostalgic about the Black Sox scandal, had a moment of silence to honor Gene Carney, glanced around for Sport Sullivan and Chick Gandil, and read about the game of September 19, 1919, after which Gandil met here with Sport Sullivan to work on fixing The Fix.
Then onward to the Dugout Bar — Café, for those preferring a name less edgy — a few blocks west on Commonwealth Ave. and across from BU's Marsh Chapel. Nice neighborhood. We had in hand a lot of historical information, including the story, legend, apocryphal tale, about Pinky Higgins showing up there 15 minutes after Red Sox games and eventually falling off a stool after taking in too much of the bar's offerings, and how the Dugout was one of the first three bars in Boston to open after Prohibition (like, how much preparation did they need, oh, I must speak easily here) but when asking the bartender about it, he said "I know nothing!!" We guessed he must have worked there a very long time and was well-trained on how to handle interrogations. A guy sitting on a nearby barstool said he used to work here and told a Ted Williams story about how Ted had once borrowed the bar owner's car. A cop stopped Ted and asked, "Hey! Whaddya doin' drivin' O'Keefe's cah?
"I'm Ted Williams!"
"Yeah, sure you ah, kid."
As for all the stuff about Pinky, he said, "I don't know nuthin' about that stuff, maybe at another bar. O'Keefe owned three!" I said, "well, all this history stuff I gathered says it was here." (And the place sure looks right for it) And the bar stools look like they ain't been updated (festooned with lovely accents of duct tape ) since Pinky fell off one of them — I can report that the atmosphere at the Dugout, the ambiance, the throbbing, intense feeling of being close to history, is breathlessly overwhelming!! And they have Harpoon IPA on tap!!!! And IT IS WICKED GOOD!!!
So the guy sitting at the bar says, "OK, maybe that stuff might have happened here, but I also don't know if it was that booth over there, or that booth over there, where they planned the Brinks robbery." 
So we sat in both, just in case. And, did you know, that the Dugout Bar was the only bar in Boston well-supplied with beer during the long siege of the Blizzard of 1978 because the Boston Edison trucks brought it in from the warehouse when only emergency vehicles were allowed on the roads. But no one's talkin' there.
We had considered returning to The Baseball Tavern, but somehow we just never got out of the Dugout. There might be a couple of attendees still there. I dunno for sure. They're not talkin'.
— Joanne Hulbert, Tour Guide
SABR Boston Chapter