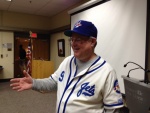 The Hank Gowdy Chapter in Columbus, Ohio, celebrated SABR Day for the second consecutive year with a meeting at the Westerville Public Library.
The Saturday morning session was attended by 26 members and their guests. The meeting was chaired by Rick Huhn.
Blake Sherry reported on past and future meetings of the group's burgeoning book club. The next meeting features a discussion of the biography of Mordecai Brown written by our own Cindy Thomson.
The highlights of the SABR Day meeting were the presentations by three local members. Mark Lecuru offered a fascinating review of the life and baseball career of often-overlooked Dead Ball Era slugger Gavvy Cravath. At the conclusion, Mark presented a spirited argument for Cravath's inclusion in the Hall of Fame. Next, Ernie Walther outlined the life and career of pitcher Earl Alonzo Moore, a native of the Columbus suburb of Pickerington. Ernie concentrated on several of the key games in Moore's early career that catapulted him to prominence. Blake Sherry then inserted additional local flavor with a review of the colorful history of the Columbus Jets, the popular local International League entry of the 1960s. The franchise supplied the Pittsburgh Pirates with much of their star power in the decade of the 1970s.
The presentations were wrapped around a pair of book raffles, as well as a trivia contest won by Jeff Cranston. Following the meeting a number of the members adjourned to Jimmy V's, a local sports pub. More photos are below.
— Rick Huhn