On January 28, 2012, 35 SABR members and guests gathered in the press box at Tempe Diablo Stadium — winter home of the Los Angeles Angels — for the third annual SABR Day meeting of Arizona's Flame Delhi Chapter. It was a beautiful, sunny day, and we're all ready for pitchers and catchers to report in three weeks.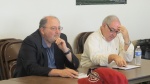 Our meeting was highlighted by a Hot Stove panel that included MLB.com writers Barry Bloom (who joined SABR after speaking at the Arizona Fall League Conference back in November); Bernie Pleskoff, former scout with the Houston Astros and Seattle Mariners; and special guest Marty Lurie of KNBR radio in San Francisco. Bloom and Pleskoff weighed in with their predictions of the 2012 season, both agreeing that the hometown Diamondbacks would be a force to be reckoned with in the NL West. Bloom explained how TV money is changing the power structure in the American League, especially in regards to the Angels' offseason acquisitions of Albert Pujols and C.J. Wilson and the Rangers' signing of Yu Darvish. Pleskoff also spoke about the continuing Ryan Braun saga in Milwaukee and the Nationals' growing stable of young talent.
Chapter members also participated in a "show-and-tell" segment during the meeting. Among the items brought in were Jim Odenkirk's tickets and clippings from the August 24, 1945, game at Cleveland Stadium in which Bob Feller made his debut following service in World War II. "Rapid Robert" and the Indians beat eventual AL MVP Hal Newhouser and the pennant-winning Tigers, 4-2. Bert Moser, 93 years young, brought in a 1974 Henry Aaron commemorative bat given to him when he worked for Magnavox. Moser told stories of driving Aaron around New York when the latter signed a famous $1 million endorsement deal with the electronics company.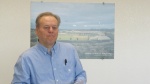 Chapter president Rodney Johnson noted the 20th anniversary of the chapter's first meeting in 1991 and also the recent passing of vice president Bob Vostry. SABR executive director Marc Appleman introduced the office staff and highlighted the upcoming SABR Analytics Conference to be held in March. Jacob Pomrenke introduced the new Baseball Biography Project website, relaunched at SABR.org last week, and encouraged members to get involved by writing new BioProject essays.
Many members signed up to volunteer for the SABR booth during weekend spring training games at the Diamondbacks' and Rockies' new facility, Salt River Fields at Talking Stick. Come say hello!