The Hank Gowdy Chapter's third annual winter meeting was held on Saturday, January 26, 2013 (SABR Day) at the Karl Road Branch of the Columbus Public Library.
This was the chapter's first day-long meeting and the 25 members and guests can attest to its success. The guest speaker, author and former sportswriter Jonathan Knight, delighted the group with a discussion of his intriguing book, Summer of Shadows. The book intertwines details of the 1954 American League championship run and World Series defeat of the Cleveland Indians with local Dr. Sam Shepherd's much-publicized trial for the murder of his wife.
In addition to our featured speaker, the group was treated to four convention-quality presentations by members of the chapter. Columbus baseball historian Jim Tootle discussed the life and times of chapter namesake Hank Gowdy. Chris Gallutia, via the wonders of PowerPoint, discussed the availability of genealogical resources for baseball research, utilizing the records of local and national baseball figures as examples. Sam Pathy shared his knowledge of all things Wrigley Field by documenting the 50 longest home runs hit at the ballpark since 1937. Jeff Cranston enlightened us with a description of baseball's first perfect game pitched by J. Lee Richmond on June 12, 1880 in Worcester, Massachusetts.
During the day the group held a short business meeting and raffled off a fine set of books donated to the chapter from the collection of the late Bob McConnell, a founding SABR member. In addition, 18 members filled out a Hall of Fame ballot. It took 14 votes for election. No one qualified. The top vote-getters were Biggio (12 votes, 66.7%), Trammell and Morris (9/50), and Schilling and Piazza (8/44). Bonds and Clemens each received 2 votes.
A discussion of the results and Hall of Fame criteria followed. Before adjourning, we were put through our paces by trivia guru John Lewis.
More photos of the event can be viewed below.
— Rick Huhn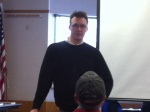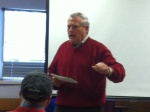 For more information on SABR Day 2013, click here.