The Larry Dierker/Houston SABR Chapter played a doubleheader on Saturday by staffing a table at the Houston Astros FanFest, where more than 2,800 baseball folks were exposed to SABR, while also attending our own SABR Day event. Thanks to Herb Whalley, Joe Thompson, Stan Curtus, Tom Plemens, Marsha Franty, Erika Everett, Harold Jones, Bill McCurdy, Ira Liebman, Tony Cavender, Bob Stevens, Tom Murrah, Bob Dorrill and Tom White for stepping up to handle the large crowd at FanFest. Many people provided us email addresses and we will follow up on each one.

Hats off also to Matt Rejmaniak for setting up and hosting the SABR Day celebration over the lunch hour. Some 34 members and friends came to the Home Plate Grill directly across the street from Minute Maid Park to join in the fun. Matt started with a tribute to Stan Musial and Earl Weaver, who had passed away earlier in the week. Next was Houston Astros Authentics Manager Mike Acosta who brought with him four mannequins fitted with the new Astros look for 2013. Mike went through the uniform selection process, outlined basic parameters for what had been agreed to and what had been scraped.

Kudos also to Tom White, Joe Thompson and Bob Dorrill for providing a variety of trivia contests both for SABR Day and FanFest. Mike Vance and Ira Liebman were among the winners. We also enjoyed a book exchange, lots of "hot stove league" discussion celebrating both SABR Day and the upcoming baseball season while eating lunch together. Welcome to new member Ken Thompson and visitors Grant Soverign, Bryon Bahnse, Anne Shelton and Marc Does.

Due to a conflict caused by the NBA All-Star Game being played in Houston, we will be unable to hold our normal monthly meeting on February 11. Accordingly, our next meeting will be on Monday, March 18 at the Inn at the Ballpark starting at the regular time.
More pictures can be viewed below.
— Bob Dorrill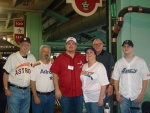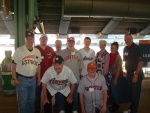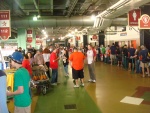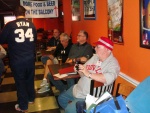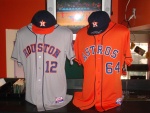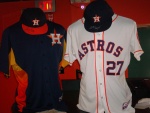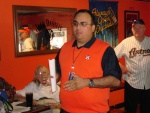 For more information on SABR Day 2013, click here.