Our joint meeting at Kenosha's Brat Stop had 44 attendees. The first guest speaker was Carrie Muskat, author of Banks to Sandberg to Grace: Five Decades of Love and Frustration with the Chicago Cubs and an MLB.com reporter for the Chicago Cubs. She is also a voter for the Hall of Fame and gave us her ballot, and gave a compelling review of why she voted for Barry Bonds and Roger Clemens. Lou Olson, who covers the Milwaukee Brewers for ReviewingtheBrew.com, spoke about the Brewers' chances in 2013 and amused us with his John Axford mustache facts. Presentations were given by Bob Buege on "Racine's Southpaw", Deadball Era pitcher Eddie Killian; and Dennis Degenhardt on "The Chicago White Sox of Milwaukee."
View photos of the event below.
— Rick Schabowski and David Malamut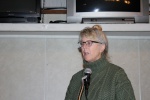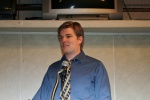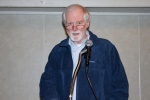 For more information on SABR Day 2013, click here.