Twenty-eight members and guests of the SABR Flame Delhi Chapter gathered at Tempe Diablo Stadium for SABR Day 2013 on January 26, 2013, in Phoenix, Arizona.
Chapter President Rodney Johnson kicked off the annual meeting with a history of the chapter, which is celebrating its 20th anniversary in 2013. He also named Mark Smith as the chapter's new vice-president in charge of activities. Smith then led a presentation on the year-round baseball available in Phoenix, including not only Cactus League spring training, the Diamondbacks season and the Arizona Fall League, but all the various instructional and short-season leagues played at minor league complexes during the summer. Bob Flynn also mentioned all the great high school and college baseball teams in the area, too.
Mike and Judy Anderson talked about the Copper City Classic vintage baseball tournament, April 6-7 at Bisbee's historic Warren Ballpark, built in 1909. Mike then gave a presentation on Tony Antista, "the best musician in pro baseball." Antista hit .400 twice in the low minor leagues before going on to become a musical performer in the Los Angeles area, notably at The Derby restaurant near Santa Anita Park and for his friend Richard Nixon's campaign events.
Chuck Johnson also talked about the SABR BioProject (he recently published a biography on Dave Hilton) and a new project to colloborate with Arizona Major League Alumni to write SABR bios on retired players.
Following the presentation, a Hot Stove panel ensued with MLB.com columnist Bernie Pleskoff and KNBR broadcaster Marty Lurie discussing their thoughts on the upcoming 2013 season, the Justin Upton trade, the Giants' chances to repeat, the Dodgers' high-priced talent and the mighty AL West.
View more photos of the event below.  
— Jacob Pomrenke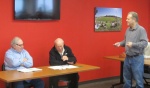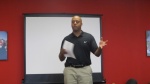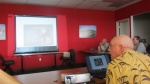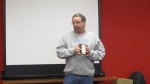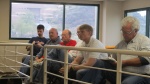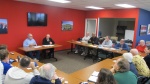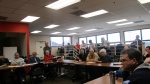 For more information on SABR Day 2013, click here.