Montpelier, Vermont (Gardner-Waterman Chapter): The Vermont Mountaineers held their annual Hot Stove Banquet on Saturday, January 26, which just happened to be SABR Day, and the special guest was none other than ESPN's Buster Olney. SABR's Buster Olney Junior Chapter, a group of Burlington, Vermont-area kids who meet up weekly for dice baseball games and to talk about their favorite teams and players, was in attendance to hear their chapter's namesake speak at the banquet. A fine time was had by all.
View more photos of the event below.
— Tom Simon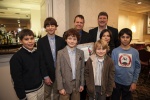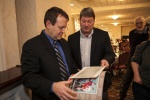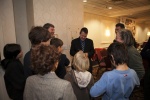 For more information on SABR Day 2013, click here.