By Mark Aubrey
The East Tennessee Chapter had a great meeting this last Saturday. Many thanks to our guests and speakers. I'd also like to thank Bryan Steverson for taking notes.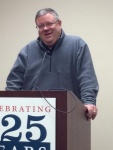 Here's my overview of the meeting:

East Tennessee SABR Chapter
Meeting: Saturday, January 25, 2014
Location: Lawson McGhee Library, Knoxville, TN
Time: 10am to 12:45pm

Attendees: Marshall Adesman, Mark Aubrey, Erik Ferragut, Joe Gallagher, Lucas Hobbs, Brad Ridenour, Bryan Steverson

Guests:
Brian Cox, General Manager TN Smokies
Bradley Reeves, TAMIS
Adam Alfrey, Knoxville Holstons


Next Meeting: East TN SABR Chapter Mtg., Saturday May 24, Smokies Park

Discussion:

Brain Cox:

The Tennessee Smokies are under new ownership for 2014; Knoxvillian Randy Boyd and his wife.

The full playing surface at Smokies Park has been renovated. The field was taken down 6" and new sod laid over sand for improved drainage. The Smokies lost the benefit of seven games last year because of poor drainage after rain storms. The home plate area will now be shaped like a
home plate instead of the arc of a circle as in the past. The warning track will be red, crushed brick dust versus the earlier crushed stone. Many wonderful changes to enjoy in 2014.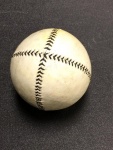 Adam Alfrey:

Adam updated us on the Tennessee Association of Vintage Baseball.  There will be eight teams for the 2014 season including two from East Tennessee: Knoxville Holstons and Harriman Dry Town Boys. The season starts Saturday April 12. Adam gave out the schedule and a copy is also included the recent Newsletter Mark published.

Players ages run from 20-72 and the 1864 rule book is used. Pitchers stand 45 ft away and pitch underhand with the object being to get the batter to strike the ball. No gloves are used. No strikes are called. The "On the Bound" rule means a catch after one bounce is an out. bases are the standard 90 ft apart. Women are allowed to play. There is one Arbiter (i.e., Umpire). There is no admission charges for the games.

Bradley Reeves:

Bradley showed a very interesting film clip on early Knoxville baseball.

Other:

The Nashville Old Timers Banquet was held on Thursday evening, January 23. Former NY Yankee great Bobby Richardson was the guest speaker. We (East Tennessee SABR) had a special table assigned. Attendance was close to 600 folks. Over 30 scholarships totaling >$30,000 were presented to Nashville area high school baseball players with strong academics and community involvement.

The nomination of Burnis "Wild Bill" Wright for the Tennessee Sports Hall of Fame, Class of 2015, is being submitted by Steve Short of Milan, TN and Bryan Steverson. A former Negro League All Star and a member of the Mexican Professional Baseball HOF, Wright was called "the black Joe DiMaggio." Larry Lester, co-chair of the Negro Leagues Committee of SABR and Dr. Raymond Doswell, Curator of the Negro Leagues Baseball Museum, have agree to write letters of endorsement. Nominations are due by the end of June.

Our friend Skip Nipper of Nashville SABR will be the keynote speaker and former Kansas City All Star and World Series Champion, Willie Wilson, the luncheon speaker at the MTSU Baseball in Literature and Culture Conference, Friday, April 4. Bryan Steverson will be making a presentation also.

For those interested, NYU President John Sexton has an excellent new book titled, Baseball As A Road To God. It is a spiritual based baseball book appropriate for all. For what it is worth Dr. Sexton is Catholic while his son is Jewish. Sexton laments the loss of the Dodgers while he and his son welcome the Yankees.  It is a very good read for those of all or any faith.

Please note the annual Rickwood Classic has been moved to Wednesday June 25. Originally it was planned for Wednesday, May 28. Last year's special guest was HOF Ferguson Jenkins. There are normally numerous former Negro Leaguers present as Dr. Layton Revel, Center for Negro League Baseball Research, hosts them the day and evening beforehand.

Get ready for an exciting 2014 season with our TN Smokies. According to the latest issue of USA TODAY SPORTS WEEKLY (article page 3, January 22-28, 2014). "...five of the top six prospects likely will begin the season at Class AA." Brain Cox stated we could expect to see position player prospects Kris Bryant and Jorge Soler. Pitcher C.J. Edwards plus other three young pitchers from Daytona should be here. The four combined for a 0.00 ERA in the two
Florida State League playoffs series. Outfielder Alberto Almora should arrive by midseason.

Former Knoxville Smokie (1999) and MLB player, Joe Lawrence, is now the president of Marucci Bats of Baton Rouge. Marucci is a growing company and now has the endorsements of Jose Batista and Albert Pujols, among others.

Calendar of Events:

Recent:

1. REDSFEST, Cincinnati, Ohio December 6-7, 2013

2. Nashville Old Timers Baseball Association Banquet  January 23, 2014 (former NYY second baseman Bobby Richardson guest)

3. Cincinnati Reds Caravan (Bowling Green Friday January 24;  Nashville & Lexington Saturday January 25) (Mat Latos, Thom  Brennaman, Walt Jocketty)

4. Atlanta Braves Caravan (Nashville Saturday January 25; Huntsville  Sunday January 26; Chattanooga Thursday January 30)

Future:

1. Groundbreaking Nashville Sounds New Ballpark, Mon Jan. 27

2. Southern Association Baseball Conference, Atlanta Saturday,  March 1

3. MTSU Conference on Baseball in Literature and Culture,  Friday April 4,  Skip Nipper keynote speaker; Willie Wilson luncheon speaker

4. Chattanooga Lookouts home opener v. Jackson, Thursday, April 3.

5. TN Smokies home opener vs. Chattanooga, Wednesday April 9

6. TN Sports HOF Induction Banquet, Nashville, Saturday May 17  (Claude Osteen 3X All Star; 18-year MLB pitched being inducted)

7. East TN SABR Chapter Mtg., Saturday May 24, Smokies Park

8. Southern League All Star game Chattanooga,Tuesday, June 17.  Fan Fest and Home Run Derby Monday, June 16

9. Appy League opens

10. Rickwood Classic, Wednesday June 25, Birmingham AL

11. PCL All Star Game, Durham, NC, Wednesday July 16

12. East TN SABR Chapter Mtg., Saturday July 19, Tri Cities area,  Author Lynn Sutter will be the guest speaker.  A game of the Appy League will be taken in.

13. Hall of Fame Induction Weekend, Cooperstown, July 25-28

14. National Sports Collectors Convention, Cleveland, OH,  July 30-August 3

15. SABR National, Houston, TX, July 30-August 3

16. Jerry Malloy Negro League Conference, Detroit, MI, August 14-16

17. East TN SABR Chapter Meeting, Saturday, November 8, Knoxville

------------------------

Audio of the speakers can be found at: https://soundcloud.com/mdaubrey
(Photos by Lucas Hobbs)