The Rocky Mountain Chapter of the Society for American Baseball Research hosted its sixth annual SABR Day on Saturday, January 24, 2015, with 52 SABR members and friends in attendance. Chapter President Matthew Repplinger provided panel member introductions and welcome greetings to all guests and chapter members.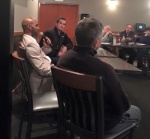 Marc Stout of Root Sports Rocky Mountain, the panel moderator, provided a number of questions to the video panel members Chris Warren, Advance Scout for the Colorado Rockies and Luke French, formerly of the Minnesota Twins, about their video and scouting experiences, duties and responsibility. Panelists talked about the level of trust the 25-man roster must have in their scouting recommendations, and how the game has changed over the last 10 years. Luke French spoke about being in the big leagues and how he worked with video coordinators/advanced scouts during his career and how the dynamic changed when he then became the advanced scout himself. Also discussed was how many hours go into an average day at the ballpark, which is approximately 15 hours (8:00 am – 11:00 pm). Both speakers patiently answered any and all questions by the emcee and from the audience, especially addressing the complexity of the videos/advanced scouting provided to the players.



The scouts panel, consisted of Kent Gregory of the Yankees, Ed Henderson of the Twins, Al Blesser of the Seattle Mariners, Tom Maloney of the Kansas City Royals, and Charles Ro of the Atlanta Braves. Marc Stout also provided questions that enable panel members to provide discussion and feedback on the number of games attended and scouted daily and annually. Discussion was also provided about the amount of hours involved, territory covered, evaluation approaches, players draft recommendations, scouts organizational structure and cross checker visits. Additionally, feedback was provided regarding scouting games concerning specific players and discovering other players that ultimately were drafted and signed rather than the player initially targeted.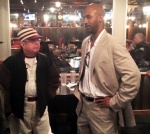 All in attendance had the opportunity to listen to the experiences and viewpoints of the video and scout panel members. Guests and chapter members who attended the event interacted with the panel members and enjoyed the panel members' insight and explanations. Panelists were praised for their outstanding feedback as keynote speakers by all members and guests.

President Matthew Repplinger also provided a reminder that the next meet for the chapter is the monthly luncheon at 12 p.m., Wednesday, February 18, 2015 at the Breckenridge Brewery, 20th and Blake, Denver CO

Sincerely,

John Paul, Secretary
SABR, Rocky Mountain Chapter