East Tennessee SABR Chapter meeting recap

Meeting: Saturday, January 24, 2015 SABR Day
Location: Lawson McGhee Library, Knoxville, TN
Time: 10am-12:30pm (social lunch followed)

Attendees: Mark Aubrey, Lucas Hobbs, Joe Gallagher, Drew Jenkins, Ed Ripley, Bryan Steverson
Special Guests: Steve Jones, Amber and David Roessner
Visitors (potential SABR members): John Schwartz, Bill Steverson

Meetings:
  *Next Meeting: East TN SABR Chapter Meeting, May TBA by Mark Aubrey
    (Statewide SABR Chapters meeting at Smokies Park to include park tour)
  *July-August Meeting: July 25 (tentatively) in Pulaski, VA at Pulaski Yankees
    vs. Bristol Pirates Appalachian League game. TBA by Lucas Hobbs.
  *November 2015 Meeting: Knoxville, Lawson McGhee Library TBA by Mark

Discussion: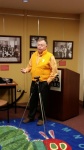 Former major league LHP (Chicago White Sox 1967; Washington Senators 1968; and Kansas City Royals 1969), Steve Jones spoke on his very interesting baseball career. As a junior at Whittier College in CA, Steve had recorded 16.8 strikeouts per 9 innings pitched. He recorded the Kansas City Royals' inaugural road victory in 1969 winning in Oakland against Charlie Finley, Reggie Jackson's and the home standing A's. Other highlights of Steve's career include striking out Mickey Mantle, pitching late in the season at Yankee Stadium in a tight pennant race and participating in the wonder of Fenway Park in the fall.

Dr. Amber Roessner, journalism professor at the University of Tennessee spoke on her recent book, Inventing Baseball Heroes - Ty Cobb, Christy Mathewson and the Sporting Press in America. Dr. Roessner's work focuses on the two types of manhood portrayed by the early media--the yin and yang of Hall of Famers Ty Cobb and Christy Mathewson, and the hero-crafting that sports writers were involved in. As mentioned in her very well researched work, there are positives and negatives involved with both men.

Lucas Hobbs, Vice President of Bristol Baseball Inc., spoke on the Appalachian League, the teams and the parent club working arrangements. Lucas has attended three prior Baseball Winter Meetings (Year 2014 in San Diego) and described the event to our attendees. The 2015 meeting will be in Nashville and a should provide an interesting opportunity for many area fans.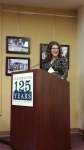 Drew Jenkins, writer/Sabermetrics Columnist at Rant Sports, spoke on his columns and the work he does in Prospect and Free Agent Analysis. A good example of Drew's in-depth work is on Kansas City Royals outfielder Alex Gordon. Drew considers Alex one of the top 10 players in baseball. Similarly, Oakland A's utility player Ben Zobrist has a high WAR (Wins Above Replacement) number, which may surprise many fans. Both Gordon and Zobrist tend to be undervalued.

Mark concluded our discussions with an eye opening presentation on UT baseball which he continues to effectively research. Records at the university are incomplete. Mark has unearthed games, opponents and even a head coach not heretofore in the official UT Record Book.

It was an educational and quite interesting chapter meeting. Upon adjournment, we shared lunch and continued discussions at a nearby deli.
Click here for audio links from the SABR Day 2015 meeting.
— Mark Aubrey