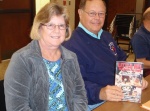 Central Florida's Auker-Seminick Chapter met for the sixth annual SABR Day on Saturday, January 31, 2015, (Jackie Robinson's birthday) with 16 members and friends attending at the Dr. Phillips Library in southwest Orlando for a spirited Hot Stove discussion.
The chapter conducted a mock Hall of Fame vote, with results mirroring the same four players recently elected to the Hall of Fame by the BBWAA: Pedro Martinez (100%), Randy Johnson (93%), John Smoltz (88%), and Craig Biggio (81%).
The Central Florida chapter also voted Mike Trout as the new "Face of Baseball," as the successor to Derek Jeter, with Trout edging Andrew McCutchen (a native of nearby Fort Meade, Florida) by one vote. Others nominees for the "Face of Baseball" designation included Buster Posey, Giancarlo Stanton, Clayton Kershaw, and Justin Verlander.
Members Harvey and Arleen Cohen conducted a 26-question trivia question contest with two members correctly answering 20 of the 26 questions, which ranged from A-Z (Earl Averill to Don Zimmer).
— Rod Caborn