Thirty-seven SABR members and friends were in attendance for the Flame Delhi Chapter's sixth annual SABR Day meeting on Saturday, January 24, 2015, at Tempe Diablo Stadium.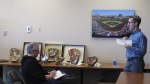 Sean Kane of Painted Gloves Collectibles showed off his unique artwork, which included original gloves focused on such players as Roberto Clemente, Tom Seaver, Johnny Bench, and Cecil Cooper.
Veteran baseball writers Barry Bloom and Tony DeMarco squared off in a lively discussion on the future of the Baseball Hall of Fame and the ramifications of the Steroid Era.
Chuck Johnson delivered a presentation on Mariano Rivera and the intracacies of the modern save rule.
Some members then took the occasion to go downstairs and view Tempe Diablo Stadium's new exhibit on Cactus League spring training history, which was written by chapter president Rodney Johnson. The chapter also raised money through a book sale with titles donated by members and the SABR office.
— Jacob Pomrenke