SABR Day 2018
SABR Day is an annual event that brings together SABR members and friends on the same day, regardless of where they live. The ninth annual SABR Day was held on Saturday, January 27, 2018.
Regional SABR meetings are open to all baseball fans — though we encourage you to join SABR if you like what you find — and are usually free to attend. Guest speakers often include current and former baseball players, managers, umpires, executives, scouts, writers and authors.
Here are some highlights and photos from SABR Day 2018:
Austin, TX (Rogers Hornsby Chapter)
Baseball memories dominated the Hornsby Chapter's 12th annual Winter Meeting on Saturday, January 13, reminiscing about the Houston Astros' memorable World Series win, hearing about beisbol in Cuba, learning about volunteer opportunities with RBI Austin and electing just one player in our mock Hall of Fame vote. Keynote speaker Branch B. Rickey, president of the Pacific Coast League, returned to the winter meeting to share anecdotes about his career in Major League and Minor League Baseball. Nearly 50 chapter members and guests also heard from author Anne Keene, the daughter of former professional baseball player Jim Raugh. She talked about baseball in the 1940s and a little-known Navy team that featured Ted Williams. KHOU Digital Content Producer and proud Texas State alumna Lisa Carter shared her perspectives and photos from the 2017 World Series, in which she covered every game in Los Angeles and Houston. Chapter member Monte Cely (pictured above) talked about his week-long trip to Cuba in September with other SABR members to watch baseball and learn about the Caribbean island nation, noting that even though politics may divide our countries, it's beisbol that unites us. Award-winning journalist, broadcaster and voice of the Round Rock Express, Mike Capps, returned to give his insight about the Express and outlook for the Texas Rangers in the upcoming season. Click here for a full recap and photos. — Gilbert Martinez
Baltimore, MD (Babe Ruth Chapter)
Our SABR Day meeting at the historic Peabody Heights Brewery was highlighted by ESPN's Tim Kurkjian. Other speakers included SABR Vice President Leslie Heaphy; Ken Mars, who discussed his documentary "Baltimore Baseball Before the Orioles"; Bernard McKenna, who discussed his research about the Baltimore Black Sox for his upcoming book; and David Stinson, who discussed the history of our meeting site.  — Peter Coolbaugh 
Boston, MA (Boston Chapter)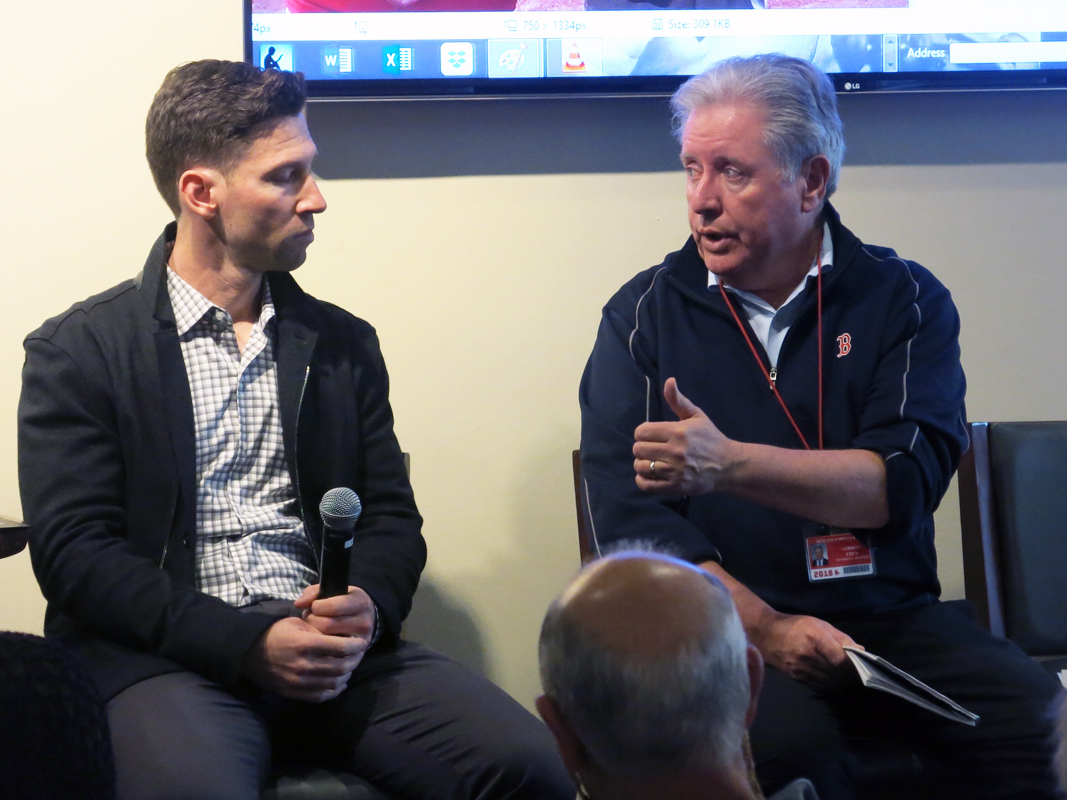 What a day it was in Boston, a SABR Day meeting at Fenway Park! Just over 100 people attended on Saturday, January 27, which was about the largest group we've had for a meeting in recent memory. Many thanks to Gordon Edes for the invitation this year, and as is always the case, the program was truly one for the ages. The keynote speaker was Craig Breslow, who has been called "the smartest man in baseball," a title he says he is not one to flaunt. But his talk was engaging, riveting and truly was one of the most thoughtful we have heard from any baseball player. Also on the agenda an interview with the Wentworth Institute baseball team, a team without a home field, although they manage to play a full schedule. Also heard from was the Boston Renegades Beep Ball Team, and it appears there just might be a challenge game brewing between Wentworth and the Renegades, so stay tuned for that one! There were other baseball groups heard from — from Bill Nowlin and his presentation on Ted Williams and Bobby Doerr, two greats who were born a century ago in 1918; and from Bob Brady, who reminded us all on the history and legacy of the Boston Braves. And, of course, there was lunch, and a peek at the Park. All who attended were unanimous in the vote to hold another SABR Day at Fenway Park. We truly hope we will be there again next year.  — Joanne Hulbert
Chicago, IL (Emil Rothe Chapter)
A week before most of the Society met for the official SABR Day, the Emil Rothe Chapter gathered on Saturday, January 20 at the Nichols Library in Naperville to celebrate on the weekend in between the local teams' offseason fan fests. Despite the challenge of parking, 35 seamheads found their way there to enjoy an afternoon of baseball chatter. Batting leadoff was Aaron Nieckula of the Oakland Athletics. The Berwyn native discussed the types of things he tries to do in his current role as the minor league field coordinator for the organization and in his other role as manager of the Vermont Lake Monsters (NY-Penn League). The next presentation peeled back the curtain a small bit on the White Sox gameday production with Dave Marren, a producer of scoreboard trivia for the Sox and the proprietor of the Sox Nerd blog. The Kenosha native walked through some of his favorite tidbits that made it to the scoreboard and described the various elements that come up on the scoreboard. Closing out the afternoon was Josh Nelson, host of the newly independent Sox Machine podcast, with his look to preview the 2018 Chicago White Sox. This year's event was also broadcast live via Facebook, and you can find those videos and more information on coming events, including a July date to see the Kane County Cougars, on the chapter's Facebook page. Click here for a full recap and photos. — Matt Mitchell
Cooperstown, NY (Cliff Kachline Chapter)
18 people showed up for the Cliff Kachline Chapter's SABR Day meeting held in the Bullpen Theater at the National Baseball Hall of Fame and Museum. Doug Gladstone spoke about over 800 ex-Major Leaguers who played before 1980 and how they receive either small or no pensions. Tom Shieber presented a series of old newspaper classified ads; teeth, watches and Mark Twain's umbrella all disappeared at nineteenth century baseball games. Jim Gates gave a view of the history of non-baseball trading cards. Girlie cards dominated the 19th century! Of the 18 in attendance, 10 were SABR members. Jeff Katz, chapter leader, discussed the proposed name change of SABR. A vote was taken and 9 of the 10 SABR members voted to change the name. More photos of the meeting can be found at the chapter's Facebook page. — Jeff Katz
Denver, CO (Rocky Mountain Chapter)
SABR's Rocky Mountain Chapter hosted its ninth annual SABR Day on Saturday, January 27, with 52 SABR members and friends in attendance. The traditional mass game of catch began at 11:10 a.m. with the call "Play Ball"! The weather was extremely cooperative providing a partly sunny but chilly morning at approximately 40 degrees. The bullpen warm-ups and games of catch were a little rusty, but the baseballs flew and mitts popped in short order. Then all participants congregated into the Blue Moon Restaurant and Brewery for lunch. Everyone enjoyed some good food, good company and numerous conversations about the goings on in the baseball world. Roger Kinney was our first SABR Day presenter and he gave an outstanding presentation about the history of baseball at the University of Colorado-Boulder. Parker then introduced Manny Randhawa, Board member elect and project leader for the new Rocky Mountain SABR website, to formally launch the new website. The final presenter, Dan Evans, current Toronto Blue Jays scout and Director of Pacific Rim Operations, gave a stellar presentation on the current professional baseball culture of the Far East and Pacific Rim Countries, including providing a great slideshow showing numerous pictures and memorabilia the Pacific Countries on his travels within all the various towns and cities.  — Alex Marks
Des Moines, IA (Field of Dreams Chapter)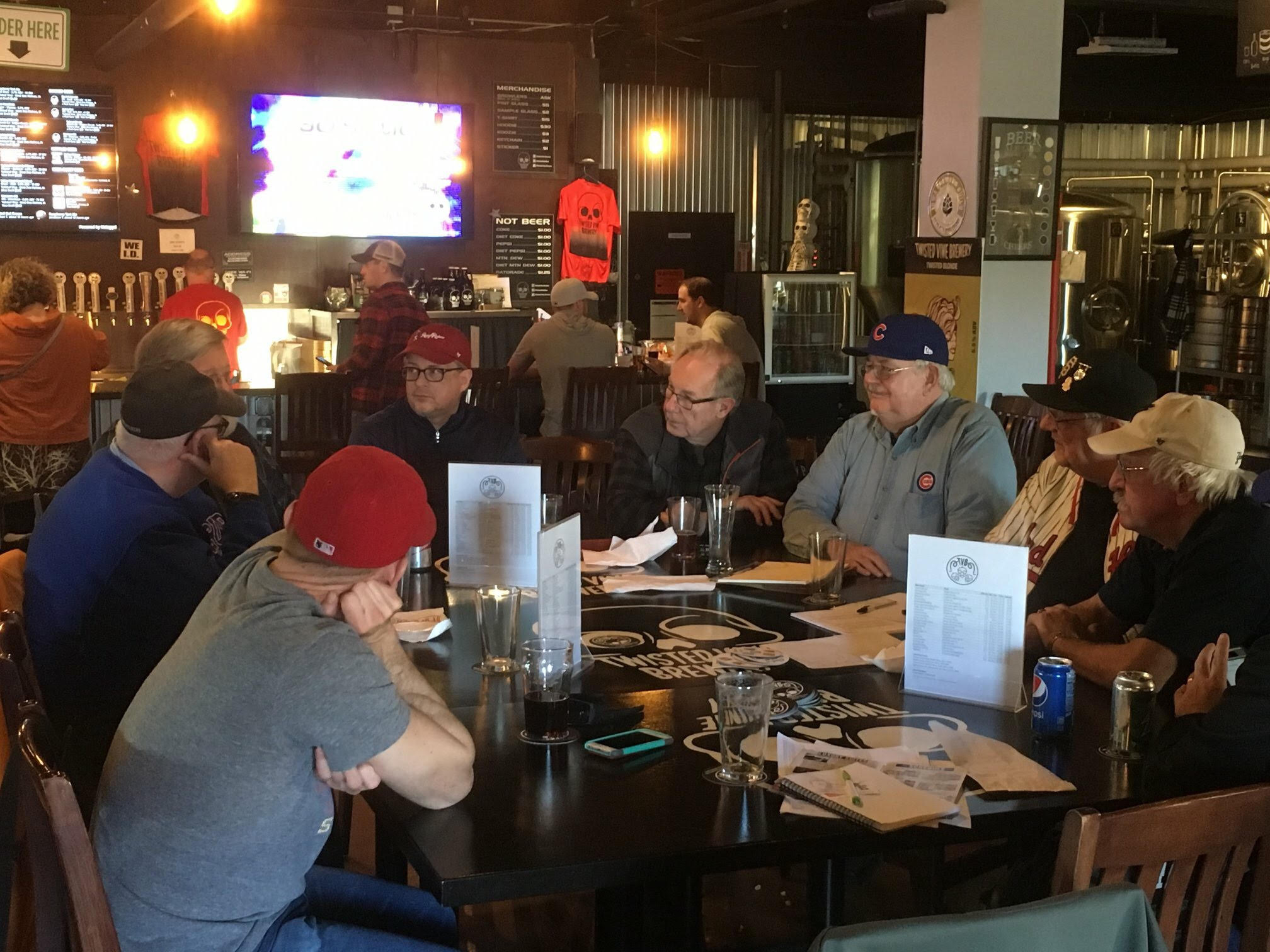 It was another fine informal gathering for the Field of Dreams Chapter on SABR Day, Saturday, January 27. Once again, SABR Day occurred on a spring-like day and 11 members and guests were able to attend the roundtable at Twisted Vine Brewery in West Des Moines for an afternoon of baseball discussion. John Liepa gave a brief sketch of a proposal to create a comprehensive reference book on baseball in Iowa. Such a book would include bios of Iowa-born Major Leaguers, and other noteworthy historical baseball tidbits. A meeting is planned for May to foster further discussion of where a project might lead. Lindsay Bell provided an overview of his Ph.D history dissertation. Lindsay is a graduate student at Iowa State and is exploring the methods by which Commissioner Landis and other baseball leaders determined the early criteria for what players should be enshrined in the Hall of Fame. We will try to have two chapter baseball game meetings this summer. In a final bit of SABR business, the chapter conducted a straw poll on the proposal to change SABR's name from Society for American Baseball Research to the Society for the Advancement of Baseball Research. Ten members voted in favor of the change, none expressed opposition, and two members expressed indifference. — Tim Rask
Hoboken, NJ (Elysian Fields Chapter)
I'm pleased to report that the relaunch of the Elysian Fields Chapter on SABR Day was a success! Through Twitter, Facebook, email lists, and the Hoboken Public Library's efforts, we took a defunct chapter and set the foundation for the future with approximately 30 attendees for the three-hour event. Great feedback and plenty of people who want to learn about future chapter events. Our featured speakers included Negro Leagues documentary filmmaker Lauren Meyer, plus Chris Shearn from the YES Network, and representatives from the Yogi Berra Museum and Learning Center and WPIX. — David Krell
Houston, TX (Larry Dierker Chapter)
The Larry Dierker SABR Chapter had a great time celebrating SABR Day at Lucky's Bar in downtown Houston on January 27. We were also thrilled to welcome Ken Lilley, a SABR member since 1984, who has been unable to attend our regular monthly nighttime sessions.  Mike McCroskey chose the venue and our activities for the day. We started by exchanging about 50 baseball books of various subjects, ages and size; yes, there was something for everyone. Our major activity was for each participant to discuss their favorite piece of memorabilia that they brought with them and share the experience of collecting it. The stories were fascinating, including a large Astros scrapbook containing lots of "dirt," a book filled with hundreds of autographed 3″ x 5″ cards of baseball Hall of Famers and other noteworthy players. — Bob Dorrill
Kansas City, MO (Monarchs Chapter)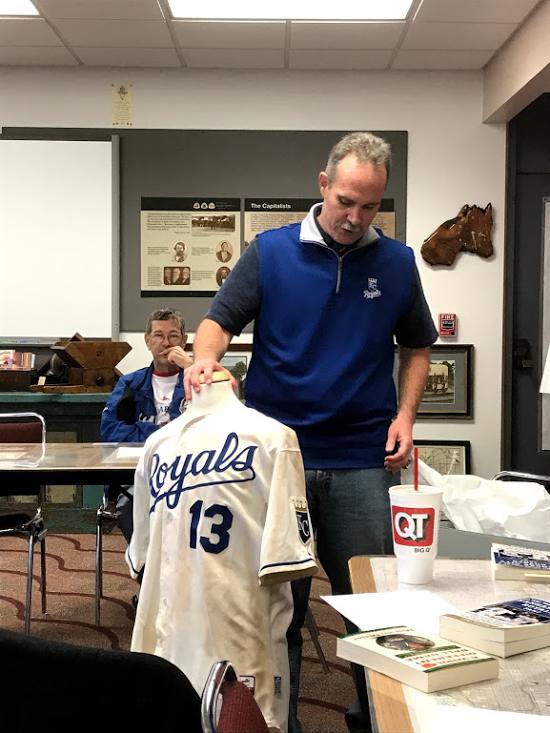 SABR Day in Kansas City on Saturday, January 20 featured two fantastic speakers, local SABR member John Bauer and the director of the Royals Hall of Fame, Curt Nelson. More than 20 members and guests were entertained by Bauer, who contributed to the recent SABR publication, Sportsman's Park in St. Louis. His presentation focused on Fred Saigh the owner of the St. Louis Cardinals from 1948-53. Bauer, who has contributed to many SABR titles as well as the Games Project, explained the process for contributing to SABR publications and encouraged those attending get involved. Nelson, author of So You Think You're a Kansas City Royals Fan?, spoke about his list of the ten greatest games in Royals history, broken down into five regular-season and five postseason games. Nelson also brought along the jersey that Salvador Perez was wearing during the Royals' 2014 Wild Card victory over the Oakland A's. He explained you can always tell the legitimacy of such items because the carbonated grape juice they use to celebrate leaves a very distinctive stain. In addition, Roger Erickson prepared a research quiz about the Ford Frick Award winners that was way too hard, but Troy Richeson prevailed and won an original "Big Mac" encyclopedia. Also 16 attendees participated in a mock Hall of Fame election, which resulted in five players — Barry Bonds, Roger Clemens, Chipper Jones, Edgar Martinez and Jim Thome — receiving votes from at least 75 percent of the voters, which would gain them admittance to Cooperstown. — Mike Webber
Little Rock, AR (Robinson-Kell Chapter)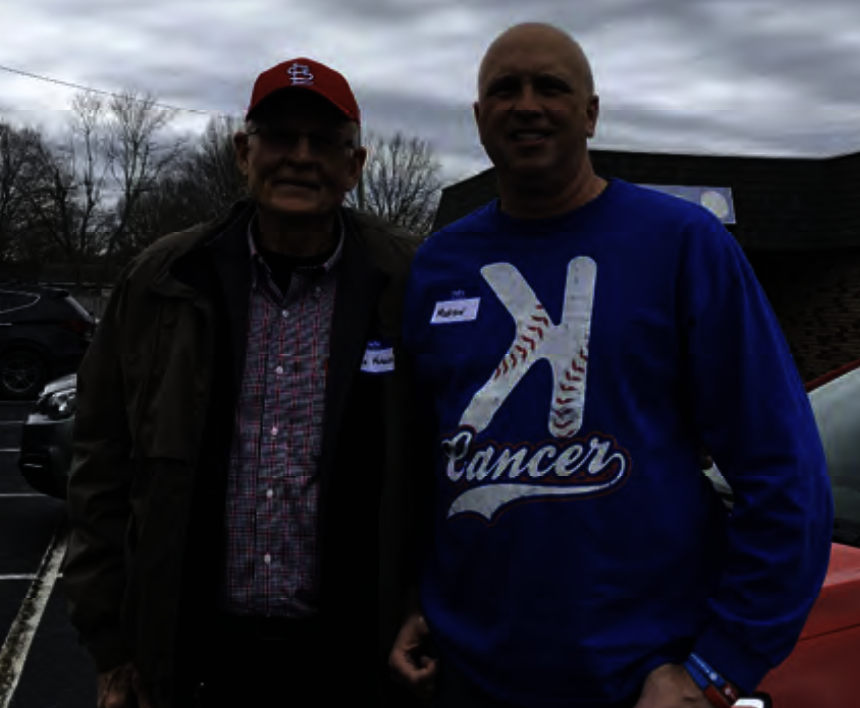 Former St. Louis Cardinal pitcher Dick Hughes was the guest speaker and was accompanied by Ann, his wife of 54 years. He also brought along several photos and plaques from his playing career to display. Following his talk, Madison McEntire presented Mr. Hughes with a copy of Paul Dickson's biography of Leo Durocher and a small donation from the group to help with his travel expenses. Accepting the donation in his Cardinal hat, Mr. Hughes said that the money would be donated to the Stephens Community Outreach. Before leaving, Mr. Hughes, accompanied by Ann on the piano, entertained the group with a wonderful version of the old gospel song "One Day at a Time". Tom Van Hyning followed Mr. Hughes' talk with a discussion of Dick Hughes' time with the Santurce Crabbers of the Puerto Rico Winter League from the Hughes biography that Tom wrote for the SABR bio project which was published in 2017. Terry Turner then gave a brief presentation on George Kell entitled "The Glove and the Voice." Fred Worth followed with a two-part presentation that he entitled "Strikeouts and Sepulchers." The final presentation was given by Jim Yeager, who continued his series "Backroads and Ballplayers: Baseball in Rural Arkansas." This segment was entitled "A Cup of Coffee" and focused on rural Arkansans who appeared briefly in the majors. Click here to download a full recap and photos (PDF) — Madison McEntire
Louisville, KY (Pee Wee Reese Chapter)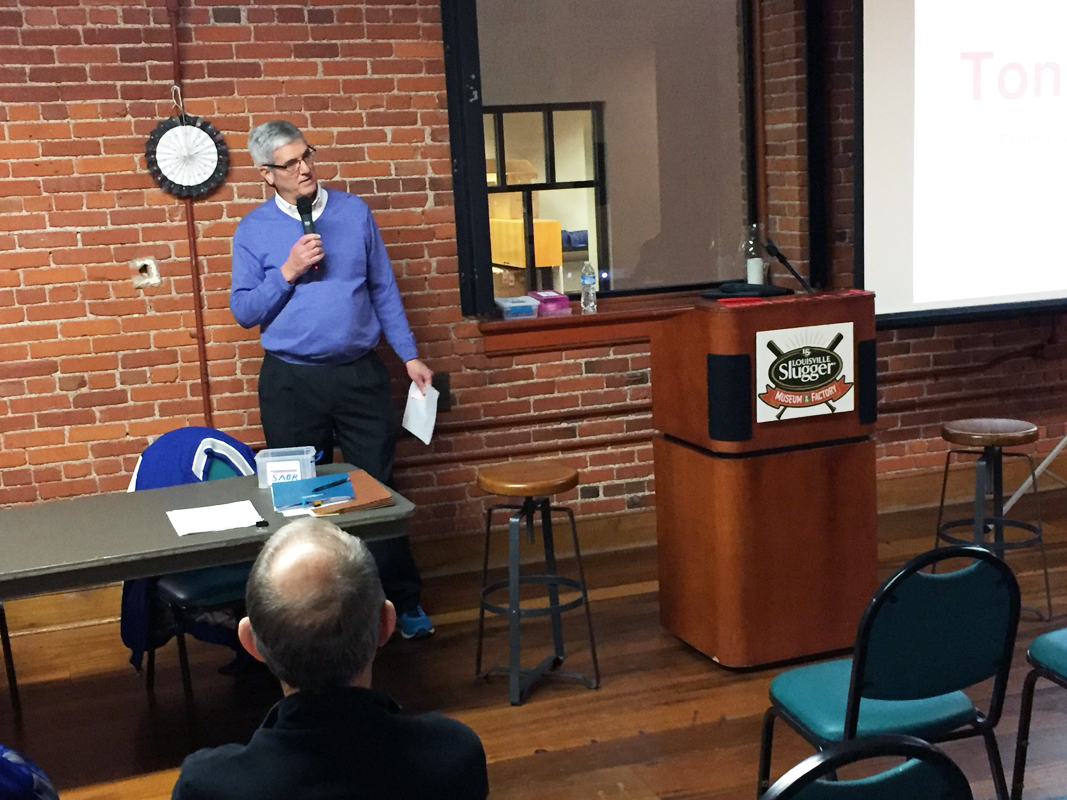 Unlike the ice and snow of past years, rainy weather (and 54 degrees) greeted 27 members and guests at the annual SABR Day gathering of the Pee Wee Reese SABR Chapter on Saturday, January 27 at the Louisville Slugger Museum and Factory. Participants travelled from as far away as Indianapolis, Cincinnati and Lexington to attend. The kind folks at the LSM&F provided an attractive, ample meeting space, including coffee, bottled water and light refreshments. After introductions and a brief business meeting, author Joe Cox discussed his newest book, Almost Perfect, about perfect game near-misses. He played a number of audio recordings to complement his presentation, and he also discussed how he conducted his research. He donated both that book and his upcoming Immaculate Innings book to our silent auction. Then, John Erardi, a HOF voter who covered the Reds for a Cincinnati newspaper for 31 years, discussed his newest book, Tony Perez: From Cuba to Cooperstown, and showed interesting photos from his collection. He answered questions and received much acclaim for his insightful presentation. It was also announced that the Louisville Bats Baseball Club will honor the Chapter's namesake, Pee Wee Reese, on July 28 to celebrate the 100th anniversary of Pee Wee's birth.  — Harry Rothgerber
Montreal, QC (Quebec Chapter)
SABR's Quebec Chapter met at Madison's Restaurant in Montreal on Saturday, January 27 to celebrate SABR Day. Chapter member Marcel Dugas made a presentation on the 1946 season of the Montreal Royals. To put us in the mood of the time, chapter president Patrick Carpentier had brought a scale model of Delorimier Stadium, the much beloved ballpark where the Royals played and where a number of the feats described by Marcel took place. Our colleague explained that he decided to study that season in depth because, beyond the historical and sociological importance of Jackie Robinson being a member of the team, the Royals had what was probably the best season ever by a Montreal ball club.  — Patrick Carpentier
Nashville, TN (Rice-Russell Chapter)
At SABR Day on Saturday, January 27, held in the Alumni Room at Dupont Hadley Middle School, former Milwaukee Brewers pitcher Jerry Bell came to visit and spoke about his career progressing from the old Dupont High School nearby to his drafting by the expansion Seattle Pilots in 1969 and his time in the big leagues. Chapter member Harriet Kimbro-Hamilton, author of "Daddy's Scrapbook," gave a presentation about her father, Negro League player Henry Kimbro. Following the meeting, the chapter met for lunch at Sam's Sports Grill nearby.  — Skip Nipper
New York, NY (Casey Stengel Chapter)
SABR's Casey Stengel Chapter in New York City, hosts of last summer's SABR 47 national convention, had a terrific SABR Day event on Saturday, January 27 at the New York Public Library, with guest speakers that included Tyler Kepner of the New York Times, major-league umpire Phil Cuzzi, "Talking Baseball" radio host Ed Randall, former New York Mets player Art Shamsky, baseball scout Tom Giordano, and NYPL Senior Rare Book Cataloger Virginia Bartow, who presented highlights from the library's collections. — Evelyn Begley
Philadelphia, PA (Connie Mack Chapter)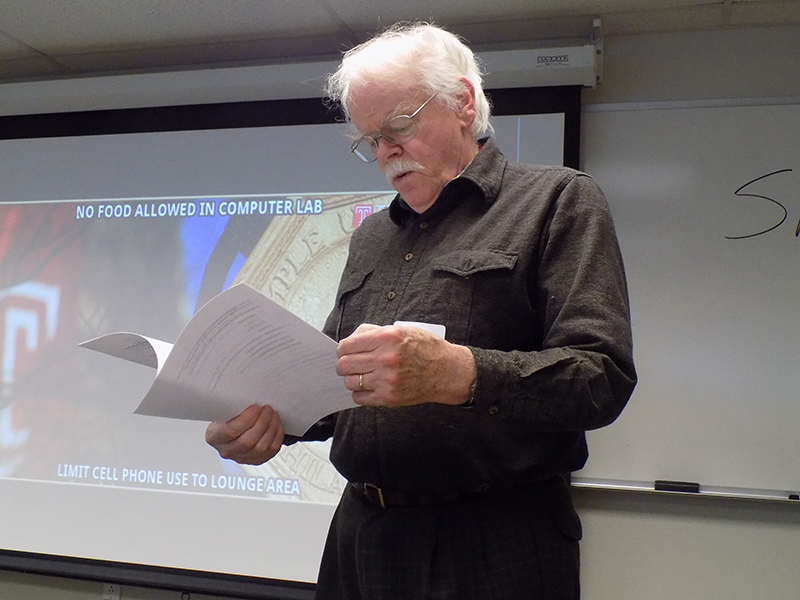 The Connie Mack Chapter celebrated SABR Day 2018 at the Temple University Center City Campus in Philadelphia. First, 25 members and guests were entertained by a helicopter lifting pipes to a nearby roof, then by an excellent collection of research presentations. Steve Glassman made a compelling case that Deadball Era star Sherry Magee should be elected to the Baseball Hall of Fame. Dennis Link talked about how four rookie stars of the 1957 Phillies failed to live up to the fast starts that their careers got off to. Steve King's presentation was on myths related to the origins of famous baseball songs. Sportswriter Justin Klugh talked about his story on Campbell's Field, the former home of the defunct Camden Riversharks of the Atlantic League, which will be demolished. Jeff Twardus made his first-ever presentation by speaking about the 1993 Phillies, it being the 25th anniversary of "Macho Row" one of the most popular Phillies teams of all-time. Mark Kanter gave a talk on the impacts of the trade of Jim Bunning from the Phillies to the Pittsburgh Pirates. It was followed up nicely by John Shiffert whose presentation was called, "Don't Trade Your Ace." Paul Ember showed how the 1959 Fleer baseball card No. 28 might have been the first SABRmetric card and how a Philadelphia-area Congressman was involved. Finally, chapter co-leader Seamus Kearney led a trivia contest that used 20 questions from a recent New York Times baseball trivia quiz. Glassman won the non-Joe Stanton Division with 12 correct. Joe celebrated his birthday with 13 right answers. — Rock Hoffman
Phoenix, AZ (Hemond-Delhi Arizona Chapter)
Twenty-six members and guests of the Hemond-Delhi Arizona Chapter gathered to celebrate SABR Day on January 27 at Tempe Diablo Stadium. Chapter president Barry Bloom led a panel discussion on Baseball Hall of Fame voting with sports writer Tony DeMarco, KNBR radio host Marty Lurie, and former MLB pitcher John D'Acquisto. Lurie also interviewed former MLB pitcher Bob Lacey, who talked about his career and shared stories about Billy Martin and Reggie Jackson. Don Drooker gave an entertaining talk on the origins of fantasy baseball and the archetypes of a typical league. Jim Odenkirk gave a presentation about League Park in Cleveland. — Jacob Pomrenke
Sacramento, CA (Dusty Baker-Sacramento Chapter)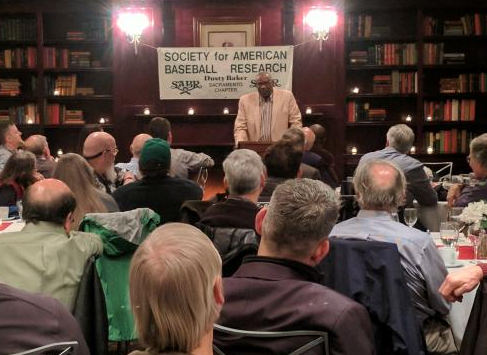 Speaking at a dinner January 18 in Granite Bay hosted by the local SABR chapter, Dusty Baker acknowledged the obvious. While many SABR members don't use sabermetrics, preferring historical research, some people think of stats when they hear SABR. One of these people might have been Baker, 68, a Granite Bay resident who's had a consistently successful career as a Major League Baseball manager and was a fine player, too, but has excelled with an old-school approach, seeming not to rely much on sabermetrics. Baker agreed to speak at the dinner — hosted by SABR's Sacramento chapter, which renamed itself after Baker in 2016 — at the invitation of his friend and chapter member Clay Sigg after some misgivings. "Clay asked me to come here tonight. I wasn't exactly sure what I was coming into," Baker said. But a night that might have been awkward proved enchanting, as Baker cast aside inhibitions about his audience, telling stories of his career and taking questions for 45 minutes. Click here to read the full recap at the Granite Bay Press. — Graham Womack
Santo Domingo, DOM (Juan Marichal Chapter/Luis Castro Chapter)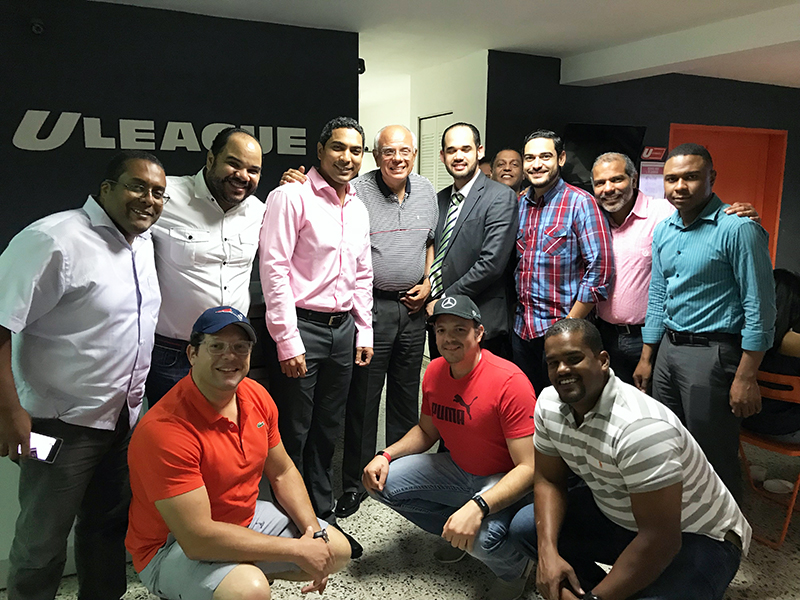 The Juan Marichal Chapter in the Dominican Republic held its SABR Day meeting on January 31 in Santo Domingo. The meeting was highlighted by the presence of Luis Alou, son of Felipe Alou and manager of the Escogido baseball club of the Dominican Winter League. The talk of the night was about the last game of the Dominican Winter League for the championship, between Licey and Aguilas Cibaeñas. Aguilas won 11 to 5, to take their  21st crown and go to the Caribbean Series in Guadalajara, Mexico. In addition, the Luis Castro Latin America Chapter celebrated SABR Day digitally on Saturday, January 27 with the launch of the chapter's Instagram account in celebration of Vladimir Guerrero's anticipated Hall of Fame inclusion. The account will also  maintain up-to-date content on information about Latin baseball, activities, news and information. — Julio Rodriguez
St. Louis, MO (Bob Broeg Chapter)
The ninth annual SABR Day on Saturday, January 27 saw 45 members and guests of the Bob Broeg St. Louis Chapter enjoy a fantastic buffet lunch and program at Favazza's Restaurant on The Hill for their Hot Stove Luncheon. The first guest speaker of the day was author Doug Feldmann. Doug's latest work, Whitey Herzog Builds a Winner: The St. Louis Cardinals 1979-1982 was released earlier this week and is his ninth baseball book. The book, St. Louis Browns: The Story of a Beloved Team has been nominated for SABR's Larry Ritter Book Award this year. The next speaker, Ed Wheatley, who co-authored the book along with Bill Borst and Bill Rogers, said he has been surprised at number of people he has met that still love the Browns. He was also excited to announce that the PBS documentary about the Browns was set to air on March 8. Chapter President Brian Flaspohler presented the third annual Jim Rygelski Research Award to Rick Zucker for his presentation, at the chapter research conference last August, entitled "A Tale of Two Championship Seasons, 1926 and 2011." Next up was Heather Simon and John Fleming, writers for the Viva El Birdos website. They both discussed the interests and influences that led them into writing for the site, and also their personal outlooks for the upcoming season. Former Bob Davids Award winner Bob Tiemann presented a recent research project on "Pitchers Grand Slams", focusing primarily on those by St. Louis Cardinals pitchers.  — Jim Leefers
Tallahassee, FL (Buck O Neil Chapter)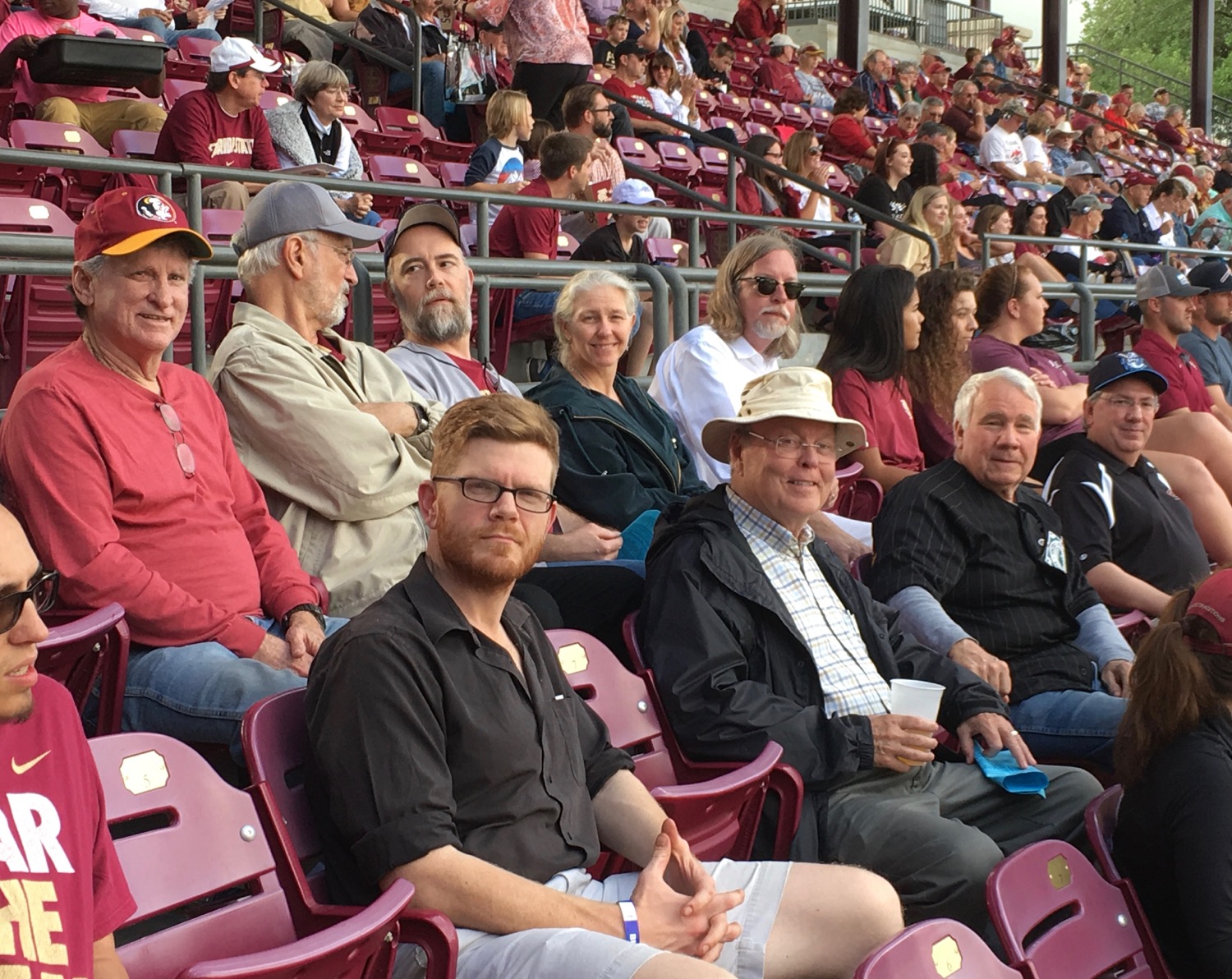 For SABR Day on January 27, 2018, the North Florida/Buck O'Neil Chapter hosted Chip Baker, Director of Baseball Operations for Florida State University's men's baseball program, and himself a longtime assistant for head coach Mike Martin Sr. Chip regaled attendees with a very entertaining and insightful talk about Florida State's program, which ran the gamut from its history to major events to players both famous and not as famous to the program's current state of affairs, including Coach Martin's pursuit of the all-time record for wins by a Division I head coach. Chip also shared with Chapter members that FSU's April 4 game against Jacksonville University would be a celebration of the Negro Leagues, and would be an event co-sponsored by the Florida State University Black Student Union, itself celebrating its 50th anniversary this year. The membership immediately began making plans to be at the game, and attended the event in force on the afternoon of April 4th. During the game, in which Florida State prevailed 6-2, Florida State even gave a shoutout to the North Florida/Buck O'Neil Chapter, and placed the SABR logo on the newly installed high-definition video board. Both events on January 27 and April 4 were well-enjoyed by all who attended, and will be remembered fondly for years to come by chapter members. — Matthew Keelean
Toronto, ON (Hanlans Point Chapter)
The Hanlan's Point Chapter gathered on Saturday, January 27 for a sneak peek at SABR member Bill Humber's "Baseball Spring Training" class (now in its 40th year!) at Seneca College. Our special guest speaker was Shi Davidi, Toronto Blue Jays columnist for Sportsnet.ca. This special class was free to all fans only on SABR Day and included research presentations and discussions on Canadian baseball history from David Matchett and others.