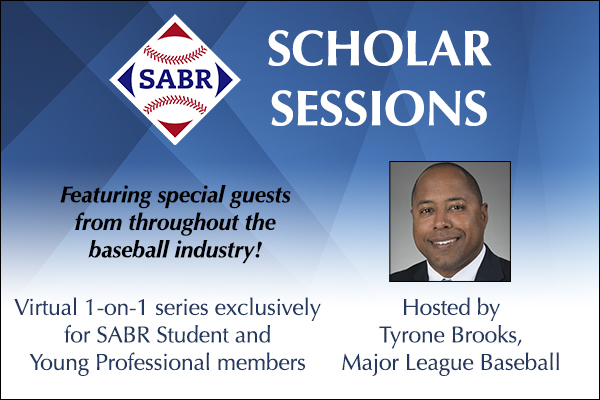 SABR Scholar Sessions
All student and young professional members of SABR are invited to our new SABR Scholar Sessions, held virtually on Zoom each quarter.
Join host Tyrone Brooks, Senior Director, Front Office and Field Staff Diversity Pipeline Program at Major League Baseball, for a new virtual series created exclusively for SABR student and young professional members.
Our first guest on October 3, 2023, was Katie Krall, Senior Product Manager, Baseball Strategy at Hawk-Eye Innovations and former Boston Red Sox Development Coach. Click here to watch a video replay of this session.
Tyrone and Katie led an insightful discussion about their career paths and tips on breaking into the baseball industry, followed by a peer networking session and tips on how to put your SABR membership to work for you.
Stay tuned for more details about our next SABR Scholar Session!