Jimmy Collins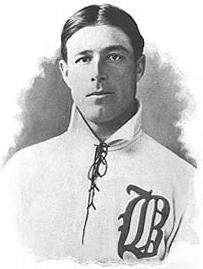 At the beginning of the Deadball Era, Jimmy Collins was considered baseball's greatest third baseman. Though small in stature, standing at just 5'7" and weighing but 160 pounds, his blazing speed and cat-like quickness helped him to revolutionize defense at the third sack, as Collins become the first to stymie the bunting attacks of opposing teams by playing in on the grass. One of the greatest bunters of the 1890s, John McGraw, described Collins as "the real pioneer of the modern style of playing third base" for his adeptness at handling bunts. Another observer, Ed Barrow, characterized Collins as "a sort of third base Hal Chase" for his alert, mobile brand of defense.
Fortunately for the Boston Americans, whom Collins managed to two American League pennants and one World Championship, the popular third baseman displayed more consistency and integrity than the infamous Chase, as he batted better than .300 five times during his 14-year major league career, and earned the respect and admiration of his fellow players for his honesty and commitment to the game. "He was very quiet in his manners and a favorite everywhere," wrote one observer. "He played his game, attended to his business and never scowled if getting what he might think is the small end. Collins was a model all players would do well to follow. It was no wonder that the umpires, one and all, spoke of him in enthusiastic terms. Collins showed that one does not need to be a rowdy or a kicker to achieve success on the diamond."
James Joseph Collins was born January 16, 1870, in Clifton, NY, a town just north of Buffalo which would change its name to Niagara Falls in 1881. He was the second of three sons of Anthony and Alice (O'Hare) Collins, Irish immigrants who had arrived in the United States in 1862. Anthony Collins worked as a police officer in Buffalo, eventually becoming a captain on the force. After graduating from Buffalo's St. Joseph College (which, despite its name, was a high school), Collins went to work for the Delaware, Lackawanna, and Western Railroad and played baseball with the North Buffalos in the Buffalo City League. It was with the North Buffalos that Collins's play caught the eye of Jack Chapman, manager of the Buffalo Bisons, then of the Eastern League. In 1893 Collins joined the Bisons, initially playing third base. But he was soon moved to the outfield, reportedly because he was "afraid of bunts."
After two fine seasons with Buffalo, Collins was sold to the Boston Beaneaters of the National League prior to the 1895 season. Collins started the 1895 season poorly however, hitting just .211 in his first 38 at bats before Boston loaned him to the Louisville club, subject to recall. During his 96-game tenure with the Colonels, Collins improved his hitting, posting a .279 mark with six home runs. More significantly, Collins resuscitated his defensive reputation, emerging as one of the game's brightest third basemen, at the vanguard of a style of play that would revolutionize how the position would be fielded for decades to come.
This dramatic change began during a game against the Baltimore Orioles and their vaunted bunting attack. After the Orioles bunting caused Louisville's regular third baseman to commit four errors, Collins was summoned from his right field position to play third, a position he had not manned since his minor league days. As reported by several newspaper accounts, the Orioles shortstop, Hughie Jennings, patted Collins on the back and told him that the Orioles weren't going to bunt any more that day. Collins's immediate response to Jennings was "that's all right, Hughie, bunt 'em down to me and I'll show you something." Collins had come to the conclusion that there was only one solution to the bunting game. A third baseman simply had to play in on the edge of the grass to give himself a chance against the "tap tactics of those fast guys." As the game progressed, sure enough, the Orioles' John McGraw dropped a bunt down the line. Collins raced in and threw underhand to quickly catch McGraw at first. Willie Keeler tried the same and Collins likewise nailed him at first. Four bunters in a row were thrown out by Collins before the Orioles quit bunting for the afternoon. Word of Collins' exploits against the Orioles quickly made its way around the league. Boston newspapers and fans clamored for his return to Boston from the Louisville club, and prior to the 1896 season Collins rejoined the Beaneaters.
In addition to providing stellar defensive play, Collins came up with career years in 1897 and 1898, batting .346 and .328, respectively, while leading the team in RBI each season and leading the entire league with 15 home runs in 1898. Thanks in large part to Collins's standout performances, the Beaneaters won back-to-back National League pennants. By 1900, the club had fallen on harder times, but Collins continued to shine, leading all third basemen in assists, putouts, and double plays, and posting a .304 batting average with a team-high 104 runs scored.
Given his stature as the game's best third baseman, Collins's defection to the Boston Americans prior to the 1901 season became a major source of controversy, as Collins accepted a lucrative offer that made him the manager of the new club and provided him with a $5,5000 salary and a $3,500 signing bonus. In subsequent years his salary would be raised to $10,000, and he received ten percent of the Americans' profits over $25,000. The deal made Collins one of the highest-paid players in the game, but Beaneaters owner Arthur Soden still tried to lure him back with a salary offer of $5,000, and when that failed, accused him of deserting the franchise. Collins responded to Soden's insults by accusing him and the other NL magnates of artificially suppressing salaries. "I would not go back now if they offered me the whole outfit," he told reporters during spring training. "These National League magnates have a way of frightening a man into believing that he has committed a crime, and unless a player has a good, stiff backbone, he will usually cave."
Once signed by the Americans, Collins went in search of other strong-willed players to fill out his roster, and came away with Cy Young, Buck Freeman, Chick Stahl, and pitcher Ed Lewis, among others. Freeman batted .339 and slammed 12 home runs, Young won pitching's Triple Crown, and Collins batted .332 with 108 runs scored as the Americans finished in second place, four games behind the Chicago White Sox. In 1902, Boston finished third, as Collins, limited by injuries to 108 games played, finished with a .322 average. The following year, Collins managed Boston to its first American League pennant, as the team finished with a 91-47 record, a stunning 14 ½ games better than the second-place Philadelphia Athletics. More than anything else, Collins's team won with great pitching, by Young (28-9), Tom Hughes (20-7), and Bill Dineen (21-13), who had jumped his contract with the Boston Nationals to join Collins's outfit prior to the 1902 season.
With the peace settlement between the two leagues in place by 1903, Boston owner Henry Killilea agreed to play a best-of-nine World Series against the National League champion Pittsburgh Pirates. After falling behind three games to one in the Series, the Americans stormed back to take four straight, thanks in large part to the brilliant pitching of Dineen and Young. For the Series, Collins batted .250 with five runs scored and one RBI, but his greatest contribution was his managerial savvy. For instance, after 20-game-winner Tom Hughes pitched poorly in his Game Three start, Collins benched him for the rest of the Series and relied exclusively on Dineen and Young. After the Series, rumors emerged that Hughes's irresponsible behavior had caused a falling out between him and Collins, with at least one reporter, Pete Kelley, intimating that Collins suspected Hughes of attempting to throw the Series. "[Hughes] made bad breaks at the time of the world's series," Kelly obliquely observed. "He didn't behave himself and lost his popularity." After the season, Collins promptly traded Hughes to the New York Highlanders for pitcher Jesse Tannehill. Following Boston's World Series triumph, Collins made his way home to Buffalo where a brass band and jubilant fans met him at the train station. From the station he was paraded to Buffalo's Iroquois Hotel for a gala celebration.
Boston captured the American League pennant again in 1904, winning 95 games to edge the second place Highlanders by 1 ½ games in the standings. Again, Boston's pitching led the way, as Young, Dineen, and Tannehill all won more than 20 games. In fact, for the entire season Collins used only five pitchers, and his staff completed a major league record 148 games, meaning that Collins relieved his starters only nine times the entire season. Unfortunately, Collins never got the opportunity to test his stalwart pitching against the National League champion New York Giants, as McGraw refused to play the American League champions, whom he described as a "bunch of bush leaguers."
Following their 1904 triumph, the roof quickly caved in on the aging Americans, as the club slipped to fourth place in 1905 and last in 1906, thanks in large part to a club-record 20-game losing streak. The club's sudden decline may have been due in large part to Collins's overzealous use of his pitchers in 1904; by 1906, Young, Dineen and Tannehill all posted ERAs roughly one run higher than their 1904 figures. The 1906 Americans used 12 pitchers, and finished last in the league with a 3.41 team ERA. After watching his team lose 79 of its first 115 games, Collins was replaced as manager by Chick Stahl. By that time, Collins had been sidelined by a knee injury.
Collins appeared in 41 games for Boston in 1907, before management traded him to the Philadelphia Athletics for John Knight. Collins remained with the Athletics through the 1908 season, when he batted just .217 at the age of 38. Dropped by Philadelphia after that poor showing, Collins completed his professional baseball career as a player-manager for Minneapolis in the American Association in 1909 and Providence in the Eastern League in 1910-1911.
Upon his retirement from the game Collins returned to Buffalo, where he joined his wife, Sarah Murphy, whom he had married in 1907. The couple had two daughters. Thanks to some investments in South Buffalo real estate, Collins amassed a considerable fortune, most of which he lost during the Great Depression. Nonetheless, he did manage to live comfortably on his pay while working for the Buffalo Parks Department. On March 6, 1943, at the age of 73, Collins succumbed to pneumonia. He was buried in Holy Cross Cemetery in Buffalo. Two years after his death, Collins was elected to the Baseball Hall of Fame by a special Old Timers Committee, after missing election in several previous BBWAA votes.
Note
This biography originally appeared in David Jones, ed., Deadball Stars of the American League (Washington, D.C.: Potomac Books, Inc., 2006).
Sources
For this biography, the author used a number of contemporary sources, especially those found in the subject's file at the National Baseball Hall of Fame Library.
 
Oneonta Star
Brooklyn Eagle
The Sporting News
Sporting Life
Buffalo Evening News