Jophrey Brown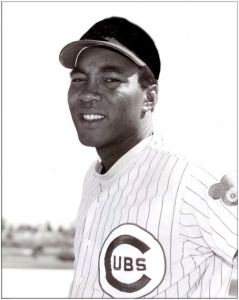 This righty pitcher's big-league career consisted of just one game with the 1968 Chicago Cubs. His baseball days ended after the following season because of a rotator cuff injury -- but the Grambling alumnus then turned to an exciting new life as one of Hollywood's top stuntmen.

Jophery Clifford Brown was born on January 22, 1945, in Grambling, Louisiana.[1] His parents, Sylvester and Ida Mae Brown (née Washington), got married at the ages of 18 and 16, respectively. They had a family of eight, including four other boys and three girls. Jophery was the seventh child.

Sylvester and Ida Mae came from Farmerville, about 25 miles northeast of Grambling, but they moved in 1938, about seven years before Jophery was born. Older brother Calvin Brown -- the pioneering black stuntman[2] who paved the way for Jophery -- described their upbringing as "community raised," meaning that everyone in Grambling was responsible for raising the children. He said, "You could do no wrong, somebody was going to get you."

As a youth, although Jophery played football and basketball too, he liked baseball best. He attended Alma Brown Elementary School and Grambling High School. In 1963, Brown entered Grambling College (it became a university in 1974). Brother Calvin had graduated from there in 1957.

A dozen Grambling Tigers have made it to the majors over the years, and Brown played with three of them: John Jeter, Ralph Garr, and Matt Alexander. Their coach was Ralph Waldo Emerson Jones, known to all as "Prez" because he was also the college president. Brown summed up this man with one simple and fitting word: "Great."[3]

The Sporting News reported that during his career at Grambling (1964-66), Brown's won-lost record was a spectacular 26-1.[4] That appears to have been an exaggeration, according to the available school records -- but his marks were impressive nonetheless. The known totals are 12-2 with a 0.88 ERA, including a no-hitter against Texas Southern in 1966 and five one-hitters. One of his only defeats came against archrival Southern University.

The Pittsburgh Pirates selected him in the 21st round of the June 1965 amateur draft, but he did not sign. As a result, he was eligible for the secondary phase of the following draft, in January 1966. The Boston Red Sox wanted him in the fourth round, but again he decided to stay in school. The offers were not attractive enough.[5] (He didn't necessarily want to graduate first, Brown said in 2010.)

In 1964, Jophery got his first exposure to the world of show business, thanks to Calvin. He appeared (uncredited) as a policeman in an episode of the Ben Gazzara/Chuck Connors drama Arrest and Trial. Right then he was bitten by the show-biz bug.


The following year, Bill Cosby became the first African-American to star in a television series. Before that, when black actors needed a stunt double, a white man put on blackface ("painting down," as the practice was known). Cosby changed that on I Spy, insisting that Calvin Brown get the job. In 2009, Calvin's friend and fellow stuntman Willie Harris said, "[Cosby] refused to let a white man double for him."[6] Jophery also did stunts, uncredited, in some episodes, while appearing onscreen as a reporter in one.

Brown's stock continued to rise with big-league scouts. After his junior year, the Cubs selected him in the second round of the secondary phase of the June 1966 draft. It's no surprise that the scout was legendary Negro Leaguer Buck O'Neil, who signed a number of very talented young black players in the Deep South for Chicago.

Jophery signed for a bonus estimated at anywhere from $40,000 to $90,000.[7] He reported to the Cubs' Rookie League team, Treasure Valley in Caldwell, Idaho. He appeared in 15 games in 1966, starting 14 and going 4-4 with a 3.72 ERA. He struck out 81 men in 75 innings -- but also walked 59.

Brown moved up to Lodi in the high Class A California League for 1967. Eight men from that pitching staff would go on to the majors, most notably Jim Colborn. That May, the Nevada State Journal singled out three of them whose grand total in The Show was just five games: "Brown, [Alec] Distaso, a bonus rookie, and former Santa Clara frosh star Pat Jacquez are the fastest of the Crusher moundsmen."[8]

There was a shortage of housing in the agricultural town, and so Brown wound up sharing an apartment 15 miles south in Stockton with two other black players, Jim Atterbury and Mike Jones. The team's Japanese-American general manager, Cappy Harada, made a point of dismissing a brief racial controversy.[9]

Jophery was the starter on Opening Day 1967.[10] He pitched well, won, and got off to a 5-2 start. In a game at Bakersfield, though, a line drive struck him on the middle finger of his throwing hand. He stayed in the game despite being unable to grip his breaking pitches. "That's the worst thing I did," he said in 1968. "I shouldn't have stayed in." Even so, his record stood at 7-4 when he was hit in the wrist at Modesto. "I was able to throw, but with no authority after that. And everything I threw kept coming up."[11]

Brown lost his last 13 decisions in a row, finishing the year at 7-17, 4.47. Lodi manager Jim Marshall worked with him over the winter and bolstered his confidence the following spring after Brown returned to the Crushers. "He sat down and showed interest in me as a person as well as a ball player. He instilled the desire in me."[12]

Jophery responded with a fine year in 1968. He got off to an 11-1 start, finishing at 18-9, 3.63. He was a unanimous choice as a California League All-Star (as were Ted Simmons, Tom Robson, and career minor-leaguer Joe Patterson).[13] The Lodi Crushers Boosters Club named Brown the team's Most Valuable Player. Jim Marshall accepted the trophy on his behalf, though, because he had earned a promotion to Triple-A Tacoma.[14] There he was 0-1 in two starts.

Then, about a week later, Chicago called him up. Jophery made his lone big-league appearance on September 21. It was a Saturday afternoon game at old Forbes Field in Pittsburgh; entering in the fifth inning, Brown was the third Cubs pitcher in a game they trailed 4-0. Maury Wills greeted him with a single. After a sacrifice, a flyout, and an intentional walk to Roberto Clemente, Donn Clendenon singled in Wills. Brown retired the Pirates in order in the sixth, and he then came out of the game. He did not get another chance over the remaining six games of the season.

Brown went to camp with the Cubs in 1969. He received an entry in The Sporting News Official Baseball Register, which noted that his hobbies were bowling and reading wildlife books. That March, Baseball Digest's scouting report read, "Cubs will give him thorough spring training look but figures to wind up in Triple A. Good competitor, and excellent poise. Also good size [6'2", 190 pounds]."[15]

Jophery was indeed reassigned to the minors in mid-March, but he went to Double-A San Antonio. His 1969 season was just so-so: 9-10, 4.03. He may have been suffering from arm problems, but looking back in 2010, Brown commented tersely, "Didn't care." That was it for his baseball career. He recalled that he was traded to the Expos organization, but newspaper details are lacking.

Jophery followed Calvin -- who had helped to found the Black Stuntmen's Association in 1968 -- into the business. (He never did graduate from Grambling.) In November 1969, the Long Beach Press-Telegram mentioned the Browns as actors in Bill Cosby's production company. The occasion was a celebrity basketball game; Cosby sponsored and played. On hand were NFL star turned actor Bernie Casey, the Reverend Jesse Jackson, and Sammy Davis Jr.[16]

In 2006, Jophery talked about his second career's prerequisites. "You're an athlete. You couldn't be a stuntperson without being an athlete. You've got to have a degree of insanity to do this. But you didn't want crazy stuntpeople. They get you hurt." He also described how he developed his craft. "'The business is trial and error. A lot you learn on the job. We couldn't practice a lot of stuff because it was too expensive.' He remembers being banned by Hertz because he would practice his stunt-driving in a rental car, and then invariably return it 'slightly banged up.'"[17]

Brown got his first film work in 1973, the Pam Grier blaxploitation flick Coffy. He also had an uncredited bit part as a party guest. That year he also worked on Papillon, starring Steve McQueen, and the James Bond movie Live and Let Die.

An important professional breakthrough came thanks to a baseball movie, The Bingo Long Traveling All-Stars and Motor Kings (1976). Thanks to his diamond experience, Brown was named stunt coordinator, although another black stuntman named Eddie Smith was reportedly displeased that Jophery had been chosen for this reason.[18] This was probably because Smith, another founder of the Black Stuntmen's Association, had more experience in stunt work. Jophery also played third baseman Emory "Champ" Chambers. The appealing film featured three other real ballplayers, Leon "Daddy Wags" Wagner, Indianapolis Clowns funnyman Sam "Birmingham" Brison, and Rico Dawson.

Before computer-generated effects came to rule moviemaking, Brown often appeared in several films a year. Just a few of the stunt-laden action-adventures on his résumé include Lethal Weapon, Die Hard, and Speed (in which he drove a bus over a gap in a freeway, something he discussed in an HBO documentary about the filming). Other credits as stunt coordinator include Scarface (he staged the gun battles) and Action Jackson.

Jophery also worked frequently in TV, including one of the great guilty pleasures, The A-Team. Along with doubling for Mr. T, his driving skills were on display. The show had a distinctly cartoonish quality -- in crash after crash, no one ever got hurt -- which tended to obscure the difficulty of the "gags." One trademark was a spiral vehicle flip, which Brown did more than 30 times.

In addition to his stunt work, Brown also continued to turn up frequently as a bit-part actor. One memorable moment came in Jurassic Park, when -- as "Worker in Raptor Pen" -- a carnosaur killed him. ("Jophery, raise the gate.")

In 1990, Screen Actor magazine quoted Jophery, who emphasized the idea that led to the formation of the Black Stuntmen's Association. "'We get very few non-descript roles. . .I pride myself in being able to do all types of shows, not just black films. And I do try to extend a helping hand to other qualified performers of color who are having a hard time of it.' Brown feels that people of color in power positions need to work with each other: 'The black producers, directors and stars don't always take care of their own by hiring black stunt coordinators.'"[19]

Brown discussed the nature of his work in 2006. "You can't separate them [stunts] into safe and dangerous categories. 'All of them were dangerous. You could get hurt doing all of them.' During the filming of the 1978 movie Convoy, he flipped an 18-wheeler. As it rolled, his seat belt came off. 'I cracked three ribs, knocked my watch off and my shoes, too.'" He added, "Something hurts me every day."[20]

Today Brown is semiretired; he doubles only for Morgan Freeman. (This brings to mind another former big-leaguer: Greg Goossen, who has been Gene Hackman's stand-in for many-years.) Other prominent African-American actors for whom Jophery has doubled are Sidney Poitier, James Earl Jones, Danny Glover, Gregory Hines, Yaphet Kotto, and Denzel Washington.

In May 2010, Jophery Brown received the Taurus Lifetime Achievement Award for his body of work as a stuntman.[21] He lives in Las Vegas with his wife Lois.

Thanks to Jophery Brown for his input (via mail, July 3, 2010). Thanks also to SABR member Jay Sokol (www.blackcollegenines.com).

Sources

Brief biographical sketch of Calvin Brown at the National Visionary Leadership project:

http://www.visionaryproject.org/browncalvin/

Grambling yearbooks, official yearly NAIA stat leaders, and the NCAA Official Collegiate Baseball Guide (courtesy of Jay Sokol)

The Sporting News Official Baseball Register, 1969.

www.retrosheet.org

Freese, Gene Scott. Hollywood Stunt Performers. Jefferson, North Carolina: McFarland & Co.: 1998.

www.imdb.com

www.classictvhistory.com

www.taurusworldstuntawards.com
---