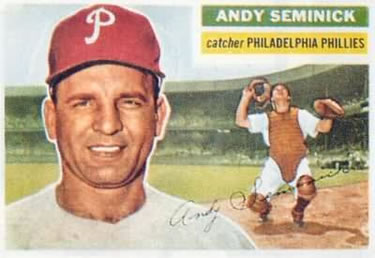 Rock-ribbed, gutsy, playing in pain, he hustled in every game. He was a no-nonsense ballplayer, yet his voice betrayed his fierce visage and short but Atlas-like body. His voice was soft and mellow, and he had a smile so broad that everyone who gazed upon it was captivated. Nevertheless, one afternoon in 1950 this hard-nosed player wiped out almost the entire infield of Leo Durocher's New York Giants. Andy Seminick was his name. He's not in the Hall of Fame nor is his a household name, but to Philadelphia fans of the late 1940s and early 1950s he was the most popular player. Seminick was the ultimate blue-collar guy in the blue-collar town of Philadelphia.
Andrew Wasal Seminick should have added another middle name to himself, perseverance. Rejected many times in his initial efforts to make a career in professional baseball, he nevertheless kept pursuing that dream until he fulfilled it.
Andy Seminick was born in Pierce, West Virginia, on September 12, 1920. His father, Wasal, and mother, Mary, were born in southern Russia. They came to America at the turn of the 20th century, where they met in 1906, married, and settled in Pennsylvania. Wasal had grown up on his father's farm in Russia and did farm work after arriving in America. Eventually he became a coal miner. In 1912 the family moved to West Virginia when Wasal took a job with a company that specialized in sinking mine shafts. Andy was the youngest of 10 children, five boys and five girls. Two years after Andy was born, the family moved to Muse, Pennsylvania, a company town about 20 miles southwest of Pittsburgh, where Wasal took a job as a miner. Life was not pleasant for the Seminicks, but they managed to keep afloat by growing their own vegetables during the Depression. Andy followed his father into the mines but injured his back when he stepped on a chunk of coal and decided not to go into the mines anymore.
Instead, he went to a baseball tryout camp in Pittsburgh, where he signed a contract and was sent to London, Ontario, of the Class-D Pony (Pennsylvania-Ontario-New York) League. Seminick struggled in his first try at professional baseball and was released. The next spring he paid his own way to a minor-league training camp in Tallahassee, Florida, where Knoxville was training. Freddie Lindstrom was the manager, and Seminick was signed to a $75-a-month contract to play for Elizabethton, Tennessee, of the Class-D Appalachian League. Andy had a solid year there, hitting .263 with 16 homers.
At Elizabethon, Seminick met his wife, Augusta (Gussie) Irene Anderson, and they were wed in 1941. In 1942 Seminick was still at Elizabethon. He got a $10-a-month raise, batted .325, and stroked 15 homers. In September of 1943, the Phillies purchased his contract. He batted just .181 in 22 September games and felt he would be back in the baseball unemployment world again. But it was World War II, the pickings were lean, and the Phillies decided to stick with Seminick. In 1944 he got into 22 games again with the Phillies, hitting .222. In 1945 Seminick was an all-around guy, playing third base, the outfield, and catching. Still, his hitting left something to be desired, and he did not get to the .240 mark.
Ben Chapman became manager of the Phillies in 1945. Seminick was Chapman's whipping boy. Game after game Chapman would verbally abuse Andy, whose teammates could not understand how he could absorb all that abuse and carry on. After four years of this, Eddie Sawyer became the manager in 1949, and the situation changed for the Phils and for Seminick. Sawyer was a more of a fatherly figure than the bullying Chapman.
Resigning themselves to the idea that Seminick was not going to be much of an offensive threat, the Phillies decided to keep him as a catcher. He struggled, dropping many popups and throwing many attempts to get a basestealer into center field. In 1946 he hit 12 homers, and followed with 13 in both 1947 and 1948. Slowly Seminick improved as a catcher, and his ability to handle pitchers was increasing. Those early years the fans were on Seminick, and it appeared he would be run out of town by the boo-birds. He went through torture catching Dutch Leonard's knuckleball. Some, of course, got away from Andy and the fans really let him have it. But he caught most of those dancing knucklers and withstood all the fan abuse. In 1949, a great year, Seminick responded with 24 homers and 68 RBIs to silence his critics. In a game against Cincinnati on June 2, 1949, the Phillies hit five homers in the eighth inning with Seminick getting two of them. (Del Ennis, Puddinhead Jones, and pitcher Schoolboy Rowe had the other three.) Seminick hit three homers during that game. The five homers hit by the Phillies that night were only the second time in the major leagues that a team had achieved that feat. (The first time occurred on June 6, 1939, when Giants Harry Danning, Frank Demaree, Burgess Whitehead, Manny Salvo, and Joe Moore did it against the Reds.) Seminick was the starting catcher for the National League in the All-Star Game that year. The fans who had been booing him were now becoming enchanted with this hard-nosed ballplayer.
Affectionately called "Grandpa Whiz" by younger teammates, Seminick would either cut meat or operate a bulldozer during the offseason to shore up his earnings. He would also sing folk ballads on team bus rides.
In 1949 the young Phillies team had improved steadily and going into the 1950 season showed promise of competing for the pennant. The Phils had a young pitching staff of Robin Roberts, Curt Simmons, Bubba Church, and Bob Miller. Seminick, who had been through the wars, was the perfect man to handle these young guys. His stern visage with a soft calming voice, not to mention his ability to handle pitchers young or veteran, made him an asset that would be coveted by any team. On many occasions he would stride to the mound, his jaw jutting with determination, and with his soothing voice get veteran or youngster straightened out. Robin Roberts said, "If you had to pick a guy in the clubhouse who was our leader that year, it would be Andy Seminick. He always played hard and that was his best year by far."1
In mid-August of 1950, Seminick single-handedly almost wrecked the Giants infield. It all started when that eternal and infernal pest Eddie Stanky started jumping up and down and waving his arms when Seminick came to bat. Seminick stepped out of the batter's box, turned to the umpire, and asked, "What in the world is he doing?" The umpire replied that he could do nothing about it. The next day the same thing occurred with Stanky waving his arms and jumping up and down when Seminick was at bat. This time Seminick was really annoyed and let fly his bat at Stanky. Andy then reached first base and on a hit raced full throttle toward third, where he ran right through Hank Thompson, who was standing in the basepath awaiting the throw from the outfield. Seminick leveled Thompson on his way to home plate. Thompson was knocked cold and had to be carried off the field. Same thing the next time Seminick came to bat: Stanky was waving his arms. Finally the umpires had enough of Stanky and ejected him. Two Giants infielders gone. Andy reached base again and on his way to second base slid hard into Bill Rigney, the Giants' shortstop. Both came up swinging, the benches emptied, and a full-scale brawl was on. Rigney was the third Giants infielder to exit as he was thrown out of the game along with Seminick. The Phillies went on to win the game, and the Giants made a hurry-up call to their Triple-A farm club to shore up their infield.
The Giants got even in late September. Manager Leo Durocher felt that Seminick was blocking the plate long before the throws were arriving. When the game went into extra innings, he told Monte Irvin that if he got on base and had a chance to score, he should bang into Seminick as hard as he could. Irvin got that chance and slid into Seminick so hard that Seminick went into the air about four feet. Seminick lay on the ground, his ankle broken.
Barely able to walk, Seminick caught a doubleheader the next day. He played out the season by taking novocaine shots in his ankle. Andy also played in the World Series against the Yankees on his broken ankle and did not fare well at bat. The Yankees swept the Series. The Phillies were in every game and lost the first three by one run and the fourth by three runs. After the Series, Seminick was in a cast for eight weeks.
In 1951 Seminick was severely beaned by a Max Lanier fastball, curtailing his ability to play. He was traded to the Cincinnati Reds, playing there from 1952 until the early part of the 1955 season. He was traded back to the Phillies, for whom he played a couple of years and ended his playing career after the 1957 season.
In all, Seminick played 11 years with the Phillies and three more (with a few games in a fourth) with Cincinnati. In a 15-year career he batted .243 with 164 homers. An "Andy Seminick Night" was held in Philadelphia in 1956 between games of a Phillies-Reds doubleheader. Seminick, said it was really special because his team, the Phillies, won the two games. After retiring as a player, Seminick coached with the Phillies in 1957 and 1958. He then managed nine minor-league teams in the Phillies farm system from 1959 through 1973. Ninety of Seminick's former minor-league players reached the majors, including Mike Schmidt, Greg Luzinski, and Bob Boone, key players in the greatest era for the Phils in the 1970s and early 1980s. There was no magic formula with Seminick – just go all-out. John Vukovich said, "Andy probably had more impact on more guys coming through the system than anyone at any time."2 But Phillies president David Montgomery said of him after his death, "As big and tough as he was as a player, Andy was as nice a person you ever wanted to know."3
After retiring from professional baseball, Seminick was the baseball coach for Florida Institute of Technology in Melbourne, where he resided, from 1961 through 1977. He also served as assistant athletic director and was heavily involved in fundraising for the college. In 1999 the new baseball field at Florida Tech was named for Seminick and Andy Hall, also a baseball coach of note at the college. In 1994 Seminick was inducted into the Sunshine State Conference Hall of Fame.
Seminick died in Melbourne on February 22, 2004, at the age of 83. Surviving him were a son, Andrew Jr.; sisters Helen Moscher of Detroit and Mary Torsky of Cedarville, Michigan; and granddaughter Andi. Augusta had died in 1991.
Sources
Clayton, Skip, and Jeff Moeller, 50 Phabulous Phillies (Champaign, Illinois: Sports Publishing Inc., 2000).
James, Bill, The New Bill James Historical Baseball Abstract (New York: The Free Press, 2001).
Light, Jonathan Fraser, The Cultural Encyclopedia of Baseball (Jefferson, North Carolina: McFarland, 1997).
New York Times. Obituary, February 24, 2004.
Smith, Red, Red Smith on Baseball (Chicago: Ivan R. Dee, 2000).
Seminick's file at the National Baseball Hall of Fame library, Cooperstown, New York.
Notes
2 Sam Carchidi, Philadelphia Inquirer, on Philly.com, posted August 2, 2003.
3 Sam Carchidi, Philadelphia Inquirer, on Philly.com, posted February 23, 2004.