Chick Stahl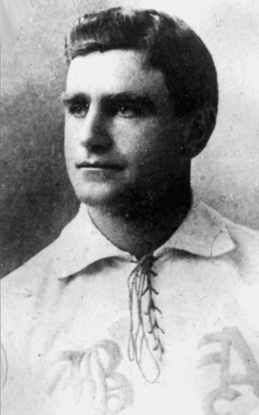 Prior to committing suicide under mysterious circumstances in the spring of 1907, Chick Stahl had forged a reputation as one of the best center fielders in the game over the course of a 10-year major league career. A lifetime .305 batter, the left-handed Stahl could also hit with power, and ranked among the league leaders in extra base hits numerous times. Among his teammates, the popular Stahl "possessed a pleasing personality that endeared him to all that came in contact with him." When the 34-year-old ballplayer ended his own life on March 28, 1907, his Boston teammates were overcome with grief. "Stahl was a king among men," said catcher Lou Criger. "He was the squarest man I ever knew. He had only one fault--he was too generous. I never saw him go back on a friend or a deserving acquaintance. In fact, he was often bunkoed because he believed in the goodness of all mankind."
Charles Sylvester Stahl was born on January 10, 1873 in Avilla, Indiana, the sixth child of Reuben and Barbara (Stadtmiller) Stahl, both devout Catholics of German descent. During Charles's early childhood, his father supported the growing Stahl clan as a peddler, but in 1885 the family moved to Fort Wayne, where Reuben found work as a carpenter. In an 1898 interview, Charles reported that he had 23 siblings. "We had just enough in our family to make a couple nines--eighteen boys and half a dozen girls."
Young Charles attended Catholic school and developed his baseball skills on Fort Wayne's vacant lots and diamonds south of the railroads. After playing for Brunswick, a local amateur team, in 1889 the teenager hurled for the Pilsener club in the City League. Between 1889 and 1894, Stahl also twirled for semi-professional teams in Paducah, Kentucky, Decatur, Illinois, and Kalamazoo and Battle Creek, Michigan. During this period, the left-hander plied his sport in the dual role of pitcher and outfielder. Chick also worked in his father's carpentry business, but the latter wanted him "to tend store at Fort Wayne and give up baseball. But I took an inventory of the soft soap sale and the output of pickles to our customers, and I couldn't figure how I could turn out the revenue in the grocery business that came to me in baseball."
In 1895, Stahl signed a professional contract with Roanoke of the Virginia League. At his own insistence, Stahl became a full-time outfielder, and excelled at his new position, playing brilliantly in the field, posting a .311 batting average, and leading the league with 13 triples. It was a performance that attracted the attention of Buffalo of the Eastern League, who drafted the young outfielder prior to the 1896 campaign. Stahl continued to show improvement with his new team, finishing the year with a .340 average, 34 stolen bases, 52 extra-base hits, and a league-leading 23 triples and 130 runs scored. Based on Chick's "splendid hitting and excellent fielding," Sam Wise and Jimmy Collins advised Boston Beaneaters manager Frank Selee to draft him.
Selee planned to use Stahl in a utility role, but within a brief period of time the 24-year old was the club's starting right fielder. In 1897, he emerged "as the game's most outstanding frosh hitter." Not only did he lead all rookies in 11 hitting categories, he also paced Boston with a .354 average, a mark which remains the franchise record for rookies. Stahl also topped the Beaneaters with a .499 slugging percentage, helping the Boston offense score more than 1,000 runs and capture the National League pennant. Another crown awaited Boston in 1898, and even though Stahl's average declined to .308, his fielding talents were highlighted in the sports pages. In one descriptive account, the Washington Post wrote "the soubrette fancier from Fort Wayne retrieved Tommy Leahy's fly in the eighth with the speed and celerity of a hound retrieving a jack rabbit." The Beaneaters fell from first in 1899 but the "Husky Hoosier," while hitting .351, produced career highs in hits (202), triples (19), homers (7), total bases (284), walks (72), on base percentage (.426), stolen bases (33) and runs scored (122). On May 31, he went 6-for-6 in a nine-inning game against Cleveland, "five of which [were] very long drives."
Boston's fortunes tumbled in 1900 but Stahl still knocked in 82 runs, his second highest career total, and led all National League outfielders with a .968 fielding percentage. In 1901, his teammate and best friend Jimmy Collins signed with the American League's Boston entry to become that squad's player-manager. Because of religious tension on his previous team, the third baseman targeted talented Roman Catholic ball players to join the upstart club. Considered a devout Catholic and one of the National League's best outfielders, Chick fulfilled the criteria. The intra-city jumper became one of the Americans' main offensive threats while moving to center field, helping the squad to a second place finish. As for the character of this 5'10'' 160 pound athlete, it was visibly demonstrated in a late August contest. After rookie umpire Joe Cantillon made a call that went against the home team, furious Boston fans assaulted him. Stahl and teammate Ted Lewis intervened, protecting Cantillon and escorting him off the field.
Although Chick had coached Notre Dame's college baseball team from January to April of 1900--leading them to a 15-2 record--his off-seasons were primarily spent in Fort Wayne. On the evening of January 26, 1902, while he was walking with a friend in his hometown, Louise "Lulu" Ortmann, a 22-year-old stenographer, approached him. Described as "a very handsome girl," she reached for a revolver, concealed in the folds of her dress, with the intent of killing him. The local police superintendent, who had been tipped off that the infuriated woman was stalking Stahl, arrived just in time to disarm and arrest her. In accounting for her actions, Miss Ortmann stated that she felt jilted by her "recreant lover." "Mr. Stahl, on the other hand, had nothing to say" and dropped any charges. This episode did not impact his 1902 season, as Stahl batted .323 with 92 runs scored and the Americans finished in third place.
In April 1903, Stahl injured his leg while sliding, limiting him to 77 games and a .274 average. Nevertheless, the Americans easily won the pennant. In the World Series against Pittsburgh, Chick was the only Boston player to hit .300, as he banged out 10 hits, including three triples, in 33 at-bats.
Chick's health improved in 1904, and the outfielder returned to his old form with a .290 batting average, 27 doubles, and a league-leading 19 triples, as the Americans captured a second consecutive pennant. Stahl also showcased his glove during Cy Young's perfect game on May 5 against Philadelphia. After the game Young expressed his gratitude for Stahl's play on a sinking line drive off the bat of Ollie Pickering "that Chick caught around his knees after a long run from center."
Along with many of his teammates, Chick's play declined precipitously in 1905, as he finished the year with a .258 batting average--by far the lowest of his career--and only 21 extra base hits. The following year, Stahl improved to .286 with four home runs and 51 RBI, while leading all American League outfielders in putouts and double plays. The Americans, however, won just 49 games, and Stahl became acting manager of the club in late August, following the suspension of the increasingly disenchanted Jimmy Collins. One scribe wrote that Stahl was "the only man on the team who played his real game this season." In what turned out to be his last major league at bat, he homered off Tom Hughes.
On November 14, 1906, Stahl married Julia Harmon at St. Francis De Sales Church in Roxbury, Massachusetts. The couple had met at a church function and she was described as "a pretty little brunette" and accomplished musician. Their honeymoon took them to Arkansas' Hot Springs and ended as guests of Jimmy Collins in Buffalo. The other significant event during this month was that Stahl, at the urging of owner John Taylor, and with the approval of his closest friend Collins, accepted the manager's position for the upcoming season.
In 1907, the "Chicks," as the team was nicknamed in deference to their manager, reported to Little Rock for spring training. It soon became evident that Stahl's personality and the position's requirements were incompatible. On March 25, with the team in Louisville, the manager abruptly resigned. Explaining his decision, he said, "This handling of a baseball team both on and off the field is not what it is cracked up to be. Releasing players grated on my nerves and they come so frequently at this time of the year that it made me sick at heart." On March 27, the team arrived at West Baden Springs, Indiana. Having agreed to serve as acting-manager until a replacement could be found, Stahl sent a telegram to his wife that night which read, "Cheer up little girl and be happy. I am all right now and able to play the game of my life."
On the morning of March 28, Stahl ate breakfast, checked the condition of the field and returned to his hotel room to put on his uniform. Jimmy Collins, who shared the suite, saw Stahl go into the next room for a moment, then stumble back toward Collins and fall onto his bed. The Boston manager had swallowed four ounces of carbolic acid which had been prescribed for a sore on his foot. There are a number of variations, but Stahl's last words were, "I couldn't help it. I did it Jim. It was killing me and I couldn't stand it, Jim." In another version Stahl simply said cryptically, "It drove me to it." Medical help arrived, but to no avail. Stahl suffered excruciating pain, dying in 15 minutes from poisoning. Since the death was ruled a suicide, a Catholic burial was denied. On March 31, the funeral rite, conducted by the Benevolent Order of Elks and the Fraternal Order of Eagles, took place at Stahl's mother's residence. The emotional state of the two women he had loved most "were pathetic in the extreme," according to one newspaper account. "The young bride of a few months was almost prostrated and the grief of the aged mother of the deceased was pitiful to behold." Five former teammates--Criger, Buck Freeman, Bill Dinneen, Freddy Parent, and Jake Stahl (no relation)--attended, but Collins was too distraught to be present. The player's remains were conveyed to Lindenwood Cemetery "in one of the largest funeral corteges ever seen in Fort Wayne." Thousands marched to the burial place, where Congressman James Robinson gave the eulogy.
Why did Stahl commit suicide? Initially, baseball related stress was identified as the cause of the tragic death, but soon other theories began to surface. Frederick P. O'Connell, a baseball editor for the Boston Post in 1907, contended that there was a non-baseball factor that led to his suicide. He wrote, "a great trouble was generally admitted" which was known to many. The truth was never known, as O'Connell developed pneumonia while in West Baden covering Stahl's funeral, and died there on April 21. Glenn Stout, a noted baseball historian, believes that "the trouble" refers to a brief affair that Stahl had with an anonymous woman in Chicago in 1906 and its aftermath. In March 1907, the woman, claiming she was carrying his child, threatened to blackmail Chick unless he married her. Unable to deal with the pressure and scandal, he ended his life. Stout's approach is factually problematic and lacks documentation. As he relates the blackmail theory, there is only one footnote. The reference is to Harold Seymour, who wrote, "There is reason to believe that a woman who asserted she was his pregnant wife hounded Chick Stahl into committing suicide." No documentation appears here either. Lastly, Stout cites David Voigt, another baseball historian, who accepts the theory in question. Voigt's documentation is limited to a 1959 quote from Al Stump, no different in content than what had already been stated and with no identifiable source. In short, all three respected historians provide an inconclusive theory based on questionable allegations.
The most significant contribution in examining Stahl's suicide has come from Dick Thompson. He uncovered a crucial March 30, 1907 story in the Fort Wayne Journal-Gazette. In an article that ran with the headlines, "MEDITATED SELF-SLAYING, CHICK STAHL HAD OFTEN TALKED ABOUT SUICIDE," and "BASE BALL PLAYER HAD ENTERTAINED DANGEROUS IDEAS ABOUT SELF-DESTRUCTION," the paper argued that Stahl had suffered from depression and suicidal ideation which had persisted from 1889 until the time of his death. The testimony was from close friends "who were not surprised at his suicide." Statements ranging from "Chick talked about killing himself several times" to "sometimes the slightest disappointment would sink him into almost a stupor of depression" appear to confirm he suffered from clinical depression.
This glimpse into Stahl's psyche helps us to understand his behaviors. For the sake of discussion, let us presume that his reputation as a womanizer was true. Clinically, it is not unusual for a depressed person to self-medicate emotional pain through unbridled sexual activity. Also, since baseball was an integral dimension to his identity, his perceived failing as a manager could have intensified his depression. There is still yet another element to the Stahl story. On March 30, 1907, a syndicated story entitled appeared in newspapers. It related that David Murphy, an engineer from Fort Wayne, committed suicide by swallowing carbolic acid. Stahl was described as "an intimate friend of Murphy," and the latter left a note which read, "Bury me beside Chick." From a psychological perspective, this language and behavior strongly indicates that the relationship was not merely a Platonic one. Was Murphy delusional, resulting in an unreciprocated sexual obsession? Or, if it was mutual, was this Stahl's "dark secret"?
Chick had a strong Catholic faith. As one newspaper report following his death noted, "Stahl never forgot his religious duties during the baseball season. Only a week ago last Sunday, Stahl did his Easter duty in Little Rock. He never missed mass if it was possible for him to attend." To understand his behavior, it is important to realize that Jansenism, typically known for its ultra rigid moral outlook and emphasis upon human nature as being corrupt, heavily influenced the nature of the Catholic Church during his life. As a result, Stahl would have been exposed to teachings about God's love and forgiveness, countered by sermons regarding sins of the flesh and the fires of hell, with suicide being the ultimate sin. The unresolved conflict between his beliefs and behaviors could have increased his inner turmoil and consequently his chronic depression. The healthy and unhealthy components of his persona were expressed during the last week of his earthly life. On the one hand, he had fulfilled his Easter duty, while on the other he committed suicide during Holy Week. As Thompson writes, "I think O'Connell did know the truth, but the truth was not that Stahl was responding to a blackmail threat. It was that he was responding to his own haunted emotions."
Speaking to his teammates after the ballplayer's death, Cy Young--named temporary manager in Stahl's absence--said, "It is mighty tough, boys. I never dreamed such a thing could happen. In fact, none of us could imagine Stahl doing away with himself. Players may come and go, but there are few Chick Stahls."
Note
This biography originally appeared in David Jones, ed., Deadball Stars of the American League (Washington, D.C.: Potomac Books, Inc., 2006).
Sources
Boston Globe
Boston Post
Chicago Tribune
Evening Times (Pawtucket)
Journal-Gazette (Fort Wayne)
Los Angeles Times
New York Times
Washington Post
Browning, Reed. Cy Young: A Baseball Life. Amherst, 2000.
Carroll, Charles. Drugs In Modern Society. Dubuque, 1989.
Carter, Craig ed. The Sporting News Complete Baseball Record Book. St. Louis, 2001.
Christensen, Chris. "Chick Stahl: A Baseball Suicide", Elysian Fields, vol. 20, n. 2, pp. 20-32, 2003.
DeValaria, Dennis and DeValaria, Jeanne. Honus Wagner. New York, 1996.
Gentile, Derek. Baseball's Best 1000. New York, 2004.
James, Bill. All-Time Major League Handbook. 2nd ed. Morton Grove, 2002.
James, Bill. The New Bill James Historical Baseball Abstract. New York, 2001.
Kinney, Jean and Leaton, Gwen. Understanding Alcohol. New York, 1982.
Masur, Louis. Autumn Glory. New York, 2003.
Neft, David; Cohen, Richard; and Neft, Michael. The Sports Encyclopedia: Baseball 1999. New York, 1999.
Nemec, David and Zeman, David. The Baseball Rookies Encyclopedia. Washington, 2004.
Palmer, Pete and Gilette, Gary. The Baseball Encyclopedia. New York, 2004.
Reichler, Joseph. The Baseball Encyclopedia. 6th ed. New York, 1985.
Reichler, Joseph. The Great All-Time Baseball Record Book. New York, 1981.
Seymour, Harold. Baseball--The Golden Age. New York, 1989.
Stout, Glenn, ed. Impossible Dreams. Boston, 2003.
Stout, Glen. "The Manager's End Game", Sports in Massachusetts: Historical Essays, pp. 121-136. Westfield, 1991.
Stout, Glenn and Johnson, Richard. Red Sox Century. Boston, 2000.
Thompson, Dick. "In Name Only", The National Pastime, n. 20, pp. 54-57, 2000.
Thompson, Dick. "Stahl's Suicide", Baseball Research Journal, n. 28, p 7, 1999.
Thorn, John; Palmer, Pete; and Gershman, Michael. Total Baseball. 6th ed. New York, 1999.
Wesson, Donald. Detoxification from Alcohol and Other Drugs. Rockville, 1998.
Zoss, Joel and Bowman, John. Diamonds in the Rough. Chicago, 1996.
Heritage Quest
Chick Stahl's HOF File