SABR Virtual Analytics Conference
March 17-20, 2022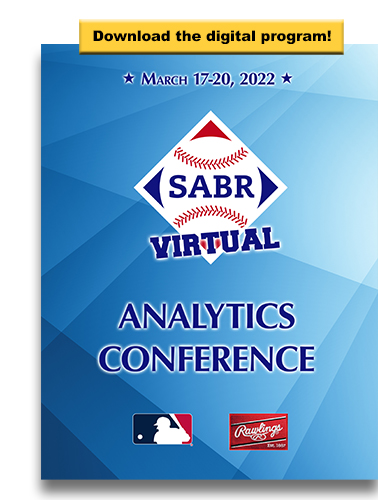 Registration is now open for the SABR Virtual Analytics Conference, presented by Major League Baseball and Rawlings, which will be held over four days in online sessions from March 17-20, 2022. We'll bring together the top minds in the baseball analytics community to discuss, debate, and share insightful ways to analyze and examine the great game of baseball.
The Virtual Analytics Conference schedule consists of research presentations and guest speakers from throughout the baseball analytics community, career development sessions led by experienced sports professionals, and industry networking opportunities — all available online for any aspiring front office executive or baseball fan to attend from the comfort of home. Students will have opportunities for skill acquisition and development, including sessions on how to work with baseball-related data sets as well as databasing and SQL.
Registration: Please note: Online registration is now closed. Registration is $100 for SABR members, $125 for non-members, and $50 for currently enrolled high school or college students (includes one-year SABR membership).
Student Registration: Currently enrolled high school or college students are eligible to attend for a special $50 registration fee laden with benefits. Student registration includes a one-year SABR membership ($25 value), a complimentary Rapsodo certification course ($395 value), and a live webinar with Rapsodo staff available exclusively to Analytics Conference student attendees. Students should email Scott Carter with a photo of their student ID to receive the discounted registration link. Access to Rapsodo online certification course will be delivered after conclusion of the conference.
Digital Program: Click here to download the digital program (PDF)
Research Presentations: Click here to learn more about our Research Presentations
SABR has a long and storied history with baseball statistical analysis, evidenced by the link between our name and sabermetrics. SABR's long history in this area of baseball research, coupled with our mission of advancing the understanding and knowledge of baseball, makes us the perfect choice to coordinate and host this ground-breaking event.
---
Featured Speakers
Our featured speakers at the 2022 SABR Virtual Analytics Conference are expected to include: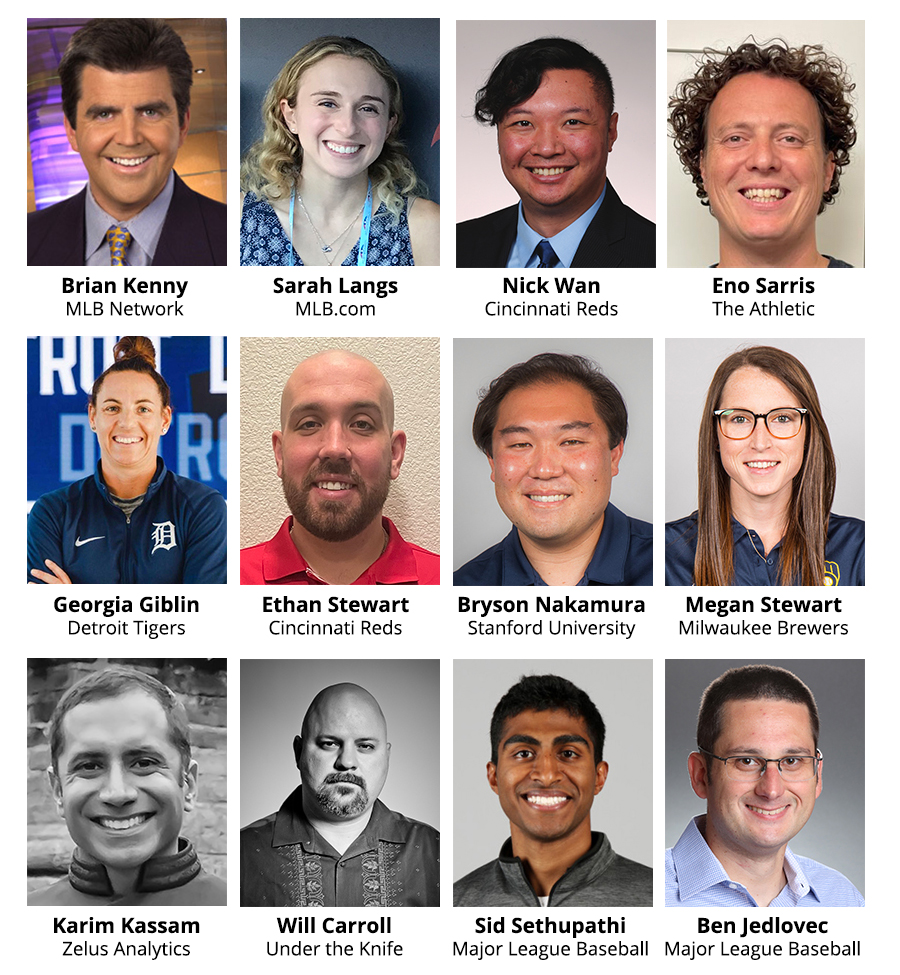 Please note: All speakers are subject to change depending on availability.