Forbes Field (Pittsburgh)
This article was written by Curt Smith
---
Baseball links geography, and rivalry. In 1908 Philadelphia constructed the sport's first concrete and steel double-decked field: Shibe Park. Three hundred miles to the west, the Phillies' main foe turned green. That fall Pirates owner Barney Dreyfuss began a search for an idyll that "will make people forget about Shibe," he told friend and business baron Andrew Carnegie.
Since 1892 the Bucs had inhabited 16,000-seat Exposition Park II. Dreyfuss wanted a larger park in Pittsburgh's future Oakland-Schenley section, three miles from the business district. "There was nothing there but a livery stable and a hot house, with a few cows grazing over the countryside," he said. "A ravine ran through the property [ultimately, right field]. The first thing necessary to make it suitable for baseball was to level off the entire field."
Critics panned downtown's snub. Oakland's Orchard! Dreyfuss's Folly! Barney smiled. His park would be expandable, accessible by trolley, and far from the smog of mills. Ultimately, the Pirates' hull conjured a soda fountain, stick dams, and unlocked homes. "You had the smell of grass, could park six blocks away, take a walk through the neighborhood," said Bucs 1948-75 announcer Bob Prince. "The House of Thrills it was, and in memory still is."
In 1909 the ravine was filled and building begun on the park named for John Forbes, a British general in the French and Indian War who bivouacked troops in Oakland, captured Fort Duquesne in a crucial battle, and renamed it Fort Pitt. "We shape our buildings," Churchill said. "Thereafter, they shape us." Racetrack architect Charles Leavitt shaped a vast lawn, irregular shape, and sun-baked infield where players despaired of safety and longevity.
Forbes Field rose at the junction of Bigelow Boulevard, Joncaire Street, the Cathedral of Learning, and (General Henry) Bouquet Street, after a Swiss soldier who helped the British. Later, it was filled by an early-1900s melting pot — Slavs, Poles, Italians, Germans — who trooped through southwest Pennsylvania to the flatlands of the Middle West.
Thousands remained in Pittsburgh among hills and rivers that split the forest like aorta through the heart. The Roman Quintilian wrote, "It is feeling … that makes us eloquent." Forbes Field's feeling soon became that of pleasance and pioneer.
Men worked double shifts to open it on schedule. On June 30, 1909, a crowd of 30,388 swamped the 25,000-seat park. Thousands stood behind a rope barrier to watch the Cubs win, 3-2. Dreyfuss hymned I told you so. "The formal opening of Forbes Field … was an historic event," the 1910 Reach Baseball Guide wrote: "Words must fail to picture in the mind's eye adequately the splendors of the magnificent pile President Dreyfuss erected as a tribute to the national game, a beneficence to Pittsburgh and an enduring monument to himself. For architectural beauty, imposing size, solid construction, and public comfort and convenience, it has not its superior in the world."
Behind the plate, player and umpire clubhouses underlay the grandstand. Right field abutted Schenley Park. Two decks extended from beyond first base to the left-field line, left and center seats rimming a 12-foot wooden fence. Distances were pitcher-friendly – left to right, 360, 442, flagpole 462, and 376 feet – as Forbes' first year showed. The '09ers went 110-42, had a 2.07 earned-run average, and beat Detroit in the World Series, Forbes luring "more [in three games] than the entire Series of '07 or '08," said future Pittsburgh Press writer Les Biederman. The yard presaged a franchise more atypical than most. Once two Pirates led off base, the day so dark Christy Mathewson had to approach the catcher to see his signs. A batter lined to right-center, lightning hitting the ball like a scene from The Natural. Red Murray leapt to make a barehanded catch. DeMille could not have staged it better.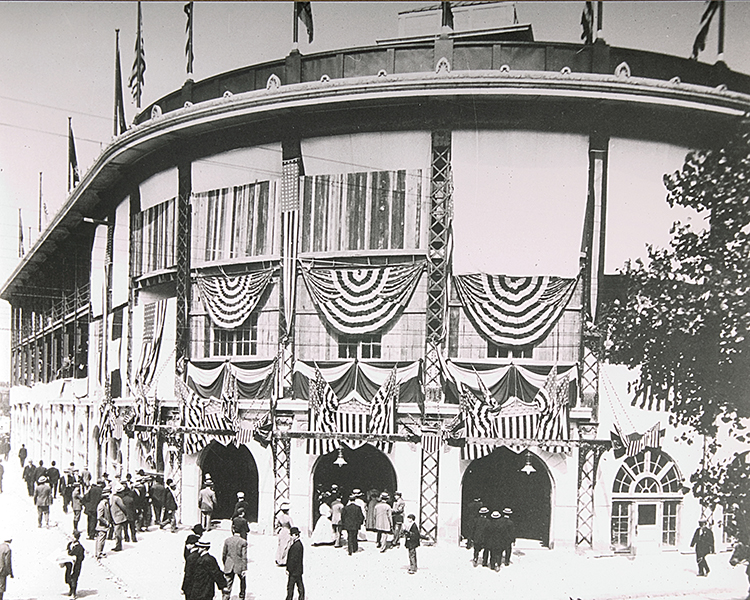 No one threw a no-hitter in Forbes' 4,728-game history. By contrast, unassisted triple plays seemed as common as a cold. In 1925 Pirates shortstop Glenn Wright caught Jim Bottomley's liner, stepped on second base to double Jimmy Cooney, and tagged Rogers Hornsby before the Rajah could retouch first. Wright encored as a Cub two years later. "For the unusual, go to Forbes," a saying went. "The impossible, go twice." In 1890 Exposition Park I had hosted baseball's first tripleheader. Thirty years later Forbes reprised its last three-for-the-price-of-one. "Three teams in each league got money from the Series pool, so the Bucs and Reds met to decide third place," Biederman said. Cincinnati won, 13-4 and 7-3. "The Bucs then lost a meaningless [6-0] third game. The age was a stickler for rules." In 1912 Chief Wilson hit a still-major-league record 36 triples. Some parks aid homers. Forbes spurred average, defense, and speed.
In 1925, Dreyfuss grooved a lollipop to lefties: Two pavilion decks shrank right field to 300 feet. Pitching countered in 1932: A 14½-foot in-play screen topped right field's 9½-foot concrete wall. Left waxed from 360 to 365. Center field and the flagpole waned to 435 and 457. The backstop was a big-league-high 100 feet from home plate. In 1923 the batting cage moved from behind it to left-center field: in play like the flagpole bottom and light tower cages in left-center, center, and right-center field.
Cars and trucks were repainted and sold under the left-field seats. Said 1921-27 Pirate Kiki Cuyler: "Size was just one thing that made Forbes special.
Exemple gratia: The Pirates were the first to use a tarpaulin (1906); put padding on the outfield wall (1930s); host a night All-Star and World Series game (1944 and 1971, respectively); wear knit uniforms (1970); and broadcast on radio (August 5, 1921, on America's first station, KDKA, Pittsburgh. Pirates 8, Phillies 5). Announcer Harold Arlin, 26, used a telephone as microphone, sat behind the screen, and chatted as though his audience were sitting around a pot-bellied stove.
Westinghouse-owned KDKA had debuted on Election Night 1920. "We were looking for programming," Arlin said, "so I went to Forbes and set up shop." Often the transmitter failed, or the crowd silenced him. "We didn't know whether we'd talk into a total vacuum or whether somebody would hear us."
Like a centerfold, TV leaves little to fantasy. Early radio left all. Fancy retail stores mounted sidewalk speakers. Streets filled with play-by-play, like shopping malls with Muzak. One day Arlin even pinch-spoke for the Sultan of Swat, Babe Ruth, scheduled to read a speech on KDKA.
"He was going on my show," Harold said. "I introduce him and this big, garrulous guy — he can't say a word."
"Babe Ruth froze?" a reporter said.
"Mute," he jabbed. "I read his script on air and now I'm Ruth as Babe tries to compose himself, smoking and leaning against the wall. You know something? We pull it off. I sign off and Babe hasn't made a sound."
Forbes' real sound of the 1920s was the uncorking of champagne.
Honus Wagner retired three years before KDKA debuted. Arlin's Bucs were still alight with stars. Pie Traynor batted .320 and was a 1920-37 palatine at third base. A writer mused: "So and so doubled down the left-field line, and Traynor threw him out." Ten times Max Carey led the NL in stolen bases. In 1925 Cuyler hit .357. By then, Forbes Field held 41,000 seats, Dreyfuss needing them that fall. The World Series ricocheted. Washington led three games to one; Pittsburgh won twice; then Walter Johnson yielded 15 hits in the fall classic final. "He might have survived even that," said Traynor, "if his [Senators] defense hadn't cracked." Roger Peckinpaugh's eighth-inning homer gave D.C. a 7-6 lead. Some recall the AL MVP's two late-inning errors, tying the score. Others remember Cuyler fouling off pitch after pitch, then doubling to right field to score the last two runs. Pittsburgh won, 9-7, its first title since 1909 and last till 1960. "It's been a long time coming," sang Crosby, Stills, Nash, and Young. Bill Mazeroski would be a long time gone.
About this time French Marshal Ferdinand Foch visited the Grand Canyon, noting, " What a marvelous place to drop one's mother-in-law." Forbes was a fine place to drop Cooperstown's sole brothers. Lloyd Waner – 5-foot-8½-inch Little Poison – hit .355. Big Poison – brother Paul – led the league in average (.380), RBIs (131), and four other categories. The rightness of things inspired – Pittsburgh in the Series! – except its foil was as great a team as ever lived. The Yankees hit .307, clinched on Labor Day, and outhomered the Bucs, 158-54. Their Classic began on October 5. After a 10 a.m. workout, "Traynor and the Waner brothers and other Pirates went into the stands to look us over," said Yankees manager Miller Huggins. "I thought I'd give them something to see," telling practice pitcher Waite Hoyt to throw down the middle. Earle Combs and Bob Meusel tattooed Forbes' power alleys. Ruth and Gehrig bombed Schenley Park, presaging the Yankees' four-game sweep.
The Pittsburgh Press styled the 1930s Bucs "L. Waner, P. Waner, Vaughan [Arky's .385 leading the 1932 NL], and Traynor." In 1930-39 and 1942-46, Forbes also hosted the Pittsburgh Crawfords' and Homestead Grays' Josh Gibson – "The Black Babe Ruth" – who anchored a rare two-league doubleheader: Pirates-Phils and Negro East-West League Grays-Philadelphia Hilldales. On May 25, 1935, the real Ruth hit his last three homers – at Forbes. Said Guy Bush, yielding No. 714: "Leave it to Babe to [be first to] clear the [86-foot-high right-field] roof." Only 16 homers did, five by Willie Stargell. Staying inside the park: Chuck Klein's four homers in a 10-inning game, the Bucs taking Forbes' 1940 night debut, and traded-to-Boston P. Waner's hit number 3,000 off the Pirates' Rip Sewell.
In 1938, Pittsburgh finished two games behind the Cubs. "Dreyfuss had died in 1932," said Biederman. "His son-in-law, [president] Bill Benswanger, was sure they were going to make the Series. So he ordered a new deck of seats [Crow's Nest] built on the grandstand roof [also, a press box with baseball's first elevator]." A visitor could leave through an exit gate in right-center field. Nearby the Pirates erected a bronze and granite Dreyfuss statue. In 1943 it was joined by a wooden U.S. Marine, 32 feet high by 15 feet wide at his feet, standing at parade rest. "He was there to salute our World War II effort," said Prince. "Maybe the most bizarre in-play object in baseball history."
Forbes soon added an objet d'art: a brick and ivied wall from right-center field to the left-field line. In left, a 27-foot-high hand-operated scoreboard listed balls, strikes, outs, scores, and pitching changes. Atop it lay speaker horns and a Western Union (later Longines) clock. Seats were blue (boxes), gray (reserved), and green or red (general admission). Beyond third base lay bleachers down the line. "This became the look," said 1955-76 general manager Joe Brown, "how we remember her – the scoreboard, brick, so beautiful." A pilgrim also recalled "dipsy-doodle" (curve) and "bases FOB" ("Full of Bucs") and "doozie marooney" (extra-baser). In 1936-55, announcer Rosey Rowswell ten times braved the second division, loving anything not germane to score.
When a Bucs drive neared the wall, Rowswell shouted, "Get upstairs, Aunt Minnie, and raise the window! Here she [the baseball] comes!" An aide then dropped a pane of glass: to a listener, it meant the window. "That's too bad," Rosey sobbed. "Aunt Minnie tripped over a garden hose! She never made it!"
Aunt Minnie debuted in 1938. A year later Rosey and a plump lass of that name hyped a KDKA-TV exhibit by entering Forbes in an Austin car. Few criticized baseball's Empress with No Clothes. Said Prince: "People knew she was fictitious, and didn't care."
Prince's arrival changed Rosey's tack. "Instead of glass – too messy – I had this big dumbwaiter's tray with bells and nuts and bolts – anything to make noise." On Rowswell's nod, Bob, standing, dropped it. "On radio, it sounded like an earthquake. And Rosey'd say, 'Poor Aunt Minnie. She didn't make it again.'"
Prince quickly picked up the nuts and bolts. "I had to have the tray ready again, just in case the next guy hit one out."
"You got a lot of practice," colleague Jim Woods once said.
"Who wouldn't," Bob said, "with Ralph Kiner around?"
In 1946 Pittsburgh bought slugger Hank Greenberg, moved pens from foul ground to left field, strung a fence to left-center, and shrank the line from 365 to 335. "The [30-foot] area between the new fence and scoreboard were called Greenberg's Gardens," said Kiner. "Balls landing there were homers." After one year Greenberg retired, his Gardens renamed Kiner's Korner.
Kiner had returned from war in 1946, later saying, "Home-run hitters drive Cadillacs." General manager Branch Rickey observed, "Ralph was our team," taking a nonpareil seven straight NL home run titles, including 1947's 51 and 1949's 54. The long ball didn't win a pennant, but kept the Pirates solvent: in 1948, placing fourth, Pittsburgh drew a record 1,517,021. "After my last up," Kiner laughed, "half the crowd would leave."
In 1952, he wafted 37 homers and requested a raise. Said Rickey, refusing:
"We could have finished last without you." Those Bucs were last in runs, doubles, triples, home runs, K's, walks, shutouts, ERA, and wins – 42-112. "It was the most courageous team in the bigs," said reserve catcher Joe Garagiola. "We showed up for every game." The next year, Kiner joined the Cubs, and Forbes' inner fence came down. In 1955 Rickey dedicated an 18-foot, 18,000-pound statue of Wagner in Schenley Park. On May 28, 1956, before 31,221 at home, Dale Long homered in a major-league record eighth straight game. Long got a curtain call – a then-rarity. Even rarer: The '58ers finished second, Danny Murtaugh voted Manager of the Year.
In 1959 three new field- and dugout-level rows upped Forbes' capacity to 35,000. Dick Stuart became the first to clear left-center's 457 mark. Reliever Elroy Face won his 17th straight game. Said Brown: "We won't soon see that again." That was especially true of a year where western Pennsylvania, eastern Ohio, and West Virginia celebrated "Beat 'Em Bucs" and "The Bucs Are Going All the Way," an all-time Forbes attendance record of 1,705,828, and a surreal World Series. Wrote Biederman of 1960: "The Pirates were something special."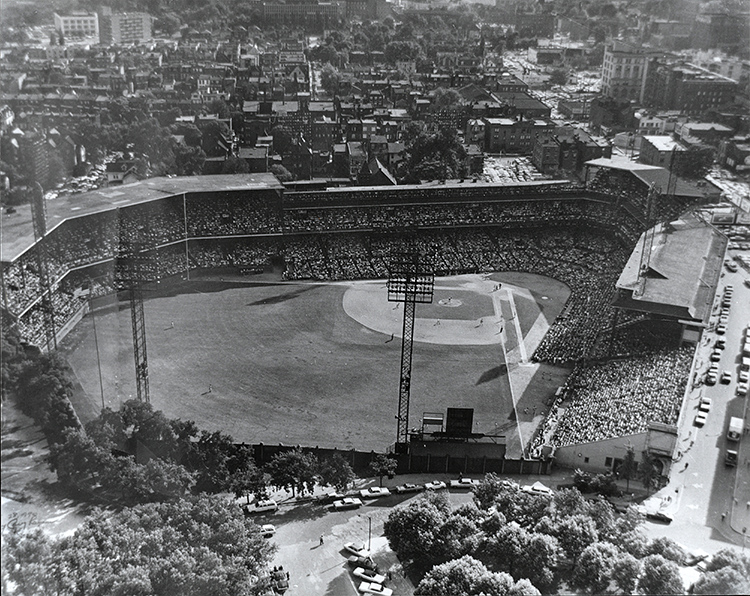 Pittsburgh won 23 games in its last at-bat. MVP shortstop Dick Groat hit a bigs-high .325. Vernon Law went 20-9, won the Cy Young award, and said of second baseman Bill Mazeroski, "When he pivoted [on a double play], the ball looked like it took a U-turn." First basemen Stuart and Rocky Nelson had 30 homers. In center field, Bill Virdon rivaled Willie Mays. In right, Roberto Clemente batted .314, drove in 94 runs, and threw out a league-best 19 runners. On September 25 Pittsburgh clinched its first pennant since 1927.
Ten days later the Series began at Forbes, its pews so near the players you could almost know what they were like. The Pirates took Games One, Four, and Five, 6-4, 3-2, and 5-2, respectively. The Yankees swaggered, winning 16-3, 10-0, and 12-0. Bobby Richardson set a Series mark for most RBIs in a game (six, Game Three) and Series (12). Whitey Ford threw two shutouts. The stripes outhit (.338-.256), outhomered (10-4), and outscored (55-27) the Bucs. Nova blur: diving stops by Don Hoak and Mazeroski; Mickey Mantle, batting righty, clearing the 436 right-center mark; Virdon's leaping catch off Yogi Berra, saving Game Four.
October 13 broke mild and bright for a Good God Almighty, one frantic play after another, top-this final. "We have been blessed again with summer weather," Mel Allen mused on NBC Television. Off-air he asked if Prince wanted a drink. "Don't worry," Bob passed. "I'm just as crazy sober." Game Seven left you feeling like a morning-after binge. Tide: Nelson, first inning. "There's a drive!" said Prince. "Deep into right field! Back she goes! You can kiss that one goodbye!" – Pirates, 2-0. Riptide: The Yankees rallied. Down, 4-2, Berra batted in the sixth. "There's a drive hit deep to right field!" Allen said, calling foul, then amending: "All the way for a home run!" – Yanks, 5-4.
In the eighth inning, behind, 7-4, Virdon slapped a one-on grounder to Tony Kubek. "A sure double play," said the shortstop, "except the ball hit something, came up, and hit me in the throat." Groat and Clemente singled: 7-6. Hal Smith's three-run "electrifying homer," read the Press, "turned Forbes Field into a bedlam"– 9-7, Pirates. New York tied the score in the top of the ninth. In the bottom, Ralph Terry threw a slider. The left-center field clock read 3:36 P.M. "There's a drive deep into left field!" said Allen, Berra retreating to the 406-foot sign. "Look out now! That ball is going … going, gone! … Mazeroski hits it over the left-field fence for a home run. And the Pirates win it, 10 to 9, and win the World Series!"
Maz's homer became a Baby Boomer touchstone. In Los Angeles, Bob Costas, 8, retired to his room. "I'm sitting there, eyes welling with tears as I take a vow of silence. My plan was not to speak until Opening Day of the '61 season." Reality soon intervened. "But I kept mute for 24 hours – protesting this cosmic curse." In suburban Pittsburgh, Larry Lucchino, 15, was walking home from school. "I was a Pirates fan, and had a radio. When Maz homered, I threw it toward the sky." Alight, the future president of the Orioles, Padres, and Red Sox raced home: "Really, I was walking on air."
For a long time a hangover shrouded bars, mail routes, and screened-in porches, where one radio after another ferried the Bucs. Five decades later, even a Yankees fan recalls the leaves and splashing hues and spooked-up days that cradled fancy. "We had 'em allll the way!" Prince cried upon a victory. 1960 has Pittsburgh, even now.
By default, Maz's shot sustained the 1960s. It is true that in 1966 Matty Alou won the batting title (.342), Prince coined a hex (the Green Weenie, a hot dog painted green, that locals bought at stores, shook at rivals, and hung on car antennas), and the Bucs barely missed a pennant. It is also true that the 1961-69 Pirates five times flunked the first division, relying on Clemente to grease their creaking gate. The Great One had 3,000 hits, five times led outfielders in assists, and won a dozen Gold Gloves and four batting titles. His MVP pinnacle was 1966's .317, 29 homers, and 119 RBIs. Clemente ran like Secretariat, hit like Ali vs. Frazier, and "treated baseball," wrote Roger Angell, "like a form of punishment on the field." Sadly, he also left Forbes for a very different kind of home.
In 1958 the Pirates sold The House of Thrills to the University of Pittsburgh for $2 million. The college wanted to expand graduate facilities. The Bucs wanted a new multisport stadium. "Amazingly, baseball didn't then grasp what it had – that intimate was better. It wanted something bigger, to accommodate football," said Costas.
Prince was personal. "Leaving Forbes Field, they took the players away from the fans. It was unique. So what if girders needed replacing? You could do it, add bleacher seats. They had a way – just not a will." It is likely that no baseball team ever suffered most by leaving one site for another.
Forbes Field closed on June 28, 1970, before 40,918, the Bucs' largest crowd since 1956, in a doubleheader vs. Chicago. "The Cubs won Forbes' first game [1909]," said Brown. "Now the Pirates returned the favor [winning, 3-2 and 4-1]." Mourners heisted soil, seats, and numbers from the scoreboard. Sterile and circular Three Rivers Stadium took two years to build, cost $55 million, and had Tartan turf, symmetrical distances, a large foul area, and an upper deck near the troposphere. A 10-foot inner fence ringed the outfield. Three levels of plastic chairs enclosed the park, including a huge upper deck. Sight lines favored the football Steelers, who soon ruled the city.
Three Rivers housed the Bucs through 2000 – its zenith "being blown up [in February 2001]," said 1976-79 Voice Milo Hamilton – hard to reach, then leave after a game. In turn, it led the Pirates to almost leave Pittsburgh, no longer fitting in its emotional luggage. In 2001, baseball-only $228 million PNC Park opened downtown between the Fort Duquesne and Sixth Street (renamed Roberto Clemente) bridges by the Allegheny River. Designed by a Forbes II Task Force, PNC's brick, steel, terra-cotta-tiled plasters, masonry arches, corner pens, 16 light towers, and flat green roof evoked the Bucs' Oakland dinghy. Like Forbes, wall height and distance varied, the farthest seat a big-league smallest 88 feet from the field. "People never accepted Three Rivers," said Hamilton. "They loved this place since Day One – like Forbes."
Fire struck the original on July 17, 1971, wreckers soon crumpling it. Today home plate, in glass, anchors the University of Pittsburgh's Forbes Quadrangle, a large graduate-school classroom and office building. A plaque notes where Maz's homer cleared the fence. A lovely red brick path traces the left-field wall. Patches of the center field and right-center wall conjure the Waner brothers and the in-play batting cage. Arriba hovers at Mervix Hall – once right field. You approach the plot on Roberto Clemente Drive.
Each October 13 hundreds flock there, like the devout to Lourdes. "We listen to Bob and Jim Woods re-create Game Seven," said Bucs once-pitcher and now Voice Steve Blass, "remember where we were, talk about why Forbes was special." Prince died in 1985, often returning to a place still pleasant, almost golden. "I'd come by myself, just look around, marvel at what we had." In Schenley Park, memory comes unbidden like a postcard from the past.
This biography is included in the book "Sweet '60: The 1960 Pittsburgh Pirates" (SABR, 2013), edited by Clifton Blue Parker and Bill Nowlin. For more information or to purchase the book in e-book or paperback form, click here.
Sources
Material, including quotes, is derived from Curt Smith's books Voices of The Game, Storied Stadiums, Voices of Summer, The Voice, Pull Up a Chair, and A Talk in the Park (in order: Simon & Schuster 1992, Carroll & Graf 2001 and 2005, respectively, The Lyons Press 2007, and Potomac Books 2009 and 2011, respectively.)
https://sabr.org/wp-content/uploads/2013/03/forbesfield1960.jpg
492
695
admin
/wp-content/uploads/2020/02/sabr_logo.png
admin
2013-03-04 14:31:59
2021-03-10 00:47:34
Forbes Field (Pittsburgh)