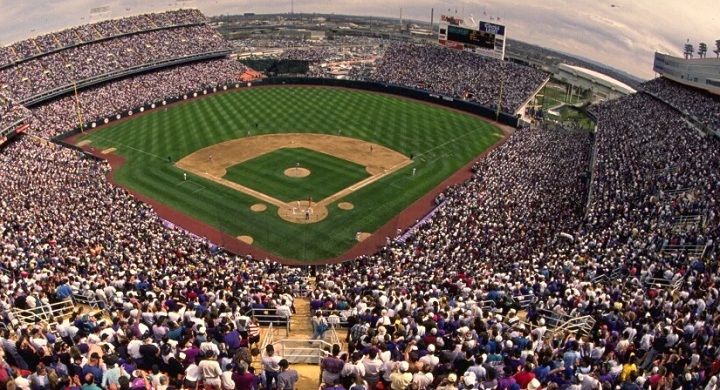 Mile High Stadium (Denver)
This article was written by Curt Smith
---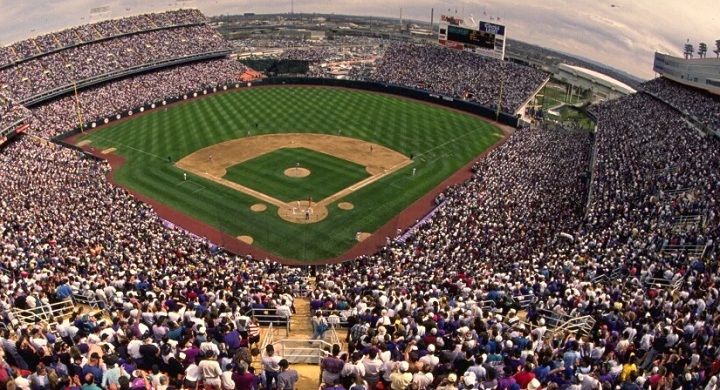 Imagine two strangers stranded on a South Sea island from Taos, New Mexico, and Butte, Montana. They differ in age, race, income, and religion. Their common denominator is the Colorado Rockies major-league baseball club that did not exist until a quarter-century ago. For a long time, however, the prospect of such a team in the Mountain Time Zone seemed described by the poet John Greenleaf Whittier, writing "For all sad words of tongue and pen, the saddest are these, 'It might have been!'"1
For almost a century after the region's first organized teams began in the 1860s, baseball treated most of the entire area as if it did not exist. Until 1958, St. Louis was the major leagues' Westernmost and Southernmost franchise. Even later, Mid-America remained "flyover country" to many living on each coast. The 14-state Mountain Time Zone's2 first baseball beachhead of any size was 1948's construction of Bears Stadium at 2755 West 17th Avenue in Denver by native Bob Howsam, barely 30, Western League president, and owner of its then Class-A Denver Bears, dad Lee a businessman. Politically linked by marriage to the daughter of Edwin "Big Ed" Johnson, for 25 years a Colorado US senator or governor, Howsam crafted a Horatio Alger kind of life.3
Built at a former landfill, Bears Stadium, renamed Mile High Stadium in 1968, became the region's jerrybuilt baseball/football hub for the next half-century. The original 18,000-seat grandstand encircled the plate from one foul pole to another on the north and west sides, showing even then how thin air and the long ball mixed. Since the 1995 debut of nearby Coors Field, named for a beer sponsor synonymous with Denver and its regional market, upper deck row 20 has been painted team color purple to mark 5,280 feet, one mile above sea level. On Bears Stadium's August 14, 1948, Opening Day, Luther "Bud" Phillips slammed the future Mile High's first homer.4 Denver led the league that year in attendance, next season luring a minor-league high 463,069, more than the big-league St. Louis Browns.5
By then baseball had begun to worry about the growth of television. In 1946, Americans owned only 17,000 TV sets, buying 10,000 a day by 1950.6 TV especially hurt minor-league attendance, keeping people at home, not flocking to a park. Denver's identity helped fight the trend: the cynosure of a region. In 1951, Howsam was named The Sporting News Single-A Executive of the Year. The 1952 and 1954 Bears won Western League titles. Bob then bought the Kansas City Blues of the American Association, moved them to Colorado, and birthed the Yankees' Triple-A affiliate Bears.7 "To the country, this era introduced Denver as a baseball stronghold," said Jeff Kingery, its major-league Rockies' first radio Voice in 1993. "That pinstriped cachet made the difference."8 It also fueled Denver's long and winding big-league road.
Howsam's junior Yankees featured future Bronx Bomber skipper Ralph Houk, outfielder Norm Siebern, bad-sighted fastballing reliever Ryne Duren, and the infield's legendary Tony Kubek and Bobby Richardson. In 1955, the Bears led the league in attendance for the first of three years; 1956, Howsam again was named The Sporting News Triple-A Executive of the Year; 1957, his Denver club won the Triple-A title and Little World Series.9 As Mark S. Foster wrote in his book, The Denver Bears: From Sandlots to Sellouts, interest soared so strikingly that instead of "turning spectators away at Bears Stadium the club let latecomers stand in the outfield roped off on the warning track."10 From there Howsam braved a near-miss for both Denver and himself which he rued even after forging as president and general manager the epochal 1975-76 world champion Big Red Machine.
In 1959, Branch Rickey and New York lawyer William Shea proposed a third major — Continental — league, to begin play in 1961. Its putative eight teams were Atlanta, Buffalo, Dallas/Fort Worth, Houston, Minneapolis, New York, Toronto — and Denver, run by Howsam. Sadly, to undo the Continental, the National League announced in August 1960 that it would expand to Houston and back to New York in 1962, leaving big-league ball deserted on Pike's Peak.11 At sea, Howsam founded the Denver Broncos of the American Football League, garbed his team in used uniforms, including infamous vertically striped socks, almost went belly-up, sold controlling 1960 first-year interest, and saw the Ponies become synonymous with Mile High as bleachers and temporary east stands upped capacity to 34,000 — ironically, for baseball. It reached 76,037 by 1976, each Broncos home game sold out, a baseball crib turned football shrine.12
"The world's loudest outdoors insane asylum," Voice Chuck Thompson called Baltimore's Memorial Stadium during his 1949-83 football Colts' lovefest.13 With Mile High's Broncos enjoying a like response, many, recalling Howsam, asked if a Denver big-league team franchise might climb its own Rocky Mountain High. In 1977 and 1979, oilman Marvin Davis vainly tried to move the A's from Oakland. Thereafter rumor had other clubs moving to the time zone's most populous city, using it as leverage to up local facilities or lower local rent.14 Increasingly, Denver seemed a perpetual major-league franchise to be named (much) later, the tease not dimming local interest. In the 15 years before joining the NL, the 1978-92 Bears-turned-Zephyrs Triple-A outlet of five big-league teams drew more than half a million people four times, including 1980's best 565,214.  After a century of neglect, the region waited for Lady Luck to belatedly change or common sense to finally touch the majors.
Soon a major-league expansion committee would inquire what had changed since Denver's early pioneer, sparse population, and as seen on TV Western age. One constant that hadn't was the air — "so thin, it made it [like] Little League," said Rockies 1993-98 manager Don Baylor.15 Thus, liberal Mile High lengths lasted through the 1980s: left to right field, respectively: foul lines, 335 and 370 feet; gaping alleys, 375 and 400 feet; and center field, 423.16 What did change lay all around. Many more people, mostly young, were moving into than leaving Colorado and the region. The economy — high-tech, education, development — was moving up. By 1990, baseball had 26 teams, 14 in the American League. To gain parity, the NL scheduled 1993 expansion of two teams from six contenders: Buffalo, Denver, Miami, Orlando, Tampa-St. Petersburg, and Washington — for the Mountain Time Zone, the nearest big-league team, Kansas City, more than 600 miles away. 17
Early planning to become big league seemed altogether sound. On August 14, 1990, the then six-county Denver area okayed by 54 percent to 46 percent a 0.1 percent sales-tax increase to build a new $138 million baseball park — Mile High being too old, large, and thin on amenities to be anything but transitional.18 Had the referendum failed, Denver's franchise bid would have, too, contingent on a site to succeed Howsam's more than 40-year-old park. Instead, park financed, Governor Roy (Buddy) Romer fixed on finding investors to pay the NL's $95 million expansion fee.19 No ownership group had stepped forth. Worse, the due date for the application fee was September 4 — necessary for any hope to make the time zone's states from Arizona to Montana major-league in name.
Earlier supposed front-runner Denver had been shaken by the collapse of supposed owner-to-be John Dikeou, "who [suffered] the bottom [falling] out of … his real estate business," as the Los Angeles Times described the Triple-A Zephyrs owner. Tax increase passed, Romer three days later met new potential owners, "everybody sat around the table," he said, "and I just went around the room and said, ''Tell me who you are, how much you can put in, and what role you want to play.'"20 The next week Romer put Paul Jacobs, senior partner at a large Denver legal firm, and third-generation Coloradan Steve Ehrhart, commissioner of the World Basketball League, in charge of ownership. Two potential moneymen whom Jacobs knew from Ohio, John Antonucci, a large beverage distributor, and Mickey Monus, Phar-Mor drug store chain CEO, became general partners. "By March 1991 [the final NL deadline]," wrote the Denver Post, "Jacobs had commitments to meet the … expansion fee."21
One day the franchise group made Linda Alvarado baseball's first Hispanic would-be owner — diversity a key application issue.22 Another, to show regional potential, it announced that in less than three weeks more than 18,000 people from Colorado, Montana, Wyoming, New Mexico, Nebraska, and Kansas had mailed deposits on season tickets two years before the 1993 season, as if denizens of Omaha and Abilene planned to spend 81 days that year in Denver.23 Against such an arsenal — Colorado's booming commerce and youthful demographics were also decisive — fine baseball cities like Buffalo and Washington blew away. On March 26, 1991, the NL expansion committee visited Denver, 1,500 people greeting it at an atrium at 17th and Broadway by singing "Take Me Out to the Ball Game." Entering, members seemed surprised, many moved. Paul Jacobs walked in next to longtime league executive Phyllis Collins. "I looked over," he said, "and tears were streaming down her cheeks."24 
Baseball's ancient anthem became Denver's expansion exclamation mark. That July 5, National League President Bill White announced to the shock of few that its (also South Florida's far shorter) big-league wait was over. Miami soon became a headache, still a baseball migraine a quarter-century later. By contrast, the only question about the newly named Colorado Rockies –accenting regional, not "Denver," and new, not "Bears" — was why it took so long. Few could have guessed it, but real worry still lay ahead. Three weeks later, Monus flew to Denver and, in a setback even worse than Dikeou's for baseball, told Jacobs he would need to sell his $20 million share in ownership. Given Tampa's rumored position as expansion runner-up, overnight the state of Florida seemed a possibility for two new 1993 NL teams, not one.
"We came closer to losing the franchise at that point than I thought at the time, and we hadn't even played a game," said Jacobs, then "nervous about everything." Looking back, he said, "so many serendipitous things happened that allowed us to put it together."25 Eventually, Antonucci also exited as team owner, tied to Monus's conviction by a federal grand jury of embezzlement and fraud. Monus went to prison for 10 years. Antonucci went back to distributing beverages. The "serendipitous" began with limited partners, who began signing checks. Charlie Monfort, from family cattle and meat-packing, and Oren Benton, a uranium and banking billionaire, invested more heavily. The most crucial partner, trucker-rancher Jerry McMorris, became the key point-man, opening his own pockets and legally emptying others'.26 
"The Rockies ownership there was strong enough, committed enough" to overcome the scandal, Antonucci told ESPN senior writer Gene Wojciechowski in 2007, the Rockies making the World Series in the franchise's 15th year.27 Ultimately, McMorris's value lay above all in assembling a coalition of investors. By 1992, the now principal owner owned a controlling interest, serving as chairman, president, and chief executive officer until 2001 and part of ownership till 2005. The first challenge was to convert 21,000 movable seats at Mile High from football to baseball. Its grass field was heated to spur yearlong growth. A concert brochure hailed "the first fully distributed sound system" with "near stereo quality sound" of any US stadium." From the start, the new kid on the block ran scared. That, in turn, fueled the Rockies' riposte to their second challenge: at least partly unhorsing Mile High's chief tenant.
"Coming in, the Broncos owned the region," said McMorris. "How do you compete?" The Rockies tried straightaway in the November 1992 NL expansion draft. Atlanta pitcher David Nied became their number-one choice, a textbook case of peaking too soon. In 1992, Nied had compiled a 3-0 record with a 1.17 earned-run average. In 1993-96, the Rockies righty was 14-18, never had a single-season ERA less than 4.80, and braved more hits than innings pitched. Other imminent or eventual well-known names from their draft included Brad Ausmus, Vinny Castilla, Alex Cole, Joe Girardi, Charlie Hayes, Darren Holmes, Steven Reed, and Armando Reynoso. Andres Galarraga, Bruce Ruffin, and Bryn Smith were each signed as a Rockies free agent. Dante Bichette of the Brewers arrived in Denver by trade.28
That October, Canada won its first World Series: Toronto, in six games, over Atlanta. On December 16, 1992, George Bush feted the Blue Jays at the White House, gently ribbing US Trade Representative Carla Hills. "I thought she understood that our free-trade agreement with Canada did not mean that the United States would trade away the world's championship," the president said to laughter.29 Some didn't like a Canadian team winning our Series. Actually, television's wildly successful Hockey Night in Canada taught the Rockies a lesson. Since 1931, by radio, and 1952, TV, the Saturday night series had fused a diffuse, largely rural Nation, listeners seduced hundreds of miles from a big-league site.30 Might that be true of audio/video linking Mile High to farmhouses and sleepy small towns hundreds, even thousands, of miles away in New Mexico or Wyoming in Cubs or Cardinals Country?! Doubt didn't live, for long.
In early 1993, KWGN, Channel 2 in Denver, announced a 15-station, seven-state television network with itself as flagship. Outlets included Colorado's Colorado Springs, Durango, Glenwood Springs, Grand Junction, and Montrose; Nebraska's Scottsbluff; New Mexico's Las Cruces; South Dakota's Lead-Deadwood and Rapid City; Utah's Salt Lake City; and Wyoming's Casper, Cheyenne, and Sheridan.31 The list evoked a lush film age of John Wayne and director John Ford and Monument Valley, the stunning backdrop of Fort Apache and The Searchers and other great cinema. Charlie Jones and partner Duane Kuiper, replaced by Dave Campbell in 1994, ferried the Rockies from Mike High and the road on Saturday, Sunday, and weekday nights. "Local TV mattered," said Jones, "because it touched the entire [sic much of the] region."32 Unspoken was how network television belonged to the National Football League — the Broncos.
Meantime, the wireless became an even better way to mine the time zone's baseball gold, flagship News Radio 85/KOA Denver's Kingery and Wayne Hagin airing play-by-play over a giant first-year 12-state network of 42 affiliates.33 In Colorado, 11 outlets tied Cortez, Fort Collins, Greeley, Lamar, Pagosa Springs, Walsenburg, and TV's cited above. Arizona stations listed Coolidge and Tucson; Arkansas, Conway; Kansas, Garden City, and Goodland; Montana, Alliance and Chadron, beside Scottsbluff. In Wyoming, 11 affiliates included Buffalo, Evanston, Green River, Kemmerer, nationally known Laramie, Riverton, Thermopolis, and Worland, and TV's listed. Gallup, New Mexico, swelled the radio network, as did Bend, Oregon, and Blanding, Logan, and St. George, Utah, and Hot Springs and Belle Fourche, South Dakota. Other teams may have had more affiliates, but none rolled more grandly off the tongue.
Despite the time zone's interest, after the Rockies' first spring workout ended in 1993, the press session began, well, rockily. "Reporters from the region" cloistered around manager Baylor, said Kingery, only to have the first questioner ask, "Coach, how did it go?" — Jeff recalled, "so typical of a local media caring only for Broncos football."34 
Baylor did a slow burn, trying not to light his noted fuse. "Let's get one thing straight," Baylor said. "I'm the manager." Later, Kingery laughed: "The education of a baseball-made area had begun."
According to his TV peer, Charlie Jones, former Commissioner Fay Vincent was a close friend of Baylor, an ex-American League star who had hoped to become a big-league skipper since his last playing season in 1988. "Don said that if he ever became a manager, he wanted Fay to be there," said Jones.35 On April 5, 1993, Vincent arrived back from Europe at Shea Stadium to throw out the first ball of the Rockies' first year, Colorado losing, 3-0. The visiting lineup included five players culled from the expansion draft: Eric Young, leading off, at second base; Cole, center field; Bichette, right field; Galarraga, batting cleanup, first base; Jerald Clark, left field; Hayes, third base; Girardi, catcher; Freddie Benavides, shortstop, hitting eighth; and Nied, pitching. Mets win, 3-0. Two nights later Bichette had the Rockies' first homer and RBI, at Shea: New York again, 6-1.36
On Friday, April 9, Colorado played its inaugural game at Mile High against Montreal. Jones had called Wimbledon tennis, the Seoul and Barcelona Olympics, and the 1986 World Cup final. Now, seeing baseball's largest-ever first-day crowd (80,227), he realized that "the Rockies' opener was as big as those combined," Charlie said.37 "For [all these] years the Rocky Mountain region had been baseball's bridesmaid — and now the big leagues were here." If you were a child, a parent might take your hand, perhaps fumble for a ticket, and with an usher help find your seat. After a spring of groundskeepers planting and ushers cleaning and vendors prepping that for those who had despaired of ever seeing a big-game in this area was close to tear-provoking, finally, implausibly, major-league ball had arrived.
"Walking through the stands, into that great small [here, huge] old stadium, and there they were in the flesh," wrote the New Hampshire poet and former Poet Laureate of the United States Donald Hall. "I can see them now in their baggy old pants, the players that I had heard about, of whom I had seen photographs, but there they were, really walking about, live people, and the absolute enchantment, the enthrallment, the tension of starting the game. 'Play ball.'"38 If you lived in the Rocky Mountain area, baseball's signature call to arms never meant more than when the home-plate umpire bellowed it that afternoon. Quickly, the Rockies made hash of the cliché that high altitude meant low result, Eric Young leading off the home half of the first inning by slamming a drive into the left-center-field stands.
To Jones, "You could hear the roar in California!" In center field, Montreal's Marquis Grissom said he felt the ground shake as the ball reached the seats. Left fielder John Vander Wal yelled to him, "This is not our day."39 It was for those who clutched and grabbed at, then hoisted, the ball. Noise deafened, thousands stomping on the bleachers, the horseshoe becoming almost animate. Students and working men and housewives became a wave, bodies rocking, collectively and ecstatically. Young's was Opening Day's most memorable hit. Its first hit was Montreal's Mike Lansing's first-inning single off starting and winning pitcher Bryn Smith. The Rockies won, 11-4.40 Young's only other day of homering in 1993 was Mile High's closing day. "Amazing bookends," said Charlie, "but no more amazing than the entire opener — crisp, the sun out, and a region in love."
Mile High's next two games lured 65,261 and 66,987 to see, incidentally, the Expos, the park soon miming no experience as much as the 1958 seventh-place Dodgers at Los Angeles Memorial Coliseum: huge throngs nightly filling row upon row — a celebration, a sensation — not due to, but despite, the quality of the host. On the field, the Rockies, like number-one draft choice David Nied, peaked too soon, beating the Cubs, 14-13, on May 4 to come nearest .500 with a 10-15 record. Flush with (relative) success, they then lost five in a row, won once, braved a seven-set losing skein, won again, and lost another five, crashing to 12-32 by May 23. Colorado overlapped late July and early August with 13 straight defeats to reach a 36-74 nadir. By contrast, the Rockies were 26-20 in one-run games and 17-9 in September.41 You recalled 1985-2012 Astros Voice Milo Hamilton saying, "Anyone who thinks he knows baseball is nuts."42
Ultimately, the Rockies settled closer to the '62 basement Amazin' Mets than the '69 champion Miracle Mets, placing sixth in the seven-team NL Western Division, something neither they nor any team would do again, since in 1994 each league segued to one division of four teams — the West — and two of five teams apiece, doubling playoff clubs to eight. On the one hand, the '93ers led the NL in triples (59), placed third in batting (.273), and topped the Mets and Padres with a 67-95 record, setting a league mark for first-year victories. On the other, they trailed every team in shutouts (zero), opponents' batting (.294), ERA (5.41), and fielding (.973). Armand Reynoso led in victories (12) and Bruce Ruffin in earned-run average (3.87). Galarraga, "The Big Cat," had a league-high .370 average and a team-best with Charlie Hayes' 98 RBIs, adding 22 homers to Hayes' 25 and Bichette's 21.43 Like any "first" — love, car, child — that team remains special — had to be to compete with other 1993 baseball precincts, many of which gave special new connotation.
On April 5, 1993, a new president, Bill Clinton, threw out the year's first pitch at one-year-old Oriole Park at Camden Yards, its arched façade like old Comiskey Park; ivy backdrop evocative of Wrigley Field, right-field scoreboard like Ebbets Field, and behind it the Eastern Seaboard's longest building. In the "The Last [True] Pennant Race," the NL Braves and Giants each won more than a hundred games: 104-58 Atlanta made postseason; 103-59 San Francisco did not. For the first time three mates — Toronto's John Olerud's .363, Paul Molitor's .332, and Roberto Alomar's .326 — ranked 1-2-3 in league (AL) batting. The Blue Jays again made the Series. In Game Six, Toronto up, three sets to two, the visiting Phillies reversed a 5-1 hole to lead, 6-5, before reliever Mitch Williams began the Jays half of the ninth inning by putting two runners on base with one out. Joe Carter then lashed a would-be third strike down the left-field wall over the fence. Toronto wins! Carter leapt wildly around the bases of baseball's still capital. Retrieving how he said a year earlier that America didn't need to "trade away the world's championship" to Canada, former President Bush likely shook his head.44
In 1993, Toronto drew an AL record 4,057,947, many saying the affair wouldn't last. It didn't — surely not for as long as Colorado's still-standing major-league record set that season — 4,483,350.45 The mere number is astounding. What it cannot retrieve is the feel of a region that became addicted, of babies born and sermons given; of marriages begun and ended; of dinners grown cold and then reheated as Rocky Mountaineers joined Mile High's mammoth crowds and/or heard and viewed baseball's sound track on the air. From the distance of a quarter of a century, memory resurrects a river of handclapping flowing through a time zone. Leonard Bernstein said, "Music is something terribly special. It doesn't have to pass the censor of the brain before it can reach the heart." Like music, Mile High in 1993 disdained the finite.
Daily almost everyone came by car to Clay, West, Twentieth, and Elliott Streets, and Interstate 25. Charter buses imported parishioners from the far outposts of a far-flung diaspora, helping to temporarily depopulate one after another picture-perfect burg. Kingery recalled Don Baylor musing how "'rain, show, cold, sun, they came from all over'" — a big-league record average of 56,751 in 79 home dates.46 Jones joked that "it was an off night if we had 65,000. Duane [Kuiper] and I'd get Coors beer from viewers, food, an update on what family members were up to, as if we were members," a decade after that first season still terming it "unbelievable."47 In a small town or city hundreds of miles away, play-by-play could erupt from a general store, as background music for a softball game, or from a traffic bottleneck, a Colorado victory prompting each driver to honk his horn, forging a sound wave of noise.
Watching from afar was a native Rocky Mountaineer whose father, Edward, a Union Pacific Railroad dispatcher, told him as a child, "Curtis, there's a big world out there. Someday I'd like to see a big-league game."48 From 1966 to 1975, Wyoming-born Curt Gowdy telecast more network regular-season baseball than anyone had — Game of the Week, All-Star Game, World Series, and post-1968 League Championship Series — baseball's video face for a generation. In New England, they still know the avid hunter, fisherman, and conservationist as the 1951-65 Red Sox radio/TV man, knitting Canada to Connecticut as TV's Jones and radio's Jeff Kingery now did the Rockies. Gowdy was famed for telling Cape Cod, the Berkshires, and Bar Harbor "Hi, neighbor! Grab a 'Gansett!" — sponsor Narragansett beer, the Red Sox regional variant of Coors. Many parallels existed then and now between Curt's birthplace and his adopted place. Fenway Park was "New England's night club," he said. Mile High became its time zone's meeting club.
The Rockies readied for 1994 by ending their exhibition season in an April 1-3 tournament at BC Place in Vancouver also including Montreal, Seattle, and Toronto. On April 4, Opening Day, bats boomed — Phillies, 12-6 — as 72,420 pilgrims packed baseball's Lourdes, the first of twelve times the year's Rockies topped seventy thousand. On April 24, America's Cubs lured 71,329, Colorado falling, 12-4, to fall below .500, a peak it reached again only once, May 3. In late May, 215,014 in three games saw Atlanta complete a Rockies' five-set losing streak. On June 24-26, Mile High, teeming with Coastal expatriates, oozed more humanity: 73,957, 69,881, and 73,171 for the Giants. The All-Star Game came and went, and the counting that was big got bigger. Each of a 10-game post-break homestand drew between 58,613 and 70,493; six lured more than 60,000. On August 7-8 the Dodgers vaunted 70,283 and 70,372. Another two games that week against the Braves added 130,200. "Those games," Phillies skipper Danny Ozark once malapropped, "were beyond my apprehension."49 At Mile High, series after series tested baseball's comprehension.
Four regulars at new or different positions gave the 1994 Rockies a partial if not extreme makeover: Nelson Liriano, second base; Mike Kingery, usually center field; Walt Weiss, shortstop; Eric Young, left field. The club scored 4.9 runs per game and yielded 5.45, tied the White Sox for most triples with 39, finished 53-64, and improved from 37 to 6½ behind. Starter Marvin Freeman anchored pitching with a 10-2 record and a 2.80 earned-run average. Another starter, Greg Harris, was a bust: 3-12 and 6.65, respectively. David Nied was 9-7 and tossed two franchise-first landmark or footnote shutouts, depending on your view: on April 14, 5-0 against Philadelphia (seven innings, relieved) and June 21, 8-0 against Houston (complete game).50 Bichette led in runs batted in (95), hits (147), and consecutive games hit safely in (16), adding 27 homers. Galarraga broke his hand, but led in average (.319) and homers (31), adding 85 RBI. Projected over a full year, he and Bichette would have collected 43 and 37 homers, respectively. Reliever Bruce Ruffin had 16 saves.
In 1994, the 1991 top National League Rookie became MVP: Houston's Jeff Bagwell. The Dodgers' bumper crop reaped a third straight Rookie of the Year: outfielder Raul Mondesi. Atlanta's Greg Maddux snared a third straight Cy Young Award season. Colorado beat the Cardinals, Expos, and Mets and tied the Astros, Cubs, Padres, and Reds in its season series, losing to five other clubs. Each statistic rivaled throwing darts in the fog, though few knew so then. On August 11, the then-third-place Rockies lost their final Mile Highfest, 13-0, to Atlanta, before 65,054, their record 53-64 and home attendance 3,281,511, a nonpareil 57,570 average. They were on pace to lure more than 4.6 million spectators, more than any park had, or with smaller sites today, ever will — except that next day the season ended with a strike, actually a players lockout, which began August 12, lasted 234 days, canceled a World Series in 1994 for the first time since 1904, ended in late April 1995, and capsized each year's records.
In one sense, the season ending so abruptly meant that the Rockies never got to properly honor Mile High Stadium, said Jerry McMorris, the man whom upon his death in 2012 at 71 the Denver Post called "the savior of Major League Baseball in Colorado." In another sense, Mountain zoners salute Mile High yearly, packing successor Coors Field, the former site of an 1876 railroad depot, intended to seat 43,000 until Mile High's 1993-94 gate bonanza tossed that number off a peak. "We saw all those big crowds," McMorris said of what would have been some nine million paid admissions in two years sans lockout, "and we figured we'd better add some seats." Coors duplicated "The Rockpile" — 2,300 game-day bleachers seats — $1 for kids and seniors; $4, all else; everyone, bring a glove and binoculars. "We could sell them in advance," said an official. "But the spur-of-the-moment fans matter. So we sell 'em hours before the game, and you should see the jostling." The Rockpile made Coors capacity 50,200, becoming the first Mile High likeness.
Another was hitting. Like Mile High, Coors' alleys were deep, except that the ball "carries about 10 percent higher than the same ball high at sea level," Baylor said. Sharp angles turned gappers into triples. "That means we have to play deep," said right fielder Larry Walker, "which means hits fall in front of you." An eight-foot outfield fence trimmed a pitcher's Bellevue. Foul turf was baseball's smallest. Broadcaster Vin Scully told how offense was king by saying, memorably: "You don't need an official scorer at Coors Field, just a certified public accountant." A final parallel was a fondness for regional radio matched only by the Red Sox, Reds, and Braves and arguably topped only by the Cardinals. Colorado's website printed a "How to listen to Colorado Rockies radio and stream games live online"51 in addition to hearing the old-fashioned way by plug-in or transistor.
In 1998, Denver hosted the All-Star Game: AL winning, 13-8. Mark McGwire went 510 feet in batting practice. A year later Walker became the first NLer to win a batting, slugging, and on-base percentage Triple Crown since Stan Musial in 1948. Meanwhile, the same task faces the Rockies as when Eric Young first went deep: As fine as hitting is, pitching might be finer. Not beautiful, to millions Mile High Stadium became beloved, which is even better, for being "Our House," sang Crosby, Stills, Nash, and Young.52 Much of the region grieved its post-1994 baseball death as Brooklyn had Ebbets Field after the Dodgers' Westward-Ho. Before closing, the horseshoe housed a Billy Graham Crusade, the soccer Rapids, and such concerts as The Jacksons, Van Halen, and Bruce Springsteen. The Broncos played their final game in 2000, moving to Invesco (since 2011, Sports Authority) Field at Mile High next door.
In 2002, Denver tore the old joint down, having "paved paradise," as Joni Mitchell sang. A brick home plate recalled its location where, as she would rue, Coors Field "put up a parking lot."53 The late baseball Commissioner A. Bartlett Giamatti often recalled entering Fenway Park for the first time at 10 in 1948. Leaving a tunnel, he saw "emerald grass and bases whiter than I'd ever seen. As I grew up, I knew that as a building it was on the level of Mount Olympus, the Pyramids at Giza, the nation's Capitol, the czar's Winter Palace, and the Louvre" — except, "of course, that [it] is better than all those inconsequential places."54 For so many in the Rocky Mountain zone, Mile High Stadium still is.
This biography appears in "Major League Baseball A Mile High: The First Quarter Century of the Colorado Rockies" (SABR, 2018), edited by Bill Nowlin and Paul T. Parker.
Sources
In addition to the sources cited in the Notes, most especially the Society for American Baseball Research, the author also consulted Baseball-Reference.com and Retrosheet.org websites box scores, player, season, and team pages, batting and pitching logs, and other material relevant to this history. FanGraphs.com provided statistical information.
Books
Armour, Mark, ed. The Great Eight: The 1975 Cincinnati Reds (Lincoln: University of Nebraska Press, 2014).
Johnson, Boris. The Churchill Factor: How One Man Made History (New York: Riverhead Books, 2014).
Lowry, Philip L. Green Cathedrals: The Ultimate Celebration of Major and Negro League Ballparks (New York: Walker and Company, 2006).
 Smith, Curt. A Talk in the Park: Nine Decades of Baseball Tales from the Broadcast Booth (Washington, D.C.: Potomac Books, 2011).
___. Storied Stadiums: Baseball's History of Its Ballparks (New York: Carroll & Graf, 2001).
___. Voices of The Game: The Acclaimed History of Baseball Radio and Television
Broadcasting (New York: Simon and Schuster, 1992).
___. Voices of Summer: Ranking Baseball's 101 All-Time Best Announcers (New York: Carroll & Graf, 2005).
Magazines
 "The Great American Game," Sports Illustrated, April 12, 1956.
Notes
1 "Maud Muller," written in 1856 by the American Quaker poet and abolitionist John Greenleaf Whittier (1807-92).
2 Six and eight states lie wholly or partly, respectively, in the Mountain State Zone. "Time Zones & Area Codes of the U.S. and Canada."
3 Mark Armour, "Bob Howsam," SABR BioProject, https://sabr.org/bioproj/person/847e9c3b.
4 National Baseball Hall of Fame and Museum, Giamatti Research Center, December 22, 2017.
5 Armour, "Bob Howsam."
6 Miller Presidential Center, Charlottesville, Virginia.
7 Armour, "Bob Howsam."
8 Jeff Kingery interview with author, July 28, 2003.
9 Armour, "Bob Howsam."
10 Mark S. Foster, The Denver Bears: From Sandlots to Sellouts (Boulder, Colorado.: Pruett Pub., 1983).
11 Matthew Silverman and Ken Samelson, The Miracle Has Landed: The Amazin' Story of How the 1969 Mets Shocked the World (Hanover, Massachusetts: Maple Street Press, 2009), 321.
12 National Football League Properties, 75 Seasons: The Complete Story of the National Football League, 1920-1995, (Atlanta: Turner Pub., 1994), 194.
13 Chuck Thompson interview with author, May 15, 1987.
14 Kingery interview.
15 Ibid.
16 Irv Moss, "Jim Tolle, Mile High Stadium Stands Engineer," Denver Post, August 16, 2010.
17 Tom Verducci, "Analysis: Looking at National League Expansion," Newsday, June 10, 1991.
18 Irv Moss, "Jacobs Helped Find Way to Big Leagues," Denver Post, July 26, 2010.
19 Ibid.
20 Steve Berkowitz, "Denver Renews Expansion Bid," Los Angeles Times, February 22, 1991.
21 Moss, "Jacobs Helped Find Way to Big Leagues."
22 Irv Moss, "Linda Alvarado Satisfies Appetite for Baseball with Ties to Rockies," Denver Post. April 8, 2016.
23 Berkowitz.
24 Moss, "Jacobs Helped Find Way to Big Leagues."
25 Ibid.
26 Berkowitz.
27 Gene Wojciechowski, "Rockies' Born of Monus' Work, but He Never saw his Babies Grow Up." ESPN.com, October 23, 2007. 
28 Official Major League Baseball Fact Book 20001 Edition (St. Louis: The Sporting News, 2001), 427.
29 Public Papers of the Presidents of the United States: George Bush, December 16, 1992, (Washington, D.C., Office of the Federal Register, National Archives and Records Administration), 2195.
30 Michael McKinley, Etched In Ice: A Tribute to Hockey's Defining Moments (Vancouver: Greystone Books, 1998), 62-66.
31 "Rockies on Radio and Television," 1993 Colorado Rockies Media Guide, Television, 149.
32 Charlie Jones interview with author, October 14, 2002.
33 "Rockies on Radio and Television," 1993 Colorado Rockies Media Guide, Radio, 149.
34 Kingery interview.
35 Jones interview.
36 Official Major League Baseball Fact Book 2001 Edition, 427.
37 Jones interview.
38 Donald Hall, from his extended poem "Baseball." 
39 Jones interview.
40 Official Major League Baseball Fact Book 2001 Edition, 427.
41 Each statistic in this paragraph derived from Baseball-Reference.com.
42 Milo Hamilton interview with author in A Discussion of America's Pastime at the George H.W. Bush Presidential Library and Museum at Texas A&M University, October 28, 2011.
43 Unless otherwise indicated, baseball statistics in this and following paragraphs derived, as "Sources" notes, from Baseball-Reference.com and Retrosheet.org.
44 Public Papers of the Presidents of the United States: George Bush, 2195.
45 Official Major League Baseball Fact Book 2001 Edition, 424.
46 Kingery interview.
47 Jones interview.
48 Curt Smith, Mercy! A Celebration of Fenway Park's Centennial Told Through Red Sox Radio and TV (Washington, D.C.: Potomac Books, 2012), 57.
49 Bill Conlin, "Danny Ozark: In His Own Words," Philadelphia Daily News. May 8, 2009.
50 Official Major League Baseball Fact Book, 2001 Edition, 427.
51 "How to listen to Colorado Rockies radio and stream games live online," gotknowhow.com/articles/listen-to-colorado-rockies-radio.
52 "Our House," written, recorded, and released in 1970 on Crosby, Stills, Nash, and Young's album Déjà vu.
53 Excerpted from "Big Yellow Taxi," written, recorded, and released in 1970 by Joni Mitchell on her album Ladies of the Canyon.
54 Bruce Fellman, "Searching for a Whole, New Ballgame." SRI (Southern Rhode Island) Newspapers, May 4, 2017: 1. 
https://sabr.org/sites/default/files/mile%20high%20stadium.jpg
600
800
admin
/wp-content/uploads/2020/02/sabr_logo.png
admin
2018-03-27 10:08:30
2020-09-30 19:55:01
Mile High Stadium (Denver)