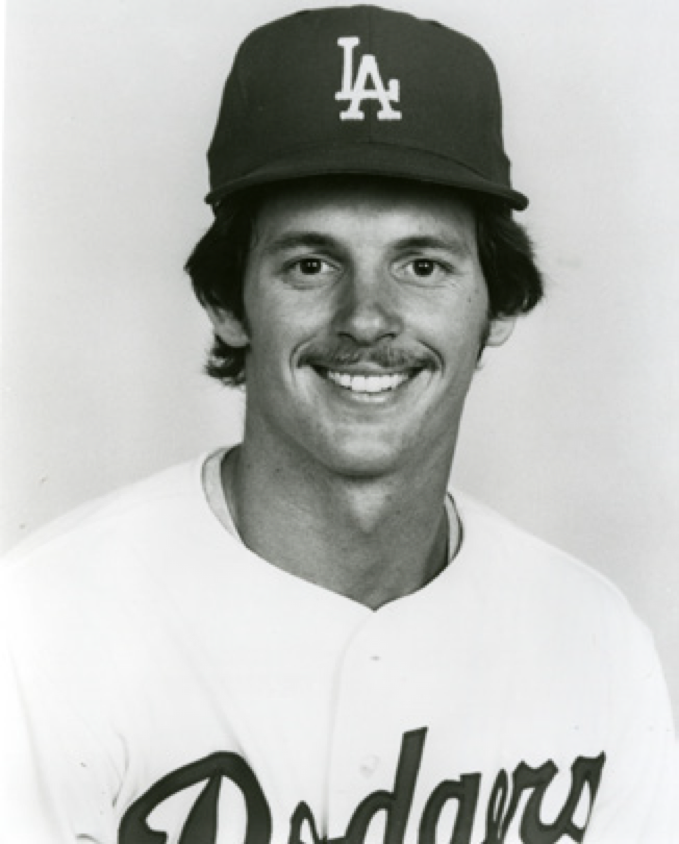 "Baseball's clichés remain largely unchanged through the years," observed the writer Mordecai Richler in a 1986 essay for GQ.1 His first examples were the types of gripes from marginal pitchers and backup fielders: "If only they give me a chance to start, I know I can help this team," and "I know I'm a .300 hitter, but they've got to play me every day." Any such protestation from Dave Sax was more legitimate than most, validated while with the Red Sox in 1986 when he was the first player recognized with a tongue-in-cheek award for little-used major leaguers. 
Dave Sax, who ultimately played in 37 major-league games spread across five seasons, is about 16 months older than 1982 NL Rookie of the Year Steve Sax. If you told their high-school teammates in 1976 that only one brother would become a five-time All-Star in the majors, by all accounts they would've found it difficult to predict which.
David John Sax was born in Sacramento, California, on September 22, 1958, to John Thomas Sax and the former Nancy Jane Colombani. John and Nancy, who knew one another before high school, also raised three daughters, Cheryl, Dana, and Tamara. In the mid-1960s the family moved to a farm outside the city, though John Sax also worked as a truck driver. Their father had reportedly been good enough at baseball as a high schooler in Sacramento to take their team's starting shortstop job from eventual major leaguer Woodie Held, who was three years older. 2
Dave remembered that as a kid he and Steve "always seemed to be on the same team, from Little League, through Babe Ruth and high school and all that." 3 According to Sacramento Bee sportswriter Don Bosley, before Steve joined Dave on the varsity squad at Yolo County's James Marshall High School in 1976, Dave had already drawn attention from pro scouts and developed his own fandom. Nevertheless, Marshall coach Norm Marks remembered Dave as "quiet and reserved," unlike Steve. 4 After the end of that season Dave was a co-player of the year in the interscholastic Golden Empire League 5 and was named as a third baseman to the Citizens Savings all-Northern California high-school team. 6 Dave was also named the Sacramento area's player of the year by virtue of the third highest average among local batters, at .460, along with a 1.20 earned-run average and a 7-2 won-lost record as a pitcher. By the end of 1976 he received additional recognition as the East Yolo Record's Athlete of the Year.7
During the summer of 1977 Dave and Steve were starring together in American Legion baseball for the East Yolo team.8 Separately from Steve, who was still in high school, Dave was also starring in baseball for nearby Cosumnes River College. In 1978 Dave was named Northern California's junior-college Player of the Year. But a dream came true for only one of the Sax brothers on June 6, when Steve was selected by the Los Angeles Dodgers in that year's amateur draft, and Dave was ignored. "I saw all these guys with lesser numbers than me that were being drafted, and I was just wondering what was going on," Dave said.9
"We couldn't figure out why my brother wasn't drafted," Steve told an MLB.com blogger in 2014. "He was setting records up and down the state in junior college, and he certainly had all the tools to be a major leaguer. He was more highly touted than I was."  "When the scout came, my mom asked why he wasn't drafted," Steve said. 10 While Steve was signing his contract, Nancy Sax spoke up for her older son because her husband was recovering from a heart attack, his second in seven years. Scout Ron King apparently didn't have a satisfactory answer, so the next day he put Dave to the test at the high school's diamond, with fielding assistance from the youngest Sax, Tammy. Another day later, King took Dave to a tryout camp in Santa Rosa, and then signed him.11
As a result, both Dave and Steve soon found themselves on the Dodgers' rookie-league team in Lethbridge, Alberta. In the Lethbridge paper on June 22, manager Jim Lefebvre commented on players assigned to him. He said that Dave "shows lots of poise. He adjusts well, has a good bat and I am very pleased with him." 12 Dave played in 44 games, mostly at second base, and hit .269. Steve played in 39 games, exclusively at shortstop, and hit .328.
The brothers spent the 1979 season with the Dodgers' A-level affiliate in Clinton, Iowa, though both played different positions. Dave hit .270 in 97 games, mostly as a catcher. Steve played mostly outfield and second base while hitting .290 in 115 games. Dave also pitched in a game for two innings, both scoreless, and earned the victory. Dave played in the Midwest League All-Star Game that year but Steve wasn't selected. 
The brothers also spent 1980 at the Single-A level, except that they spent about half of the season apart. Steve played all year with Vero Beach in the Florida State League. Dave's other assignment that year was with Lodi in the California League. Without Steve around, Dave hit a mere .171 in 43 games, in stark contrast to his sparkling .352 average in 58 games for Vero Beach. Overall he caught in as many games as he had in 1979 but saw almost as much action as an outfielder.
The brothers were reunited with Double-A San Antonio in 1981, and both were Texas League All-Stars. Steve was named the league's Player of the Year after winning the batting title. Dave's average was also above .300, though he got into only 62 games. He again played almost as much in the outfield as behind the plate. Steve was called up to the Dodgers to sub for the injured Davey Lopes at second base and made his major-league debut on August 18. He then saw a little bit of action in the NL playoffs, logged his first World Series at-bat, and was in the majors to stay.
Dave Sax was at least promoted again for 1982, to the Albuquerque Dukes. He would never play another minor-league game below the Triple-A level. He displayed his most versatility to date, with 47 games as a catcher but just as many combined at third, first, and in the outfield. He hit .317 with career highs in games (117), home runs (12), runs scored (71), and RBIs (75). Dave had impressed enough by midseason for there to be open speculation about a promotion to join Steve with the Dodgers.
"It would be real nice to keep playing together onthe Dodgers," Dave said. "But everyone wants to get to the big leagues like Steve has, and if I have to get there with another team, I'd want that opportunity." 13 Dave was indeed called up, and on September 1 he made his major-league debut with an at-bat against the St. Louis Cardinals. He had only one other plate appearance, also hitless, before the season's end. 
A milestone of a different kind occurred the following month. On October 23 Dave married Patsy Gustafson Inderkum, another James Marshall graduate who was a young widow. In 1980 Patsy had married George Inderkum Jr., and their daughter, Summer, was born later that year. However, two days after Christmas, George was killed when his motorcycle crashed on a remote California road.
During spring training of 1983 Dave made an impression on at least one prominent sportswriter. In previewing the Dodgers' season, Roger Angell, writing for the New Yorker, drew attention to "their homegrown 1983 batch of pre-certified rookie stars like Greg Brock, Dave Sax, and Candy Maldonado, the new line of Cadillacs off the Los Angeles production line." 14 Brock would start 129 games at first base for the Dodgers that season and in 1984 Maldonado would play 102 games in the Dodgers outfield.
Dave Sax spent part of 1983 back with Albuquerque, but only made it into 75 games because of some stints with Steve and Los Angeles. He had an even better average of .343, accompanied by a career-best .529 slugging percentage for Albuquerque. Dave was summoned by Los Angeles in mid-May after catcher Mike Scioscia suffered a torn rotator cuff. 
Dave and Steve made history on June 3 as the first brothers to ever start together for the Dodgers. Dave subbed for longtime catcher Steve Yeager, who was recovering from a bruised right shoulder. Alas, it did not go well from the beginning. On a steal attempt by the New York Mets' Hubie Brooks in the first inning, Dave threw inaccurately past Steve, and the Mets stole three more bases off him on the way to a 5-2 win.
Any dejection that Dave may have felt was supplanted one week later. It fell to Dodgers manager Tommy Lasorda to inform the Sax brothers that their father had suffered another heart attack (his fifth) and died, just a few days after Lasorda had delivered similar news to shortstop Bill Russell. John Sax was only 47 years old. Dave and Steve immediately left for home.
"It was really sad," Lasorda said. "If you could have seen the reaction of those two youngsters. We all cried." It was a doubly awful day for Dave in particular, as he was also demoted to Albuquerque in favor of catcher Gilberto Reyes. A reporter said that Lasorda wouldn't comment on when or if Dave Sax would return. 15
Yeager went on the disabled list at the beginning of August and Dave was called up again, for about two weeks. All told, Dave didn't actually see much more action for LA during 1983 and went hitless in eight plate appearances across seven games. Instead, Los Angeles tried rookie catcher Jack Fimple in 54 games and Reyes behind the plate 19 times.
Through 1983 Dave had a .301 average in the minor leagues, but for 1984 it was back to Albuquerque again. Mike Scioscia returned to the Dodgers in fine shape and caught in 112 games, and Yeager caught in 65, so Dave didn't play for LA at all that season. He played in 106 games for the Dukes, roughly 30 percent more than in 1983, but he scored and drove in fewer runs while his average plunged to .259. On October 15 he was released.
On January 23, 1985, Dave Sax changed direction in his pro career by signing with the Red Sox. During spring training it was reported that he was in competition with veteran Jeff Newman for the second backup to starting catcher   Rich Gedman. Boston played the Dodgers toward the end of March, and Dodgers players tried to help Dave while Newman was catching. 16 However, Dave "was reportedly unhappy when [brother] Steve stole second and third base … with the Dodgers already leading, 8-3, and already having stolen 5 of 7 against Newman," according to one reporter. Steve's late steals were interpreted as an attempt to additionally embarrass Newman and enhance Dave's bid to stick with the Red Sox as a backup catcher/ first baseman, which he was already likely to do."17 In fact, Jeff Newman never played in a regular-season major-league game again.
Within days the Red Sox announced their Opening Day roster, and Dave Sax was on it. "I can't believe I've actually made it," he said. "When the Red Sox picked me up, they told me I had a chance, but I assumed I'd get a Triple-A chance." 17
During April, at least, it wasn't much of a chance. He waited until April 21 to make his first official appearance for Boston, as a ninth-inning pinch-runner. Not quite a week later, the Red Sox decided to call up pitcher Mike Brown from Pawtucket, and Dave was sent down.
In early June Boston put backup catcher Marc Sullivan on the disabled list, and Dave Sax was recalled. Rich Gedman soon injured his ankle so on June 8 Dave found himself starting, as catcher for Bruce Kison against the Baltimore Orioles. Boston won, 2-1, and in the fourth inning Dave's first major-league hit advanced the winning run from second to third.
The next day Dave caught Oil Can Boyd's three-hit shutout in Baltimore. "Sax deserves double credit, having caught a fine game for Kison and an even better one for Boyd," observed Larry Whiteside of the Boston Globe. "Sax thought the credit should go to Boyd and not him."
"I just sat there," Dave said. "And he threw strikes. The rest was easy." 18
"The best game I ever threw was to a catcher named Dave Sax," Boyd recalled in 2012. Boyd agreed that he had made it easy for Dave, by being very decisive on the mound after Gedman told him how nervous Dave seemed before the game. Between innings, Boyd said Dave "would come back to the dugout and sit next to me and he would just turn — he had a big, pretty smile — he would just sit and smile and say, 'That's amazing.'" 19
The next day Dave caught Bob Ojeda's 4-2 win over the Brewers, though Gedman came in to catch the ninth. He made a fourth straight start, in a 5-3 loss, after which Gedman returned to the starting lineup. Around that time Marc Sullivan agreed to a 20-day rehab assignment with Pawtucket, and Dave Sax still found himself with the team after the All-Star break because Gedman wasn't at 100 percent. As a result, he played a key role in an unusual event in Red Sox history. In lousy weather against the White Sox on July 31, his sacrifice fly in the seventh inning tied the game at 1-1, after which it was called due to a soaked field at Fenway Park. The tie broke a streak for Boston that dated back to June 8, 1961, and had been the longest stretch for a team without a tie in the majors at that time.
Dave was also in a position to chime in during September when Peter Gammons asked a few Red Sox about voluntary drug testing. "To me, the only people who should have any real problem with the tests are those who are using drugs," Dave said. "So get them out." 20
In the end, Dave played only 20 games with Pawtucket, though only two more than that with the Red Sox. Still, that would represent the most action he'd see in any major-league season. He had 43 plate appearances for Boston scattered across those 22 games but hit an admirable .306.
The offseason began on a very nice note, when Dave and wife Patsy celebrated the birth of their second daughter, Lindsey, on November 5, and Dave would have his only Topps baseball card in the set for the 1986 season. Dave made the Opening Day roster again, but by mid-May he was the only player still around from then who hadn't played, and he was sent to Pawtucket. Marty Noble of Newsday playfully announced that Dave had thus won the first "a-Trophy," intended to evoke the noun "atrophy," a distinction he would also proclaim in subsequent seasons, though Jayson Stark of the Philadelphia Inquirer also took a leadership role in drawing attention to whoever was unfortunate enough to be the last player to get into a game after Opening Day. 21
Dave hit .289 in Pawtucket in 99 games, and did play a little for the Red Sox from mid-September until the end of the 1986 season. Actually, he was preparing to catch the 10th inning of a game on September 3 but the Red Sox ended up scoring the winning run in the ninth. Though he didn't play much that month, the day before his birthday he filled in for an achy Bill Buckner at first base and even batted third. He rose to the occasion by going 2-for-3 and hitting his only major-league home run, the game-winning RBI, in a 3-2 game against Toronto. He made it into only four games but hit .455.
The Red Sox received permission to have four ineligible players in uniform for the ALCS, including Tom Seaver, Jeff Sellers, and Glenn Hoffman in addition to Dave, and at least into mid-October Dave and Glenn were still taking batting practice. "They have remained as part of the postseason Red Sox picture because that's the way manager John McNamara wanted it," Neil Singelais of the Boston Globe wrote during the World Series. "He felt that each had something to offer, even if their value was confined to the dugout."
"Mac asked if I wanted to stay here and help out in the bullpen," Dave Sax said. "He said I should keep myself ready just in case. He figured he'd need two catchers, Marc Sullivan and myself, in the event that two pitchers were warming up at the same time in the bullpen." 22
During 1987 spring training Steve Sax reflected on his brother's career. "It's tough because I know David could do the job. He was always a better hitter than me and he still is," Steve said. "I think he might hit .350 in time. And that's not a brother talking. It's the truth. I hit .322 last year and he can hit better than me." "It's frustrating," Steve continued. "I just happened to be in the right place at the right time and David never has been. They've just got to give him a chance. Maybe this year." 23
On Opening Day 1987 Dave found himself on the Boston roster for the third straight season, and that year he saw action much earlier than in the other two. On April 19 it was reported that his salary was $85,000 (after an erroneous report that it was $740,000). 24 However, he wasn't around much after that. He had a third hitless at-bat on the 26th and before the end of the month he was heading to Pawtucket to make room for Marty Barrett, who was coming off the disabled list. Dave Sax would never play in another major-league game.
On October 15 Dave was granted free agency, and on Halloween he signed with the Texas Rangers. After spring training in 1988 he was assigned to their Triple-A farm team, the Oklahoma City 89ers. As a result, he flew from spring training in Florida to Sacramento and then spent three days driving to Oklahoma with Patsy and their daughters, who were 2 and 7 years old at the time. 
"Sax rented an apartment and his wife was unpacking when he reported to All Sports Stadium … and was told he'd been traded to Buffalo," wrote Oklahoman sportswriter Volney Meece sympathetically. "So it was repack, get back in the car and make a non-leisurely drive to Buffalo. While his wife is unpacking again today, Sax will fly to Nashville to join the Bison." 25
On April 6 Texas had traded Dave to the Pittsburgh Pirates for minor leaguer Billie Merrifield. Dave spent just one season with Buffalo. Steve signed with the Yankees on November 23, 1988, and it was reported that Dave joined that organization in mid-December, just in time for the Christmas birth of his son, David, Jr. He didn't play much for Buffalo in 1988, nor in 1989 with the Yankees' top farm club, Columbus, but his playing time would grow with Columbus in 1990 and 1991; during the latter season he got into 99 games. After a fourth year with Columbus, he called it quits at the start of 1993. He hit .278 in nearly 800 games during 11 Triple-A seasons. All told, in the minors he caught in 452 games, played third base in 153, in the outfield in 101, and at first base in 99.
Shortly after Dave announced his retirement, two commentators echoed sentiments offered by Steve Sax shortly before Dave's final game in the majors. "It seems like Dave wasn't ever in the right place at the right time," said Norm Marks, his old coach in high school.
"I thought he was a much better catcher than some people thought in the Red Sox organization," said Walt Hriniak, Boston's batting and first-base coach during 1986 and 1987. "Sometimes it's a matter of being in the right place at the right time. Sometimes that line is very thin."26
Twenty years later, Dave Sax was spending his time as a dairy distributor. He and Patsy were living near Sacramento, across the street from brother Steve, close as always. Sadly, on August 9, 2015, the Sax family had to endure an episode of the A&E documentary series Intervention focusing on the plight of David Sax Jr., who was struggling with a crystal meth addiction.
Last revised: December 1, 2015
This article originally appeared in "The 1986 Boston Red Sox: There Was More Than Game Six" (SABR, 2016), edited by Bill Nowlin and Leslie Heaphy.
1.  Mordecai Richler, "You Know Me, Ring," Dispatches from the Sporting Life (Guilford, Connecticut: Lyons Press, 2002), 87.
2. The primary source for details about John Sax's youth and Dave's life before high school is Sara Solovitch, Playing Scared: A History and Memoir of Stage Fright (New York: Bloomsbury Publishing USA, 2015).
3. Michael Madden, "Sax' Number Isn't Up," Boston Globe, March 21, 1987: 25.
4. Don Bosley, "Sax Lessons: Baseball Has Been Kind, Cruel to Steve, Dave," Sacramento Bee, March 9, 1993: C1.
5. "All-League Teams Are Announced," Mountain Democrat (Placerville, California), June 3, 1976: A6.
6. "Ferroni, Ohrenschall Are Selected," Independent Journal (San Rafael, California),June 17, 1976: 17.
7. "More 1976 Newsmakers," East Yolo Record (Fair Oaks, California), January 5, 1977: 4.
8. For example, see "Legion team sweeps weekend series," East Yolo Record (Fair Oaks, California), July 13, 1977: 9. In a weekend series sweep by the Post 440 team against Fort Sutter, Dave Sax went 3-for-4 and had the winning hit in a 10-inning victory, while Steve went 2-for-4 to help them win another game that was decided by one run.
9. Bosley
10. Cary Osborne, "Reminiscing with Steve Sax," April 19, 2014, dodgers.mlblogs.com/2014/04/19/reminiscing-with-steve-sax/.
11. Bosley
12. Garry Allison, "Manager Lefebvre Assesses His Dodger Lineup," Lethbridge (Alberta) Herald, June 22, 1978: 20.
13. Earl Bloom, "Dave Sax in Position for Promotion," Orange County Register (Anaheim, California), June 27, 1982: D2.
14. Roger Angell, "The Sporting Scene (Baseball)," the New Yorker, April 25, 1983: 56.
15. Peter Schmuck, "Saxes Leave Team After Father Dies," Orange County Register (Anaheim, California), June 11, 1983: D3
16. Gordon Edes, "Dodgers Close Call: Line Drive Hits Howe's Left Arm," Los Angeles Times, March 29, 1985: 7.
17. Nick Cafardo, "Red Sox make final cuts," Lewiston (Maine) Daily Sun, April 5, 1985: 23.
18. Larry Whiteside, "Sox Bury Orioles Behind Boyd, 12-0," Boston Globe, June 10, 1985: 33.
19. Dennis Boyd and Mike Shalin, They Call Me Oil Can: Drugs, and Life on the Edge (Chicago: Triumph Books, 2012), 136.
20. Peter Gammons, "Will Players Play Ball? Red Sox Have Mixed Reaction to Voluntary Testing," Boston Globe, September 25, 1985: 69.
21. For a history of this "award," see Marty Noble, "Hughes wins (not-so) coveted a-Trophy," April 16, 2010, at m.mlb.com/news/article/9341364/.
22. Neil Singelais, "Not Just Sitting Around," Boston Globe, October 24, 1986: 60.
23. Jim Van Vliet, " 'Other' Sax Waits, Wishes," Sacramento Bee, February 19, 1987: C1.
24. Dan Shaughnessy, "Timing Was Right for Juan Nieves' No-Hitter," Boston Globe, April 19, 1987: 64.
25. Volney Meece, "Passing Thoughts for OSU," The Oklahoman (Oklahoma City), April 9, 1988.
26. Bosley