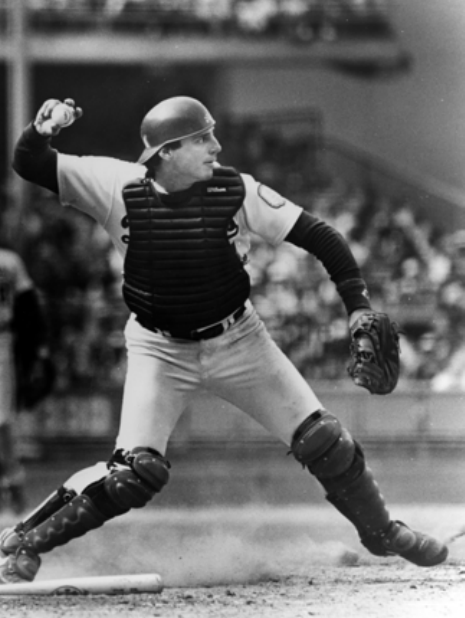 A 13-year veteran catcher, Mike Scioscia has—through 2017—managed the Los Angeles Angels of Anaheim for 18 seasons, the first major-league manager to reach the playoffs in six of his first 10 seasons. He led the Angels to a world championship in 2002.
Michael Lorri Scioscia was born in Upper Darby, Pennsylvania, on November 27, 1958. He played football, basketball, and baseball at Springfield (Pennsylvania) High School, was named Delaware County baseball player of the year in 1975 and 1976, and was a two-time all-area selection in baseball and football.1 He was drafted by the Los Angeles Dodgers in the first round (19th pick) of the 1976 amateur draft.2 He was planning to go to Clemson University, to play baseball there and fulfill his mother's dream. But on the morning of July 6, 1976, the phone at the Scioscia family's home rang: It was Tom Lasorda, the Dodgers' third-base coach, calling to invite Mike to work out with the Dodgers, who were in town to play the Philadelphia Phillies. Scioscia left a note for his parents, hopped in the car when Lasorda and his brother, Eddie, picked him up. "When I got Mike in the car, I told him what it meant to be a Dodger," Lasorda said. "I told him this would be his only opportunity to be a Dodger, and that he had to sign. I told him that our scout saw something in him and talked highly about him, and that we believed in him enough to draft him with our first pick, that I believed in him, and that he needed to believe it, too."3
Scioscia went home that night and told his parents he wanted to sign with the Dodgers. His mother, Florence, a grade-school teacher, started crying; she wanted him to go to college. His father was happy, but couldn't show it because his wife was not. The next day Scioscia was on a plane to Walla Walla, Washington, to play pro ball.4  Scioscia's mother never entirely forgave him for choosing a game over education—and leaving a full-ride scholarship to Clemson unclaimed.5  His father, Fred, was a salesman for a beer distributor and had been a pitcher on a semipro team in Johnstown, Pennsylvania.6
The 17-year-old Scioscia was assigned to Bellingham (Washington) in the Class-A (short-season) Northwest League where, in 46 games, he hit .278, with an on-base percentage of .418.
The following year, 1977, at Clinton (Iowa) of the Class-A Midwest League, Scioscia played in 121 games, five at first base. He improved his defense behind the plate, and continued to be a patient hitter, walking 79 times and achieving a .385 OBP.
Scioscia was named to the Arizona Instructional League's all-star squad, one of only two catchers chosen. (The other was Dale "Pat" Kelly of the California Angels' Double-A El Paso affiliate.)7
Scioscia spent 1978 at San Antonio in the Double-A Texas League. He played in 58 games, missing part of the year with an injury, and hit .299, with half of his appearances as a pinch-hitter. He was promoted to the Dodgers' major-league roster after the minorleague season.8
With Albuquerque in the Triple-A Pacific Coast League in 1979, Scioscia's batting average was an eye-popping .336, with a .432 OBP and an .861 OPS, and he was selected to the Pacific Coast League AllStar team.9
As one of four catchers on the Dodgers' 40-man roster, Scioscia expected to spend much, if not all, of the 1980 season in Albuquerque, but he was called up after Johnny Oates was released and Steve Yeager and Joe Ferguson were injured. Had he not been on the disabled list when the Dodgers ran into catching problems the first week of the season, Scioscia would undoubtedly have made his debut sooner. But he had dislocated the ring finger on his throwing hand in a baserunning mishap during spring training, and he was not eligible until April 20. When he became eligible, he was immediately put into the lineup. In his first major-league at-bat, he doubled and scored a run.10 It was a good start to his major-league career.
Exclusively a catcher and a left-handed hitter, Scioscia never played any other position in the majors. During his rookie season, he played in 54 games for the Dodgers, starting 44 of them. He allowed two passed balls, made two errors, and threw out 20 of the 68 runners who attempted to steal against him (29 percent). When asked to evaluate his strengths, Scioscia replied: "I'm great at putting on my gear after I make an out. I've been timed in 3.8 seconds."11
On July 21 Scioscia was sent back to Albuquerque.12 By August 4, he had 56 at-bats, 20 hits, and 9 RBIs, and his .357 batting average was second-best in the Pacific Coast League. Called up again in late August, he was 14-for-51 (.275) for the remainder of the season and had his first four-hit game on September 6 against the Phillies.13
In 1981 Scioscia left spring training with the Dodgers, and he stayed in Los Angeles for the next 12 seasons. Dodgers manager Tom Lasorda used the same lineup for the first 14 games of the season, except for platooning his catchers: Scioscia played against righthanded pitchers and Yeager against lefties.14
Scioscia had a good arm. When he threw out Montreal's Tim Raines trying to steal third on May 2, Raines, who was leading the league with 20 steals in 21 attempts, had to explain how he'd been thrown out. It was that hard to believe.15 And Scioscia was solid on defense. On May 4 in Montreal, the Expos' Warren Cromartie, trying to score from second on a single, slammed hard into Scioscia at the plate. Scioscia was sent sprawling, but he held the ball. When he regained his feet, he caught Chris Speier in a rundown between first and second as Rowland Office, who had gone from first to third on the play, edged down the line toward the plate. Finally Office broke for home, arriving about the same time as the ball. Again Scioscia was sent flying, only this time the runner was safe. Later in the game, Scioscia was rocked again when the Expos' Andre Dawson was out attempting to score on an infield single.
"I'm sure that's the most collisions I've ever had in one game," Scioscia said, "and I KNOW it's the most times I've been crunched on one play."16
Scioscia said the plays at the plate were good, clean plays. "That's the runner's only recourse, to run me over and try to knock the ball loose," he said. "As long as the guy's not trying to hurt you, it's just hard baseball. That's the way I look at it."
Al Campanis, the Dodgers' vice president, said of Scioscia, "He is the best I've ever seen at blocking off the plate." Expos manager Dick Williams praised Scioscia's work: "I really like that kid, and he's got guts back there."
Scioscia had some savvy, too. He was the catcher in five of Fernando Valenzuela's first six wins, four of them shutouts. "I don't think Mike Scioscia is getting enough credit," said former Dodger Don Sutton after Valenzuela had blanked the Houston Astros for the second time. "He called an outstanding game both times against us." (The previous year, Scioscia caught one of Sutton's two shutouts with the Dodgers, after which Sutton rewarded him with a bottle of wine.)17
After the players strike began on June 12, young players making at or near the minimum salary sometimes found it difficult to make ends meet. Scioscia said, "I've just got me to feed, but the guys tell me I eat enough for a whole family."18 The strike came at a bad time for Scioscia, who was batting .299 and was not listed on the All-Star ballot. The time lost to the strike took away any opportunity for write-in votes.19
Scioscia, however, had become the Dodgers' numberone catcher, while the veteran Yeager started only 23 of the Dodgers' 110 games.20 When the strike ended, an extra round of best-of-five-games divisional playoff series between the first-half (pre-strike) and the second-half (post-strike) leaders was devised. The Dodgers won the first half in the National League West Division, and faced the Astros, the second-half winners, for the right to play in the NLCS.
The Dodgers lost the first two games of the Series, then won the next two, and won the decisive fifth game, 4-0, thanks in part to Scioscia singling home a run against Houston's Nolan Ryan.21 In Game One of the best-of-five NLCS, Pedro Guerrero and Scioscia hit back-to-back home runs off Montreal's Jeff Reardon during a 5-1 Los Angeles triumph. The Dodgers won the series in five games.
The 1981 World Series pitted the Dodgers against the New York Yankees. It was their third World Series meeting in five seasons. The Dodgers won the Series in six games, after losing the first two games on the road. Steve Yeager started five of the six games. In six plate appearances, Scioscia was 1-for-4 with a walk and a sacrifice fly.
Scioscia began the 1982 season as the Dodgers' starting catcher, with Yeager as the backup.22 The Dodgers won their first two games, then lost eight of the next 10. Scioscia was among those struggling, batting only .222 two weeks into the season.23
Scioscia was becoming one of the National League's most formidable plate blockers. When asked how he practiced blocking the plate, he replied: "It's not easy to find guys who will come out early before games and run into you."24
Despite his defensive skills, Scioscia continued to struggle at the plate and presented some mixed results in his fielding. He finished the season with a batting average of .219, and he threw out only 40 of 126 runners attempting to steal (32 percent) and allowed 14 passed balls (second most in the league).
At the end of the 1982 season, there were multiple reports that the Dodgers' biggest offseason priority would be a catcher. Good catchers were hard to come by. But Scioscia had not progressed the way the Dodgers hoped he would, and Yeager would turn 34 in 1983.
Realizing his offensive shortcomings, Scioscia set up a batting cage in his garage over the winter and worked at hitting every day. "I admit," he quipped, "it's a little easier hitting a ball off a tee than one thrown by, say, Steve Carlton."25
In spring training, the Dodgers planned to re-establish Scioscia as the catcher he had been two years earlier, and they did it one step at a time, beginning with catching the ball. "Mike developed some bad habits last year, so we're going back to the basics," Lasorda explained. "He was in the wrong position to catch the ball, so he had trouble throwing out runners, and he had too many passed balls." Campanis, the Dodgers' vice president, said: "We were disappointed more with his receiving than we were his hitting. He's an excellent signal-caller, he's excellent at tagging runners, but we've got him on a program so he can improve all areas of catching."26
Scioscia didn't concern himself with trade rumors. "I can't worry about it because there's nothing I can do about it anyway," he said. "I know I can do the job, I just had an off year. I know this, I'm not going to be a backup. … If they get  Jim Sundberg [from the Texas Rangers] I'm not going to want to sit around for three or four years until he retires. I want to play."27
Five weeks into the 1983 season, Scioscia was hitting .314, but he injured his right shoulder as he threw out San Diego Padres' swifty Alan Wiggins at second base on May 14. The injury healed much more slowly than expected. Scioscia was still on the disabled list at the end of the season.28 It wasn't until August 1 that the injury was diagnosed as ulceration of the rotator cuff.29
Scioscia's progress in spring training in 1984 was notable. Not only was he throwing again, and accurately, but he picked up right where he'd left off with the bat. He damaged ligaments in his left knee on May 5 in Pittsburgh while blocking the plate and was placed on the 15-day disabled list. He returned to the active roster on May 22.30 But the Dodgers were finding hits and runs hard to come by. At the end of the season Scioscia was hitting .273, and eight of his 38 RBIs were game-winners.31 He was chosen the Dodgers' most inspirational player.32
During the Dodgers' 1985 spring training, Campanis talked about Scioscia in glowing terms. "He's worked hard with his throwing and his hitting, and nobody … I mean, nobody … blocks the plate like he does. And he's become a leader on the field. He's like the captain without being named the captain."33
In the first inning of a game on July 21, the fearless Scioscia was knocked unconscious in a bone-jarring collision at the plate with the Cardinals' Jack Clark. Scioscia held onto the ball, and Clark was out, but Scioscia was carried off the field on a stretcher. He suffered a mild concussion and was hospitalized overnight, but returned the next night against Pittsburgh, pinch-hitting in the eighth inning and catching the ninth.34
When someone suggested that Scioscia, a key to the Dodgers' National League pennant hopes, might benefit from an occasional rest, Lasorda said: "Roy Campanella used to catch every day. So did Yogi Berra, Bill Dickey, Johnny Bench. Why not Scioscia? He's big and strong. Did you ever see an Italian who needed a rest?"35
At the end of the season, Scioscia had a .296 batting average, second on the team to outfielder Pedro Guerrero (.320). That was the highest average for a Dodgers catcher since Roy Campanella hit .318 for Brooklyn in 1955. Scioscia was second in the league in on-base percentage (.407; Guerrero was the league leader). The Dodgers won the NL West division by 5½ games over the Cincinnati Reds.
Each of the first four NLCS contests between the Dodgers and the Cardinals was decided by defense—or a decided lack of it. During the second week of October, defensive reputations rose and fell like stock market prices. Scioscia was being rated as the second coming of Mickey Cochrane after throwing out Vince Coleman and Willie McGee back-toback on first-inning theft attempts in Game Two, but 48 hours later, in Game Three, he was being billed as the reincarnation of Mickey Mouse. In the bottom of the second with one out, Coleman singled and tried to steal but found himself in no-man's land as the Dodgers pitched out. Scioscia ran toward the trapped runner, but fired the ball past first baseman Greg Brock's outstretched glove, allowing Coleman to regroup and race to third.36 The Cardinals won the series in six games.
During the winter the Dodgers traded Yeager, who had been Scioscia's backup at catcher, to the Seattle Mariners and acquired veteran catcher Alex Trevino from the San Francisco Giants, the defensive insurance they were seeking behind Scioscia.37 Scioscia was one of eight Dodgers who filed for arbitration. Then he bypassed arbitration and signed a four-year contract for $3.755 million.38
In the first week of the 1986 season, Scioscia was involved in five bone-jarring collisions at the plate. Each time, he kept hold of the ball, enhancing his reputation as the best in the game at blocking the plate. "It's unusual to have so many (collisions) in such a short time," said Scioscia. "These plays come in streaks. Really, I don't like collisions. But they're part of the game."39
Scioscia's bravery could be a trifle unnerving for his wife, Anne (whom he had met when she delivered cookies to him at Dodger Stadium). Asked if he had some sort of signal to let her know if he was all right after a collision, he replied: "Yeah. She knows if I'm carried off on a stretcher, I'm hurt, and if I stay in the game, I'm OK."40
The Dodgers suffered many injuries (Scioscia a June 9 right-ankle injury), and 14 Dodgers in all went on the disabled list, two of them twice. Every regular except Steve Sax was on the DL at least once. The Dodgers ended the season last or nearly so in virtually every category except attendance, and even that suffered a bit. The Dodgers made more errors (181) than any other team in the league; the bullpen floundered; and the team's .251 batting average was 10 points lower than in the previous season. Scioscia, who had quietly become the team's on-the-field leader, hit only .251, 45 points lower than the prior year.41 Part of the reason was his ankle injury, which severely restricted his pivot in the batter's box.42
Scioscia started off 1987 in fine form, but on June 1, broke a bone in the middle finger of his left hand while attempting a drag bunt during batting practice.43 Still, he was one of six National League catchers named to the 1987 All-Star team.44 He spotted a mechanical flaw in the delivery of Fernando Valenzuela's fastball and screwball, which, once corrected, allowed the pitcher to return to his winning ways.45
The Dodgers were once again plagued by injury, and finished 73-89, fourth in the National League West. After the season ended, four Dodgers underwent surgery, including Scioscia, who had arthroscopic surgery to remove torn cartilage from his right knee.46
After San Francisco lost three of four games in Los Angeles in August 1988, Giants manager Roger Craig called Scioscia "the best all-around catcher in the league."47 During the series, Scioscia prevented two runs with blocks at the plate, threw out three of the four Giants who tried to steal, collected 5 hits in 16 at-bats, and drove in two runs.48
In September Scioscia had trainers cut away part of his left shoe and pad it with foam to ease the pressure on his Achilles tendon, which was tender.49 He missed five games after a home-plate collision with San Diego's John Kruk on September 21. Scioscia suffered a bruised left hip; Kruk left the game the next evening, and was out for the season with a deep laceration and strained ligaments in his left knee.50
The Dodgers won the NL West, then faced the New York Mets in the NLCS. The Mets were favored because they had beaten the Dodgers in 10 of their 11 regular-season meetings. The NLCS was wild and wacky and sometimes controversial, filled with crazy plays. The Dodgers survived the fourth game, winning 5-4 on Kirk Gibson's 12th-inning homer after a two-run bomb by Scioscia off Dwight Gooden tied the score in the ninth. Scioscia, who had hit just three home runs during the regular season, said afterward that he was just trying to hit the ball somewhere. Scioscia's homer stunned the Mets, then Gibson banged out the win, after having gone 1-for-16 in the series.51
Game Four was the pivotal point in the playoffs as it evened the NLCS at two games apiece; the Dodgers won it in seven. Scioscia hit .364.
The Dodgers faced the Oakland Athletics in the World Series. Scioscia was caught stealing in Game Four and had to be helped from the field after injuring his right knee. (He had surgery to remove torn cartilage later in the month.52) Despite having lost four players to injuries (Gibson, Marshall, Scioscia, and John Tudor), the Dodgers finished off Oakland, 5-2, in Game Five.53
Beginning his ninth season with the Dodgers in 1989, Scioscia was the senior man on the club.54 He was named to the All-Star team. Though the Dodgers struggled offensively, they wanted to lock in Scioscia for the future. Rather than let him enter free agency, the Dodgers signed him on August 17 to a threeyear, $5.6 million deal, breaking a long-standing club policy by negotiating a contract during the season. The Dodgers did not want to risk losing Scioscia. "I consider Mike to be the best catcher in baseball," Dodgers' executive vice president Fred Claire said. "It was very important for us to sign him."55
Scioscia hit .250 for the season, but was rated second among all National League catchers, behind Tony Pena of St. Louis.56 In a tight race, incumbent Benito Santiago of the Padres edged out Scioscia for the Gold Glove, 29-28.57 In another contest, Scioscia was selected by the Southern California media as the catcher of the Dodgers' All-Decade team.58
The 1990 season started off well. Scioscia was named an All-Star once again and was the National League's starting catcher—the first Dodger catcher to do so since Roy Campanella in 1954. (The Padres' Santiago had been voted in by the fans as the starting NL catcher, but he had suffered a broken arm after being hit by a pitch in mid-June.59) Although it was a better season for Scioscia at bat (.264 batting, .348 OBP, a career-best 12 home runs, a career-best 66 RBIs, and 46 runs scored) and a better year for the Dodgers, the team finished second in the National League West, five games behind the Cincinnati Reds.
The Dodgers were seeking a veteran to back up Scioscia, so they invited former Expo, Met, and Giant Gary Carter to spring training in 1991. The Dodgers ended the season 93-69, and finished second in the NL West, one game behind the Atlanta Braves. Scioscia's batting average was the same as the previous year, .264, but he had fewer hits (91) and fewer RBIs (40). His fielding percentage was still excellent (.990). Because Lasorda platooned him and Carter, Scioscia caught 160 fewer innings than in the past two years, falling below 1,000 for the first time in three years.
The 1992 season didn't start well for Scioscia. On April 16 he was hitting just .188 and had thrown out just one of 12 basestealers after Atlanta stole three that evening in Los Angeles. Two nights later Scioscia blocked two runners at the plate, one of them Deion Sanders in a massive collision. "It's the first time I've taken on a football player," said Scioscia. Sanders was the 125th runner Scioscia had stopped at the plate in his career.60
In a poll of major-league managers, coaches, and general managers asking which current players were managerial material, Scioscia and the White Sox's Carlton Fisk were the highest rated. Officially, Scioscia denied any managerial thoughts (which may have been politic). "I don't want to think about anything except playing," he said. "I don't rule out managing, but I'm not saying I will or want to. In fact, I never even think about it." When the veracity of his last statement was challenged, he amended: "Well, I don't think about it very often." Third-base coach Joe Amalfitano said, "If I didn't know better, I'd think he lives at the ballpark. He's usually one of the first players to arrive and definitely one of the last to leave. Most of the guys don't hang around the clubhouse to talk baseball anymore. Mike does." Atlanta manager Bobby Cox said, "Scioscia is smarter than hell and is tremendous in his handling of a game. When it comes to leading, he has been as important in the success of the Dodgers' organization as any player they've ever had."61
At the end of the season, the Dodgers' record was 63-99, last in the division, and Scioscia's numbers weren't much better. His batting average was .221, with 77 hits, 24 RBIs, and 19 runs scored—all career lows if his injury-shortened 1983 season and 54-game rookie season were not included. He led the league in assists by a catcher (74) and in passed balls (14). By late October, it appeared his days with the Dodgers were over. Scioscia's contract had expired at the end of the season, and he wanted a two-year deal, but the Dodgers were offering only one year. He also wanted assurances that he'd catch 120 to 130 games (he'd caught only 108 that season).62 Unwilling to accept a one-year deal, Scioscia filed for free agency, but was not offered arbitration.63 He signed a oneyear contract for about $350,000 with the San Diego Padres because they were one of the few teams willing to give him an opportunity to start. "I had more lucrative offers elsewhere," Scioscia said.64
Scioscia started the 1993 season on the disabled list after suffering a rotator-cuff injury during spring training. He did not play any regular-season games for the Padres, and was released after the season ended.65 He attempted a comeback the following year, signing a Triple-A contract with the Texas Rangers, intent on working to become the Rangers' backup catcher,66 but never played in a regular-season game. Scioscia retired on August 2, 1994.67 Despite having overcome a similar injury in 1983, when he was 24, and continuing to catch more than 100 games a season and contribute at a high level for the next nine years, at 34 he was unable to do so.
Offensively, Scioscia was generally an above-average player as well as a solid contact hitter, striking out less than once every 14 at-bats over the course of his career. Because of his ability to make contact, he was sometimes used as the second hitter in the batting order—an atypical spot for a player of his stature (6 feet 2 inches, 200-230 pounds) and overall batting average. He was a key player on the Dodgers' 1981 and 1988 World Series teams, and he remains, as of 2015, the Dodgers' leader in games caught (1,395). He played in 1,441 major-league games, had 1,131 hits, 446 RBIs, and 68 home runs. His career batting average was .259.
In October 1994 Scioscia rejoined the Dodgers as a catching instructor. He immediately joined the Dodgers' Arizona Instructional League team. In February 1996 rumors circulated that Lasorda might retire, and speculation ran rampant about who would replace him at the helm if he did. Bill Russell got the nod.
In 1997 and 1998, Scioscia was the Dodgers' bench coach. (Russell was fired in June of '98.) In 1997 Scioscia was rumored to be one of the many candidates to manage the Chicago White Sox.68 In 1999 Scioscia managed the Dodger's Triple-A team in Albuquerque, guiding them to a 65-74 season, tied for 11th place in the Pacific Coast League.
In November 1999 Scioscia was named manager of the Los Angeles Angels. He said he fell in love with managing while at the helm in the instructional league with the Dodgers in 1997. By the time he was managing Triple-A Albuquerque the following year, he knew he wanted a career as a manager. Turmoil in the ownership and management of the Dodgers, which Scioscia likened to a washing machine, meant his opportunity came 30 miles from where he had played.69
Scioscia began his major-league managerial career with the same core group of Angels players who had forced out manager Terry Collins and general manager Bill Basavi. His biggest tasks initially were to unify a team that fought throughout the second half of 1999, restore clubhouse discipline, and squeeze the maximum amount of potential from a shaky starting rotation.70 The club ended the season in third place, with an 82-80 record. The consensus was that Scioscia "brought harmony to a fractious clubhouse by being even-tempered and even-handed in his dealings with players. His managing style is aggressive but not reckless."71
Scioscia's job became more difficult in 2001, when injuries and slumps required him to spend considerably more time juggling his lineup.72 The club ended the season with a 75-87 record, third in the AL West.
In February 2002 sports reporter Joe Haakenson wrote: "Mike Scioscia has only two years of bigleague managerial experience, but he carries himself as though he has been doing the job for a decade. His 13 years playing in the majors earned him instant respect from his players. He further enhanced his standing with an open-door policy and honest approach. … Scioscia maintains an even keel which rubs off on his players."73
The Angels started the 2002 season poorly, 6-14, primarily due to a struggling bullpen, although some of the starting pitchers had difficulty, too.74 By the end of May they'd bounced back and had moved up to second place in the division.75 They continued playing well, and in early September, their record was 87-54, still second in the AL West. Noted a reporter: "The team reflects manager Mike Scioscia. Players have bought into his hard-nosed, unselfish way of thinking. That's what got them through a rough start this season and what has kept them levelheaded during the good stretches."76 The club finished with a 99-63 record, having overcome a 10½-game deficit in the division by relying on hitting and running and qualified for the postseason playoffs. The Angels had the best batting average in the American League (.282) and the fewest strikeouts (805, almost 200 fewer than in 2001).
The Angels entered the ALDS as the wild card and won the best-of-five series over the Yankees in four games. Then they won the best-of-seven ALCS over the Minnesota Twins in five games. The Angels faced the San Francisco Giants in the World Series and won in seven games—their first World Series triumph. Scioscia was named AL Manager of the Year, an award his peers believed he deserved for turning the team around after its horrible start.
In 2003 the Angels were 77-85, third in the division. The starting rotation was inconsistent, but the bullpen was one of the team's strengths. In 2004, they won the division with a record of 92-70—their first division title in 18 years—but they lost the ALDS to the Boston Red Sox in three straight games, and only the final game was close (8-6 loss in 10 innings).
In 2005 the club, now known as the Los Angeles Angels of Anaheim, again won the AL West with a record of 95-67. They won the ALDS against the Yankees in five games. Facing the White Sox in the ALCS, they won the first game, then lost the next four.
The 2006 season was not as good a year, 89-73, but it was good enough for second place in the AL West. For the first time in their franchise history, which dated back to 1961, the Angels had had three consecutive winning seasons.
An improvement in 2007 showed in the Angels' season record of 94-68. They won the division, but were swept in the ALDS by Boston in three games, scoring only four runs in the series. (Boston scored 19.)
In 2008 Scioscia had his first 100-win managerial season, although the club did not lead the league in any offensive category. The Angels won the division, but once again lost to Boston in the ALDS, winning only one game (the third) of the four played.
The team continued its winning ways in 2009. With its 97-65 record, it won the AL West, leading the league in hits (1,604, tied with the Yankees) and batting average (.285). In a welcome change, the Angels won the ALDS over Boston in three games, but lost the ALCS against the Yankees in six games. Scioscia was again named AL Manager of the Year.
In 2010, after six consecutive seasons with records above .500, the club fell to 80-82, third in the division.
During the 45th round of the June 2011 MLB amateur draft, Scioscia's 22-year-old son, Matthew, was drafted by the Angels. Matthew had been selected by the Angels in 2007 but chose to attend Notre Dame on a baseball scholarship, where he played first base and catcher. For the 2011 season, the Angels were 86-76 and second in the division. Their rankings in offensive categories were middle of the pack. On May 8 Scioscia notched his 1,000th victory as a manager.
There was improvement in many areas in 2012, and the Angels were 89-73, third in the division. But in 2013 they again fell below .500, with a 78-84 record. They were third in the division. In a minor-league transaction that made national headlines after the season, the Angels traded Matthew Scioscia to the Chicago Cubs for Trevor Gretzky, son of hockey great Wayne Gretzky. Mike Scioscia claimed that it would be a good opportunity for his son, and brushed off additional questions regarding how the Angels handled communications with him about the trade.77
The 2014 season brought marked improvement. The Angels won the division with a record of 98-64, best in the major leagues, and they led the league in runs scored and ranked second in hits. But the ALDS was again their bane; they dropped three straight games to the Kansas City Royals. Scioscia notched managerial career win 1,300 on August 4, becoming the fourth major-league manager to achieve the feat in his first stint at the helm.
In 2015 Scioscia became the longest-tenured manager in the majors, and the Angels' all-time leader in both games managed and wins (1,416 wins, 1,176 losses). But regular-season results on the field held no reward for the Angels. Despite a miraculous ninthinning rally against the Texas Rangers the afternoon before, the Angels were eliminated from the postseason playoffs on the last day of the season. The team finished third in the division with a record of 85-77, but were last in the division in batting average (.246). Despite an opt-out clause in his contract, Scioscia announced a day after the 2015 season ended that he would return as the Angels' manager in 2016.78
But all was not well in Anaheim. The Angels had several incidents in 2015 that tainted the baseball world's perception of the organization and how it was being run.79 There had been conflicts between Scioscia and general manager Jerry Dipoto—a rift that began when Dipoto fired Scioscia's friend and hitting coach, Mickey Hatcher, in 2012 after 12 seasons. Team owner Arte Moreno refused to choose between the two men, forcing them to patch up their relationship.80 In late June it was reported that the tension had escalated, extending to the coaches and the players. The latest problem allegedly stemmed from Dipoto's frustration with the coaches' failure to use statistical and scouting information and to convey it to the players. At least one member of the coaching staff and star first baseman  Albert Pujols did not react favorably to the general manager's involvement.81
Dipoto resigned on July 1, and Scioscia was perceived as the undisputed ruler of the club.82
Last revised: January 10, 2016
This biography is included in "Nuclear Powered Baseball: Articles Inspired by The Simpsons Episode 'Homer At the Bat' " (SABR, 2016), edited by Emily Hawks and Bill Nowlin. For more information or to purchase the book in e-book or paperback form, click here.
2. SABR's Scouts Committee credits John O'Neil with Scioscia's signing.
3. Colin Gunderson, Tommy Lasorda: My Way (Chicago: Triumph Books, 2015), 6-7.
4. Ibid, 8-9.
5. Mark Saxon, "Early Lessons Helped Scioscia Succeed," March 28, 2010, sports.espn.go.com/losangeles/mlb/news/ story?id=4962386.
6. "Mike Scioscia," Baseball Player Profiles, baseball.playerprofiles. com/sampleplayerprofile.asp?playerID=685.
7. The Sporting News, November 19, 1977: 63.
8. The Sporting News, November 18, 1978: 40.
9. "Coast Toasts All-Stars," The Sporting News, October 6, 1979: 34.
10. Gordon Verrell, "Dodgers Find Law in Outfield," The Sporting News, May 10, 1980: 33
11. Stan Isle, "Coleman Grieves Over Lack of 'Stengelese,'" The Sporting News, May 17, 1980: 17.
12. Gordon Verrell, "Dodgers Finding Their Road Full of Potholes and Hazards," The Sporting News, August 9, 1980: 22.
13. Gordon Verrell, "Russell Out—Thomas Vital to Dodgers Bid," The Sporting News, September 27, 1980: 8.
14. Gordon Verrell, "Dodgers Roll With Quiet Bats," The Sporting News, May 16, 1981: 37.
15. Ian MacDonald, "His Speed Kills," The Sporting News, May 23, 1981: 3.
16. Gordon Verrell, "Blocking Plate a Scioscia Specialty," The Sporting News, May 23, 1981: 29.
17. Ibid.
18. Gordon Verrell, "Dodgers Will Survive Despite Huge Losses," The Sporting News, July 4, 1981: 35.
19. Gordon Verrell, "Dodger Wounds Heal," The Sporting News, July 11, 1981: 39.
20. Gordon Verrell, "Dodgers Happy to Have Yeager," The Sporting News, November 14, 1981: 52.
21. Gordon Verrell, "Astros Buried in L.A. Graveyard," The Sporting News, October 24, 1981: 15.
22. "L.A.'s Only Worry Is Fifth Starter," The Sporting News, April 10, 1982: 30.
23. "Six-Game Plunge Shakes Dodgers," The Sporting News, May 3, 1982: 21.
24. Bill Conlin, "Haak's Radical View Far Off Mark," The Sporting News, May 31, 1982: 19.
25. Ibid.
26. Gordon Verrell, "Scioscia Sent Back to Basic Training," The Sporting News, March 7, 1983: 30.
27. Ibid.
28. Gordon Verrell, "Yeager Carries On, Aches and All," The Sporting News, June 20, 1983; 28; Stan Isle, "Caught on the Fly," The Sporting News, July 4, 1983: 14; Gordon Verrell, "Dodgers Will Seek Bench Strength," The Sporting News, December 5, 1983: 48.
29. Gordon Verrell, "Yeager, Scioscia Have Inside Lanes," The Sporting News, February 13, 1984: 44.
30. Gordon Verrell, "Guerrero Confident In Wake Of Slump," The Sporting News, May 21, 1984: 17; Gordon Verrell "Stubbs Could Be The Next Al Oliver," The Sporting News, June 4, 1984: 17.
31. Gordon Verrell, "Fernando May Have Been L.A. MVP," The Sporting News, January 7, 1985: 36.
32. Gordon Verrell, "Scioscia Fulfilling Campanis' Prophecy," The Sporting News, May 20, 1985: 21.
33. Ibid.
34. Gordon Verrell, "Rick Honeycutt Admits 'Hurting In Head,'" The Sporting News, August 5, 1985: 16. He had a number of roughand-tumble plays. On August 23 in Montreal, Joe Hesketh retired the first six Dodgers he faced, three on strikeouts. In the bottom of the third, U.L Washington beat out a drag bunt and Hesketh walked. Tim Raines hit a sinking liner to center, and the ball skipped out of Candy Maldonado's glove. Right fielder Mike Marshall retrieved the ball, and Washington scored easily. Hesketh headed for home, but Scioscia extended his left leg to cover the plate. Hesketh didn't try to slide and stumbled over Scioscia's leg. Hesketh was out—and out for the season with a broken leg. "I caught the ball and felt him hit me," Scioscia said. "When I reached over to tag him, he kind of flipped over. I didn't really hit him. If he'd slid, I'm sure he would have been safe." Expos manager Buck Rodgers, for eight years a catcher with the Angels, said: "Scioscia did exactly what he had to do. Vance Law (on deck) was signaling for Hesketh to slide. I presume Joe didn't see him." Hesketh didn't blame Scioscia, either. "He was doing his job. I'm not a good baserunner, and I might work on my sliding next spring." See Ian MacDonald, "Expos' Home Stand Marked by Disaster," The Sporting News, September 9, 1985: 14.
35. Stan Isle, "The Durable Dodger: Lasorda on Catching Scioscia: 'Ever See an Italian Who Needed a Rest?'," The Sporting News, September 30, 1985: 11.
36. Dave Nightingale, "Dodgers and Cards Take Turns Playing Giveaway," The Sporting News, October 21, 1985: 22.
37. Bill Conlin, "Trade Winds May Be Brisk," The Sporting News, January 6, 1986: 47.
38. "NL West: Dodgers," The Sporting News, March 3, 1986: 36.
39. Gordon Verrell, "Scioscia Cracks 'Em Up," The Sporting News, April 28, 1986: 17.
40. Ibid.
41. "NL West: Dodgers," The Sporting News, April 1, 1987: 31-32.
42. Gordon Verrell, "Healthy Scioscia Carries Quick Bat," The Sporting News, May 11, 1987: 24.
43. "N.L. West: Dodgers," The Sporting News, June 15, 1987: 21.
44. "Managers Name the All-Stars," The Sporting News, July 13, 1987: 14.
45. Gordon Verrell, "Fernando Finds a Flaw," The Sporting News, July 13, 1987: 23.
46. Ibid.; "N.L. West: Dodgers," The Sporting News, October 19, 1987: 75.
47. "N.L. West: Dodgers," The Sporting News, August 29, 1988: 21.
48. Ibid.
49. "Notebook N.L. West: Dodgers," The Sporting News, September 19, 1988: 17.
50. "N.L. West: Dodgers," The Sporting News, October 10, 1988: 26; "N.L. West: Padres," The Sporting News, October 10, 1988: 26.
51. Paul Attner, "N.L. Playoffs: Wild, Wacky War: Craziness and Controversy Mark Showdown Between Dodgers and Mets," The Sporting News, October 17, 1988: 16.
52. "Notebook N.L. West: Dodgers," The Sporting News, November 7, 1988: 49.
53. "World Series Play-By-Play," The Sporting News, October 24, 1988: 43; "World Series Play-By-Play," The Sporting News, October 31, 1988: 14.
54. Gordon Verrell, "N.L. West: Dodgers," The Sporting News, April 1, 1989: 36.
55. "N.L. West: Dodgers," The Sporting News, September 4, 1989: 23.
56. Murray Chass, "Premium Ranking for Clark," The Sporting News, November 6, 1989: 42.
57. Ben Henkey, "Davis Turns Fielding Excellence Into Gold," The Sporting News, December 11, 1989: 49.
58. "N.L. West: Dodgers," The Sporting News, January 8, 1990: 40.
59. Bob Nightengale, "Santiago to Giants: 'I'll Never Forget': Baseball: His season disrupted by a broken arm suffered when he was hit by a pitch, the All-Star catcher says somebody will pay," Los Angeles Times, June 24, 1990, articles.latimes.com/1990-06- 24/sports/sp-690_1_broken-arm; ——, "Jose Canseco Is Vote Leader As All-Stars Are Listed," New York Times, July 5, 1990, nytimes. com/1990/07/05/sports/canseco-is-vote-leader-as-all-stars-arelisted.html.
60. Gordon Verrell, "N.L. West: Dodgers," The Sporting News, April 27, 1992: 22.
61. Dave Nightingale, "Managers: The Next Generation," The Sporting News, June 29, 1992: 10.
62. Gordon Verrell, "N.L. West: Los Angeles Dodgers," The Sporting News, November 2, 1992: 22.
63. Gordon Verrell, "N.L. West: Los Angeles Dodgers," The Sporting News, November 21, 1992: 30; Gordon Verrell, "N.L. West: Los Angeles Dodgers," The Sporting News, December 21, 1992: 230
64. Chris De Luca, "N.L. West: San Diego Padres," The Sporting News, February 22, 1993: 19.
65. Chris De Luca, "N.L. West: San Diego Padres," The Sporting News, November 1, 1993: 24.
66. T.R. Sullivan, "A.L.: Texas Rangers," The Sporting News, December 27, 1993: 29.
67. Gordon Verrell, "N.L.: Los Angeles Dodgers," The Sporting News, October 17, 1994: 47
68. Scott Gregor, "A.L.: Chicago White Sox," The Sporting News, October 13, 1997: 37.
69. Mark Saxon, "Early Lessons Helped Scioscia Succeed," March 28, 2010, sports.espn.go.com/losangeles/mlb/news/ story?id=4962386.
70. Mike DiGiovanna, "American League Baseball: Anaheim," The Sporting News, January 17, 2000: 64; ——— "American League Baseball: Anaheim," The Sporting News, January 31, 2000: 59.
71. Mike DiGiovanna, "American League Baseball: Anaheim," The Sporting News, January 29, 2001: 58.
72. Mike DiGiovanna, "American League Baseball: Anaheim," The Sporting News, June 25, 2001: 32.
73. Joe Haakenson, "A.L.: Anaheim Angels," The Sporting News, February 18, 2002: 51.
74. Joe Haakenson, "American League Baseball: Anaheim Angels," The Sporting News, May 6, 2002: 20.
75. Joe Haakenson, "American League Baseball: Anaheim Angels," The Sporting News, June 3, 2002: 36.
76. Joe Haakenson, "American League Baseball: Anaheim Angels," The Sporting News, September 16, 2002: 65.
77. Ted Berg, "Angels trade manager Mike Scioscia's son for Wayne Gretzky's son," USA Today, March 20, 2014, usatoday. com/2014/03/angels-trade-manager-mike-scioscias-son-forwayne-gretzkys-son; Bill Shaikin, "Angels trade big-name minor leaguers: Matt Scioscia for Trevor Gretzky," Los Angeles Times, March 20, 2014, articles.latimes.com/2014/mar/20/sports/ la-sp-0321-angels-notes-20140321.
78. D.J. Short, "Mike Scioscia Will Return as Angels Manager in 2016," NBC Sports, October 5, 2015, mlb.nbcsports.com/2015/10/05/ mike-scioscia-will-return-as-angels-manager-in-2016/.
79. Ben Perez, "Los Angeles Angels: organization's professionalism questionable," iSports, June 30, 2015, isportsweb.com/2015/06/30/ los-angeles-angels-organizations-professionalism-questionable/.
80. Ken Rosenthal, "Tensions return between Angels' front office, manager Scioscia," FoxSports, June 29, 2015, foxsports.com/mlb/ story/los-angeles-angels-mike-scioscia-front-office-tensionsjerry-dipoto-ken-rosenthal-062915.
81. Aaron Gleeman. "Angels manager Mike Scioscia and GM Jerry Dipoto are feuding again and it sounds really bad," NBCsports, June 30, 2015, mlb.nbcsports.com/2015/06/30/ angels-manager-mike-scioscia-and-gm-jerry-dipoto-arefeuding-again-and-it-sounds-really-bad/; Bob Nightengale. "Mike Scioscia won the battle in Anaheim, but tumult not over for Angels," USA Today, July 1, 2015, usatoday.com/story/sports/ mlb/2015/07/01/angels-jerry-dipoto-quits-mike-scioscia-powernew-general-manager/29594431/.
82. Jeff Passan, "GM Jerry Dipoto's departure reveals Mike Scioscia to be unquestioned ruler of Angels," Yahoo Sports, July 1, 2015, sports.yahoo.com/news/gm-jerry-dipoto-s-departure-reveals-mike-scioscia-to-beunquestioned-ruler-of-angels-215115777.html.