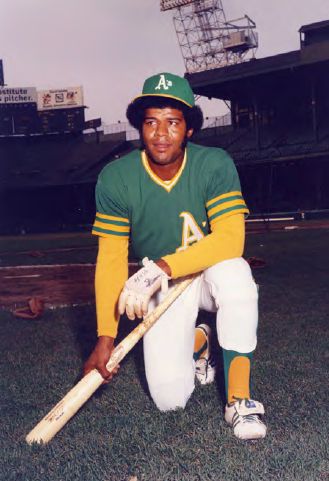 Right-handed-hitting backup catcher Tim Hosley came up through the Detroit Tigers farm system and broke in with the Tigers in 1970. Traded to Oakland, Hosley played for the 1973 and 1974 World Series champions, but spent much of those two seasons in Triple-A because the A's were deep in catching with Ray Fosse and Larry Haney. Sent back to the minors after the ''74 season, he was drafted by the Chicago Cubs, but eventually returned to the Athletics for two additional stints, in 1976-1978 and 1981. For all his lack of playing time, he was described as having a strong work ethic.1
Born and raised in Spartanburg, North Carolina, Hosley was the son of Carrie Lee and Timothy Hosley. At George Washington Carver High School, he played football and basketball and, since the school did not have a baseball team, he played in a local Fast Pitch League.
Detroit scout Al Lakeman, a Spartanburg resident, first noticed Hosley. "I gave him a tryout and later took him to Asheville when Montgomery (a Tigers farm club) was playing there for another tryout. The reason I signed him was that he had a good arm, good speed, and was a good hitter. He hit three or four out of the park at Asheville that day. He'd got some ability."2 An undrafted free agent in 1966, Hosley was signed by the Tigers. (The 1960s were a time when black catchers were about as rare as black starting pitchers.3)
Hosley chose not to place any blame elsewhere for not being drafted, but instead pointed to his own inexperience. "I never played Legion ball or highschool ball," he said. "I just played a few sandlot games. Actually when the Tigers signed me, I probably had more experience playing softball than baseball."4
The 20-year-old catcher spent most of 1967 with Erie in the New York-Penn League, batting .255 with four home runs. Behind the plate, he led the league's catchers in errors and passed balls.5
Moving through the Tigers' farm system, Hosley improved his batting, and in 1969, for Rocky Mount in the Carolina League, he led the league in hitting until the beginning of August.6 By the time the season ended, Hosley was at.268; but was third in the league in home runs with 27 (his one-season high in Organized Baseball) and fourth in RBIs with 79. (Future majorleague slugger Greg Luzinski led the league in both categories.)
In 1970 Hosley moved up to Double-A Montgomery (Southern League), where his batting average plunged to .215 but he hit 20 home runs and drove in 50 runs. This earned him a call-up to the Tigers at the end of the season.7 Hosley made his major-league debut at Tiger Stadium on September 8, 1970, in a 6-3 victory over Baltimore. He pinch-hit for pitcher Mickey Lolich. Facing Marcelino Lopez, he fouled out to first baseman Boog Powell.
Two weeks later, on September 26, at Yankee Stadium, Hosley made his first major-league start, and hit his first big-league home run, a solo shot to left off Fritz Peterson.
At Tiger Stadium in the season finale on October 1, Hosley caught John Hiller's two-hit, 11-strikeout 1-0 shutout over Cleveland. In his brief Tiger stint, he had appeared in seven games, going 2-for-12.
At the end of spring training in 1971, Hosley was assigned to Triple-A Toledo, where in 97 games he batted .239 and hit 23 home runs, tying George Kalaratis for the team lead. In September he was called up again after Tigers catcher Jim Price was injured. On September 5 at Yankee Stadium, in the fifth inning of a 6-5 Tigers defeat, Bobby Murcer crashed into Hosley at home plate. Removed from the field on a stretcher, Hosley was held overnight at the hospital for X-rays, but suffered no injury.8
On September 25 at Tiger Stadium, in his first multihit game in the majors, Hosley led Detroit to a 10-5 victory over New York, hitting two home runs off Mike Keikich and driving in five runs.9
Tigers skipper Billy Martin planned to carry Hosley as a backup to Bill Freehan and Tom Haller in 1972.10 The tam liked his bat and considered him a potentially capable big-league slugger, at the very least a useful backup who could provide support at catcher and first base.11 However, Hosley wound up being sent to the Tigers' minor-league complex. "We wanted him mainly for his arm, but he made three bad throws on steals down here," Martin said. "If you're going to carry a guy for defense, he has to be a specialist and Hosley hasn't done that yet.
"We expect a lot from him, but he isn't ready right now."12
After arriving late for a workout, Hosley was assigned to Toledo.13 He hoped to hit for a better average and throw out baserunners. "I've got to make more contact and let the home runs take care of themselves," he told a sportswriter. "I know I don't have to swing hard to get the job done, but with me it's a lot easier said than done."14 Playing in 132 games, Hosley led Toledo with 24 home runs and 67 RBIs, while hitting .243.
In the offseason the Tigers obtained catcher Charlie Sands from Pittsburgh, and had an abundance of catchers with Hosley, Bill Freehan, and Duke Sims.15 At first base, the Tigers still had Norm Cash, backed up by Al Kaline, Frank Howard, and Ike Brown.16 As a result, on April 3, 1973, Hosley was sent to Oakland for relief pitcher Don Shaw.17 The trade was good and bad news for Hosley. On the one hand, he was joining the best team in baseball, a club positioned to repeat in the American League West. On the other, the A's featured a catching logjam similar to the Tigers', with Gene Tenace and Ray Fosse.18
Hosley began the season with the Tucson Toros of the Pacific Coast League, but was called up in May. He made his first appearance in an A's uniform on May 10 at Arlington Stadium. He drove in two runs on two hits, in a 17-2 rout of the Rangers. After a playing in 13 games, he returned to Tucson, where he hit .300 with 12 home runs.
Shortly after joining the A's, Hosley expressed some bitterness toward the Tigers organization. "I felt like I wasn't wanted at Detroit," he told the Spartanburg Herald-Journal. "At Oakland the guys have shown me that I'm wanted and it makes me feel a lot better."19 While he liked his Oakland teammates, the good feelings did not translate into additional playing time. If there was a consolation, it was the opportunity to earn a pair of World Series rings as the A's repeated in back-to-back years.20
In July and August of 1974, Hosley got into ten games with the A's. At Tucson he hit .285 in 92 games with 17 home runs and earned an All-Star berth. After the season he was selected by the Chicago Cubs in the Rule 5 draft.
The Cubs needed help behind the plate. Catchers Steve Swisher and George Mitterwald were strong defenders but weak hitters. Cubs manager Jim Marshall loved Hosley's lively bat and his strong throwing arm. Hosley provided the Cubs another dimension. By May, Marshall moved Hosley into the starting lineup. 21
For one of the few times in his career, Hosley spent an entire summer in the big leagues, free of a minorleague assignment. "I finally found a manager willing to give me a chance," he told sportswriter Jerome Holtzman. 22 In 62 games, he batted .255 ,hit six home runs, and slugged .433. On September 14 he hit his only career grand slam, against Philadelphia pitcher Randy Lerch at Chicago's Wrigley Field.
But despite a solid 1975 campaign, the Cubs placed Hosley on waivers early in the 1976 season. He was reclaimed by Oakland. In his second stint with the A's, Hosley received more playing time, but his numbers declined sharply. He spent much of the 1976 through 1978 seasons in the Pacific Coast League. At San Jose in 1977, he hit .321. In July he was recalled to Oakland after slugger Dick Allen was suspended, and batted .192 in 78 at-bats during the remainder of the season. In the minors again in 1978 (Vancouver and Charleston), Hosley didn't appear for the A's until September. He batted .304 in 23 at-bats, mostly as a pinch-hitter. In 1979 and 1980, Hosley was at Triple-A Ogden, and didn't play for Oakland. In 1980 he batted .301 with 26 home runs and 102 RBIs.
In 1981 season, Hosley was back with the A's. On April 29, in a 6-4 victory over California, Hosley came up as a pinch-hitter and bludgeoned a two-out, three-run homer off Andy Hassler. It was the final home run of his major-league career. On May 29 the players union went on strike, and the season didn't resume until August 9. Hosley didn't play after the strike, and he was released at the end of August. His major-league career was over. The next season he retired after playing in two games for Triple-A Tacoma.
In his nine-year up-and-down major-league career, Hosley played in 208 games, batted.215, hit 12 home runs, and collected 53 RBIs. His minor-league numbers were more notable. He hit 208 home runs and had a .272 batting average. Hosley's skills were often unappreciated in his era, but are lauded by more recent analysts. In addition to his power, Hosley drew a lot of walks; he posted a .400 on-base percentage five times in the minors and had a career .373 OBP mark at that level.23
After a seven-year retirement, Hosley played one season for the Fort Myers Sun Sox in the short-lived Senior Professional Baseball Association. Many former MLB players played in this league.
In later years, Hosley was a hitting and pitching instructor, at Coach Dave's School of Hitting and Pitching in Boiling Springs, South Carolina. He was an ardent golfer and was involved with many charity fundraising events, and was a member of Macedonia Missionary Baptist Church. Hosley died on January 21, 2014. He was survived by his wife, Phyllis, and two daughters, Sharon Wilkins and Melissa Lee. He was preceded in death by an infant daughter, Alisha D. Hosley.24
This article originally appeared in "Mustaches and Mayhem: Charlie O's Three Time Champions: The Oakland Athletics: 1972-74" (SABR, 2015), edited by Chip Greene.
1. Bruce Markusen, "With the Tigers, Catcher Tim Hosley's Timing Was Bad," blog.detroitathletic.com/2014/01/31/tigerscatcher-tim-hosleys-timing-bad/, accessed January 31 ,2014.
2. Lesley Timms, "A Cinderella Story," Spartanburg Herald, March 9, 1971, 10 (news.google.com/newspapers?nid=1876&dat=19710309&id=XXgsAAAAIBAJ&sjid=HswEAAAAIBAJ&pg=4974,1416213).
3. Markusen.
4. Markusen.
5. Markusen.
6. Lesley Timms, "A Cinderella Story," Spartanburg Herald, March 9, 1971; 10 news.google.com/newspapers?nid=1876&dat=19710309&id=XXgsAAAAIBAJ&sjid=HswEAAAAIBAJ&pg=4974,1416213.
7. Timms.
8. Markusen.
9. Dan McCourt, "September 25 in Yankee History; Take Him Downtown, September 25 ,2012 .takehimdowntown.com/yankee-history/september-25-in-yankee-history/.
10. Bill Fox, "Hosley Cut; Slot Open for Hurler," Toledo Blade, March 21 ,1972 ,28.
11. Markusen.
12. Fox, "Hosley Cut."
13. Markusen.
14. Bill Fox, "Hosley Tames His Swing: Mud Hen catcher Concentrating on Making Contact," Toledo Blade, April 24, 1972 ,25.
15. Tom Loomis, "Hens Cause Helped by Detroit Dealings," Toledo Blade, April 3, 1973; 30.
16. Markusen.
17. Loomis.
18. Markusen.
19. Markusen.
20. Markusen.
21. Markusen.
22. Markusen.
23. Markusen.
24. GoUpstate.com