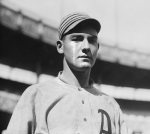 Marvin Miller, the great labor leader of major-league baseball, shared fond memories of his youth:
"One of my biggest thrills was sitting in the old left-field bleachers ... at Ebbets Field in the 1920s. We'd watch the Dodgers take fielding practice. When fielding practice was over, Rube Bressler, the Dodger left fielder, would throw a half dozen baseballs into the bleachers, right at us! ... Even if Bressler got into a conversation with another player and started to walk away, we'd shout, 'Woe, woe!' He'd stop, turn around, walk back, and throw us the balls. Bressler never failed."1
After a promising career as a pitcher was ended prematurely by a sore arm, Rube Bressler reinvented himself as a hard-hitting left fielder. His .301 batting average over 19 major-league seasons is testament to his successful conversion. His most productive years were spent with the Cincinnati Reds and Brooklyn Robins (aka the Dodgers) from 1924 to 1930. He was inducted into the Cincinnati Reds Hall of Fame in 1963.
Raymond Bloom Bressler was born on October 23, 1894, in Coder, near Brookville, Pennsylvania.2 His parents were Thomas P. Bressler (1861-1937) and Maggie (Bloom) Bressler (1872-1959).3 Thomas was a "sawmill boss" in Coder and Ashtola, Pennsylvania.4 The family moved in 1903 to Flemington, Pennsylvania, where Thomas worked as a finishing carpenter.5 As a 12-year-old, Raymond pitched for a youth team named the Flemington Athletics.6 At 17, he attended the Central State Normal School (now known as Lock Haven University of Pennsylvania), and he pitched for the school baseball team in the spring of 1912.7 That summer he worked at a train repair shop in Renovo, Pennsylvania, where he swung a sledgehammer.8 He pitched for the shop baseball team. On August 20, 1912, Bressler threw a four-hit shutout with 12 strikeouts against the barnstorming Atlantic City Collegians, who were managed by Connie Mack's son Earle.9
Raymond was nicknamed "Rube" after his illustrious older cousin, Harry "Rube" Bressler,10 a former ace of the Williamsport (Pennsylvania) team who had thrown a perfect game against Reading (Pennsylvania) in 1903.11 Locally, the cousins were known as Young Rube and Old Rube. Both were southpaws. Several minor-league teams were interested in signing Raymond to a contract for the 1913 season.12 Harry steered him to a trusted friend, George Cockill, manager of the Harrisburg (Pennsylvania) Senators of the Class B Tri-State League.13
Young Rube posted a 15-13 record for Harrisburg in 1913. He pitched with a crossfire delivery, in which his left arm came across his right leg, in the style of Old Rube.14 At Connie Mack's invitation, Young Rube spent a week in Philadelphia in June 1913, and was tutored by the great Philadelphia Athletics southpaw Eddie Plank, the crossfire master.15 Harrisburg newspapers noted that before the Philadelphia trip, the 18-year-old Bressler seemed immature and in need of "a stern teacher," but after the trip, he was "getting up early and working hard daily."16 Sporting Life observed that he was "not only a good pitcher, but a batsman of skill and power."17 Bressler was a right-handed batter. He stood 6-feet tall, weighed 175 pounds,18 and was considered burly and husky.
Mack invited Bressler to spring training with the Philadelphia Athletics in 1914. The Athletics were the defending world champions, having defeated the New York Giants in the 1913 World Series. As a 19-year-old with no experience above Class B, Bressler was a long shot to make the team, but Mack saw his potential and kept him on the squad. Bressler was awestruck to be on the same team with his idols Eddie Plank and Chief Bender. Bressler said:
"Hell, I'd been reading about those guys [Plank and Bender] since I was in the third grade. And how do you think they treated me? Well, I'll tell you: wonderful. Just wonderful. Two of the finest guys who ever lived. I used to try to get near them and listen to what they were talking about, and every question I'd ask they'd pay attention and tell me what they thought. I used to put sticks behind my ears so they'd stand out further. Boy, I wanted to hear what those guys had to say."19
Bressler made his major-league debut on April 24, 1914, in Philadelphia. He pitched 6⅔ innings of relief against the New York Yankees, allowed no earned runs and two hits, and was the winning pitcher when Frank "Home Run" Baker knocked in the winning run in the 11th inning.20 Bressler earned his second victory on June 14, when he threw six scoreless innings of relief in Chicago. Athletics coach Harry Davis said, "Bressler looks better every time out, and he will finish the season one of the best youngsters in the league. He is a big, strong boy and a southpaw who can keep the ball around the batter's neck. They're tough customers to beat."21
After 14 relief appearances, Bressler made his first major-league start on July 21, 1914, against the Cleveland Naps, and earned his third victory of the season while recording eight strikeouts. On July 30 he pitched a four-hitter in St. Louis for his fourth victory, again with eight strikeouts. He was 5-1 with a 1.59 ERA when he dueled Walter Johnson of the Washington Senators in Philadelphia on August 14. Johnson clubbed "a long, savage drive" for a home run,22 and the Senators won 2-1 as Johnson earned his 20th victory of the season. Bressler described what it was like to bat against Johnson:
"Well, every time I stepped up to the plate, Johnson would wind up lazily and let the ball go with his side-arm motion. I'd hear 'zzdzz,' or something like that, but I wouldn't see anything. The first time he threw three strikes past me that I couldn't see. Then I started swinging at random, hoping I might hit something, but I had no better luck."23
Bressler moped after the tough loss to the Senators. Bender advised him: "It's a matter of record now. Forget about that game. Win the next one."24 Eleven days later, Bressler threw his first major-league shutout, a three-hitter with 10 strikeouts, against the St. Louis Browns.
Bressler finished the 1914 season with a 10-4 record in 147⅔ innings. He did not pitch enough innings to qualify, but had he qualified, he would have ranked in the top four in the league in ERA (1.77), fewest hits per nine innings (6.83), and most strikeouts per nine innings (5.85). The kid was a sensation. Sporting Life said he "looks like the sure successor of Eddie Plank as the Athletic Club's star southpaw," and noted that Bressler was "powerfully built" and "has great speed, a wide curve ball and appears to be able to control his delivery with unusual skill."25 Eddie Collins predicted that Bressler would be the best southpaw in the American League in 1915. Bressler "has everything that goes to make a great pitcher," he said, "and I really believe that he will be as good as Rube Waddell."26 Collins mentioned that Bressler had abandoned the crossfire motion and adopted a more effective "overhead" delivery.27
The Athletics won the pennant in 1914 but were swept by the Boston Braves in the World Series in a stunning upset. Bressler was dismayed that he did not get to pitch in the Series, and he impertinently expressed his indignation to Mack.28
The 1915 season was a disaster for Bressler, Mack, and the Athletics. Mack had dismantled his powerhouse lineup of high-priced stars, and the team plummeted to last place. Bressler compiled a 4-17 record and a 5.20 ERA. His walks per nine innings jumped from 3.4 in 1914 to 6.0 in 1915. What happened to all that promise and potential? Bressler was 20 years old and needed mentoring, but Plank and Bender were no longer on the team, having jumped to the Federal League. Bressler enjoyed nightlife too much.29 He was handsome and debonair.30 Late-night adventures were high priority to him. He took nightly automobile jaunts and would accidentally "batter down electric light posts."31
Mack was aware of what his players did off the field, yet he established no curfews. He expected his players to be "both adult and professional enough to get their proper rest."32 He sent infielder Larry Kopf to the Cincinnati Reds in December 1915, in part because Kopf did too much running around with Bressler at night.33 Mack was not ready to give up on Bressler, though.
Bressler gained weight during the 1915 season.34 In March 1916 Sporting Life reported that he "is full of ambition; is down to his normal weight, and apparently wants to make good, which is more than could be said of him in 1915."35 However, he developed a sore arm at spring training in 1916 and could barely pitch.36 Because Bressler could hit, Mack encouraged him to become an outfielder.37 In May 1916, Mack sent him to the Newark Indians of the Double-A International League.38 After Bressler walked 12 batters on May 21, Newark decided it did not want him and returned him to Philadelphia.39 Mack then sent Bressler to the New Haven (Connecticut) Murlins of the Class B Eastern League, who used him as a pitcher and left fielder; Bressler had a 7-9 record in 158 innings pitched for New Haven and batted .232.40 Unimpressed, Mack released him in January 1917.41
Bressler joined the Atlanta Crackers of the Class A Southern Association in 1917. With a revived arm and a serious attitude, he posted a 25-15 record and a 2.62 ERA, and led the league with 326 innings pitched, as the Crackers won the pennant.42 Bressler batted .277, with six home runs in 137 at-bats, and was used occasionally as a pinch-hitter. His homer on July 24 was believed to be the longest ever hit to center field at Atlanta's Ponce de Leon Park.43 The Cincinnati Reds drafted Bressler in September. He pitched well for the Reds in 1918, with an 8-5 record and a 2.46 ERA in 128 innings, and batted .274, but his season was cut short when he was drafted by the Army during World War I. He was stationed at Camp Merritt, New Jersey. On September 14, an Army versus Navy game was played at the Polo Grounds in New York, for "uniformed spectators from both branches of the service."44 Bressler pitched for the Camp Merritt team and lost 1-0 to the Brooklyn Navy Yard team. Casey Stengel knocked in the lone run.
The 1919 Cincinnati Reds, managed by Pat Moran, had a deep pitching staff, and Bressler was relegated to a mop-up role. After outfielder Sherry Magee was sidelined by illness, Moran decided to try Bressler in the outfield. Reds center fielder Edd Roush coached Bressler on how to play the position.45 Bressler was "a team favorite ... a big, burly guy with a kind heart and a quick wit," wrote Susan Dellinger, Roush's biographer and granddaughter.46 Bressler played 48 games in the outfield in 1919, and while his fielding was acceptable, he struggled at the plate, with a .206 batting average. Nevertheless, he "filled in nobly," and he was "of inestimable worth to the club on account of his energy, determination and natural ability."47 The Reds won the National League pennant and defeated the Chicago White Sox in the infamous 1919 World Series. Bressler did not play in the Series, but he had an important role: The left-hander pitched batting practice to prepare the Reds' hitters to face White Sox southpaws Lefty Williams and Dickey Kerr.48 Bressler received a full share of the winner's purse ($5,207) and used part of it to purchase a stylish Dodge Brothers Model 30 sedan.49
In 1920 Bressler was a seldom-used reserve. He missed two months of the season with a fractured ankle.50 When he returned to action, he favored one leg and hurt his arm by pitching with an unnatural motion. Bressler said:
"That was the end of my pitching days. So I was up that familiar creek again, without a paddle. This time I decided the thing to do was give up the pitching business and take up the hitting business. Why not? Other guys could hit. Why not me?"51
Bressler worked diligently to improve his hitting and fielding, with help from Roush especially. He started 83 games for the 1921 Reds, mostly in right field, and batted .307. On April 21 he went 4-for-4 and drove in three runs at Pittsburgh. On June 10 he knocked in all three runs of a 3-1 triumph over the New York Giants. Six days later he went 4-for-5 against the Philadelphia Phillies. Bressler had turned himself into a capable outfielder. However, after the 1921 season, the Reds acquired two superior outfielders: George Harper, a brilliant fielder who batted .393 in the Western League in 1921, and George Burns, an established veteran who had starred for the Giants in the 1921 World Series. As a result, Bressler was used primarily as a pinch-hitter in 1922 and 1923. He led the major leagues with 13 pinch hits in 1922.52 In the offseason he operated a gas station in Cincinnati with his business partner and former teammate, Larry Kopf.53 On April 14, 1923, the 28-year-old Bressler married Kopf's 18-year-old sister, Helen. Bressler's teammates Pat Duncan (the best man), Sam Bohne, Lew Fonseca, and Eppa Rixey attended the ceremony.54
From 1924 to 1927, Bressler started an average of 95 games per season for the Reds. He played some at first base but was used mostly in left field, where he became "a good fly chaser and a canny gent at playing the opposing batsmen."55 He had a weak throwing arm, though, "a hangover from his pitching days."56 Hitting was Bressler's greatest strength. His batting average over that four-year period was .332. He had a 25-game hitting streak in 1927. Bressler was a "slashing line-drive hitter."57 He stood at the plate in a "pronounced crouch," with his feet so wide apart that he seemed "about to perform a split."58 "Nearsightedness stopped me from batting in orthodox fashion," said Bressler. "I couldn't see a ball well enough that way. Getting down in a crouch as I do and sort of springing up to meet the pitch enables me to see the ball as well as necessary."59 He added, "I held the bat like [Ty] Cobb, with my hands apart, and hit the ball where it was pitched. I tried to control the bat, swing in a short arc, [and] not get fooled."60 Bressler waited patiently for good balls to hit. He usually took the first pitch of an at-bat, because it helped him with his timing.61
After Bressler held out for more money,62 the Reds sold his contract to the Brooklyn Robins in March 1928. He played regularly for the Robins in left field from 1928 to 1930, and batted .304 over that period. In 1928 he was third in the league in walks. On June 18, 1929, Giants pitcher Jack Scott knocked him down with a high inside pitch. Bressler arose and hammered Scott's next offering "vengefully into the left field bleachers." Bressler said, "I wish every pitcher would throw at me. I'd teach 'em."63 In 1930 the 35-year-old Bressler showed he could still play in the field. On April 21 he "sprinted to the bleachers fence and made a stretching gloved-hand catch to burglarize a home run" from Boston's Rabbit Maranville.64 In another game, Pittsburgh slugger Paul Waner "hit two smashing liners right into Rube's hands" in left field; Bressler caught them "without moving two steps," because he "knew just where to play for Waner."65
The aging Bressler was a reserve outfielder and pinch-hitter for the Robins in 1931, and for the Philadelphia Phillies and St. Louis Cardinals in 1932. His major league career ended in 1932. He managed the Springfield (Ohio) Pirates of the Class C Middle Atlantic League during the last month of the 1934 season.66
Bressler resided in Cincinnati for the rest of his life and tended to his business interests, including gas stations, restaurants, and real estate. In 1936 he created and marketed Rube Bressler's Baseball Game, "a four dice game where the total determines the outcome of the play." It was touted as "the only game for home or club that plays like real baseball."67 Bressler was also a baseball commentator on radio.68
In 1948 historian Lee Allen wrote:
Bressler "has never lost his love for the game. He was chiefly responsible for the organization of Ball Players of Yesterday, which has done so much to keep intact the communion of former players. Rube is a sentimentalist and a dreamer, and he likes to ponder on such ideas as a home for old ballplayers. He is completely devoted to the game in which he excelled."69
From 1945 to 1959, Bressler served as president of the Ballplayers of Yesterday Association, a Cincinnati-based group of former major leaguers whose purpose was "to promote baseball among the youth of Cincinnati, especially the underprivileged."70 In 1961 Bressler was the guest speaker at a banquet in his hometown honoring participants in the first season of the Flemington (Pennsylvania) Little League. Baseball is "the greatest game of all," Bressler told the young ballplayers.71 On November 7, 1966, in Mount Washington, Ohio, Bressler died of cancer at the age of 72.72
Notes