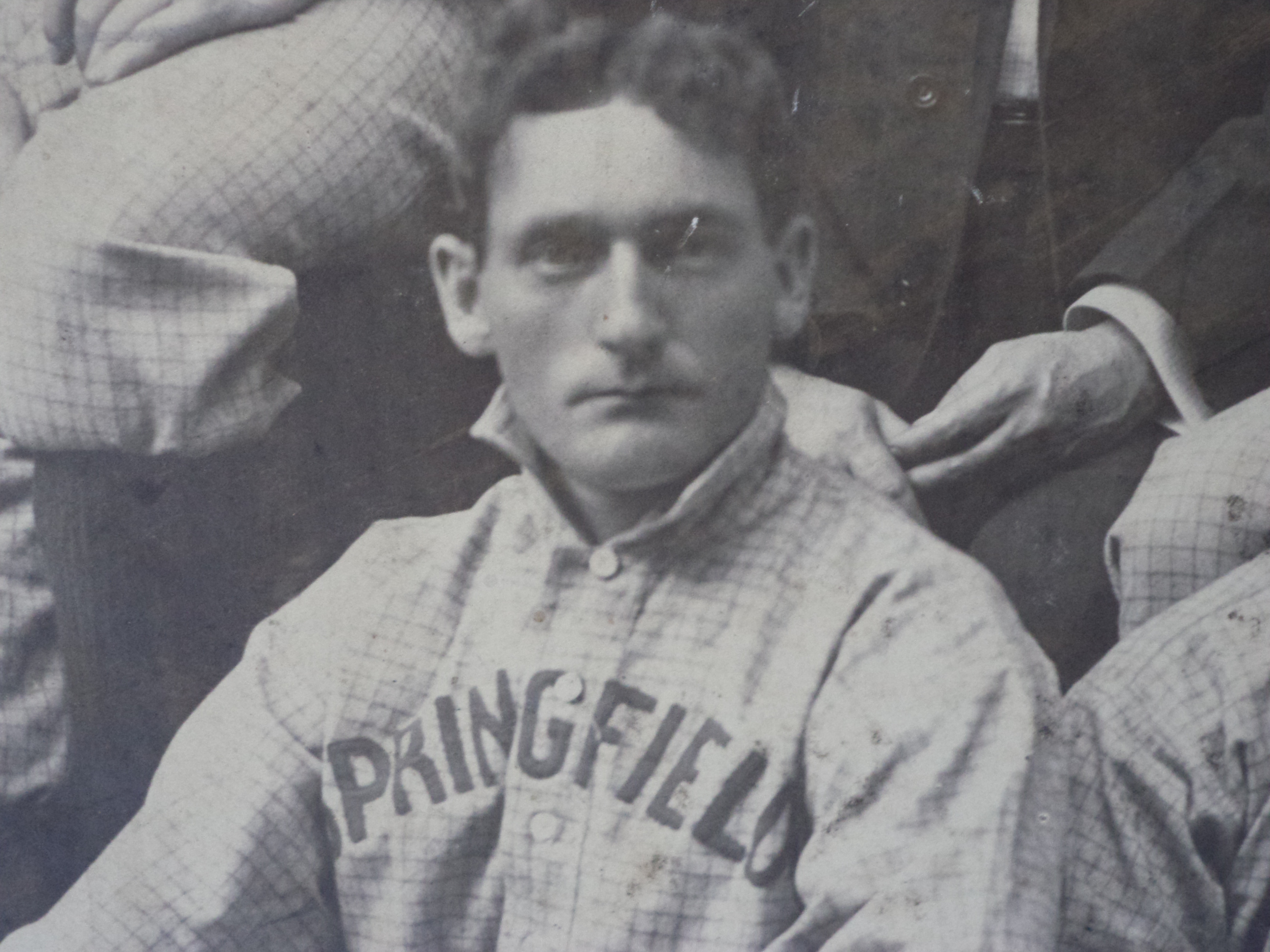 From the 1890s through the 1950s, textile-league baseball was a fixture in many upstate South Carolina mill towns. Each mill had its team, and rivalries were keen. Teams sometimes recruited men just for the summer baseball season, working them little if at all in the mills themselves, and paying them much more than the average mill worker would make. Many future minor- and major-league players came from the ranks of textile-league teams. By the middle of the 20th century, many towns had lighted fields, and an important game could draw thousands of fans.

Thomas Perry names utility infielder James Champlin "Champ" Osteen as the first in a long line of textile-league baseball players to make it to the majors. Although Osteen himself was to play in only 83 games scattered over four seasons (1903-04; 1908-09), he was followed by players like Al Evans, Art Fowler, Chick Galloway, Kirby Higbe, and Shoeless Joe Jackson. Jackson was often compared to Osteen, and is said to have idolized him as a youth. Champ's path through the different levels of baseball – including textile ball, college ball, the minor leagues, and the majors – was a serpentine one, covering more than 20 years.

Champ Osteen was born in a one-room cabin in Transylvania County, in western North Carolina, on February 24, 1877. He was the son of Richard S. and Mary Ann Shipman Osteen. His father worked as a farmer and blacksmith, and the family was a large one. By 1880, when they were living in Little River in Transylvania County, North Carolina, it included eight boys and five girls.

In 1883 Richard Osteen moved his family from the mountains of North Carolina across the state line to Piedmont, slightly southwest of Greenville in upstate South Carolina, where some of the children could find employment in the cotton mills. This was part of a large movement of North Carolina mountain people to South Carolina in hopes of better wages and living conditions. Champ was 6 years old at the time, and small for his age. Life in the mill village was rough, and his older brother Tom taught him how to fight.

These were the early days of textile baseball in South Carolina, and in 1892, at the age of 15, Champ had a chance to play with Piedmont Mill after its first baseman sprained his ankle. He remained with the team until 1900, playing both first base and shortstop, and helped it to win the textile-league championship in 1899. That year Piedmont boasted a 19-6 record, and the lineup included future major leaguers Davey Crockett and Rome Chambers. After Champ hit a home run in the first game of the championship in Augusta, Georgia, manager Will Hammett sent a telegram to Osteen's father in Piedmont warning, "Uncle Dick, keep your eyes open. Champ hit a ball in that direction."[1]

In the spring of 1900 Champ enrolled in the preparatory department at Erskine College in Due West, South Carolina. That was the only semester he was to spend at Erskine. Intercollegiate baseball was in its early days in South Carolina, and it was the custom for colleges at that time to beef up their baseball teams with good local players. When he finished playing at Erskine, he signed up to play first base for Statesville of the North Carolina Association, along with Erskine teammate Z.H. Mangum.

In 1901, Champ began the season playing for the Wilmington Giants in the Virginia/North Carolina League. Partway through the season Ed Ashenbach, manager of the Newport News Shipbuilders, watched Champ during batting practice and immediately requested a trade. Apparently, after the trade was agreed to, Champ and the other player went under the bleachers and exchanged jerseys, making him a member of the Shipbuilders.[2] The Shipbuilders moved to Tarboro, North Carolina, partway through the season. Some sources say that Ashenbach did not join them; others say he did manage them that year. There is no record of whether Champ played in Tarboro.

According to Champ Osteen's granddaughter, Joanne Osteen Carlisle, by 1902 he had joined Ashenbach with the Charlotte Hornets of the short-lived North Carolina League. Judging from reports in Sporting Life, he was in Charlotte until at least July. At the end of the season, he played 25 games with the Shreveport Giants, and according to Sporting Life, he was still with the Giants in late October. Sometime before 1904, Champ married Minnie Bell Riddle. They were to have 11 children, one of whom died as an infant.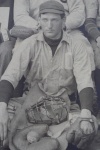 According to reports in Sporting Life, by June of 1903 Osteen was with the Davenport River Rats. A puzzling report published in early July of that year had him being sent down to the minors by the St. Louis Cardinals. Other accounts had him in such far-flung places as Shreveport, Birmingham, Worcester, St. Louis, and Atlanta. (An article published in Sporting Life seems to support some of this, saying that Clark Griffith, manager of the New York Highlanders, actually acquired Osteen from Worcester in the New England League when he got him in January of 1904.[3]) In September 1903, the Washington Senators acquired Osteen from Davenport in the major-league draft. There was a dispute among the teams as to the legality of the draft that year, and Champ was among those whose contracts were disputed. Baseball's National Commission ultimately found that he had been properly drafted, and he played ten games for the Senators that year, making his major-league debut on September 18. He may have been sent back to Davenport, because Sporting Life puts him back there in October.

In January 1904 Osteen was sold by Washington to the New York Highlanders. Although there were reports that he might be sent back to the minors to gain more experience, he remained with the team for part of the season. While with the Highlanders, he told manager Griffith that he would need to take a few days off around the Fourth of July so he could go play for Piedmont in its big rivalry against Pelzer. He played in 28 games for the Highlanders, batting .196.

Joanne Osteen Carlisle said that while Champ was with the Highlanders, he and pitcher Jack Chesbro had a feud. Griffith tried to intervene, but he couldn't remedy the situation. Since he needed pitching more than he needed a shortstop, he sent Osteen to the Cleveland Indians, but Champ refused to go. He apparently played 26 six games for the Class D Norwich Witches of the Connecticut State League that season and batted .413. By September he was home in Greenville when owner-manager Ab Powell of the Atlanta Colonels of the Southern Association fired Gene Demontreville and recruited Osteen to replace him. According to the Atlanta Constitution, "Osteen is a young player and is said to be a comer. He was used by the New York Americans this year when the team was crippled by the loss of a number of its best men and his work was good throughout."[4] Osteen played in 13 games for Atlanta that year, and had a batting average of .250.

In December 1904, the Indianapolis Indians acquired Osteen to play shortstop. He started off the season in Indianapolis afoul of the law. Indiana had just passed a law prohibiting the smoking of cigarettes, and Champ was one of the first people to be warned under the law. "Osteen was standing at the Imperial Hotel corner the night after the law went into effect, puffing away at a coffin nail, when a big policeman walked up to him and warned him he was breaking the law. 'What law?' asked Champ curtly. 'Now never mind about that,' said the copper. 'You can't smoke cigarettes in this town.' Osteen had better judgment than to have a further argument with the representative of the law. He ambled back into the hotel. 'What law is it if a man can't smoke what he pleases?' asked Osteen of the hotel clerk, relating the his corner experience. He was satisfied when told of the situation."[5] He played in 61 games in Indianapolis that year. Sources also put him with the Springfield Babes for 69 games in 1905, although accounts in both the Washington Times and Sporting Life indicate that Springfield did not acquire him from Indianapolis until January or February of 1906.[6]

During the spring of 1906, Champ was the baseball coach at Furman University in Greenville. He then went to play third base for Springfield. During the next offseason, Sporting Life reported that he had gone into the meat business in Piedmont, South Carolina, but he was back with Springfield in 1907. That year he played shortstop on the pennant-winning team, and had a stellar batting average of .333.

If you believe everything you read in Sporting Life, the offseason between 1907 and 1908 was a really confusing time in Osteen's career. On October 26, 1907, it was reported that the White Sox had acquired him. Then, on February 1, 1908, reports were that Osteen had signed a contract with Washington. On February 28 Charles Comiskey, owner of the White Sox, supposedly turned down an offer for him from South Bend. Whatever the truth of these various rumors, Champ was with the White Sox during spring training, but Fort Wayne manager Claude Varnell offered "a big bunch of kopecs" for him, with the intention of giving local fans "the real thing in the baseball line this season."[7] The Fort Wayne News was particularly impressed with Champ's batting record, bragging that he had led the American Association, and the Eastern, Southern, Central and Three-I leagues in batting during his minor-league career.

There was great joy when Osteen arrived in Fort Wayne, because he was "a personal favorite among the players … and gives his former teammates additional energy of the pennant-winning breed."[8] He batted .242 in 137 games for Fort Wayne before being acquired by the St. Louis Cardinals midway through September. At the time Sporting Life noted, "Champ is always picked up by a big league club in the fall, and just as regularly goes back to that dear Central League in the spring."[9]

Osteen was still with the Cardinals in the spring of 1909, when the Washington Herald published this brief summary of his career: "Champ Osteen, the leading candidate for the shortstop job with the St. Louis Cardinals, holds an unusual record. He has been in the major leagues four times, but has spent only one full season in the big smoke. He first played with Washington, then was shifted to the New York Highlanders. He was then sold to Indianapolis and went from there to the Central League. Then he was drafted a couple of times by the White Sox, but sent back every time. Last fall the St. Louis club was attracted by his sensational fielding, and put in a draft for him. He has always been a consistent hitter."[10]

Osteen appeared for the last of his 83 games in the majors with St. Louis on May 3, 1909. The most major-league games he played in a season was 29 with St. Louis in 1908, and he played 28 with the Highlanders in 1904. His batting average at the top level was low and almost eerily consistent: .200 in 1903, .196 in 1904, .196 in 1908, and .200 in 1909. His slugging percentage over those four seasons was .276. In the field he played 51 games at shortstop, with 29 outings at third base and the rest at first.

In mid-May of 1909, Champ was handed over to the Montgomery Climbers of the Southern Association. He played 111 games with them that year and batted .246. He was with the Climbers again in 1910, but in a game against Mobile on April 30, he caught his leg on the bag while attempting to steal second, and broke his ankle.[11]

He returned to his family in Williamston, South Carolina. When the Climbers tried to recall him in August, he was still not ready to play.

Champ was fit for action again in 1911, and started off the season in Montgomery. On June 18 the Atlanta Constitution reported that the Brooklyn Dodgers had purchased him from Montgomery, but the deal fell through, and instead he went to the Mobile Gulls. In late July, the Dallas Giants acquired him from Mobile. According to the El Paso Herald, "Once upon a time Heine Maag was playing bum ball for Dallas. Also Champ Osteen was playing badly for Mobile in the Southern League. So they swapped. Now both players are making records. Wonderful what a change will sometimes do."[12] He both played and managed in Dallas that year, batting .306.

On November 12, 1911, the Galveston Daily News reported that the Giants had released Osteen to Charlotte to serve as their manager in return for first pick of the Charlotte team for 1912. He was with Charlotte for 1912, but asked for his release from the team in April 1913.[13] During the remainder of that season, he played for the Durham Bulls and the Asheville Mountaineers. By July 1914, he had succeeded Doug Harbison as manager of the Columbia Comers team in the South Atlantic League. Although Joanne Osteen Carlisle wrote that he also played for the Montgomery Rebels and the Durham Bulls in 1914 and with Chattanooga and Columbia in 1915, there is no independent corroboration of this. This was the end of Osteen's Organized Baseball career. In his 13 recorded years in the minors, he played in more than 1,400 games, spending all or part of six seasons in Class A ball, six seasons in Class B, one season in Class C, and three seasons in Class D. His career batting average in the minor leagues was .293.

After he retired from playing, Osteen spent a number of years umpiring textile-league games across the South. In 1918, when he registered for the draft, he was living in Piedmont, South Carolina, and working as a blacksmith at the Piedmont Manufacturing Company. By 1920 he, Minnie, and children Elsie, Elva May, Gladys, Varnell, Harry, Daisy, Mary, and Janie were living in Greenville. They were still in Greenville in 1930. Champ was still working as a blacksmith, and they had two additional children, Joe (9 years old in 1930) and Jack (5). Elsie, Elva, Harry, and Daisy were working in the textile mills. Champ himself later worked as an assistant jailer at the Hudson Street Stockade in Greenville, a job he held until his retirement in 1957.

Osteen never lost his interest in baseball. Joanne Osteen Carlisle remembered that he taught all of his children, including his seven daughters, to play baseball, and that most of his grandchildren and great-grandchildren could play with a baseball by the time they could walk. Thomas Perry, in his book Textile League Baseball, indicates that he even organized a girls' baseball team, the "Daughters of the American Baseball Revolution," around his daughters.

Champ liked to reminisce about his playing days, comparing them to the less rough-and-tumble era that followed. He described early baseball as "a game where no quarter was asked nor given, where sharp spikes, open wounds and tobacco juice were items of the trade." He always said that the game of the 1940s and 1950s was "for spoiled stars who, on the whole, cried and complained better than they played."[14] What would he think of the game now? Champ Osteen died in Greenville on December 14, 1962, at the age of 85, a year and a half after his wife, Minnie. They are buried in Rose Hill Cemetery in Piedmont, South Carolina.

June 1, 2011

Sources

Ancestry.com (1880, 1910, 1920 and 1930 US census records and draft registration card)

Baseball-Reference.com

Retrosheet.org

www.la84foundation.org (Sporting Life online)
---