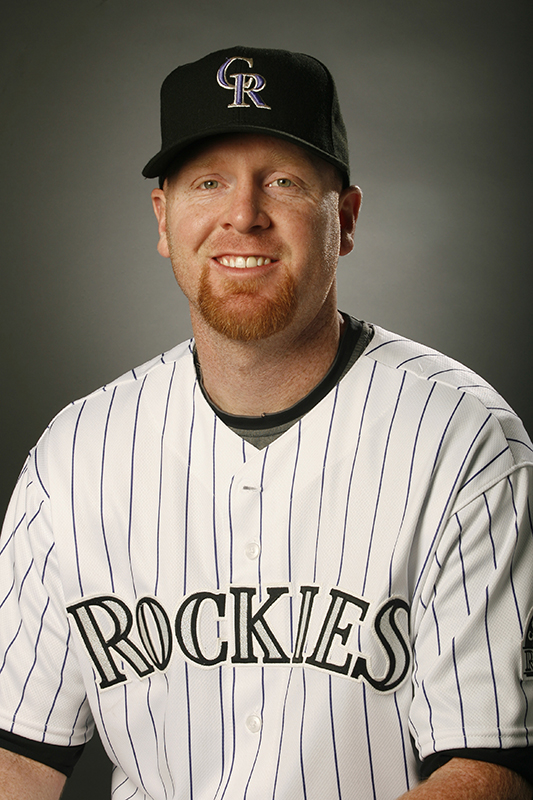 ---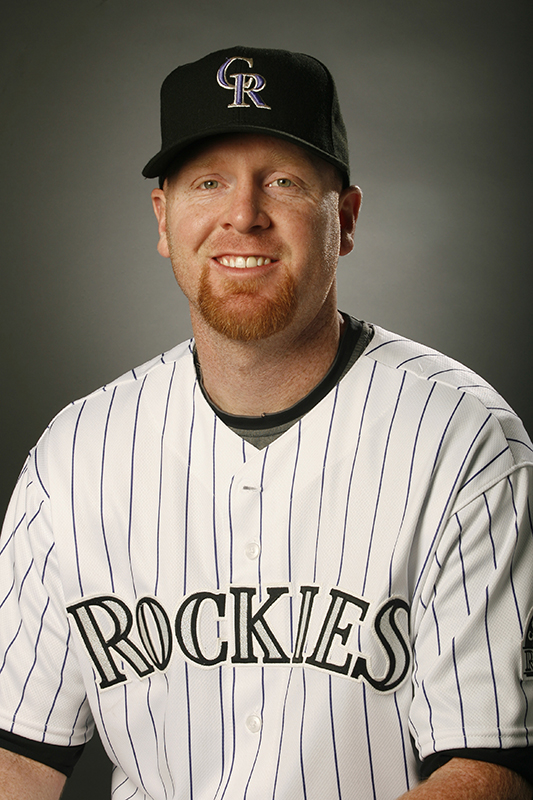 Sometimes, let's say most of the time, knowing exactly what we want out of life is the key to making it happen. Aaron Lane Cook, born February 8, 1979, at Fort Campbell, Kentucky, was asked in the eighth grade to fill out a questionnaire on what he wanted to do when he grew up.
"My teacher didn't understand," Cook recalled. "She said, 'You can't do that, you have to do something serious.' I said, 'I want to be a professional baseball player.'"1
Cook grew up in Hamilton, Ohio, where his father worked in the local paper mill. Garry Cook, Aaron's father, offered support to his son by coaching his teams as often as he could. Garry mentioned a pivotal moment when young Aaron was one out away from defeating the New England Mariners at a national AAU tournament in Des Moines, Iowa, "Aaron motioned for me to come out to the mound. Keep in mind he was just 13. I thought he wanted me to take him out. Instead, he said 'I just need a minute here to calm down.' On the way back to the dugout, I thought, 'He's actually got a chance to do something big with baseball."2 Aaron added, appreciatively, "He was always there for me. He never missed a tournament or anything until I was 16. He helped me chase my dreams."3
Aaron's mother, Veronica, left when he was 15, after a divorce. Aaron's best friend growing up was Curtus Moak. As Patrick Saunders wrote, "Cook and Moak competed against each other in Little League before becoming best friends the summer before their sophomore year at Hamilton High. Because Cook's house was far out of town, he often spent the night at Moak's house. 'We'd sleep in these bunk beds and we'd talk for hours,' Moak recalled. 'We became like brothers. My mom became his second mom.'"4
The two Hamilton High teammates helped lead the team to two statewide baseball titles. Moak, a left-handed pitcher, later played for the University of Cincinnati and in 2001 was drafted in the 25th round by the Cincinnati Reds. He played four years in the minors, but never rose as high as Double A.
As a young teenager, Cook threw a fastball in the low 80s. By the time he was 18 years old he had harnessed a 90-mph fastball with exceptional control. On June 3, 1997, the high-school senior was drafted by the Colorado Rockies in the second round of the amateur draft. He grew to 6-feet-3 and was listed at 215 pounds.
The Rockies placed Cook in Mesa, pitching Rookie-league ball in the Arizona League; he was 1-3 in 46 innings of work, with a 3.13 earned-run average. He devoted five years to development before rising as high as Double A. In 1998 he was with the Portland Rockies (Northwest League), and in 1999 he pitched ball for the Asheville Tourists in the Class-A South Atlantic League. There he might have felt discouraged, winning only four games against 12 losses and with an ERA of 6.44. Asheville finished in last place in the six-team league. But Cook kept working, trying to hone his craft.
In 2000, his second year with Asheville, he began to turn things around and, though the Tourists still had a losing record at 66-69, Cook improved dramatically in his control, converting his 1.74 strikeouts/walks ratio to 5.13, halving his walks to 23 while striking out 118. His ERA dropped to 2.96 and he was 10-7 in wins and losses. He spent part of the season in high A ball, pitching for Salem (Virginia) Avalanche in the Carolina League. He was overmatched (1-6, 5.44), but once more he improved with experience, and in 2001 he started 27 games for Salem and worked to a 3.08 ERA. He was 11-11 for the 70-68 Avalanche.
In 2002 Cook climbed the ladder rapidly. First, in Raleigh with the Double-A Southern League's Carolina Mudcats, he was 7-2 (1.42); and then in Triple A with the Pacific Coast League Colorado Springs Sky Sox, he held his own (4-4, 3.78).
Cook got the call to come to the big leagues. On August 10, 2002, at age 23, he made his debut for the Rockies against the Chicago Cubs. After five innings, the Cubs were winning 14-1, and manager Clint Hurdle called on Cook as the third of five Rockies pitchers that day. The first batter he faced was Cubs left fielder Moises Alou, who homered to make it 15-1, but Cook retired the next three batters. He also worked the top of the seventh, giving up a leadoff single but then getting the next three batters. On August 26 he was given his first start, against the visiting San Francisco Giants, and acquitted himself well enough, working six innings while giving up three runs, in a game the Rockies ultimately lost. Cook gave up three runs again, working seven innings in San Diego in his second start, but lost his first decision; the Rockies were shut out, 3-0. Cook then won back-to-back starts, against the Padres in Denver and the Astros in Houston. He finished the season appearing in nine games, five of them starts, with a record of 2-1 and a 4.54 ERA in 35⅔ innings.5
In both 2003 and 2004, Cook spent some time on Interstate 25 traveling the hour or so between Colorado Springs and Denver and working for both teams, though the lion's share of his time was with the big-league club in 2003, when he pitched in 43 games, 16 of them starts. Cook's ERA was a disappointing 6.02 and his final record 4-6, but the Rockies kept the faith.
By the 2004 season, Cook had developed full trust in his sinkerball, one he worked diligently to develop with Rockies minor-league pitching coach Bryn Smith.6 His sinker developed from his straight fastball. Eventually, a conventional grip of two fingers on both seams was tweaked and became one finger across one seam to become his signature sinkerball.
Bob McClure of the Rockies' minor-league pitching staff taught Cook that contact was OK. "One thing I give Bob McClure credit for is teaching me how to pitch to contact and trusting that I can get guys out with groundballs," said Cook. "Swings and misses, for me, are more of a timely thing – certain situations with guys on, less than two outs, less than one out, that's the time I really try to go for the strikeouts. But other than that, I really try to make guys mis-hit the ball, hit pitches that I'm trying to make."7 Once Cook trusted contact, he went from throwing 110-115 pitches per game to around 80. His sinkerball technique in combination with a pitch flying at upward of 90 mph made his pitches unhittable.
After beating the Diamondbacks with a complete-game 10-2 win on August 1, 2004, Cook was feeling good about himself; he was 25 years old and seeing the fruits of his technique training. Six days later, on August 7, Cook took the mound against the Cincinnati Reds at Coors Field. After three innings, 10 batters and five hits, Cook complained of dizziness and shortness of breath. He left the mound and was taken to Rose Medical Center, where he was diagnosed with pulmonary embolisms, a sudden blockage of the arteries, in both lungs. Doctors, medics, and the Rockies medical team all told Cook later that it was a miracle he was alive. Indeed, he told the Boston Globe's Nick Cafardo several years later, "I had the paramedic and doctor telling me as I was lying on the stretcher that I should be dead," Cook recalled. "At that point, I'm fighting for my life. I wasn't thinking about baseball. I was thinking about my family and my health and whether I was going to make it."8
Cook had essentially gone from the peak of his young career to a debilitating condition. "I had experienced trouble breathing for a couple of days before that start," Cook said. "I don't think I could have thrown another pitch in the game."9 The clots originated near his first rib, constricting flow against his collarbone. He had two surgeries; his top rib was removed to correct the problem that was causing the clots. After rehabilitation lasting the better part of a year, Cook got back to baseball.
It was a bit of a slog to get back in the big leagues after recovery, and in 2005, Cook pitched for four minor-league teams. First he pitched in two games for the Tri-City Dust Devils (Pasco, Washington) of the Northwest League. Then he advanced to the Modesto Nuts (Class-A California League) for one game, then on to the Double-A Tulsa Drillers for one game, then to the Triple-A Sky Sox in Colorado Springs for three games. In late July he was deemed ready for the Rockies.
Cook was activated from the disabled list in time to start on July 30 at Coors Field against the visiting Phillies. It did not go well; he was hit for seven runs, all earned, in 4⅓ innings. But he had made his way back to big-league baseball and was pitching from a major-league mound. Next time out, on August 5, he yielded only one run in six innings. Then he won six games in a row. He took one more loss, and then added another win. By the end of his half-season, Cook was 7-2 with an ERA of 3.67. It was a remarkable recovery after a near-fatal illness.
Bob Apodaca, the Rockies' pitching coach, commented on Cook's dedication after his surgeries: "I think that changed him. … Any success he is getting now is the result of pure hard work. Before, I think he did rely on pure ability. I think that's why we would scratch our head and wonder, what kind of pitcher he would be? Now we don't have to wonder any more. He's shown us."10
In January 2006 Cook was given the Tony Conigliaro Award for his quick comeback and dedication to the game. The day after receiving the award, he signed a two- year, $4.55 million contract with the Rockies.
Cook had 32 starts in 2006, winning nine and losing 15 with a 4.23 ERA. That he had worked 212⅔ innings was a testament to his having regained full health.
In 2007 Cook worked a full load through August 10, when he suffered an oblique injury that kept him out for the rest of the regular season. He was 8-7, 4.12.That was the year the Rockies caught fire and won 14 of their last 15 games, earning them a wild-card slot in the postseason. Cook was not on the postseason roster for either the Division Series, which they swept in three games from the Phillies, or for the NLCS, which they swept in four from the Arizona Diamondbacks. With the back-to-back sweeps, the team had now won 21 of its last 22 games and was headed to the World Series against the Boston Red Sox. Cook was with the team in Phoenix and enjoyed the champagne the Rockies sprayed on one another.
Cook was activated for the World Series, and he started Game Four at Coors Field. The pendulum of sweeps had started to go the other way, with Boston taking the first three games of the World Series and on the brink of a sweep if Cook couldn't stop them. It could hardly have been a more emotional time for a return. Rockies manager Clint Hurdle said, "The opportunity to tell him, 'You're going to get the ball in Game Four' was very special. And it was meaningful, but again, for all the right reasons. If it was about sentiment, he would have pitched in the NLCS, and he understood that." For his part, Cook said, "I feel ready to go. I feel as strong as ever."11
Game Four was, as the New York Times observed, "a duel of survivors. [Red Sox pitcher Jon] Lester fought his way back after offseason treatment for lymphoma, and Colorado's Aaron Cook once missed almost a year with blood clots in both lungs."12
Both pitched good games. Cook gave up a leadoff double to Jacoby Ellsbury, who moved to third base on a grounder by Dustin Pedroia, then scored when David Ortiz singled to right field. In the top of the fifth, the score still 1-0, Mike Lowell doubled to lead off and Jason Varitek singled him in. Lowell homered leading off the seventh, making it 3-0 Red Sox, and Hurdle brought in Jeremy Affeldt to take over from Cook. Lester had departed after 5⅔ innings. The Rockies came back with a run in the bottom of the seventh. Boston's Bobby Kielty pinch-hit for Mike Timlin in the top of the eighth and homered, so when the Rockies got two more in the bottom of the eighth, they still trailed, 4-3, and that was the final score. Cook bore the loss.
Cook had his winningest season in 2008. He was 11-5 through July 1, and had won six consecutive starts from April 13 to May 9. Cook was named to the National League All-Star team. He pitched three scoreless innings, the 10th, 11th, and 12th. In the 10th he faced a bases-loaded situation with no outs after second baseman Dan Uggla made back-to-back errors, and Carlos Guillen was walked intentionally. Cook worked his way out of the jam, inducing three groundouts, the first two resulting in forces at home. It was said that he could have been named the game's MVP had the National League won,13 but AL prevailed in 15 innings, 4-3.
Cook finished the 2008 season 16-9 (3.96). In 2009 he was 11-6 in 27 starts with a 4.16 ERA. He had also enjoyed the day on May 29 when he attended the dedication of a "Field of Dreams" baseball complex in Windsor, Colorado, a facility for which he had been a major donor.14
In 2009 Cook had another opportunity to play postseason baseball. The Rockies were the wild-card team again after Clint Hurdle (18-28) was replaced as manager by Jim Tracy (74-42). They faced the Phillies in the Division Series, and Cook started and won Game Two, 5-4, giving up three runs in five-plus innings of work. All three runs scored in the top of the sixth, when he allowed two singles and a double without securing an out. The two runners inherited by reliever Jose Contreras both scored, but then the bleeding was stopped and Cook got the win, the only game Colorado won in the NLDS.
In 2010 Cook started 23 games and was 6-8 (5.08), while in 2011 he had another subpar year (3-10, 6.03), his most disappointing year, after accidentally breaking his index finger in a screen door during spring training. He said, "I couldn't pick up a baseball for four weeks after I broke my finger."15
The Rockies granted Cook free agency after the season. With the Rockies he had been 72-68 over the course of 10 seasons, as of 2016 second only to Jorge de la Rosa in wins among Rockies pitchers.
The Red Sox took a chance on Cook, signing him to a minor-league deal in early January 2012. The incoming Red Sox pitching coach was Bob McClure, who had tutored Cook as Cook was ascending through the minors.
After arriving in Boston, he spoke about receiving the Tony Conigliaro Award. "It was an honor to be recognized for what had happened to me and that I was able to overcome what happened to me to resume my career," Cook said. "I grew up in church, and what happened to me renewed my faith in the Lord. He got me through a challenging time in my life, and the whole experience made me stronger as a person. It's allowed me to put everything in perspective. I know what's important. I know better what things I need to worry about and what things I have no control over. But it's made me stronger. No doubt about that."16
With the Red Sox Cook was 4-11, 5.65, pitching in only three games before July 4. He was 3-0 in Triple-A Pawtucket, but working in the majors in what proved to be his last season in the big leagues was difficult. In his four wins combined, he allowed a total of only four earned runs, but the rest of the time he was challenged.
A free agent after the season, Cook signed with the Phillies for 2013, but was released in spring training and later signed a minor-league contract with the Rockies. With Colorado Springs he added a cutter to his repertoire, but finished 0-5 with an 8.15 ERA.
In 2014, as a free agent, Cook decided to put a hold on his career, recuperate from repeated instances of severe inflammation in his elbow, and focus on getting himself in front of major-league teams for the 2015 season. He was unable to find a team willing to take a chance.
Longtime friendships and strong faith have supported Cook. A longtime member of the Hamilton Christian Center,17 he met his wife, Holly there, and counted as one of his best friends Curtus Moak, youth pastor at the church.18
Cook and Holly have three children – daughter Alexis and sons Elijah and Colton. When he realized in 2013 that retirement might be in his future, he said, "I'd be a better dad with my summers open."19
Last revised: January 5, 2018
This biography originally appeared in "Overcoming Adversity: The Tony Conigliaro Award" (SABR, 2017), edited by Bill Nowlin and Clayton Trutor. It also appears in "Major League Baseball A Mile High: The First Quarter Century of the Colorado Rockies" (SABR, 2018), edited by Bill Nowlin and Paul T. Parker.

Sources
In addition to the sources mentioned in the Notes, the authors also consulted baseball-almanac.com and baseball-reference.com.
Joy dedicates this article to her father, Gary, born with cerebral palsy in the 1940s, long before he could benefit from the Americans with Disabilities Act; the ADA specifies that students with disabilities must have the same opportunities to participate in sports and activities as anyone else.
Notes
1 Patrick Saunders, "Aaron Cook: Midwestern Success Story," Denver Post, July 12, 2008.
2 Ibid.
3 Ibid.
4 Ibid.
5 Baseball-almanac.com, Aaron Cook 2002 Game-by-Game Pitching Logs.
6 Alex Speier, "Outlier: Why Aaron Cook Is a Pitcher Like Few Others," WEEI.com, May 5, 2012. weei.com/sports/boston/baseball/red-sox/alex-speier/2012/05/05/outlier-why-aaron-cook-pitcher-few-others.
7 Ibid.
8 Nick Cafardo, "Cook's Story Is Stirring," Boston Globe, March 1, 2012: C1.
9 Irv Moss, "Colorado Classics: Aaron Cook, Colorado Rockies' Winningest Pitcher," Denver Post, May 28, 2013.
10 Saunders.
11 John Powers, "Game 4 Is on Cook's Menu," Boston Globe, October 28, 2007: F7.
12 Tyler Kepner. "Red Sox Coronation," New York Times, October 29, 2007: D1.
13 "National League All-Stars vs. American League All-Stars," ESPN, July 15, 2008.
14 Colorado Rockies press release, May 27, 2009.
15 Cafardo.
16 Ibid.
17Associated Press, "Blood Clots Unable to Block Cook's Faith," ESPN, July 29, 2005. espn.com/espn/wire/_/section/mlb/id/2119671
18 Ibid.
19 Moss.
Born
February 8, 1979 at Fort Campbell, KY (USA)
If you can help us improve this player's biography, contact us.
https://sabr.org/sites/default/files/CookAaron.jpg
600
800
admin
/wp-content/uploads/2020/02/sabr_logo.png
admin
2017-01-19 15:14:34
2017-01-19 15:14:34
Aaron Cook