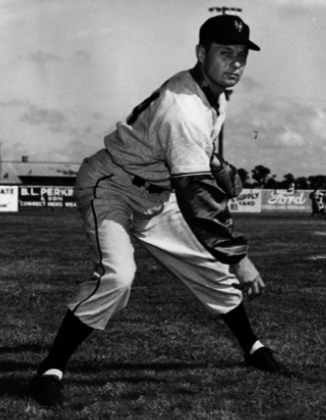 ---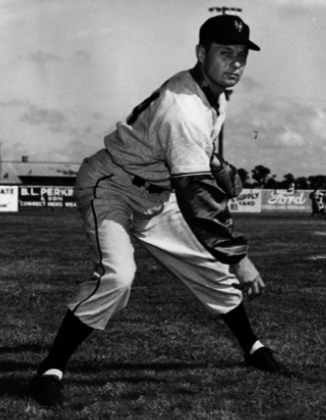 Al "Two Gun" Gettel pitched in 184 major-league games over the course of seven seasons between 1945 and 1955. The 6-foot-3 right-hander was frequently traded or sold during his career, pitching for six franchises: the New York Yankees (1945-1946), the Cleveland Indians (1947-1948), the Chicago White Sox (1948-1949), the Washington Senators (1949), the New York Giants (1951), and the St Louis Cardinals (1955). Nicknamed "Two Gun" late in his career for his appearances in several television and movie Westerns, Gettel was a standout in the Pacific Coast League during a long tenure with the Oakland Oaks (1949-1955) and a brief stint with the San Diego Padres (1956). He also excelled during his one offseason pitching in the Cuban Winter League for the pennant-winning Habana Baseball Club (1952-1953). Altogether Gettel pitched in professional baseball for 22 seasons, beginning in 1936 for his hometown Norfolk Tars of the Piedmont League and finishing his career at the age of 41 with the Asheville Tourists of the Sally League in 1959, after a two-year absence from Organized Baseball.
In recent years Gettel gained notoriety from a quote he gave to Joshua Prager of the Wall Street Journal in 2001 for a 50th-anniversary retrospective on the 1951 New York Giants and their remarkable turnaround in the second half of the season that culminated with Bobby Thomson's "Shot Heard 'Round The World," a walk-off three-run home run off the Brooklyn Dodgers' Ralph Branca that clinched the pennant for the Giants.1 Gettel spent the majority of the 1951 season with the Giants before being sold back to the Oakland Oaks in August. He appeared in 30 games for the Giants, primarily as a relief pitcher, and posted a 1-2 record with a lackluster 4.87 ERA. In his 2001 interview with Prager, Gettel said that the Giants had been stealing signs from opposing catchers since the middle of the 1951 season, employing an elaborate system that included a telescope, a buzzer system, and hand signs relayed from the bullpen to alert Giants batters about what to expect on an impending pitch. "Every hitter knew what was coming," the then 83-year-old Gettel told Prager, and that knowledge "made a big difference."
Gettel's quote on the 1951 Giants' sign-stealing was corroborated by teammates Sal Yvars and Hall of Famer Monte Irvin, both of whom were on the Giants' roster throughout the season. In the Wall Street Journal piece, Prager asserted that Bobby Thomson's pennant-winning home run was in part the product of the Giants' sign-stealing and capped off a half-season's worth of spying on opposing pitchers organized by manager Leo Durocher.2 The Wall Street Journal's article on the 1951 Giants was the first time that a journalist was able to get anyone from the team to affirm on the record that the Giants had stolen signs during the season. In 1962 a member of the 1951 Giants had been quoted anonymously in an Associated Press story as saying that the Giants had stolen signs from the Dodgers during their pennant-deciding three-game playoff series, including on the fateful pitch from Ralph Branca to Thomson.3
Allen Jones Gettel was born in Norfolk, Virginia, on September 17, 1917, to Edward A. and Sarah F. (Jones) Gettel. He was raised on the farm of his maternal grandfather, Nathaniel Jones, in Kempsville, Virginia, in rural Princess Anne County just outside the city of Virginia Beach. Gettel attended Kempsville High School and was signed as an 18-year-old by the New York Yankees in 1936. The Yankees assigned the young right-hander to their Class B Piedmont League affiliate in Norfolk. Over the next nine seasons, Gettel pitched successfully for seven different Yankees minor-league affiliates, garnering at least a .500 winning percentage in every season except his 1936 rookie year, when he was 0-1. A pitcher with as accomplished a minor-league pitching record as Gettel's 93-64 (101-70 from 1936 through 1944) would have almost certainly gotten an opportunity at the major-league level in any other organization, but cracking the big-league roster of the Yankees during their late 1930s and early 1940s dynasty was an almost uniquely difficult task. The Joe McCarthy-era dynamic Yankees lineup of hitters was complemented by a pitching staff that included the likes of Red Ruffing, Lefty Gomez, Johnny Murphy, Monte Pearson, Spud Chandler, Atley Donald, and Tiny Bonham.
The Yankees and their manager, Joe McCarthy, finally gave Gettel an opportunity to pitch in the major leagues in 1945. The pitching staff had been severely depleted during the 1944-1945 offseason by the draft call-ups of several pitchers.4 McCarthy employed the 27-year-old rookie as a starter and middle reliever on a fourth-place Yankees team that finished 6½ games behind Detroit. Gettel had a solid rookie year, compiling a 9-8 record with a 3.90 ERA. He displayed his characteristic control on the mound in 1945, walking a mere 53 hitters in 154⅔ innings.5 In 1946 Gettel continued to take advantage of his opportunity at the major-league level, posting a strong 2.90 ERA with a tough-luck 6-7 record in 11 starts and 26 total appearances on a Yankees team in transition.
Gettel's ascension to the Yankees came at a time of regime change for the organization. In January 1945 the estate of Jacob Ruppert sold the club to Dan Topping, Del Webb, and Larry MacPhail. Sixteen months later, in May 1946, manager Joe McCarthy resigned because of poor health and pressure from the new owners to return the Yankees to the top of the American League standings.
The Yankees traded Gettel to the Cleveland Indians in December 1946 as part of a five-player deal that brought rookie catcher Sherm Lollar, later an All-Star with the Chicago White Sox, and former All-Star and longtime Tribe second baseman Ray Mack to New York. In addition to Gettel, the Bill Veeck-owned Indians also acquired right fielder and frequent pinch-hitter Hal Peck and left-handed pitcher Gene Bearden, who went on to become a 20-game winner for the Tribe in their 1948 world championship season. Gettel put together what was arguably his best major-league season for the much-improved 1947 Indians, who earned a fourth-place 80-74 finish one season after finishing 68-86, in sixth place, 36 games behind the 1946 pennant winners, the Boston Red Sox. Gettel became the Indians' number-four starter during the 1947 season, garnering an 11-10 record with a 3.20 ERA. He rolled off five consecutive wins in August 1947, which drew the notice of The Sporting News, which asserted that Gettel had earned a spot in the 1948 rotation with his impressive performance. Never a power pitcher, Gettel excelled during the 1947 season with his excellent control of several off-speed and breaking pitches.6
The 1948 season proved to be a much different one for Gettel. The 30-year-old pitcher got off to a rough start for the upstart 1948 Indians, who found themselves one game out of first place on Memorial Day. In five appearances, he had a 0-1 record with a 17.61 ERA. He started two games and lasted a combined total of four innings, surrendering eight earned runs. On June 2 the Indians dealt Gettel and outfielder Pat Seerey to the White Sox for outfielder Bob Kennedy. Gettel continued to slump in June and July 1948 for the soon-to-be 101-loss White Sox, who used him primarily as a starter. On August 1 Gettel's record stood at 2-7 with a much improved, though hardly impressive, 6.13 ERA. In the final months of the season, Gettel turned things around considerably, winning six of his last ten decisions and finishing with an 8-11 mark and a 4.01 ERA.7 Gettel got his only career opportunity to field a position other than pitcher on July 22, 1948, filling in at second base for four innings following the ejection of Cass Michaels in the second game of a doubleheader against the Red Sox. Gettel handled all three of his fielding opportunities cleanly and earned three assists in a 5-3 defeat.8 Gettel's baseball talents off the mound also included unusual skill at the plate for a pitcher. He compiled a .228 career batting average.
During the 1949 season, Gettel struggled as both a starter and a middle reliever for the White Sox before being sold to the Washington Senators on July 12. His difficulties on the mound continued and Washington sold him to the Oakland Oaks of the Pacific Coast League on August 15. At that time he had a 2-7 record and an unhealthy 6.08 ERA.
In Oakland Gettel found his longest and most successful home as a player. He excelled against the Triple-A competition, going 4-0 with a 3.62 ERA in 12 appearances for the Oaks in the waning days of the 1949 season. He re-signed with the Oaks for the 1950 season and enjoyed his most successful season as a professional pitcher. Gettel went 23-7 with a 3.62 ERA for the PCL champion Oaks, earning him the first of his three spots on the PCL All-Star Team.
Gettel's success in the Pacific Coast League drew the attention of the New York Giants, who acquired him from the Oaks in a six-player deal in October 1950. Though an ace in the PCL, Gettel proved unable to match that success in his return to the major leagues. He appeared in 30 games for the Giants, all but one as a reliever, and posted an ERA close to 5.00 with a record of 1-2. In late July 1951, the Giants sold Gettel back to the Oaks, where he resumed his successful career in the PCL. Gettel led the Oaks in wins in 1952 and 1953, tying the franchise record with 24 the latter season.9 Between 1949 and 1955, Gettel won 101 games for the Oaks and became one of their most popular players. The Oaks won two league championships during Gettel's tenure with the team (1950, 1954).10
Gettel pursued a career as an actor during his years in the Pacific Coast League, appearing in several television and movie Westerns. He received the nickname "Two Gun" from his teammates in Oakland during the 1953 season when he earned a screen test with Paramount Pictures.11 Gettel was a skilled horseman who fostered the public persona of a cowboy by several times riding out to the mound on his palomino for the first inning.12 His best known work as an actor included an appearance as a villainous cowboy on the television show Steve Donovan, Western Marshal (1955) and a brief role in the Henry Fonda-Anthony Perkins Western Tin Star (1957).13
In 1955, at the age of 37, Gettel had his final major-league stint, with the St. Louis Cardinals, who had purchased him from the Oaks. He went 1-0 with an ERA of 9.00 in eight appearances in August and September. Gettel finished his major-league career with a 38-45 record and a 4.28 ERA. He played his last season in the Pacific Coast League in 1956 with the San Diego Padres. Gettel then worked briefly as a coach for Oakland and continued to pursue an acting career. He returned to professional baseball briefly in 1959, pitching in five games for the Asheville Tourists of the Sally League. After his baseball career he returned to his family farm in Kempsville, Virginia. In addition to farming, he operated a machine shop and worked in construction.14 Gettel died on April 8, 2005, in Norfolk, Virginia, at the age of 87. He is buried in the Emmanuel Episcopal Church Cemetery in Kempsville (now incorporated into the city of Virginia Beach).
This biography appears in "The Team That Time Won't Forget: The 1951 New York Giants" (SABR, 2015), edited by Bill Nowlin and C. Paul Rogers III. It also was published in "From Spring Training to Screen Test: Baseball Players Turned Actors" (SABR, 2018), edited by Rob Edelman and Bill Nowlin.
Sources
Los Angeles Times
New York Sun
New York Times
The Sporting News
Wall Street Journal
Baseball-Reference.com
FindAGrave.com
Notes
Born
September 17, 1917 at Norfolk, VA (USA)
Died
April 8, 2005 at Norfolk, VA (USA)
If you can help us improve this player's biography, contact us.
https://sabr.org/sites/default/files/GettelAl.png
600
800
admin
/wp-content/uploads/2020/02/sabr_logo.png
admin
2012-01-04 20:31:37
2021-09-26 15:04:56
Al Gettel