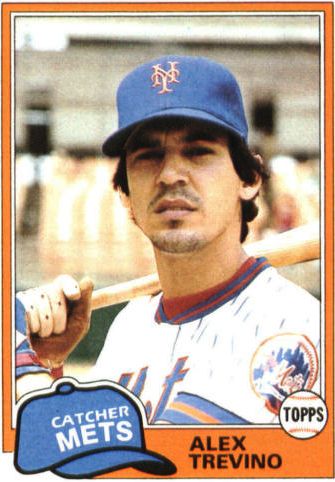 ---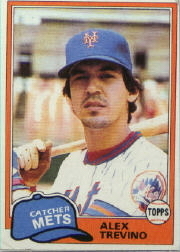 This wiry catcher didn't have much power, but his agility, strong arm, and knowledge kept him employed behind the plate for more than two decades. Turning pro as a youth of 15 in 1973, Alex played in 939 major-league games with five teams from 1978 to 1990. He ran well enough to serve as a spare infielder and outfielder — even playing a little second base, a rarity for catchers. After his big-league career wound down, Treviño stuck around in the minors and his native Mexico for another five years. Since 1997, he has served as color man on the Spanish radio network of the Houston Astros. He is living up to what he told his parents as a small boy: "I would love to be in baseball the rest of my life…my whole life."1
And don't forget that tilde! Treviño insisted that the little Spanish squiggle (~) be sewn on his uniform, a major-league first.2 The late New York Mets announcer Bob Murphy took delight in drawing out the name's proper pronunciation: Tre-vee-nyo.
Alejandro Treviño Castro was born on August 26, 1957, in Monterrey, Mexico. Starting in the early 20th century, this industrial city in the northeastern state of Nuevo León became one of the bastions of Mexican baseball. Monterrey has had a franchise in the Mexican League since 1939, and the Mexican Baseball Hall of Fame is located there too. In August 1996, the San Diego Padres played a three-game series at Estadio Monterrey against the Mets, and they returned for Opening Day 1999 against the Colorado Rockies.
Treviño's family mother was Aurora Castro Mata. His father, Carlos Treviño Támez was an umpire and boxer who supported his children in whatever they chose to play.3 Alex was the seventh of the 10 Treviño children. The oldest was Carlos "Bobby" Treviño; the others were Jorge Alberto, Santiago, María Aurora, María Elena, Héctor, Gerardo, Ricardo, and María Josefina. Carlos, who is 14 years senior to Alex, was the catcher for the Monterrey team that won the Little League World Series for the second straight time in 1958. The squad starred future big-league shortstop Héctor Torres, then a pitcher.4 Carlos first appeared in the Mexican League for the Diablos Rojos of Mexico City in 1964, but spent most of that season and 1965 with their farm club in San Luis Potosí.5 After hitting .336 in 1966, the first baseman/outfielder signed with the California Angels that October.
The peak of Carlos Treviño's career was 17 games with the Angels in 1968. Carlos spent one more summer north of the border, going from Triple A to Double A. He still might have gotten another callup that year after tying Ike Boone's Texas League record with a 37-game hitting streak. He lost his chance, though, when California fired manager Bill Rigney in late May.6 Carlos returned home after the '69 season and continued to play in the Mexican summer and winter leagues through 1979.
His big brother's success helped, but little "Cando" Treviño (short for Alejandro) always loved baseball anyway. In a 1981 interview with journalist Milton Richman, he remembered getting his first uniform at the age of five — "the color was red and white." He also recalled watching the World Series for the first time a couple of years later, in 1964. He was impressed by Bob Gibson because he was a pitcher then.7
At the age of 10, Alex played Little League for a team in his neighborhood, Colonia Cuauhtémoc, in San Nicolás de los Garza (a city adjoining Monterrey). He went on to play Pony League. Although he was a shortstop, the coach asked him to catch since there was nobody else. "I caught right on," said Treviño.8
In 1972, Monterrey won the Pony League World Series in Washington, Pennsylvania. They were the first non-U.S. champions. At one point Alex faced his future teammate with the Astros, Puerto Rican pitcher Juan Agosto.9 He made the papers several times, notably when he hit two homers to lead Monterrey to a 5-0 win over Lakewood, California.10 In the rubber game of the best-of-three championship series against Honolulu, he hit a leadoff double and scored. The run proved crucial, as the Mexican lads won 3-1 on a two-run homer in the 11th inning. After they returned home, they went to Mexico City to meet with President Luis Echeverría Álvarez.11
On May 16, 1973, Treviño entered pro ball with Ciudad Victoria of the Mexican Center League. The Henequeneros (henequén, or sisal, is a type of agave plant used to make rope, twine, and a tequila-like liquor) were a farm club of the Monterrey Industriales. Although Victoria is in the neighboring state of Tamaulipas, it is still nearly 200 miles southeast of Monterrey. It would be intriguing to know whether Alex had relatives to stay with — and how such a young player was allowed to go pro. At some point he also played semi-pro ball, which may have been in the Fall League of Monterrey.
Alex played in 12 games for Ciudad Victoria, going 6 for 26 (.231) with one double. "I was going to be signed by a Mexican [League] club when I finished my first season, but my brother, Carlos, said no," Treviño told Milton Richman in 1981. "He said 'you don't sign with anyone until a club in the United States offers you a contract.' He said, 'leave it to me,' and I did."12
Nino Escalera, who appeared briefly in the majors in 1954, was a Latin American scout for the Mets from 1966 to 1981. His territory included Mexico. It was most likely Nino who recommended another Mexican catcher, Francisco Estrada, to the Mets in 1970. "Paquín" had played with Carlos Treviño in San Luis Potosí and Mexico City. On May 21, 1974, Alex was sold to the Mets organization.
His first stop in the U.S. was Marion, Virginia, in the Appalachian League (rookie ball). "He was a shortstop then, and Clyde McCullough, one of the Mets' special instructors, felt he could be converted into a first rate catcher. So the switch was made."13 The teenager went just 1 for 16 in 12 games, but he took advantage of his time by learning English. My conjecture is that he was staying with a host family.
Alex returned to Marion the next year and still saw little action, hitting .200 in 60 at-bats in 22 games. Just one hit, a double, went for extra bases. He showed enough, though, to win promotion to Class A in 1976. With Lynchburg in the Carolina League, Treviño still didn't hit much (.201, with no homers and 31 RBIs) in 94 games. Even so, he impressed teammate David Lozano as "one of the best all-around players I played with. [He was a] great catcher with [a] quick release and could play all the infield positions."
Alex went to Wausau in the Midwest League for 1977, and his batting picked up to .237-2-36 in 128 games. He led the league's catchers with 102 assists. Vaulting past Double-A, Treviño joined the Mets' top affiliate, Tidewater, in 1978. There he really improved with the bat, posting marks of .294-5-37.
When the rosters expanded that September, the Mets called him up, and he made his debut in the majors on September 11. At Shea Stadium, he replaced starting catcher John Stearns in the top of the ninth inning in a game that the Chicago Cubs were winning, 9-4. Alex's first at-bat came 12 days later at Shea; pinch-hitting for Roy Lee Jackson, he grounded out to short against Dick Ruthven. His first base hit came in his first start, the second half of a doubleheader at Wrigley Field on September 29. It was an infield single off Mike Krukow.
In spring training 1979, Treviño's ability to play the infield helped him win a roster spot. He got into 79 games with the Mets that year, backing up John Stearns as well as third baseman Richie Hebner. The hard-nosed Stearns praised the rookie to Manager Joe Torre, saying, "This kid is gonna be one helluva catcher. He knows what he's doing back there."14 Torre in turn said that year, "He's got a quick bat. He looks like he'll be able to hit in this league."15
In 1980, Treviño caught more than Stearns (whose season was cut short by a broken finger), though the situation would reverse in '81. Those were dreary years for the club — "we were a little short of talent," he said graciously in 199016 — but Alex was something of a bright spot. From his debut through the end of 1981, he hit .261 (though his slugging percentage was just .303). His throwing was particularly impressive; he nailed 84 of 185 runners who tried to steal against him (45%).
Alex was active behind the plate, unleashing pickoff throws and pouncing quickly on balls. The Mets pitchers also thought he handled them well. "'I like the way he sets up,' said Pat Zachry. 'He gets in there and sets his target…he doesn't try to split the difference with you.'"17 Treviño displayed an excellent work ethic too. "I try to prepare my mind for whatever I'll be asked to do…I say a young player sitting on the bench can learn a lot. I watch the other players as much as I can. Especially the good ones. I watch Gary Carter all the time," he said.18
The backs of Alex's baseball cards mention a couple of other intriguing items. While in New York, he coached a Little League team in Brooklyn. He also attended La Universidad de Nuevo León, where his course of studies was veterinary medicine.
It was in 1980 that Treviño stood up for both linguistic correctness and Hispanic pride. In 1968, the great Mexican-American golfer Lee Trevino, when asked whether there should be a tilde over the 'n' in his name, said, "I've never used it and I never will use it." In typical form, the "Merry Mex" made light of the issue, adding, "If [you] signed as many autographs as I do, [you'd] know I wouldn't have time to sign it that way." 19 "In those days, it was understandable," wrote the San Antonio Express-News in 2004.20 A little over a decade later, Alex felt otherwise.
It was only in 1960 that the Chicago White Sox became the first team in the majors to put names on the back of uniforms. Minnie Miñoso was a member of that team and could have been the first big-leaguer to sport a tilde, but a photo of him holding up his new uniform shows just a plain block N. At least several other major-leaguers with an "ñ" in their name followed Miñoso. César Cedeño and Willie Montañez were the most prominent, but there were also three Peñas (Orlando, Roberto, and Alex's fellow Mexican José) and a Piña (Horacio, another Mexican). The available evidence suggests that they all had to make do with the plain N too.
On February 10, 1982, the Mets sent Treviño, ambidextrous pitcher Greg Harris, and reliever Jim Kern (who never played a game in New York) to the Cincinnati Reds for George Foster. "It's the best thing that has ever happened to me," exclaimed Trevino (who was playing for Hermosillo in the Caribbean Series at the time). "New York is all right, but I would like to play for a winner."21
Dick Wagner, Cincinnati's president, had expressed interest in Alex since 1980. Even then, the great Johnny Bench, his body battered by years of heavy-duty catching, had begun talking about wanting to move to first base or third base.22 In 1981, Bench asked to catch no more than twice a week. He played mostly first base in limited action (he broke his ankle just before the players' strike).
After trading for Treviño, the Reds promptly handed him the starting job. On March 18, Alex married Maritza Silva, whom he had met in New York. The quiet wedding took place in Clearwater, Florida, near the site of the Reds camp in Tampa.23 Near the end of spring training, the Reds sealed their intentions too by trading veteran Joe Nolan (their catcher for much of '81) to Baltimore. Johnny Bench — Alex's idol growing up — had all but completely turned in "the tools of ignorance." He was happy to play third base, which opened up after Cincinnati traded Ray Knight.
Alex sprained his ankle less than a week into the '82 season, though. He missed nine games, and upon his return hit a mild .251 for the year; "weak hitting and erratic throwing loosened his grip on the job midway through the season."24 However, he appeared in a career-high 120 games, and his first big-league homer came that September 14 at Candlestick Park. It was a solo shot off the Giants' Atlee Hammaker.
In 1983, Dann Bilardello became Cincinnati's primary catcher. The team also signed Brad Gulden that November. The following April, the Reds sent Alex to the Atlanta Braves for a player to be named later. (In the end, it turned out to be a reported $50,000 cash paid in July.) After the trade, he remarked, "I feel like I'm just reborn." He split the catching duties with Bruce Benedict that year, but then in April 1985, the Braves dealt him to the Giants even-up for John Rabb. Treviño spent one year in San Francisco backing up Bob Brenly, reaching a career high in homers with six.
That December, though, he was traded once again — to the Dodgers, for Candy Maldonado. In spring training 1986, he said, "It's tough to judge why you move around so much. I came to the conclusion that, one, I was not an All-Star; two, I was wanted by other teams; three, I stay out of trouble, and, four, I wasn't making that much money."25
Alex backed up Mike Scioscia in L.A. during the 1986 and 1987 seasons. It took a couple of months to happen, but when Fernando Valenzuela took the mound on June 13, 1986, he and Treviño formed the first Mexican battery in the majors. "[Manager Tom] Lasorda jokingly said that it was a national holiday in Mexico. But Treviño suspects his native country was preoccupied with other matters. 'They've got the World Cup (soccer),' he said. 'I'm sure they weren't paying much attention. But the Dodgers are Mexico's team.'"26
Alex and Fernando, who had played with and against each other at home, would work together several times more. However, another Mexican tandem would not come together in the big leagues until Gerónimo Gil caught Rodrigo López in 2002. There have been quite a few Mexican pitchers in big-league history, but as of 2010, only five other Mexican-born catchers. Paquín Estrada (one game in 1971) and Sergio Robles (16 games in 1972-73 and 1976) preceded Treviño. Three more arrived after the turn of the 21st century: Gil (2001-2007), Humberto Cota (2001-2007), and Miguel Ojeda (2003-2006).
Treviño was not a member of the 1988 World Series champions because the Dodgers released him in favor of newly signed Rick Dempsey just before Opening Day. Eight days later, the Houston Astros picked him up. He spent a 15-game stretch in the minors — his first in nearly a decade — with Triple-A Tucson. The Astros then called him up in May to share the catching duties with Alan Ashby and rookie Craig Biggio.
Treviño re-signed with the Astros as a free agent in December 1988. Biggio became Houston's starting receiver in 1989; Alex remained his primary backup until the Astros got Rich Gedman from Boston in June 1990. He declined the Astros' offer of a minor-league assignment and was released in late July.
A week later, on August 3, the Mets claimed him on waivers. He was happy and excited to rejoin his first team, especially since it was a playoff race and his teams had usually been well out of the hunt. His return to Shea Stadium lasted just over a month, though, with only 10 at-bats. The Mets in turn then waived him after acquiring Charlie O'Brien. Treviño holds the dubious distinction of having the most at-bats without a homer in club history (733).
Treviño played his last games in the majors with Cincinnati that September after they picked him up. The Reds went on to win the World Series that year, but unfortunately, Alex was not eligible for the postseason roster. In fact, he never did get a chance to play in the postseason in the majors.
In January 1991, Treviño signed with the St. Louis Cardinals as insurance for Tom Pagnozzi. Joe Torre, his manager in New York and Atlanta, gave him another shot. Rich Gedman signed in February, though, and beat out Alex for the backup spot. He wound up signing a Double-A contract with the California Angels in mid-May after working out on his own. Alex appeared in just 14 games for Midland in the Texas League, but it was long enough for a quick reunion with Fernando Valenzuela, whom the Angels had also picked up. Treviño then returned to Mexico to get regular playing time and keep his skills sharp. Although he had played winter ball in his homeland, this was his debut in the top summer league. He joined his hometown team, the Monterrey Industriales.
The Cardinals invited Treviño to camp as a non-roster player in 1992, and he got into 80 games with the Triple-A Louisville Redbirds. One of his main duties was to serve as personal catcher and interpreter for pitcher René Arocha, a Cuban defector who spoke little English. In late June, the St. Louis papers mentioned a possible call-up after Tom Pagnozzi was involved in a violent home-plate collision, but it was not necessary, since the starter missed just a few days.
Alex played his last three pro summers in Monterrey from 1993 through 1995. During the '94 season, he took over as manager for José "Zacatillo" Guerrero at the end of the first half. The Mexican Hall of Famer suffered a heart attack and had bypass surgery. He did not remain as skipper in '95, though, following a tough loss to the Mexico City Red Devils in the seventh game of the 1994 championship series.27
In 1996, at age 38, Treviño decided to retire. One reason was that the Monterrey management did not make him an attractive offer for the '96 season.28 His career statistics in the Mexican League were a batting average of .301 (his big-league mark was .249), with 14 homers and 106 RBIs in 260 games.
Despite his slender build for a catcher, Treviño was durable. He cited heredity for long-term survival behind the plate. "The first problem manifests itself at age 34 or 35, if the genes are good," he said in 2006.29
It's worth noting that Alex also played four seasons in Mexico's winter league, La Liga Mexicana del Pacífico (LMP). From 1978-79 — when he was Rookie of the Year — through 1981-82, he was with the Hermosillo Naranjeros. Sergio "Kalimán" Robles was the team's regular catcher, so Treviño played mainly third base and outfield while occasionally spelling Robles. After 1982, however, he concentrated on his big-league career.30
Treviño played on two LMP champions for the Naranjeros: 1979-80 and 1981-82. He therefore got to play in the Caribbean Series in 1980 and '82, as well as 1979, when he joined the Navojoa Mayos as a reinforcement. Mexico finished last in the round robin each time, winning just once in 1979 and twice in both 1980 and 1982. Alex appeared in all 18 games of these tourneys, going 16 for 58 overall, with no homers and just 1 RBI.
After retiring, Alex had coaching offers, but he wanted to spend time with his family instead of traveling several months a year. He then landed his broadcasting job with the Astros after submitting a tape. In 2005, Treviño said, "After I finished my career, I was looking for the next chapter of my life, and I had a lot of offers. I wanted to do what was best for me, and this is it. I have spent more than half of my life playing professional baseball. This keeps the baseball routine going in my life."31
Fellow broadcaster René Cárdenas said in 2006, "Alex Treviño thinks, breathes, and dreams baseball." Cárdenas described in detail how Alex, armed with his catcher's mentality and laptop computer, prepares exhaustively for each game.32 The work paid off with a nomination for the Ford C. Frick broadcasting award in 2007.
At various points, Treviño considered coaching or managing again. One possibility arose ahead of the Mexican winter season in 2004. "Treviño said two teams have contacted him and he is considering returning as either a hitting coach or a manager during the offseason. 'I am very happy with what I am doing now, but I would like to get back on the field this winter and have some fun…As an ex-player, I think I can make a difference with players and help guide an organization. Maybe the main reason is that I have a competitive personality.'"33 It appears, however, that he stayed up in the broadcast booth.
Alex and Maritza Treviño live in the Houston suburb of Sugar Land. They have two daughters, Briana and Marielle. Alex is a regular member of the annual Astros Caravan that connects with the team's fan base in the winters. The tour typically includes a stop in his birthplace, Monterrey. In 2008, the caravan visited the Mexican Baseball Hall of Fame. Perhaps in the future, Treviño may be able to see his own plaque there.
Sources
Treto Cisneros, Pedro, editor, Enciclopedia del Béisbol Mexicano. Revistas Deportivas, S.A. de C.V., 1998.
Araujo Bojórquez, Alfonso. Series del Caribe: narraciones y estadísticas, 1949-2001. Colegio de Bachilleres del Estado de Sinaloa, 2002.
www.laestufacaliente.com (website of René Cárdenas)
elchampionbat.mlblogs.com (blog of Mexican baseball writer Alejo Aguerrebere)
The Sporting News Official Baseball Register, various years.
Topps baseball cards
www.ultimatemets.com
www.baseball-reference.com
www.retrosheet.org
www.littleleague.org
Photo Credit
The Topps Company
Notes
Born
August 26, 1957 at Monterrey, Nuevo Leon (Mexico)
If you can help us improve this player's biography, contact us.
http://bioproj.sabr.org/bp_ftp/images4/TrevinoAlex.jpg
600
800
admin
/wp-content/uploads/2020/02/sabr_logo.png
admin
2012-01-04 20:40:38
2023-08-02 11:51:57
Alex Treviño