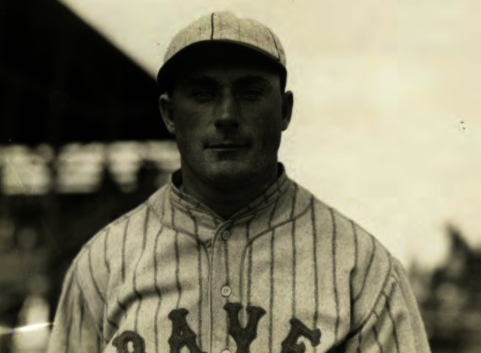 ---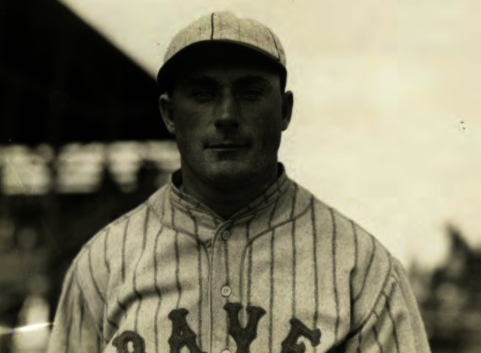 A rookie in his first training camp must do something to make the manager notice him. It certainly does not hurt his cause if he can get the newspaper writers to write favorably. Bernie Neis was invited to spring training with the Dodgers in 1920. He came from Class C ball in Canada with the reputation for a strong bat and quick feet. In a March 13 exhibition against the Yankees, he got the attention of Brooklyn sportswriter Abe Yager and Dodgers manager Wilbert Robinson. "Four times he faced Yankee hurlers. Twice he singled and scored." He added a walk and a sacrifice. Yager proclaimed, "No rookie in the memory of the experts ever made a start like the little whirlwind from Saskatoon."1
Star ballplayers can keep the top performances coming day after day, flashes in the pan burn out quickly. By June, sportswriter James J. Corbett opined, "Apparently Bernie Neis is one of those baseball 'morning glories,' an athlete who looks like a world beater in the training camps and is an almost perfect bust in big league competition."2 Corbett closed the lid on Neis's coffin a bit early. True, he had been benched with a batting average barely over .200, but his career was far from over. In September 1920 he batted .429 (15-for-35) and scored 12 runs. He would play seven more seasons with four teams in the majors.
Bernard Edmund Neis was born on September 26, 1895, in Bloomington, Illinois. His father, William Joseph Neis, was of German descent and worked as a brakeman for the railroad. His mother, the former Katherine Tobin, was born in Illinois to Irish immigrant parents. Bernie was the oldest of five children. By 1900 the family had moved to Chicago, where the elder Neis continued his work with the railroad. Bernie attended school through the eighth grade before joining the work force.
He learned his baseball on the schoolyards and sandlots of Chicago. By 1916 Neis had become talented enough to play in a Wisconsin semipro league for Whitewater. Neis was a third baseman early in his career. He played with outfielder Gus Pupura from the Chicago area and must have struck up a friendship. They would play together with Peoria in the Three-I League in 1917, then both played in the Western Canada League in 1919. In the winters they played basketball together to keep in shape. Pupura even started a professional team that Neis joined.3
Manager Johnny Nee of the Class B Central League Dayton Veterans heard of Neis and signed him in 1917. On May 8 he was used as a sub at third in a 10-1 loss to Muskegon. He was hitless in one at-bat. Soon after, he was sent to Peoria. He played 12 games with the Distillers at second and third before jumping the team on June 1. Why Neis left is unknown. Shortly after, the name Neis appears as the third baseman for the Nebraska Indians touring squad. It is highly probable that this was Bernie.
In mid-May of 1918, the Minneapolis Millers announced that they had signed Neis as a third baseman. He made one appearance with the Millers, against Indianapolis on May 15. He went hitless and made two errors. An Indianapolis newspaper reported, "[H]e displayed only nervousness, being unable to hit or field."4 Neis returned to Chicago soon after and began playing in the City League. He likely took a job in a defense plant because he was never drafted into World War I military service. On February 12, 1918, Neis married Violet Mary Lindbloom, a woman of Swedish descent. The couple would travel the baseball world together in the coming years. They never had any children.
Now 23 years old, Neis traveled to join the Saskatoon Quakers in the Western Canada League. At 5-feet-7-inches tall and 158 pounds, he had plenty of speed both on the bases and in the field. The Quakers and the Winnipeg Granite were the class of the league. Winnipeg won the first-half crown and the Quakers ran away in the second half. Saskatoon took the playoffs, five games to three. Neis was converted to outfield and may also have done a little pitching.5 He batted .297, fourth in the league for players with 75 games or more. He led the circuit in stolen bases with 56 and runs scored with 86.
Wilbert Robinson heard of Neis's exploits and sent injured pitcher Jeff Pfeffer to Canada to scout him. On Pfeffer's recommendation, Neis and teammate Paul "Buck" Beyers, a catcher, were purchased by Brooklyn at the end of the season for $2,000. The Dodgers needed the outfield help because Tommy Griffith had announced he was retiring. Neis demanded $200 of the sale price.6 That was the first hint that where money was involved, Neis's first priority was himself.
Neis joined the Dodgers at spring training in Jacksonville and made an immediate positive impression. He hustled everywhere. But it soon became apparent that his game had holes. Despite all his speed, he never became a reliable base stealer. He took chances on the basepaths and "probably underrates the accuracy of the throwers."7 But the speed stuck in manager Robinson's mind. He dreamed of Neis sprinting out of the left side of the batter's box. Robinson began the process of making him a switch-hitter.
Neis won the right-field job and played there until Tommy Griffith rethought his retirement. When Griffith returned, Neis became a role player. By the time the Dodgers reached the 1920 World Series, Neis had learned the art of batting from both sides.8 In later years he would struggle batting left-handed and on occasion gave up being a switch-hitter.
Neis had opened the season batting .300 with a double and homer in the first three games, but struggled after that. The Dodgers had a miserable start to May, when they played the famous 26-inning tie followed by a 13-inning and then a 19-inning game. The next day Neis went 0-for 4. In four games in May he was a dismal 2-for-25, dropping his average to .159. His average crept up to .209 when Griffith returned in June.
In the World Series, Neis made four appearances, two as a pinch-runner and two in the field. He went hitless in five at-bats and was picked off first base by Indians catcher Steve O'Neill when he reached on a walk. Nevertheless, Robinson saw a bright future for him and brought him to camp in 1921.
After the 1921 season, Neis joined a group of Dodgers led by catcher Otto Miller for a tour of Cuba. They won 10 of 15 from the Habana and Almendares ballclubs, then staged a five-game series with a Cuban all-star team. The Cubans won three of those contests.9 As with his other travels, Violet accompanied him on the trip.
Neis went on another barnstorming tour with Dodgers teammates in 1924. They went to the Pacific Northwest, but this tour turned sour. Jack Fournier was injured by a beanball. Then a drunken brawl in a Wenatchee, Washington, hotel led to an overnight jail stay for Neis and three teammates. They were released after posting $400 bond.10
Neis stayed with the Dodgers through the 1924 season. He enjoyed periods of glory and more than his share of headlines, but he had his share of problems. He tended to get injured in odd ways. In 1922 he was trying to open a window that was stuck and ended up breaking through the glass and slicing his hand. In the following 17-day span, he was only able to pinch-run twice. In 1924 he went to wash his hands and somehow cut himself severely with a razor blade. That time Neis was out of the lineup 23 days except for three pinch-hit tries. In addition to the wounds, he suffered the typical assortment of pulled muscles, back pain, and bone bruises.
Another negative that became standard was Neis's bickering about contracts. He was a frequent holdout in the spring. In 1923, the season in which he had his most at-bats in the majors, he found out that Bert Griffith, a backup, was earning $1,750 more than he was. He made an issue of it in midseason and was given $750 to try to salve the wound.11 The bitterness extended into 1924 and when Robinson questioned an injury, Neis walked out of camp. He threatened to join Beloit in the Mid-West Industrial League. Neis claimed they were offering him five years at $7,000 a year to work in a factory and play ball.12 The feud lasted a few days, but on April 4 Neis rejoined the Dodgers. He put together a strong season as a backup, hitting .303. Brooklyn traded him to the Boston Braves for Cotton Tierney in February 1925.
Neis was a proud, possibly cocky ballplayer. He made it a point to show the Dodgers what they had given up. He went 22-for-70 versus Brooklyn in 1925. Included was the July 1 game where he smacked a double and two home runs in a losing cause. He became a fan favorite in Boston with his hustle and hitting. In 355 at-bats, he hit .285 and launched 27 extra-base hits, a major-league high for him.
Neis loved the weather in Florida and would go south long before training camp, even as he staged his annual holdout. He and Violet would meet friends and soak up the rays of the sun. He was a close friend of pitcher Dazzy Vance. They were fishing and, to a lesser degree, hunting buddies. The pair kept in shape by playing basketball in the winter. By 1925 they both had purchased homes in Citrus County, Florida. For the rest of his career, Neis was in Florida from October to April. He became a well-respected fisherman and started to run a fishing-guide service. Vance owned a hotel in Homosassa Springs. Neis spent some time as its manager and ran fishing tours for the guests.
Vance was a storyteller and loved to entertain friends and guests with tales of Neis's fishing. Vance claimed that Neis fished with either hand, just as he batted from both sides. One of his favorite stories had Neis pulling in two fish at the same time, one a bass (freshwater), the other a sheepshead (saltwater).13
Aches and pains slowed Neis in 1926 with the Braves. At midseason he was batting a lowly .215 and the Braves released him outright to Buffalo. The Bisons had a powerful offense and Neis fit right in. Playing 52 games, he batted .346. That was the third highest average of 11 Buffalo players who hit over .300. Despite all the offense, the Bisons still finished in fourth place. After the season, Neis was drafted by the Washington Senators. After his typical holdout, he reported to spring training, but was released to Cleveland on March 22.
Neis made an immediate and favorable impression in Cleveland by getting three hits and fielding brilliantly in an intrasquad game. The Indians were without Tris Speaker and Neis saw the center-field spot as his. When the season opened, Henry P. Edwards gushed that Neis "is wonderfully fast, owns a good throwing arm and should hit around the .300 mark."14 The headline in the Plain Dealer April 13 screamed, "Bernie Neis Stars in Debut with Tribe." Once again Neis had gotten everyone's attention. He followed up with an inside-the-park home run later that week. As in the past, he soon faded. His bat came alive in late May and he hit safely in 13 of 14 games to raise his average to .329, but the Indians had seen enough. They purchased Baby Doll Jacobson from Boston. Neis went to the bench and three days later was sold to the Chicago White Sox. The White Sox used him as a defensive replacement and pinch-hitter. He did not start a game until August 14, when he took the field against the Indians. He made his former team pay by blasting a double and driving in four runs in a 7-3 Chicago win.
The Seattle Indians of the Pacific Coast League purchased Neis on January 29, 1928. Unlike previous years, he made no effort to hold out, yet Seattle was left without a signed contract. In a bizarre twist of fate, Neis's signed contract was aboard a plane that took a nosedive into Nebraska farmland. The Seattle management received a partial contract along with ashes and an apology from the postmaster.15
Neis was installed in center field and the leadoff spot, but got off to a poor start. There was even speculation that the aches and pains might not be because he was over 30, but may come from his lack of interest and effort.16 In the coming years this would be a common complaint of the sportswriters. Once known for his hustle and enthusiasm, Neis was now wearing down physically and mentally. His last full season in the minors came with the Minneapolis Millers in 1931; he was described as "pudgy" and his attitude irked manager Mike Kelley.17 Despite a .314 average, the Millers happily sold him to Knoxville in the Southern Association.
On May 23, 1932, financial concerns led the Knoxville board of directors to fire manager Joe Schepner. The Smokies' record stood at 18-20, but the board felt the need to jettison Schepner and hire a player-manager to save money. They handed the job to Neis. Writers wondered if he was up to the task. "A good fellow among his mates, Neis never stood well with his bosses. … He gained the reputation of being a trifle lazy once he was in the fold. He'll undoubtedly find plenty of players under him doing the same," a sports scribe wrote.18
Neis loved to make a big first impression; his managerial debut was yet another example. The Smokies faced Atlanta with Neis batting leadoff and playing left field. When the dust cleared, the Smokies were 17-9 winners thanks to Neis's 3-for-6 day. The team struggled from there to finish in last place, but Neis handled his players well. Nevertheless, the club sold him to Dallas in December.
In March 1933 Dallas sold Neis to Rochester of the International League. He took his sweet time reporting and never fit in. He was released in June and caught on with the Elmira Red Wings. He smashed three hits in his debut, but was suspended a week later and released on July 4.
Meanwhile, the Huntington Boosters of the Class C Middle Atlantic League were in turmoil. Manager and team president Johnny Stuart resigned and appointed Neis as his replacement. Simultaneously, the board of directors hired Earl Smith. Neis backed off and Smith ran the team until July 23.19 Neis was hired and tried to right a sinking ship, but after an especially dismal series with Zanesville, he resigned and was replaced by Rube Benton. Huntington finished last, 33 games off the pace.
Neis spent 1934 running the hotel and fish camp while Vance pitched for Cincinnati and St. Louis. He also did a bit of scouting as well as managing the Gainesville Hawks of the semipro Northeast Florida League. Ever the showman, he won a crucial game in late July with a pinch-hit home run. At age 40 he closed out his career with a brief stint for the Palatka Azaleas of the Class D Florida State League. He also became an instructor in the Dazzy Vance School of Baseball, held in Homosassa starting in 1936. He was joined by Joe Stripp and Al Lopez, Brooklyn players who wintered in Florida.
Neis loved to fish; he turned his passion into a paying job by becoming a fishing guide. He knew all the best fishing holes on the Crystal and Homosassa Rivers. Neis died on November 29, 1972, in Inverness, Florida. His wife, Violet, died in 1981. The couple are buried in the Oak Ridge Cemetery in Inverness.
Acknowledgments
Thank you to author/researcher Jeffrey Powers-Beck. He was gracious enough to discuss the possibility of Neis being a member of the Nebraska Indians team.
This biography was reviewed by Len Levin and fact-checked by Warren Corbett.
Notes
1 Abe Yager, "Brooklyn on Top in Opening Game by 3 to 2 Score," Brooklyn Daily Eagle, March 14, 1920: 61.
2 James J. Corbett, "'Jim' Corbett's Daily Column," Binghamton (New York) Press and Sun-Bulletin, June 3, 1920: 18.
3 Curley Anderson, "The Sport Spotlight," Moline (Illinois) Dispatch, November 25, 1922: 17.
4 Fred C. Coburn, "Trailing the Indians," Indianapolis Star, May 16, 1918: 11.
5 attheplate.com/wcbl/1919_1j.html. Accessed 1/28/2018.
6 Abe Yager, "Recruit Bernie Neis Gets a Flying Start," Brooklyn Daily Eagle, March 5, 1920: 18.
7 "Neis Too Reckless," Brooklyn Daily Eagle, May 3, 1920: 18.
8 "World Series Sketches," Rockford (Illinois) Republic, October 2, 1920: 8.
9 Jorge S. Figueredo, Cuban Baseball, A Statistical History, 1878-1961 (Jefferson, North Carolina: McFarland, 2007), 141.
10 "Four Brooklyn Players Jailed in Wenatchee," Seattle Daily Times, October 20, 1924: 19.
11 Abe Yager, "Row Follows Ultimatum: Ebbets Won't Give Cash and Catcher for Stock," Brooklyn Daily Eagle, March 27, 1924: 26.
12 "Brooklyn Gardener Dickers With Beloit Mid-Westers; Schoonover With Massillon," Canton (Ohio) Repository, March 28, 1924: 38.
13 Pete Norton, "The Morning After," Tampa Tribune, March 23, 1950: 19.
14 Henry P. Edwards, "Indians Open Season With Chisox Here Today," Cleveland Plain Dealer, April 12, 1927: 22.
15 "Burn, Burn, Bernie," Seattle Daily Times, March 4, 1928: 27.
16 "Indians Look Ahead," Seattle Daily Times, June 12, 1928: 26.
17 George A. Barton, "Pudgy Slugger's Attitude Peeves Boss of Millers," Minneapolis Star Tribune, February 14, 1932: 16.
18 Charles Johnson, "The Lowdown on Sports," Minneapolis Star, May 27, 1932: 20.
19 "Huntington Players Are Rejoining Club," Akron Beacon Journal, July 24, 1933: 20.
Born
September 26, 1895 at Bloomington, IL (USA)
Died
November 29, 1972 at Inverness, FL (USA)
If you can help us improve this player's biography, contact us.
https://sabr.org/sites/default/files/NeisBernie_0.png
600
800
admin
/wp-content/uploads/2020/02/sabr_logo.png
admin
2018-02-22 15:41:25
2020-04-09 14:40:23
Bernie Neis