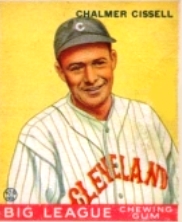 ---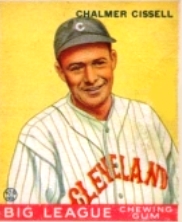 Bill Cissell went from a farming community in Perry County, Missouri, to becoming "baseball's costliest player." The right-handed multi-position infielder played nine seasons in the major leagues from 1928 to 1938. He was found in 1949 "painfully ill and penniless in a gloomy one-room Chicago apartment" living with his 13-year-old son Gary. He'd been there a month, barely able to move due to a circulatory problem. He was severely malnourished and suffered badly inflamed nerves in his legs. The five-year veteran of the Chicago White Sox was suffering in near solitude until the team learned of his condition. Team executives Frank Lane and Charles Comiskey visited him in the hospital, after arranging to transfer him there. They also saw his son placed with a family down the street, so he could continue to attend the same school, and Comiskey said the team would have Gary become the batboy for the White Sox in the summertime. The only money the father and son had been living on was the $7 a week Gary was earning after school as a delivery boy. Cissell rallied a bit over the next eight weeks, but developed heart problems (myocardial degeneration) and died. The White Sox paid for his funeral and shipped his body back to Perryville.[fn]The Sporting News, March 23, 1949.[/fn]
Chalmer William Cissell was born on January 3, 1904, Joseph Maximilian Cissell (1872-1908) and Ida Mary Gorman Cissell (1875-1954). His father, a carpenter[fn]Timothy J. O'Rourke, Maryland Catholics on the Frontier: Missouri and Texas Settlements (Brefney Press, 1973)[/fn], went by the name Max, just as Chalmer went by the name Bill, but Bill lost his father at the age of four. The 1910 United States Census shows Mrs. Ida Cissell as the head of household with four children: Adelia, Harold, Chalmer, and Alma. Ida was working at home as a laundress to help ends meet. Perry County was a popular place for Cissells, and there was even more than one Chalmer. By 1920, our Chalmer was living with his uncle – a farmer – and aunt, Daniel and Theresa Gorman.[fn]Thanks to Maurice Bouchard for genealogical research.[/fn]
There were so many Cissells in the area that Perryville once had a town baseball team in which all nine positions were manned by players bearing the name. Max was the first baseman. The team made room for others, of course, one of whom was Jeff Tesreau, the star pitcher of the New York Giants (1912-1918) who worked in three World Series during his seven seasons in the big leagues.
When Bill grew up, he joined the Perryville team, even returning on weekends after the family had moved the 80-100 miles or so north to St. Louis when Bill was 12. He had started to learn to become a candy maker while still attending high school but then quit during his junior year, ran away from home, and enlisted in military service. Though he'd never ridden a horse before in his life, he signed up with the 2nd Cavalry at Fort Riley, Kansas, for three years. He frequently had weekend leave to play semipro ball in Junction City. He was also active in Army athletics, particularly at football. In 1925, he re-upped with the 14th Cavalry at Fort Des Moines. A year later Sergeant Cissell was spotted by a baseball man, Lee Keyser (later secretary of the St. Louis Browns farm system) who "bought him out of the Army in August, 1925 for $30."[fn]The Sporting News, March 23, 1949. Another report in an unattributed clipping in Cissell's Hall of Fame player file said it was Cissell who bought his own way out, giving up his horse and paying $85.[/fn]
He was initially signed to the Western Association's Des Moines Demons, and in 1926 played 78 games as their shortstop, batting .345 and hitting three home runs at Single A. He caught the eye of the Portland Beavers, who paid $13,000 for his contract, so he joined the Pacific Coast League, hitting .259 in the 22 games he played with Portland in 1926 but .323 in 1927 when he got into 183 ball games. (Coast League schedules contained many more ball games than either of the two major leagues.) That set the stage for him to become "baseball's costliest player" when the Chicago White Sox sent $75,000 to $100,000 in cash to Portland and two players as well (Ike Boone and Bert Cole). The $13,000 Portland had paid was said to have been a record at the time for the highest amount one minor league team had paid to another for a player's contract, and when the value of Boone and Cole (Cole's contract had cost the White Sox $35,000) was added to the cash sent to Portland, the total the Beavers reaped for their investment was also said to have been a record. Of course, these transactions were between ballclubs so Cissell received only the annual salary agreed to for each season of work.[fn]Note: Baseball Magazine later write that the White Sox figure was $75,000 but that the other players had been valued at $48,000. See F.C. Lane's article in the February 1933 issue, which also provided some of the information about Cissell's choice to join the cavalry. The most detailed report of the White Sox transaction, and Portland's purchase from Des Moines appears in the November 8, 1927 Philadelphia Inquirer.[/fn]
The large sums involved inevitably put Cissell under a lot of scrutiny. "It would have suited me better," he told Baseball Magazine's F.C. Lane[fn]Ibid.[/fn], "if the White Sox had bought me for fifteen cents….I was like a substitute actor who hadn't fully rehearsed his part, but who was suddenly shoved before the footlights and booked for the star role. If I could have begun at the bottom and worked up slowly, I might have gone somewhere. But I was expected to begin at the top. A rookie is under something of a handicap when he breaks into the majors as a comparative unknown. But the handicap is far greater when everybody knows about him and thinks he is much better than he really is."
His first year in the majors, at age 24, saw the stocky 170-pound right-hander as the starting shortstop for the team. Contemporary newspapers cite his height as 5-feet-9. His hitting was underwhelming, but not grievously so — he hit .260 in 443 at-bats with one home run and 60 RBIs. The White Sox team average that year was 10 points higher, .270, and his was the lowest average of any of the regulars save for catcher Buck Crouse. He committed 41 errors for a .938 fielding average, subpar but not the worst in the league. He had some speed and stole 18 bases. He was a tough player; Red Smith wrote of an incident in one of his very first games. Ty Cobb of the Tigers had spiked White Sox third baseman Willie Kamm the day before so when the opportunity presented itself — Cobb running from first to second, with Cissell fielding a ground ball at shortstop — he gripped the ball hard and tagged Ty between the eyes and then challenged him to fight. Cobb had more of his mind on completing the game; the two became friends.[fn]New York Herald Tribune, undated story from January 1949.[/fn]
The next year, 1929, Cissell upped his average to .280, but that was the best he ever did in his four-plus seasons with Chicago. The base-stealing may have gone to his head a little; he swiped 25 bases in 1929 but was caught a league-leading 17 times. He hit five homers and drove in 62 runs. The next two years, 1930 and 1931, saw him drive in 48 and 46 runs, with his average declining to .270 and then to .220. This was not an investment paying off as anticipated. He admitted as much: "My record with the White Sox was merely fair. In my last season, it was hardly that. True, I blame part of my poor showing in that final year upon an injury. It was [Jimmie] Foxx who ran into me when I was covering second and cracked a bone in my knee that laid me on the shelf for repairs and I never did seem to get going very well again."[fn]Ibid.[/fn]
After he'd appeared in only 12 games at the start of the 1932 season, he and pitcher Jim Moore were traded to the Cleveland Indians for Johnny Hodapp and Bob Seeds. The White Sox had Luke Appling ready to take over at short. The April 24 trade gave Bill new life. The White Sox had finished next-to-last in 1929 and 1930, and last in 1931. The Indians offered better hope. More importantly, Cissell was installed at second base. Some of his shortcomings in Chicago were – in addition to being under the spotlight for all the money paid for him — "due to my playing the wrong position. There's no doubt in my mind that second base is my proper spot in the infield. If it's taken me several years to prove that fact, I can still consider myself lucky," he told Lane. Any thought of going for home runs was out, playing in capacious League Park in Cleveland for manager Roger Peckinpaugh.
Whatever the reasons, the change of scene or change of position, Cissell had an excellent year and clouted the ball for a .320 average with the Indians, driving in a career-high 98 runs. His 18 stolen bases ranked him fourth in the league. In 1933 things fell apart and his average plunged 90 points to a mediocre .230, while he only drove in 33 runs.
Over in Boston, the Red Sox had released manager Marty McManus in favor of Bucky Harris. McManus had also played third base. They needed another infielder and so dealt left-handed pitcher Lloyd Brown to the Indians for Bill Cissell. It wasn't a bad move; in 1934 Cissell hit .267, just slightly below the team's .272 average, and drove in 44 runs, though he did rank last in RBIs among the starting position players). On February 1 the Red Sox traded him back to the Portland Beavers for right-handed pitcher George Wilson and an outfielder, Nino Bongiovanni.
Cissell hit .316 in the Coast League in 1935 and took over as manager of the team from Buddy Ryan, who resigned during the season. After the season, Cissell was incensed. He was a very popular manager; fans even held a "Bill Cissell Night" for him. Having helped bring the Beavers from last place in 1934 to a first-division finish (fourth place) in 1935, he believed he was due a bonus. Management insisted there was no such deal. Cissell "flatly refused" to play for Portland again in 1936 and was "told to make a deal for himself."[fn]Los Angeles Times, November 20, 1935 and The Sporting News, November 7, 1935.[/fn]
He did make a deal for himself, and played in 1936 for the International League Baltimore Orioles, hitting .349 with 15 home runs. Connie Mack and the Athletics drafted him in the offseason, and he opened the 1937 campaign with 34 games for Philadelphia. He hit a respectable .265 (the team average was .267 that year) but he was too much of a headache for Mack. Reports of Cissell's drinking began to surface.
On June 11 he was released to Baltimore and wound up playing two more years for the Orioles. In 1937 he hit .296 in 103 games. He started 1938 with the team, but was suspended for awhile in early May for "breaking training," a euphemism for excessive drinking. Later that month he was arrested for disorderly conduct after an incident apparently involving a nightclub argument with outfielder George Puccinelli. Commissioner Landis even suspended him, though the suspension was listed after 24 hours. As early as his White Sox days he had been benched a couple of times for drinking.
After hitting .293 for Baltimore, Bill was given his last opportunity to play major-league ball when the New York Giants bought his contract on August 1. He was the fifth second baseman Giants manager Bill Terry tried that year in his desperation to replace Burgess Whitehead, who had suffered a mental breakdown. As a mark of how public Cissell's problem had become, the August 3 St. Louis Globe-Democrat ran a photograph of him posing with a cup in his hand. The caption said, "Evidence that too close an association with John Barleycorn caused his frequent changes of team may be detected in this picture, where he says 'I'm sticking to water now' as he steps to the drinking fountain before taking the field against the Cubs at the Polo Grounds." For the Giants, he hit .268 and drove in 18 runs in 38 games.
On December 6 the Giants released him outright to the Hollywood Stars. Midway through the 1939 season, after he criticized Coast League president William Tuttle as an incompetent, Tuttle suspended him "for life"—though the suspension was lifted just two hours later. Tuttle socked him with a $200 fine. Los Angeles Times columnist Bob Ray protested, "[T]he American people, especially the baseball fans, don't go for dictator stuff." A roster of Hollywood's cinema stars—including Gary Cooper, Barbara Stanwyck, Robert Taylor, and George Raft—leaped to defend "free speech" and took up a collection to pay Cissell's fine.[fn]Los Angeles Times, June 5, 1939; Sporting News, June 8 and June 15, 1939.[/fn]
That was not the end of his problems. Six weeks later, he was suspended by manager Wade Killefer for "breaking training rules" when the Stars played in Portland, and Bill had enjoyed the opportunity to catch up with old friends there. It was an off-year (.269), though he didn't miss too many games, appearing in 167. Despite the difficulties in 1939, the Stars brought him back in 1940, and he played in 162 games, hitting .289. He began the 1941 season with Hollywood, but was released on June 26 after the team had been unable to place him with another club. Two days later he was snapped up by Lefty O'Doul's San Francisco Seals. He was released one month later, on July 28.
In 40 games for Hollywood and San Francisco in 1941, he hit .247. In 1942 he was back in semipro ball with the Calship Mariners on Terminal Island, near Long Beach, California. He tried to catch on with other clubs and reportedly signed with Minneapolis in June 1944, but there is no record that he played with the club.
Cissell later took up railroading near his wife Bernice's hometown in Iowa, but she died at some point, leaving him with three children: Chalmer Junior (also known as Bill), Charlene, and Gary. He was given a job as an assistant electrician at Comiskey Park in 1947, perhaps as an act of charity. He was still playing some semipro ball on weekends. His last reported ballgame was an old-timers game at Wrigley Field on June 26, 1948. He singled and drove in a run.[fn]See both the May 14, 1947 Los Angeles Times and the Christian Science Monitor of May 15.[/fn]
"When my wife died, I went to hell for a while," he told reporter Robert Cromie after he'd been found sick and destitute in that one-room Chicago apartment in January 1949. "In fact, I never did come all the way back. I used to drink too much, although I haven't had any since Thanksgiving. But if I can just get back on my feet again I'll be all right. If a man can't make a livin' in this town he can't make it anywhere. But I'm just skin and bones now, must be down to 100 pounds." Getting on his feet again was not an easy proposition. "I almost died when I came home from the County hospital last night, my feet were frozen….Even water on 'em drives you nuts and when you walk it's just like walkin' on bone. And I've been in bed so long that after five or six steps, I'm all out of breath."[fn]Chicago Tribune, January 19, 1949.[/fn]
Bill Cissell died early in the morning of March 11, 1949, at Mercy Hospital in Chicago. He was about to be discharged when he suffered sudden acute cardiac failure. His mother, now Ida French, three sisters, and his three children survived losing him at age 45.
Sources
In addition to the sources cited in the endnotes, the author relied upon Cissell's player file at the National Baseball Hall of Fame, the online SABR Encyclopedia, retrosheet.org, and Baseball-Reference.com.
Born
January 3, 1904 at Perryville, MO (USA)
Died
March 15, 1949 at Chicago, IL (USA)
If you can help us improve this player's biography, contact us.
http://bioproj.sabr.org/bp_ftp/images4/CissellBill.jpg
600
800
admin
/wp-content/uploads/2020/02/sabr_logo.png
admin
2012-01-04 20:33:30
2012-01-04 20:33:30
Bill Cissell