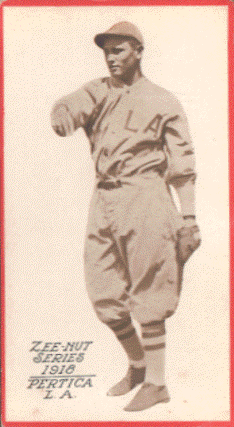 ---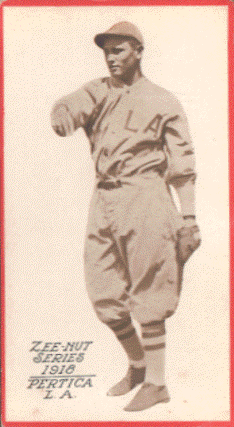 Right-handed pitcher Bill Pertica was a prospect who showed promise early in his career, had one prime season with the Cardinals, and ultimately faded into obscurity. He was born in Santa Barbara, California, on August 17, 1898, and made the big leagues (albeit about as briefly as possible) in his first year of pro ball.
Pertica was short in stature at 5-foot-9 (some sources show him as short as 5'7″), but he had a major league arm. His listed weight was 165 pounds. Almost nothing is known about his early life. His father, Frank J. Pertica, was a saloonkeeper in Santa Barbara at the time of the 1900 United States Census, and he lived with his wife, Martina, and their three sons, Frank A. (born in 1894), Roberto (born in 1897), and Angelo (born in August 1898 and apparently later known as William Andrew Pertica). Frank's father was born in Italy; his mother in California.
Bill Pertica first crops up in the Los Angeles Times during spring training of 1918. The March 19 issue labeled the 19-year-old Los Angeles Angels (Pacific Coast League) pitcher as "one of the most promising recruits on the squad." Just a couple of weeks later the paper reaffirmed the assessment while commenting on his final spring training outing: "Pertica, who pitched the second real game of his career, showed that he is one of the most promising youngsters that ever ambled to a mound. The newcomer is already a find … has already shown an assortment of heaves that are baffling in the extreme." He lost that game, 4-2, but pitched well enough that it was said he'd have won eight of 10 such games; he was "calm and steady as a veteran, and always had control."
His professional debut came on April 5 and earned him a Times subhead reading "Dazzling Debut is Made by Mister Pertica." He threw a spitball — legal at the time – but it was just one pitch in his repertoire. His poise was noted: Pertica "appears to have the hall mark of sterling quality. … At no time during proceedings did he wobble in the least," the Times wrote.
Pertica started for the Angels in 1918 and appeared in 23 games, completing 14 and totting up a 12-7 record (2.25 ERA) in 180 innings of work. With the U.S. now in World War I and a "work or fight" order in effect, player after player in the majors enrolled in industries deemed essential to the war effort, or enlisted, and the ranks of a number of teams were drastically depleted. The PCL was forced to end its season early, and the July 27 Times reported the departure of four Angels who had been able to secure slots with major league teams. Jack Quinn, Roy Mitchell, and Al DeVormer all were to leave L.A. that day for the White Sox, while "Bill Pertica, the child wonder," had landed a job with the Red Sox.
His first and last official game with the Red Sox came on August 7 in Detroit. Joe Bush started for the Red Sox but was hit mercilessly and was tagged with six runs in the first inning and one more in the second. Pertica came in to pitch the third and threw three innings, allowing just one run in the fourth when the Tigers secured two of their three hits off him. Manager Ed Barrow had pitcher Jean Dubuc pinch-hit for Pertica in the sixth; he drew a base on balls. Pertica had hit once for himself, but for an out — a career 0-for-1 in American League action.
Pertica traveled with the team to Boston, one of several new arrivals on the Red Sox, who pulled into town on August 10 — the others being Dubuc, George Cochran, Eusebio Gonzalez, and Hack Miller. The only other action that Pertica saw with the Red Sox, though, was in an exhibition game at New Haven on August 18. The Sox lost to the New Haven Colonials in a 4-3 game in front of about 3,000 fans at Lighthouse Point. Pertica started the game and threw six innings, giving up six hits (one a first-inning triple by Wally Pipp, who scored on third baseman George Cochran's error) and all four Colonials runs. The game account suggests that all four runs were unearned. He struck out five, but walked four and committed two errors. Walt Kinney closed it out with two hitless innings. There was just one home run hit in the game, by Babe Ruth.
When it came time for the World Series, Pertica joined both Dubuc and Kinney as backup pitchers on the roster, but the only action any of them saw was one strikeout by Dubuc in a Game Two pinch-hitting role. When the Red Sox party traveled to Chicago, Barrow took the whole club with him "even little Pertica, who he at one time thought he would leave in Boston." (Boston Globe) Pertica's contribution to Series play involved a little expectorant. He threw batting practice to help Red Sox hitters. Since Cubs relievers Phil Douglas and Claude Hendrix were known to be "exponents of the damp delivery" (Boston Globe), Pertica — himself a "moist ball chucker" — pitched in. He earned a $300 Series share, the same as late arrivals Cochran, Coffey, Dubuc, Kinney, and Miller. A full share was $1,108.45. Pertica awaited an expected call to the Navy, leaving Boston for his home out west on a September 13 train.
Pertica got in a bit of post-Series play, traveling from Los Angeles to Santa Barbara to play for the United States Railway team in early October. He kept active at least occasionally over the winter, being reported as playing in a mid-January game in Hollywood. The Red Sox still had their eye on him. The March 5, 1919, Los Angeles Times wrote that Ed Barrow was "discovering a glad eye on 'Solemn Bill' Pertica. For some time local fans had been led to believe that Bill would don Angelic array this spring." However, the paper said, Barrow had sent an offer to the Angels to purchase his contract. The offer, the Times explained in a gratuitously anti-Semitic comment, was one "with an eye centered on the Yiddish percentage" — he dropped the purchase price from $2,500 down to $1,000, "giving as his reason that Pertica is not as yet matured enough to be more than a volunteer of the Red Sox roster." Angels owner Johnny Powers was "not averse to letting Bill go, but would rather make use of him in a trade with the Red Sox than sell him outright. Pertica's fingers have already felt the ecstatic thrill of a world's series split, and the chances are that he will sign for eastern climes."
Barrow reportedly offered the Angels George Whiteman and another player for him, but Powers and Angels manager Red Killefer declined. Angels business manager Jim Morley explained, "We don't want to stand in Pertica's way, but if we let him go we must get something good in return. … I regard Pertica as the most promising young pitcher that ever broke into the Coast League." High praise indeed.
"Silent Bill" pitched a full two seasons for the Angels, in 1919 and 1920. He won 17 games (though he lost 20) in 1919, with a 3.24 ERA, and was 15-13 with a 2.82 ERA in 1920, throwing 602 innings in the two seasons. He started the first year well, even throwing a no-hitter through 8⅔ innings on May 10 against the San Francisco Seals. The Times wrote with verve, "His spitter and fast drop were simply unfathomable at all times and as for speed, he shot 'em over the plate as fast as a cyclone whizzes past milestones in a graveyard." His season was one of ups and downs. He won 1-0 games against Portland on August 2 and over Sacramento on August 23, but threw away a game on July 25, a costly error earning him the subhead "Pertica Gives Lurid Exhibition of Throwing Pill." Summarizing the season in early October, the paper declared, "'Solemn Bill' has been an in-and-outer, but when right is practically unbeatable." November rumors had Pertica being packed off to the Phillies, but come February, the Angels had once again concluded that they weren't being offered good enough value.
The 1920 campaign was another up-and down one for Peretica. As of the end of June, he was the PCL's leading pitcher — but on July 9 the "slugging Mormons" from Salt Lake City drubbed him for 12 hits and six runs and he had to leave after just 1⅔ innings. Six days later, "Bill had little or nothing on the pill." He regained his form, losing a tough 1-0 game to Vernon on July 23 and another even tougher 1-0 loss to Portland in early August during which he threw all 15 innings. In mid-December, it was reported that he'd been dealt to the Cubs, but the deal fell through when the Cubs failed to exercise an option. In early January of 1921, the St. Louis Cardinals announced that they had acquired Pertica for three players: Ed Bogart, Dorsey Carroll, and George Lyons.
Pertica subsequently traveled to Japan with a group of ballplayers for a tour that proved a financial bust and resulted in mutiny by several of the players. He'd played exhibition games before the Japanese trip, playing with Ty Cobb as his center fielder for a game he threw in a San Francisco uniform on November 15. He pitched and lost the third of three games to the Colored All-Stars while working for Pirrone's Major Leaguers team in a weekend tournament; Pertica's wild pitch in the bottom of the ninth brought home the winning run. In mid-February, back from Japan, a confusing report surfaced in the L.A. Times, saying that Pertica and catcher Johnny Bassler were involved in a trade for Tigers veteran Oscar Stanage, a deal that somehow resulted in Bassler playing with Detroit while Pertica wound up with the St. Louis Cardinals. A profile of legendary scout Charley Barrett in the January 24, 1935, issue of The Sporting News credits Barrett with recommending Pertica to the Cardinals.
Pertica was particular about signing with St. Louis, however. He planned to object if the Cardinals farmed him out to Seattle, and he returned their contract when they offered $3,000 instead of the $4,500 he felt he deserved. The Los Angeles Times noted, "Most unbiased baseball men … will regard his demands as unreasonable." Branch Rickey invited him to come to spring training to talk it over, but Pertica requested a roundtrip ticket in case the two failed to come to agreement. They reached agreement, though, and Bill pitched well for St. Louis in 1921. In 31 starts and seven relief stints, he won 14 games and lost 10, with a 3.37 ERA. The Sporting News noted Pertica's "Sunday school disposition" — maybe another allusion to the "Solemn Bill" nickname.
Bill struggled with the Cardinals in 1922, but still appeared in 34 games — though starting just 15 of them. His record was 8-8, but with a very discouraging 5.91 ERA. After the season, Pertica again played ball in the wintertime, in the California Winter League. He did so with Branch Rickey's encouragement. "One reason for a willingness to let Pertica continue work is that he has been trying to develop something besides the spitball he started out with," wrote The Sporting News on January 25, 1923. Pertica had not been one of the 17 pitchers who were grandfathered in when the spitball was banned in 1920 and his decline in 1922 was attributed to doing without his spitter. Ty Cobb was quoted as saying, "I don't see how the Detroit scouts ever overlooked him." The Tigers tried to trade Red Oldham for him, but once more something went wrong — Oldham was suspended for playing winter ball without permission — and Oldham wound up in the Coast League instead.
Despite his drop in 1922, the Cardinals kept him on for 1923, but he appeared in only one game before he was traded to Houston of the Texas League. The Los Angeles Times noted the trade, which proved to put an end to his major league career: Pertica "was with the Cardinals two years but was unable to win in major company so Branch Rickey shipped him to his Texas League club." The June 7 Sporting News said Pertica had failed to get along with Houston and was transferred from Houston to Memphis on the orders of St. Louis, that the Cardinals sent Lester Bell to Houston to replace Pertica, and that Pertica "attributes his poor work to a sore soup bone." Whether Pertica was sent to Houston in a true trade or an arrangement of another kind is unclear. He never appeared in a game for Memphis. Even against lesser competition, Pertica had found it difficult in Houston. He threw 50 innings, but was 1-4 with a 5.58 ERA. He walked 30 and struck out but 14. He apparently had broken one of the small bones in his arm, according to a report from Houston in January 31, 1924 Sporting News, and when properly diagnosed, he wore a cast until it healed.
Come 1924, the comeback failed as he again appeared in only seven games for Houston, for 32 innings, and posted a sorry 2-5 record with a 10.41 ERA. He missed much of the season due to an injured arm. It's not surprising that he retired from baseball, though he was still pitching semipro ball for the Pasadena Merchants in a January 1, 1925, game against Gilmore Oil. Pasadena lost, 4-3. Ultimately, Bill decided he didn't have what it took and he is listed as "voluntarily retired" from 1925 through 1930. He made his way to New York at some point and was living in Brooklyn at the time of the 1930 U.S. Census.
As a hitter, Pertica was no great shakes. Whether in the PCL or the major leagues, in the years he had 20 or more at-bats, the highest he ever hit was .206 in 1919 with the Angels. All told, he hit .174 in pro ball.
Surprisingly, after six years out of organized baseball, Pertica shows up as pitching for the Scranton Miners in 1931. In midsummer, he was in touch with manager Ernie Vick (with whom he'd played in St. Louis), agreed to terms, and kicked off his Scranton career as the starting pitcher in an exhibition game against the World Champion Philadelphia Athletics on August 5. The A's were leading the American League by a full 12 games at the time. The game ended in a 1-1 tie after nine innings, when the overflow crowd swarmed onto the field and it was impossible to continue. Despite the low score, Pertica's performance — in the words of the Scranton Republican — "should be sent into 'Believe It or Not' Ripley." In four of the five innings he pitched, he loaded the bases but was touched for only the one run.
He pitched the second game of an August 13 doubleheader against the Hazleton Mountaineers and found the Scranton fans cheering for opposing Hazleton hitter Pat Wright. Wright was 3-for-3 in the first game, with a single, a double, and a home run. He walked once. He was 2-for-2 against Pertica in the second game with a triple and the two-run second-inning home run that proved the game winner. The fans wanted another homer, but Pertica didn't give him anything good to hit and he walked again. Pertica took the loss. His only other appearance was two-thirds of an inning in relief against Harrisburg on August 16. He was charged with one run, on two hits. The Republican wrote that being swept by last-place Hazleton essentially spoiled Scranton's chances for the pennant; the next day, Pertica was given his release. He was back home in Brooklyn the day after that. His line read 0-1 with 12 hits surrendered in eight innings.
Bill Pertica then disappears from the baseball record books. In fact, he pretty much disappears altogether. Despite being 43 at the time, he enlisted in the U.S. Army in 1942 but was discharged six months later, according to baseball researcher Dick Beverage. He was inducted on August 28, 1942, and stationed at Camp McQuaide in California. Researcher Walter Kephart says that was the West Coast Processing Center for AWOL servicemen and other "troublemakers" — sort of a stockade – and that Pertica was serving in the Military Police Section, Headquarters Detachment at the time of his discharge on February 20, 1943. Army records do not indicate the type of discharge, so we are left to speculate that he may have become involved in a fracas of some sort and become injured; it may simply be that he became ill. What we do know is that he was sent to San Francisco's Letterman General Hospital on February 8, on to Hammond General Hospital in Modesto, and was discharged from there on February 20.
What he did after discharge is not known, but he perhaps returned to the L.A. area to work as a bartender. In September 1950, he was invited to the silver anniversary of Los Angeles' Wrigley Field to play in an old-timers game there. On the last day of March, 1953, Los Angeles Times writer Braven Dyer wrote, "The last I heard of Bill, he was tending bar in Boyle Heights, which seems appropriate as it was in the Stag Saloon right across the street from Jim Jeffries' bar that Red Killefer signed him to an Angel contract. Walter McCredie walked through the swinging doors two minutes later with a contract that would have landed Pertica with Portland and later Cleveland." Dyer characterized Pertica as "an unknown Mexican lad from a Santa Barbara hacienda" but in this we suspect Dyer erred. Pertica was more likely of Italian ancestry, though attempts to trace his lineage have so far proven fruitless.
Bill Pertica died on December 28, 1967, at his home in Los Angeles and is buried in the Willamette National Cemetery, just outside Portland, Oregon — a final resting place run by the Veterans Administration.
Sources
The various sources consulted are mentioned throughout the text. Thanks to Kelly Sagert, Bob Hoie, Dick Beverage, Rod Nelson, Walter Kephart, Calvin Bohn, and Jim Buckley.
Born
August 17, 1898 at Santa Barbara, CA (USA)
Died
December 28, 1967 at Los Angeles, CA (USA)
If you can help us improve this player's biography, contact us.
http://bioproj.sabr.org/bp_ftp/images3/PerticaBill.gif
600
800
admin
/wp-content/uploads/2020/02/sabr_logo.png
admin
2012-01-04 19:54:56
2012-01-04 19:54:56
Bill Pertica