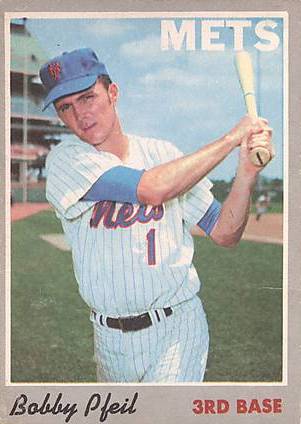 ---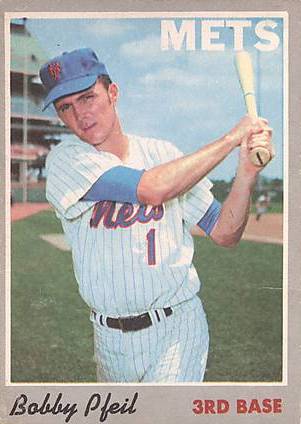 Bobby Pfeil's role on the 1969 Mets may have been small, but it was significant, and it's one that he has cherished for the last four decades.
Robert Raymond Pfeil (pronounced "file") was born on November 13, 1943 in Passaic, New Jersey, but he only lived there for two years. At age two, Pfeil's mom died, and his father, A.C., and grandmother moved to California, where his father settled in as a personnel manager for aircraft companies.
"I felt very fortunate to have had a father who put the time in to play baseball with me, and encouraged my playing," Pfeil said. "He was a good athlete and was very involved in coaching me in Little League and Babe Ruth."
Pfeil was a respectable ballplayer in Little League and Babe Ruth as a shortstop and pitcher, but when he tried out for the Reseda High JV baseball team in 10th grade, he failed to make the cut. Undaunted, he hung around the team as its manager, then made the varsity the following year. He had more success in American Legion competition, where his team won the Southern California American Legion championship.
Pfeil played one year at Pierce Junior College in Woodland Hills, California, as a third baseman and outfielder. He signed with the Cubs in 1961 for a $4,500 bonus. It took Pfeil more than seven seasons of minor league play to reach the majors. The journey began in Palatka, Florida, for $350 a month, with $1.50 a day in meal money.
"That was enough," Pfeil said. "You're doing something that you want to do. That was the great part of being a ballplayer."
His ride through the minors continued in 1963 in St. Cloud, Minnesota and then Fort Worth, Texas in 1964. As a third baseman, Pfeil's path to the majors was blocked by Ron Santo, so the Cubs traded him to St. Louis in 1965. The Cardinals placed Pfeil in Tulsa, Oklahoma, where he won a Texas League championship in 1965. He stayed in Tulsa through the end of the 1967 season, which included a stint playing for new minor league manager, Warren Spahn, whom Pfeil-remembered as pitcher-friendly.
"Every pitcher, regardless of how badly they got hit, always got a chance to work out of (a jam), which didn't usually work that well," Pfeil said.
Pfeil had a fun offseason job for four years, working in the art props department for Walt Disney Studios in Burbank, California, storing old animation artwork. It paid well enough to help support his minor league career.
In 1968, Pfeil was traded to the Mets and reported to Triple-A Jacksonville. Setting the precedent for what would happen in the majors the next season, the Mets minor leaguers won a championship that year, with Pfeil leading the league in hits. That winter, he expected to be claimed in the expansion draft by either the Padres or Expos, figuring that would be his best and last chance to make the majors. When it didn't happen, he was disappointed. He asked permission to report to the Mets' new Tidewater Triple-A team three weeks later than usual, then played respectably when he returned.
In June, Pfeil got his first big league call-up, as Bud Harrelson's required military service opened up a roster spot. "I remember when I introduced myself to Gil Hodges, he asked if I could play second base," Pfeil said. "I had played maybe 10 games at second base my whole life, but I said sure I could. So I was in that night at second base."
Pfeil's first major league game came on June 26 against the Phillies. He popped to second in his first at-bat and flied out in each of his next two trips before recording the first of 68 career major-league hits, a two-out double in the eighth inning against Grant Jackson in a 2-0 loss.
Pfeil's first RBI came a little more than a week later on July 4 against the Pirates, when his ninth-inning single plated a run in an 11-4 victory in the first game of a doubleheader. He added two hits and a run scored in the second game victory, which moved the Mets to within 7½ games of first place.
On July 8, the Mets rallied to beat the Cubs 4-3 in a critical early matchup with the NL's best team. Pfeil started, went 0 for 3, and was pinch-hit for by Donn Clendenon, who had a key double in the Mets three-run ninth inning rally.
The next game was nearly the most significant night in the short and mostly futile history of the Mets to that point. Tom Seaver took a perfect game into the ninth inning. Pfeil drove in New York's first run with a first-inning double, but he played a more significant role later in the contest, as Seaver would write.
Jimmy Qualls came up to bat, a rookie hitting .243, facing the New York Mets for the first time in his life. I didn't know much about him, but before the game, Bobby Pfeil, our rookie infielder, told me that he'd played against Qualls in the minors several years earlier. "He can get his bat on the ball." Bobby said. "Give him hard stuff."[1]
Qualls singled, on a fastball, ending Seaver's bid for perfection. The Mets' stretch of games without a no-hitter, one that would last far longer than anyone would have thought at the time, continued.
On July 20, man landed on the moon, but earlier that day against the Expos in Montreal, Pfeil had his best moment as a Met. With Ron Swoboda on third base and two outs in the ninth inning of a tie game, Pfeil bunted on his own, and reached safely when the ball hit the third base bag.
Nearly 40 years later, Pfeil's Mets teammates still remember that play very well. Former Met Rod Gaspar cited it when he referred to Pfeil as "one of the most intelligent players I ever played with." Management took notice too, as Pfeil found a supporter in Gil Hodges, who made sure that Pfeil stuck with the team even when Harrelson returned.
"We were in the airport in Montreal, and I told Gil that my two weeks were up, my wife was still in Tidewater, and what do I do?," Pfeil said.
"[GM Johnny Murphy] may want you to go down, but I want you here," Hodges told Pfeil. "You'll be here the rest of the year."
Pfeil remained on the roster and figured in some key moments over the rest of the season. In an August 30 game in San Francisco, Pfeil was involved in a bizarre play that helped the Mets win. The Giants had a runner on first with one out in the ninth inning of a tie game, with Willie McCovey at the plate. McCovey was a left-handed hitter known for pulling the ball so much that the Mets employed a drastic shift, leaving Pfeil as the only infielder on the left side. But McCovey crossed them up, hitting this one just fair, down the left field line.
Gaspar, playing left field, retrieved the ball and fired quickly to the plate, just in time to get Bob Burda trying to score the winning run. However, after applying the tag, Mets catcher Jerry Grote forgot that there were only two outs and rolled the ball to the pitcher's mound. Clendenon saw that happen, raced over, grabbed the ball and threw to third base where Pfeil was covering. Pfeil tagged the surprised McCovey trying to advance to third, ending the inning. The Mets won in the 10th inning on a Clendenon home run. That may have been a sign that it was meant to be their year.
Pfeil also played in the September 12 doubleheader against the Pirates, in which the Mets won each game 1-0 on a pitcher's RBI. Pfeil scored the lone run of the opener, coming home on Jerry Koosman's fifth-inning single.
"I actually remember sliding into home plate," Pfeil said. "Gil Hodges said that the way the catcher blocks the plate, if you hook-slide, you're going no-place. I was more straight legged. My object was to kick out the catchers legs."
Pfeil's last at-bat as a Met was a successful one, as he drove in the only run of a 1-0 victory over the Phillies on September 27, with an eighth-inning single against the pitcher he faced in his debut, Grant Jackson.
Though Pfeil hit only .232, that doesn't tell the whole story of his season. Pfeil was 5 for 9 as a pinch-hitter and was 8 for 24 with two outs and runners in scoring position. He was also the team's most reliable defender at third base, with only three errors there in 49 games. The Mets were 33-17 in Pfeil's 50 starts as compared to 67-45 when he didn't.
"Isn't that something?" he said upon learning about that last stat. "My reputation was that of a guy who understood the game and wasn't going to embarrass you. A guy who could, catch, who could field, and who could advance the runner. I didn't hit as well as I should have, but everybody on the team had a purpose. Everyone played. A slow week for me, I played three games. I have a world of respect for Gil Hodges as a manager. What a great way for someone to manage a team."
Pfeil and his wife made friends with several of the other couples on the team, most notably Tom and Nancy Seaver, and the four were regular dinner partners. "Everyone got along really well," Pfeil said. "I have a lot of respect for him."
Pfeil didn't play for the Mets in the postseason, as he got caught in a roster crunch, but he didn't harbor any bitterness. "We had 26 guys eligible for 25 spots, and I was the odd man out," Pfeil said. "But they got permission from baseball for me to suit up."
He remained useful though. When President Richard Nixon attended a World Series game, he was given Pfeil's glove to wear while sitting in his box seat. "I never thought to have him sign my glove," Pfeil said.
Pfeil's first wife, Melanie, garnered some attention as well, joining the wives of Seaver, Nolan Ryan, and Duffy Dyer in parading through Baltimore's Memorial Stadium with a "Lets Go Mets" banner. Fans threw peanut shells at the wives, but that didn't stop the Mets from getting an important win in Game 2.[2]
"I kind of wish she didn't do that," Pfeil said, noting that he still had a picture of that moment. "I thought it was a little showboat-ish to do that in [Baltimore's] park."
Pfeil enjoyed his time in the Fall Classic though and can often be seen in shots of the Mets dugout during the World Series.
"That's fun to look back at now," Pfeil said. "The way the last 45 days went, with our pitching being so dominant, we knew we had a chance. The truth in baseball is that good pitching takes you a long ways. Everything seemed to snowball. Everything went our way."
Returning to the Mets for spring training in 1970, Pfeil knew he'd have a tough time making the team, as the Mets obtained third baseman Joe Foy from the Royals, which made the infield rather crowded. Hodges asked Pfeil if he would try to catch. "That was a difficult spring," Pfeil said. "My glove hand wound up being two times the size of a normal hand, because they beat me up every day."
The lessons would come in handy, but not for a couple of years. Pfeil didn't make it back to the majors until 1971 with the Phillies. He was traded to Philadelphia in May, 1970, spent the rest of the year in the minors, but won a utility role in spring 1971. On July 27, in the first game of a doubleheader against the Astros, Pfeil was asked to start at catcher for the first time in his career. It would be one of his all-time playing highlights.
"I had never hit a home run before, and that day, I hit two off Larry Dierker," Pfeil said. "Larry grew up on the next block from where I did, in California. I also threw Jimmy Wynn out trying to steal and tagged Denis Menke out at the plate."
Pfeil hit .271 in 70 at-bats, playing at least one inning at every position except pitcher. Yet his efforts were not enough to make it back to Philadelphia. He was traded to the Brewers, then the Red Sox in the spring of 1972. He played in the Red Sox organization briefly, than retired for good, moving back to California in 1976. He married his second wife, Chrissie, and had a son, Spencer. They now live in Stockton, California.
Pfeil went into the apartment building business, partnering with three friends to form RPM Company, a successful enterprise, which built properties in 14 states. He also assisted coaching high school baseball for seven years, pitching batting practice four days a week, though he has since retired from that position.
"If I resented anything from when I tried out for high school baseball, it was that you only got five swings and five grounders," Pfeil said. "When I was coaching, we looked at every kid for a month. I was the one who would say that we didn't have to cut a guy, that if you worked hard and would be a good teammate, we'd be happy to have you."
Pfeil's Mets teammates were always happy to have him around at oldtimers days and reunions. On the bus after one event, Donn Clendenon noted that he heard Pfeil talk more then than he had at any point in 1969. At another, Pfeil took batting practice and couldn't get the ball out of the batting cage. "Some things never change," kidded Tommie Agee.
"There's a special bond we have with the guys now," Pfeil said. "We're all old men now, but we shared something that was really special."
Sources
Interviews with Bobby Pfeil, January 27, 2008, and February 24, 2008
Interview with Rod Gaspar, February 17, 2008
Isaacs, Stan, "The 1969 Chronicles, A Sportswriters Notes."
Seaver, Tom with Schaap, Dick, The Perfect Game: Tom Seaver and the Mets, N(New York: EP Dutton and Co, 1970.)
New York Times
---
[1] Seaver, Tom with Schaap, Dick, The Perfect Game: Tom Seaver and the Mets, NY: EP Dutton and Co, 1970
[2] Isaacs, Stan, "The 1969 Chronicles, A Sportswriters Notes," available on the internet at http://www.izix.com. Chapter 2, column 10.
Born
November 13, 1943 at Passaic, NJ (USA)
If you can help us improve this player's biography, contact us.
http://bioproj.sabr.org/bp_ftp/images4/PfeilBobby.jpg
600
800
admin
/wp-content/uploads/2020/02/sabr_logo.png
admin
2012-01-04 20:39:53
2012-01-04 20:39:53
Bobby Pfeil