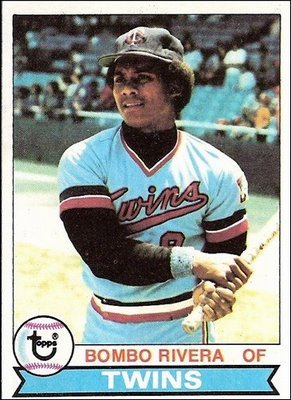 ---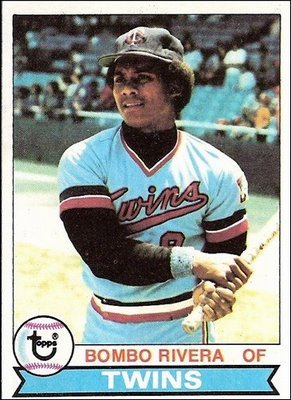 "We drive on to Minneapolis. We are all relaxed at the game, cheering the Twins to an easy win, chanting 'Bombo! Bombo! Bombo!' each time the Twins' right fielder Bombo Rivera is announced. He is a good young player, but not great. It is his name that intoxicates the crowd."
W.P. Kinsella's Shoeless Joe is a magic realist novel – but the passage about Bombo Rivera was fact, not fantasy. From 1978 through 1980, Rivera was a cult figure in Minnesota. Humorist Garrison Keillor, of Prairie Home Companion fame, wrote and performed a song with his Powdermilk Biscuit Band called "The Ballad of Bombo Rivera." Students at the University of Minnesota cast hundreds of write-in ballots for Bombo in student-senate elections. The Twins were a mediocre team in those years, as tightfisted owner Calvin Griffith lost the best players to free agency. Their attendance was at or near the bottom of the American League. Yet the faithful who did turn up at Metropolitan Stadium loudly supported the friendly Puerto Rican.
Although Rivera played just 335 games in the majors from 1975 through 1982, his pro career spanned 21 years – and the fans took to him at every stop. A 1972 interview with Al Smith of the Palm Beach Post gave another good reason. "I try to hustle all the time," Rivera said. "It makes me mad when I see somebody not hustle. I hustle for the team and I like to see a team with spirit. But when everybody doesn't hustle for the team, I keep on hustling. Then I hustle for Bombo."[1]
Rivera hit .265 with just 10 homers as a big leaguer, but he put up some good power numbers in Mexico and Japan from 1984 through 1988. He also took part in 18 seasons in the Puerto Rican Winter League from 1971 through 1989. He was a member of five champion teams at home and went on to appear in three Caribbean Series.
Jesús Manuel Rivera Torres was born in Ponce, Puerto Rico, on August 2, 1952. His father, also named Jesús Rivera, was a mason and carpenter. His mother, María Torres, had one other child. Iván Rivera (born 1958) played three years of Class A ball in the Boston Red Sox system from 1975 to 1977.
Young Jesús began playing baseball at the age of 7 in the children's Police Athletic League in Ponce. He got his nickname from a friend of his father's when he first started. "I used to hit a lot of high fly balls," he recalled in an interview for a Puerto Rican baseball website, "and after a while everyone started shouting, 'Bombo. Bombo.' They weren't always long fly balls, but they were always high." [2]
Bombo had musical talent, playing percussion for local salsa bands. His grandfather had been known for his ability in this field.[3] However, the young man, who grew to 5-feet-10 and 185 pounds, was a fine all-around athlete. At Ponce High School, he starred in track and field and basketball as well as baseball. Al Smith wrote, "He was a top sprinter in the 100- and 200-meter dashes, but was even more outstanding throwing the shot." [4] Jesús "Bombo" Rivera, Jr., the outfielder's oldest son, added in April 2011 that his father was part of a 4×100 relay-race team that still holds a Puerto Rican high-school record.
Smith's interview with Bombo Sr. continued, " 'I tried soccer some, too,' he said. 'I like it so-so. I was a little too short. I'd be a little too short for football, too. I like baseball best and I like playing the outfield. I used to catch, but I don't want that anymore. I'm a little scared of that."[5] As Bombo Jr. recalled, his father was a backstop in AA (as the top amateur level in Puerto Rico is known), playing for Santa Isabel. "He didn't play much, he was on the bench. He got signed because he was fast and strong."
The Montreal Expos signed Rivera as a free agent in 1970. The scout was José García, who previously had signed another outfielder from Ponce for the Expos, Pepe Mangual. (In the mid-1980s, he signed at least four more Puerto Rican big eaguers for the San Diego Padres.) The bonus was a modest $3,000.
The 17-year-old Bombo hit .240 in 39 games in the Gulf Coast Rookie League. A personal highlight came when he got to see his boyhood hero, Roberto Clemente, as the Pittsburgh Pirates faced the Expos in a spring-training game.[6]
The next year, 1971, Rivera split between Jamestown in the Class A New York-Penn League and Quebec in the Double-A Eastern League. He hit just .181 in 83 at-bats for the Carnavals, but that fall Expos general manager Jim Fanning said, "That Rivera is a powerful boy. He is our answer to the Pirates' Bob Robertson."[7] That winter, Bombo made his debut in the Puerto Rican Winter League with the Caguas Criollos. He got into just eight games, going 2-for-12.
After marrying Awilda Álvarez on March 4, 1972, Bombo returned to A ball. Al Smith wrote, "His popularity grew quickly. With his line drive hits, speed on the basepaths and one-handed grabs in right field, the saying 'as Bombo Rivera goes, so go the West Palm Beach Expos' became evident."[8] Yet he was better off hitting line drives instead of bombos, which died in the humid Florida air. "He started trying to beat the park. . . and pull everything over the fence," said manager Lance Nichols.[9] He finished with a good but not spectacular batting line of .260-3-60 in 125 games.
Nonetheless, Rivera returned to Quebec in 1973, spending that year and the next with the Carnavals. He was with the big club in spring training 1973, and some games in camp that year featured an all-Ponce outfield at the top of the lineup: Jorge Roque in center, Bombo in right, and Pepe Mangual in left.[10]
Bombo's performance with Quebec in 1974 was pretty good, not remarkable (.290-7-42) and he followed with a poor winter for Caguas (.212). Even so, he made the Montreal roster out of spring training in 1975. He had been sent to the minor-league camp for reassignment, but was recalled in early April when Rich Coggins was sidelined with a kidney disorder. Lance Nichols, who had moved up to Quebec as manager, gave Rivera the good word – it remains one of his outstanding baseball memories.
Another of those memories came when he got his first hit in the majors, in his fourth game, at old Jarry Park in Montreal. It came off Larry Demery of the Pittsburgh Pirates. After appearing in just one more game, though, Rivera was sent down to Triple-A Memphis. Expos manager Gene Mauch told the fans that Rivera would be back someday and that he'd be a star.[11] Indeed, that season showed the promise of a recall (.293-9-22 in 40 games) but was cut short in June when Rivera broke his ankle sliding into second.[12]
Rivera spent all of 1976 with Montreal. He remembered his first homer in the big leagues well. It came on June 26 at Jarry Park, an inside-the-park grand slam off Pittsburgh's Jerry Reuss. Rivera got into 68 games that season and played the most left field of anybody for the Expos. His hitting was respectable: .276-2-19 in 185 at-bats. Montreal's public-address announcer, Richard Morency, conveyed his enjoyment of Bombo's name to many with his delivery.
Rivera wound up back at Triple-A for 1977. He had a good season (.302-17-95 plus 14 triples for the Denver Bears) and caught the eye of another noted novelist, Richard Ford. In a 1992 Harper's magazine piece, Ford wrote, "That summer Denver sported a wonderful minor-league spectacular named Bombo Rivera, who was hitting balls hard and far and in all directions, catching everything in the yard, and throwing lightning bolts to every base."[13]
Montreal did not call him up at any time that year, however, and in October, they sold his contract to the Twins. The Expos had an outstanding crop of young outfielders in Warren Cromartie, André Dawson, and Ellis Valentine. Meanwhile, Minnesota faced the impending loss of free agents Larry Hisle and Lyman Bostock. Gene Mauch – by then manager of the Twins – said of Rivera, "He can hit." And for those who knocked Bombo's outfield play, farm director George Brophy added, "I think people will be very surprised when they see him play defense. He's better than you might think and he has a strong arm."[14]
The winter of 1977-78 in Puerto Rico was a memorable one for Bombo. After six seasons with Caguas, he joined Mayagüez. Although the Indios finished fourth in the regular season with a sub-.500 record of 29-31, they won both playoff rounds and the Winter League championship. They then went on to capture the Caribbean Series in Mazatlán, Mexico.[15] Also on that team was José "Shady" Morales, who had been Rivera's teammate with the Expos and would join him again with the Twins in 1978 and 1979.
Those first two seasons in Minnesota were Rivera's busiest and most productive in the majors. He played in 101 games and got 251 at-bats in 1978 (.271-3-23). In the home opener, on April 14, Bombo led off, going 2-for-4 with two walks and three runs scored. The next day Garrison Keillor came out with his ballad. Sample lyric: "It takes two to tango and two to mambo/But we can do it all with just one Bombo."[16] May 19, 1978, was Bombo's best day in a big-league uniform, however; he went 4-for-4 with a homer at Royals Stadium in Kansas City.
In 1979 Rivera followed up with a .281-2-31 line in 112 games and 263 at-bats. Twins fans of that time pair Bombo in their memories with another light-hitting but wonderfully named outfielder, Hosken Powell.
On April 28, 1980, Bombo suffered a fractured kneecap. In the second inning at Metropolitan Stadium, he chased a fly ball by Seattle Mariners DH Willie Horton and slammed into the right-field foul pole. He had to be carried from the field and wound up missing 2½ months. His average sank steadily over the final weeks of the season, and he finished at .221-3-10. Near the end of spring training in 1981, the Twins released the cult favorite, prompting another unofficial tribute. A fan named Ken LaZebnik, who published his own magazine called Minneapolis Review of Baseball (later Elysian Fields Quarterly), wrote an ode called "Fare Thee Well, Bombo Rivera."[17] LaZebnik went on to become a successful screenwriter; one of his colleagues was Garrison Keillor.
A week after the Twins released Bombo, the Kansas City Royals signed him and sent him to their top affiliate, Omaha. He had a fair year there in 1981 (.259-16-60), but did not make it up to the Royals at any time. In 1982, though, his production was very strong (.318-27-91). As authors Devon Niebling and Thomas Hyde recorded, he "could cull a slow, swelling roar from the crowd at Rosenblatt [Stadium] with each at-bat."[18] That year earned him a final five-game stint in the majors. He went 1-for-10.
Rivera began 1983 with Omaha again, but he got off to a dreadful 3-for-45 start and never really dug out (.183-8-33). Even though he was still the club's most popular player, he was released on July 2. Dick Balderson, Kansas City's director of player development, said it bluntly: "In Bombo's situation, with his age [31], he's got to produce much like he did a year ago to stay with a team, and he wasn't."[19] Rivera then caught on with Louisville, the Triple-A club of the St. Louis Cardinals, for his last 23 games in the United States.
Bombo then moved on to Mexico for 1984. With the Aguascalientes Rieleros, he put up big numbers again (.326-29-109). He signed with the Kintetsu Buffaloes of Japan's Pacific League for 1985. He hit 31 homers, but drove in a surprisingly low 69 runners while hitting .244. The Buffaloes released him in June 1986; Rivera had suffered a hamstring injury and his production was down (.228-6-17 in 41 games).
Nonetheless, the Puerto Rican enjoyed his time in Japan greatly. Bombo Jr. said, "He loved it. It was one of the best experiences he ever had – for myself, my mother, everyone else too. He was the only Spanish player on the team. Every time he hit a homer, he'd get a teddy bear with his face on it. He was treated like he was special. Everything was so different. He jumped in the bullet train to go to the home games. The people would see him and call out."
Rivera returned to Mexico after his time in Japan ended. During the rest of 1986, he hit .314-9-30 for the Monterrey Industriales. He spent the summers of 1987 (.330-18-76) and 1988 (.296-10-43) in Monterrey too. Over his 3½ summers in Mexico, his totals were a .319 average with 66 homers, 257 RBIs, and a .556 slugging percentage. Although he performed well, he felt that he often arrived at the games too tired to play – it's a common refrain among men who played there that the 18- to 20-hour bus rides were draining. Rivera also found the food too spicy for his liking; Puerto Rican cuisine is flavorful but does not use much hot pepper.
Rivera also played on through three more winters in Puerto Rico. After nine seasons with Mayagüez, he was with the Ponce Leones in 1986-87 and the Arecibo Lobos from 1987 through 1989. When he finally quit, Bombo had hit 70 homers in 761 games in his homeland, batting .259, and driving in 349. Of his five Puerto Rico Winter League champion teams, two were with Caguas (1973-74 and 1976-77) and three with Mayagüez (1977-78, 1983-84, and 1985-86).
Even then, Bombo still wasn't quite done. He joined the St. Petersburg Pelicans of the Senior Professional Baseball Association in 1989, hitting .207 in 11 games. He got into two more games for the Florida Tropics in 1990 (the league folded partway through its second season).
In the early 1990s Rivera worked for a while as a Brink's armored car driver and also in the Tampa International Airport. Some time before, he also got divorced and remarried. All told, he is the father of five children. The oldest is Jesús Jr., followed by a daughter named Jessica. With his second wife, Jennisa Torres, he then had two more daughters named Jessuán and Chantelle, plus a son named Joseán. In January 1994 Chantelle – then just 3 years old — was diagnosed with a brain tumor. A benefit game for her took place that month at Al Lang Stadium in St. Petersburg, and the little girl threw a ball to her father. Sad to relate, she died at the age of 5 in December 1995, which caused Bombo to withdraw from baseball for a while.
The lure of the game proved powerful, though, and Rivera has done much for baseball in his homeland ever since. He has had the opportunity to work with the city of Mayagüez, where for a couple of years or so he was the director of a baseball academy, teaching around 50 children aged 7 to 13. He has coached at the AA level for several teams, as well as umpiring in high school and college ball. As of 2011, he remained active in teaching children of all ages, from youngsters to older teens. With the major-league pension, Bombo Jr. notes, "He doesn't have the need to look for a job. It's not about the money, it's about teaching the kids fundamentals, how to play the game right."
The simple utterance of Bombo Rivera's name can charm even fans born many years after he played. Bill James expressed it nicely in the 1982 edition of his Baseball Abstract: "A chart of numbers that would put an actuary to sleep can be made to dance if you put it on one side of a card and Bombo Rivera's picture on the other."
In memory of Chantelle Katiria Rivera Torres (1990-1995).
Special thanks to Jesús "Bombo" Rivera Jr. for his memories and for getting his father's input (telephone interview, April 28, 2011, plus e-mail). Continued thanks also to Jesús Rubio (Mexican statistics).
May 23, 2011
Sources
www.baseball-reference.com
www.retrosheet.org
Crescioni Benítez, José A. El Béisbol Profesional Boricua. San Juan, Puerto Rico: Aurora Comunicación Integral, Inc., 1997.
Araujo Bojórquez, Alfonso. Series del Caribe: narraciones y estadísticas, 1949-2001. Colegio de Bachilleres del Estado de Sinaloa, 2002.
www.japanbaseballdaily.com

---
Full Name
Jesus Manuel Rivera Torres
Born
August 2, 1952 at Ponce, (P.R.)
If you can help us improve this player's biography, contact us.
http://bioproj.sabr.org/bp_ftp/images5/RiveraBombo.jpg
600
800
admin
/wp-content/uploads/2020/02/sabr_logo.png
admin
2012-01-04 20:09:31
2012-01-04 20:09:31
Bombo Rivera