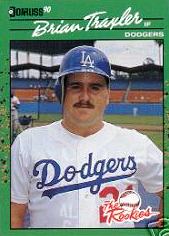 ---
He had just 11 big-league at-bats in 1990, but Brian Traxler was still a cult figure. Over 13 years as a pro, the first baseman delighted fans across the minors, the Caribbean winter leagues, Asia, and independent circuits.
His immediate appeal was visual. "Trax" was rotund — leniently listed at 5-feet-10 and 200 pounds, he often weighed up to 240 or more. He was likened to portly Phillie John Kruk, once remarking, "I actually met him while I was in Philadelphia. John Kruk was like, 'Are you my brother? How long have you been away?'" [1] This author saw him for just one fleeting plate appearance with the Los Angeles Dodgers, yet he made an indelible impression: thickset, taking swift practice lashes with an intense, almost comical grimace.
But his great popularity went well beyond image. While "regular Joes" identified with Traxler, friends of all ages loved this folksy, approachable man. After he passed away at the untimely age of 37 in 2004, one obituary said, "He was the 'life of the party' and always made people laugh." [2] San Antonio Missions broadcaster Roy Acuff said, "He was a very engaging guy, very likeable."
Ability also formed the package. Acuff was quick to add, "He was always a great hitter, a natural hitter with a great swing." [3] Like Ted Williams, Trax claimed that his 20/10 vision allowed him to see the seams on incoming pitches. Yet that wasn't all. He was a deceptive athlete with quick feet who could play the field. A real baseball lifer, he was totally immersed in the game itself. He had remarkable powers of analysis and could predict where batters would hit the ball by reading many subtle cues. At the very least, he deserved a longer look in the majors. Yes, tantalizing near-misses abound at the top level — but few of these stories have such an emotional hue.
Brian Lee Traxler was born on September 26, 1967, in the Chicago suburb of Waukegan, Illinois. His father, Floyd "Sandy" Traxler, was chief operator for the North Shore Sanitary District for over 20 years. While at Waukegan East High School, Sandy had been a pitcher, talented enough to earn a tryout with the St. Louis Cardinals, though overwork had already hurt his shoulder. Brian's mother, Ruth Johannesen Traxler, also passed on a "gamer" attitude. "We were playing softball while I was seven months pregnant with Brian, and I slid into third base," she recalls. "Sandy said, 'What are you doing?!' and I said, 'Don't worry, I slid on my back!'"
Sandy and Ruthie got their baby boy a tiny baseball glove at the age of 8 months. Little Brian began to play ball with his father as a toddler; his keen hand-eye coordination became visible at the age of 4 as he swung a miniature wooden White Sox bat in the family apartment's large dining room. "Not the Cubs," says Ruthie, "Oh, no no no." The next year Brian began to play tee ball, and from then on he was always a year or more advanced.
The Traxlers also had two daughters. Kelly was two years younger, and Stacey came along two years after her. All of the children enjoyed bat-and-ball games, Kelly remarks.
"Dad would take us out after dinner and hit grounders to all of us. Stacey and I were pretty good softball players. But for Brian it was baseball every day, from the beginning of time. He would pitch tennis balls to us sisters, and he threw hard! He would raise bruises on us and we'd have to replace screen doors."
From the age of 10 to 16, Brian played sandlot ball ceaselessly from 8 a.m. to 6 p.m. He was the de facto manager of his youth league team at 12 and 13. Sandy and Ruthie urged him, "Ask the boys what to do, don't tell them!" Even then he played through a severely swollen hairline wrist fracture that required packing in ice. In his middle teens, he played for the baseball, basketball, and golf teams at Waukegan East. Kelly notes, "Brian wanted to play football too, but our parents said no, injuries could have taken him out of baseball. Anything he did, he did well naturally — skiing, for example."
He also played American Legion ball with Homer Dahringer Post 281. "Waukegan was a little baseball mecca," says Kelly. "There was a lot of talent around." In addition to playing first, he pitched and saw some time in left field. In June 1985, Brian was a member of an Illinois high school all-star team that faced Michigan's elite seniors in a game at one of the Traxlers' favorite places, old Comiskey Park in Chicago. In front of roughly 500 parents and family members, the Michigan squad — led by pitchers Jim Abbott and John Smoltz — won the fourth annual interstate battle, 5-2.
Brian was also named to the North roster that played at the National Baseball Festival in Baton Rouge, Louisiana. Smoltz was the most notable future major-leaguer on that team, but others included Dave Silvestri (Missouri) and Ted Wood (Ohio). Wood went on to play college ball with Traxler and become his lifelong friend. "We both had two sisters," says Ted today. "He was the brother I never had."
"I remember meeting Trax on the plane going down. He was wearing a fishing hat and one of those mesh football shirts. He was walking up the aisle greeting everybody: 'Hey, baby! How's it going, sir?' Everybody was thinking, 'What's this guy's problem?' But it was funny."
At least one club (Kelly and Ruthie aren't sure if it was the Yankees or the Mets) was interested in drafting Brian out of high school. But the Traxlers again said no, insisting that the young man get some college under his belt in case he got hurt. So after graduating, though he had been offered a scholarship to hometown Northwestern University, he chose the University of New Orleans (UNO), mainly because he wanted a warm Southern climate for baseball.
Former UNO head coach Tom Schwaner, who recruited both Brian and Ted Wood, remembers, "The coach before me, Ron Maestri — his father 'Flip' Maestri came from right by Waukegan and scouted professionally. So I was tipped off. When I went there, typical of great high school players, Brian never got anything to hit. After three walks, the fourth time he stepped right across the plate to get the pitch and drove it out."
André Desjardins, an assistant coach for the three years Traxler played in the Crescent City, said, "He was a favorite of fans, coaches, and teammates alike." Tom Schwaner goes deeper. "Trax was as pure a baseball player as I've ever encountered, and I've coached 43 years and played professionally. It was his knowledge." Prefiguring Brian's future pro coaching role, Schwaner notes, "He was a real student of hitting — in fact, I turned my hitting over to Brian Traxler. Unofficially, of course, but it was the way he could relate to peers." (To make Traxler a coach "officially" would likely have made him an employee of the university and negated his amateur status.)
"In most people's eyes, he would be one-dimensional, but the more you saw him, the more you realized what he could do as an athlete. Defensively, he could play anywhere except for short and second, being a lefty. Put him in the outfield, even though he didn't have speed, he'd get great jumps because he'd analyze the pitch."
"He even got on the mound and pitched for us. He didn't have the stuff, but he had the moxie. Once he shut out Wichita State, a top-ranked team at the time, just moving the ball in and out. Their coach went on a tirade, 'How can you let this fat so-and-so beat you like that?!'"
Brian swung a potent bat with the Privateers. He belted 15 home runs in 1986, despite a beaning-related concussion, and 20 more in 1987. He became UNO's career leader in homers (49), RBIs (206), and total bases (438). [4] "And he did so when bats were not quite as lively and dynamic," Schwaner observes. "One of the five or six best hitters I ever played with," says Wood, who himself hit a school-record .380. "He had just phenomenal natural ability at the plate."
Along with Wood, who played in 47 big-league games from 1991-93, another Schwaner pupil also went on to the majors: pitcher Joe Slusarski. (In addition, righty Jim Bullinger finished his New Orleans career in 1986.) Wood emphasizes, "Understand that Trax and I were 'his' first players during his first season as head coach. We had tremendous success together. All three of us grew together. We learned together… and occasionally we failed together. Slusarski showed up in our sophomore year and we had a complete package."
Indeed, the team jumped from 29-30 in 1986 to 42-17 in '87, followed by a 2-2 showing in the NCAA South II Regional tournament at Privateer Park. Then in '88, they went 42-21, losing a tough 6-4 game to Michigan in the NCAA Central Regional. Again Brian faced his friendly rival, Wolverines star Jim Abbott. As in the high school match at Comiskey, the one-handed hurler barely retired Trax on a long drive to the center-field wall.
Says Schwaner, "All I did was put 'em together on the field and say, 'Sic 'em!' LSU had Ben McDonald, Russ Springer, and Albert Belle then, but we dominated them all three years with Brian, Ted, and Joe." (That wasn't altogether true; the Tigers shut down the Privateers in the 1987 regional, 14-1 and 3-0.)
In a March 2007 conference call, Wood and Slusarski chuckled merrily as they spun stories about their old buddy and roommate. "Do they have to be clean?" asked Ted. Trax had dashes of John Belushi (Joe also offered a tale that started where Animal House left off) and Babe Ruth. They just scratch the surface when talking about the victory parties at one Big Easy bar…that offered a free pitcher of beer for every run by which the opponent was outscored…and the final was 20-2 — or when the U. of Miami Maniac mascot delivered a different fast-food entrée to first base each inning as a running joke, and Brian laughed, went with it, and started snacking right in the field.
Yet he was still uniquely Trax. "Here's what he was like. He used to be into wrestling…the bad guys, screaming and yelling. I wish I had the tape we made," Ted Wood says. "He had five or maybe just three pairs of Zubaz [garishly striped wrestling shorts that were a fad back then]. And the chances of his wearing underwear weren't all that good either!"
"We had a pet alligator named Volkoff," says Slusarski. "Named after Nikolai Volkoff, the bad-guy wrestler. In fact, one time Brian cut off all his hair except for a silver-dollar-sized spot. It was like somebody left a divot on his head. That was also for Volkoff."
"The gator started out about a foot long, and then he got to be about three feet and was swimming around the tub. He used to hang out under the TV too."
"Brian's routine would be Headbangers Ball [an MTV show]. Trax loved heavy metal music. He'd have that and Saturday morning cartoons every weekend. One day I woke up on the wrong side of bed and turned them off. He came back in the room and screamed at me. I said, 'I changed the damn cartoons! I'm tired of Bugs Bunny!' He picked me up over his head and body-slammed me on the couch."
"When we were on the road," says Tom Schwaner, "I'd get calls from the hotel manager — noise complaints from other guests. Brian and Ted would take those plastic golf balls, the kind with little holes in them, wrap them in tape, and take batting practice in the halls!" Wood responds, "It was just what we did. We never thought of it as weird, just chasing our dream."
"They used up all of Schwan's tape making little tape balls to play in the gym when it was raining," says Ruthie. "They broke out all the gym windows!"
Antics aside, an example of Traxler's unusual charm came as he repeated an English course. "He saw this cheerleader in class," Ted recalls. "He said, 'Hey, you're pretty cute. I know I'm a fat-ass and I have no shot with you, but you should meet my roommate.' And that's how I met my wife, Olga."
"We also spent a lot of time together exchanging philosophies on hitting. I being the long skinny kid that could run, I could beat the ball into the ground for hits. He couldn't do that. I used him as a source for hitting — we were both able to do that. We'd go back and forth for hours. Throughout our careers, we'd call each other at 12:30 at night."
"We'd use each other as scapegoats, getting the other guys to relax. He was the calming force. He'd never get down on himself."
Brian missed out on international competition after his superb 1987 season. That August, the Pan Am Games were held in Indianapolis. The baseball tournament, won by Cuba, was loaded with future major-leaguers from various nations. Ted Wood and Joe Slusarski took silver with Team USA, which was seasoning many sophomores ahead of the next year's Olympics. Joe notes, "Trax had a case of shin splints, and it was a reason to look beyond him. So Tino Martinez got the nod." Ted adds, "There was a big ruckus about having three guys from one school, especially UNO."
However, Tom Schwaner differs. "I have a hard time accepting that. The coach, Ron Fraser from Miami, absolutely loved Brian. But that stress fracture meant he couldn't run or play in the field, and so Fraser couldn't keep him." Trax tried anything he could to heal the injury, including electrode therapy, but he was simply hurting too much.
In 1988, after his junior year, the Los Angeles Dodgers selected the lefty in the 16th round of the amateur draft (No. 400 overall). Charlie Blaney, L.A.'s longtime director of player development, recalls, "We drafted Eric Karros in the sixth round that year, but he held out for more money, so Trax got to go to Vero Beach [Class A] while Karros went to Great Falls [Rookie League]." Brian hit .292 against Florida State League pitching, with 2 home runs and 34 RBIs.
That September in Seoul, South Korea, Ted Wood and Joe Slusarski both won Olympic gold medals with the U.S. baseball team (because it was a demonstration sport then, the medals were not part of "official" totals). But again Traxler did not join his Privateer pals. Two of the assistant coaches, Skip Bertman from LSU and Ron Polk from Mississippi State, knew firsthand what he could do. Yet he did not try out for that team; incumbent Tino Martinez remained in place.
The next year, Brian was promoted to San Antonio (Double-A) which became his home. Between the lines, he hit .346 for the Missions with nine homers and 44 RBIs. Off the field, he slipped comfortably into a country-western image. Kelly observes, "I don't think he was ever a city person. Texas was his style, laid-back and easygoing. He liked watching football, barbecuing, going to the rodeo." He also met his wife-to-be, Gabriela "Gabby" Aguayo, a woman who proclaims, "I just love baseball!" She was selling souvenirs at the home of the Missions, V.J. Keefe Memorial Stadium at St. Mary's University in San Antonio.
"When I met Brian first," says Gabby, "his thing was Headbangers Ball. He did not miss that. At the time, I was listening to a lot of country. His wardrobe changed little by little. But before he got his cowboy hats and western shirts, he was wearing those Zubaz! I really had to help him match his clothes."
Later in 1989, Trax moved up to Triple-A Albuquerque — "our second home," Gabby calls it. He added 3 more HRs and 30 RBIs while batting .301, and landed on the radar screen of leading analyst Bill James. In his 1990 annual, James said the "absolutely square prospect…can hit, and could have a big year at Albuquerque this year. I don't know how good he'll be at the major league level, but he's fun to watch." [5]
That winter, Traxler went to Venezuela to play with the Caracas Leones. "I visited him twice there," Gabby recalls. "They called him El Gordito ['Fats']." He hit strongly (4-39-.301 in 57 games) amid local turbulence. In February 1989, the nation suffered the most violent riots in its history, and Caracas saw the worst. The capital was still on edge months later. Ruthie relates, "He was on the phone with me, and I said, 'What's that noise in the background?' 'Oh, that's gunfire,' Brian said. 'But they protect us real well.'"
Still, the Venezuelans loved their béisbol. Trax won so much admiration, notes Ruthie, that "a guy said he'd pay him to marry his daughter. Brian had to put it in the paper that he was engaged." Shortly after his return, on February 3, 1990, Brian and Gabby got married.
On April 22, the Dodgers placed third baseman Jeff Hamilton (torn rotator cuff) on the disabled list. They purchased Traxler's contract from Albuquerque, where he had played seven games. Kal Daniels was also out briefly with a twisted side, and so general manager Fred Claire wanted another lefty bat on the bench. When Trax met the L.A. press, the first topic that came up was something manager Tommy Lasorda had counseled him about in spring training — his weight.
"'I lost 20 pounds during spring training,' Traxler protested, noting that his weight was 215 pounds. That is still 15 pounds more than the listed weight in his biography. 'I know the first thing people look at is my physique…and I know that won't change. I'll never be tall, and I'll never be thin. But I go out and play hard and I know I can hit.'" [6]
He made his debut at Dodger Stadium on April 24. After umpire Harry Wendelstedt ejected Eddie Murray in the seventh inning, Brian entered as a pinch-hitter, striking out against Cardinals change-up artist Bob Tewksbury. He remained in the game at first base.
Over the next month, Traxler made seven more pinch-hitting appearances. His only official start came on May 8 at Montreal, and he recorded just one hit, a double off Dennis Martínez of the Expos on May 10. Unfortunately, he lost another double off David Cone in a May 13 start at Shea Stadium that was rained out. Brian did play the field once more, in his last game, on May 21.
But the next day, the Dodgers optioned him to Albuquerque, activating pitcher Pat Perry from the DL. It was a major disappointment for the 50 family members and friends who had tickets to see L.A. play at hometown Wrigley Field on May 23-24. That was it for Traxler's cup of coffee; his lifetime average in the majors remained frozen forever at .091.
Dodgers team historian Mark Langill notes, "One thing I remember was watching Brian in the Dodger clubhouse on that road trip to Montreal. He was planted right in the middle with all the veterans, sitting in a chair and telling stories and listening to the other veterans like they had been together for 20 years instead of 20 minutes. Many rookies shy away from older players or don't want to raise a ruckus, but he was one rookie who was going to savor every minute he was in the major leagues."
Despite what Bill James thought, Traxler did not really produce in 1990 (7-53-.277). Lack of game action with L.A. and bone spurs in his elbow were both factors. In another bad break, he had to return to Double-A in '91 after the spurs were removed. That spring, Eric Karros vaulted over Trax, and Brian stalled further (7-61-.256 at San Antonio, 1-8-.357 at Albuquerque). Meanwhile Karros, a studly UCLA grad with the prototype first baseman's build and long-ball power, had another banner year. He succeeded Eddie Murray in '92, became NL Rookie of the Year, and seldom missed a start.
Brian lifted his game in '92 (11-58-.303) and '93 (16-83-.333; he even won a game on the mound, where he still appeared on occasion). Both years Albuquerque fans voted him the team's most popular player. Gabby remembers another hardnosed episode: "He was going for a foul ball, running full out, he tripped over the tarp and ran smack into a cement wall. He knocked out some teeth and was picking them up, his face was all bruised — but he wouldn't come out of the game."
Yet he still didn't get another crack at "The Show." In 1998, Traxler related, "I had a tremendous year and [former Dodger shortstop and manager] Billy Russell liked me a lot but he said, 'I'm sorry, that's just the way it goes.'" [7]
Joe Slusarski says, only half in jest, "The story I heard was that Tommy Lasorda wouldn't put a guy at first base fatter than he was! But what if John Kruk had been in L.A.? Your opportunities are limited there. If Trax had been in a working-class town like Pittsburgh, maybe he'd have been better off." Joe also thinks, "You get that label of organizational guy, great to have around, keep doing what you're doing — if you get tagged that way, especially early on, it hurts you."
But Ted Wood says there were no sour grapes. "In the minors they're called IGF stories: 'I got f-ed.' Brian would say, 'Let's check 'em at the door, we've all got 'em.' He never harped on it. He was a team player. He didn't want to have his issues affect the team's performance that night."
The man inside the chain, farm director Charlie Blaney, observes, "Trax was just a born hitter — some power, not great power — and he was decent with the glove, a good first baseman, and a happy-go-lucky personality. I don't think there was a bias against his body type, but carrying weight did not help him, especially in later years. Unfortunately, he just didn't realize his potential."
It really wasn't for lack of effort; Brian played three more winter ball campaigns in different countries:
* The Dominican Republic (1991-92 for the Licey Tigres, 3-16-.266 in 47 games, plus 1 for 5 in two games during the playoffs)
* Venezuela (1992-93, again with Caracas, but with less success: 0-8-.217 in just 27 games)
* Puerto Rico (1993-94 for the Mayagüez Indios, 3-16-.256 in another curtailed season of 33 games)
"We didn't go to winter ball in 1990," Gabby remembers. "I was expecting our daughter, Ashley. But I still had to hit him grounders and throw BP while I was pregnant! He'd make sure that I filed my thumb, index and middle fingernails down so that I was able to throw different pitches. For our first anniversary, he gave me a pair of Ringor turf shoes, to wear when I hit and threw with him.
"And one time we were playing a little pickup game with a tree as first base [just as Brian did growing up with his sisters]. Here I am, seven months along, huge as can be, running the bases. Brian threw the ball in from the outfield and it hit me in the ear. He brought me one of his old batting helmets and said, 'You're staying in the game!' We'd be playing Wiffle ball, same thing — he lined one off my sister's forehead. We'd play in the street in front of a church and he'd tell people, 'You can't park here!'
"But some of my most memorable moments are from winter ball. In the Dominican, I was the only American wife or girlfriend. Ashley was about six months old, and I was learning Spanish — even though my parents and grandparents spoke it to us kids, we just answered in English. I'd send out laundry and it would come back all stiff, but the bellboy was my friend, he'd help me. At the ballpark, they'd tell us what to do if the lights ever went out: go into the dugout. I'm glad I read Jay Johnstone's book later, because he said people would be shooting if that happened!
"The second season in Venezuela, the fans met the plane and called out, '¡Gordito!' I said, 'Does everybody here know you?' We went to the beach, and there was one of those guys who climbs palm trees and makes hats out of the leaves to make his living. And he recognized Brian too! So yes, everybody did know him.
"We left early that time, I believe just before Thanksgiving. Andrés Galarraga had been on the DL during the prior summer and decided that he was going to play that winter. Since he was playing first and had 'priority' [the big native star had been a Lion since age 17 in '78], Brian decided that there was no use in staying. There had been riots on and off when we were there. I recall that a few days after we left they overthrew the government [actually a failed coup on Friday, November 27]. From what we heard from our teammates, it was a mess. One wife told me that they waited in line to get into the grocery store for over an hour and between two of the families that were there, they were only able to get a loaf of bread and a gallon of milk to last who knows how long.
"In Puerto Rico, we rented a space above this older couple's house. There was no AC, no hot water. Ashley and I would go to the beach and this other man who had hot water would allow us to use his shower. It shows you the things you take for granted in the States — the first thing they tell you in winter ball is don't eat the seafood because of the refrigeration. The landlords owned a nightclub next door, and coming back from the game we'd hear salsa music late at night. But I loved it!"
Before the 1994 season, Traxler "entertained the possibility of joining the then-expansion Colorado Rockies as a pinch-hitter [a role he really didn't understand with L.A. at age 22], but opted instead for the guaranteed money — and the absence of big-league politics — in Japan." [8] Cutting his Puerto Rican stint short to prepare (his agents and new team may have had a hand), he joined the Fukuoka Daiei Hawks of Japan's Pacific League.
Brian's overall numbers in '94 were not overwhelming: .263 with 15 homers and 63 RBIs in 129 games. Yet he was the only gaijin All-Star that year, thanks to a stronger first half — especially his very first game, when he drove in seven runs. He used his skill at reading pitches to adjust to a new offering, the screwball-like shuuto. But more than ever he was a crowd-pleaser — the Japanese had never seen anything like him. "He was affectionately known as 'Koro Koro-chan' because of his distinctly round physique. He could often be seen riding his bicycle to games at the Fukuoka Dome. So popular was Traxler that season that the Hawks actually issued a bobblehead doll in his likeness." [9]
The figurine sold 6,000 and prompted the Hawks to commission others. Actually, it was no common plastic souvenir; it was a Hakata ningyo — a special local craft of Fukuoka, cast in ceramic. "They're hand made and detailed," said Trax. "I felt bad because they made the mold in my body shape and the other guys look the same way but they're skinny." [10]
However, that was the only year in Japan for "Roly-Poly" (his nickname's closest translation, more or less the same as in Venezuela). He and Gabby enjoyed their time there, especially the warmth of the fans, who pronounced his name in five syllables, Turakusora.
"I just loved it, we were blessed," says Gabby. "Kids were camping out by our apartment for autographs and photos. Parents would even take stuffed animals from their kids and give them to Ashley [most likely a polite Japanese reaction to the child's admiration]. She remembers wearing a little ballgirl uniform, she loved being in front of 50,000 people. We'd walk down the street, and there'd be a guy in a business suit and a briefcase. He'd just happen to have a ball and pen, and he would chase us!
"I didn't try too much Japanese food there," Gabby notes. "I was too timid. Now I love it and wish I had! I'm not too sure how much of the local food Brian ate when he was on the road. But when we went to eat, we ate a lot of steaks — they were awesome there. And we actually found a Mexican place [one of his favorite foods] in Japan that had homemade tortillas. Come to find out, the woman that owned the restaurant was married to a man who was the Japanese consul in Mexico — we ate there very often."
One thing the couple missed in particular was their (mainly her) favorite soft drink, Dr Pepper, which was unavailable in Fukuoka. Wayne Graczyk, who has written about Japanese baseball since 1976, helped get the bottling company to ship them cases of the stuff from Tokyo. [11] Gabby says, "We rationed it and drank it like it was champagne."
Graczyk blamed the major-league strike for Trax's departure. "Several big name and bona fide MLB players… could not be offered new contracts for 1995. One of those was ex-National League home run champ and MVP Kevin Mitchell. Daiei signed him, and that transaction made Traxler expendable. The Hawks gave Mitchell the shirt off Traxler's back, uniform No. 39, and gave Brian a pink slip and sent him home, his Japan career finished." [12] The irony was that the even portlier Mitchell — who had signed a Japanese-record $4.5 million contract — left Fukuoka just two months into the season.
Ruthie calls this a devastating blow: "They pulled the rug out from under him." Still, in March 1995, less than a month after the Mitchell signing, Brian rejoined Albuquerque. He had a decent year (11-50-.283), and again the fans selected him as their favorite player. The Dodgers' Charlie Blaney notes that Trax also acted as an unofficial scout as L.A. signed Hideo Nomo. "He had faced Nomo in Japan and said what a great slider he had." However, Traxler was no longer a prospect, and he became a six-year free agent after the season. He set Dukes career records for games (544), doubles (122), and total bases (829). [13]
Yet Trax still loved the game deeply. He hung on in the independent leagues for five more years. In 1996, he played with the Fargo-Moorhead RedHawks, a new entry in the Northern League. Doug Simunic, who has managed the club virtually throughout its history, brought him there. "I was good friends with his agent, Pat Rooney out of Chicago. I had played a lot of minor-league ball with Pat [who went hitless in five at-bats with the Montreal Expos in 1981]."
In 2004, Simunic said, Traxler "kind of got us started as an organization. He was one of the first guys we signed and he showed a lot of guys how things were supposed to be done. The way he went about his business, the way he worked. He wasn't going to model blue jeans…but when it came to playing baseball, Trax was the kind of guy who was going to stick his nose in there and help you win games." [14] It was this approach that spurred Fargo fans to vote him to the RedHawks' tenth anniversary team years later.
Two more close friends, Josh Buchholz and Andy McCauley, also remember that time well. Buchholz, now the RedHawks' general manager, was then the clubhouse attendant.
"Brian was one of the first guys I met when I came to Fargo after college and weaseled my way into my first job. Nobody in town knew what to expect from the team, but signing Brian helped lend credibility to the organization. He and I hit it off, I had the same frame he did. He always had a cowboy hat on…he had his belt buckles, country music, Copenhagen. He took me under his wing — not the first or last guy he'd do that for. He had the back seat in the bus, three wide, we'd watch movies on mini-VHS. He really showed me the ropes."
McCauley, named manager of the Northern League's Kansas City T-Bones for the 2007 season, remembers a lot of good times with "my first roommate in pro ball. I was 27, he was 29. I was a coach and he was a player, it was a weird dynamic. We lived together in a double hotel room, we got real close, real quick — it was quite an experience. We drank a lot of beer together and we'd talk baseball until 3, 4, 5 in the morning. And independent baseball is different — our off days were off days!"
Brian had always enjoyed the nightlife, as former Duke Billy Bean recounted in his memoirs. Trax led the troops as they descended on a rowdy Albuquerque country-and-western bar in 1991, roaring "Men, this is the place!" He ordered beers and urged his gay teammate (then in the closet and ill at ease) to get out and dance and pick up girls. Bean "thought up a term for the mind-set: party all night and prove they can perform on the field the next day…the Mickey Mantle syndrome." [15]
Fargo sports columnist Mike McFeely described Trax as "a 5-foot-11, 250-pound Texan who wore a cowboy hat and the boots to match. His belly belonged on a slow pitch softball field instead of a professional baseball diamond. He liked to have fun and made no apologies for that character strength…'I like to have a few beers once in a while and I eat what I want to eat.' Those traits — plus an uncanny knack for hitting line drives — made Traxler the first bona fide fan favorite."[16]
Brian was one of the circuit's leading hitters (16-75-.335 in 83 games). Buchholz notes, "Usually he was talking on his way up to the plate, yapping to someone. But when he dug in, he was serious. He didn't chase bad pitches, didn't try to cover too much plate, looked for his pitch. And he had intuition. He knew when something was wrong with his swing and he knew how to fix it. That's a rare quality." His manager, Simunic, reiterates, "He was good with the glove. Anything in the dirt, he'd peel it out real easy. He was a good athlete — and a purist of the game." And from coach McCauley, "His talent level was above the Northern League, so he could go out late, get up, do his pushups and situps, and still get the job done the next day."
The running battle with weight continued — while with Albuquerque, he had worn a plastic undershirt to sweat off pounds — but a trimmer Traxler came into the '97 season after his option was renewed. He credited racquetball and horse riding (one entertaining RedHawks promotion had him on horseback racing the team's top base-stealer). Lots of batting practice and less late-night snacking also figured.
That winter, Brian and Gabby had separated, mainly for family reasons as their daughter reached school age. "His love was for the game," Gabby notes. "Without the game, he wouldn't have been who he was. It's a very tough lifestyle; I admire families that can stay with it. But we made the decision together. We remained very good friends and I don't regret it."
Trax remained "a cutup around the batting cage" and "good clubhouse type of guy." [17] But his hitting was not as strong (3-37-.298 in 42 games), and the North Dakota club released him on July 17, along with six other players. The purge came as the Hawks' first-half record was only 21-21. Management felt that their cleanup batter wasn't "producing in the right situations" or protecting their number-three hitter, Darryl Motley (still hanging on ten years after his last major-league action). [18] After receiving the news from interim manager Maury Wills, Traxler said, "I'm not bitter about it, just give me a reason. Give me a real reason." [19]
As he had before going to Fargo, Brian put out feelers in hopes of returning to Triple-A ball. But nothing panned out with Las Vegas, Tucson, or New Orleans, so he hooked on with another Northern League team, the Sioux Falls Canaries. During the remainder of the year, he went 3-21-.313, but still didn't attract any calls from higher up.
In 1998 — after driving a sugar beet truck to make money over the winter — he joined the Somerset (New Jersey) Patriots of the brand-new Atlantic League. Dave Gasaway, then the club's general manager, was another member of Traxler's extensive network, going back to their San Antonio days. Like the RedHawks, the new franchise sought a seasoned pro to help establish their profile in the community.
"I started as an intern with the Missions, then I became their marketing director," says Gasaway (now back as the club's GM). "I knew Brian a little bit, and I knew he had experience. It helped from a team standpoint — legitimacy, getting the team and league off the ground. Our first year was a complete travel year before we opened up the new ballpark in Somerset. His experience was invaluable."
Sparky Lyle has managed the Patriots since their inception. The Yankees' ace reliever of the '70s says, "I remember when Dave Gasaway signed him. We went to spring training, I was supposed to pick him up, give him a ride to the hotel. Gasaway said, 'This guy doesn't really look like a ballplayer.' And I said, 'What do you mean?'"
"'Well, he's kind of…barrel-chested.'" Lyle chortles genially at the memory. "'He's got a beer belly and little skinny legs — but he can hit. So give him a chance.' And I did exactly that."
True to form, "Traxler was one of the most popular players to ever put on a Patriots uniform — an absolute fan favorite." [20] In 2004, president/general manager Patrick McVerry said, "Brian was a memorable character to fans and an early identity for the team. He may not have looked like your typical athlete, but he truly was a great ballplayer." [21] McVerry adds today, "The community took to him. He was somebody that people came to the ballpark to watch. And he was always doing the small things for people — taking pictures, signing autographs."
Playing first and DH, Brian posted stats of 5-26-.256 in a limited 37 games that year, as he moved to the Chinatrust Whales of Taiwan's Chinese Professional Baseball League in early July. Patriots spokesman Rich Reitman said, "We released him from his contract. That's a league policy if these guys get an offer to play at a higher level." [22]
Andy McCauley has a notion that Trax may have been there in the spring as well, as the Taiwanese season starts in March. The goal was a springboard back to the Japanese leagues. Listed on one web site at 176 cm, 120 kilos — 5-feet-9 and 264 pounds! — Brian hit well though not spectacularly (2-19-.287 in 43 games). Nothing materialized in Japan, and Dave Gasaway notes, "Brian really didn't like the experience anyway — the legitimacy, the makeup of the league. They were not paying Japan-type money, and there was not a good feeling with gambling. A few other Atlantic League players went there, and to a man, they didn't like it. They told the same story."
Old pal Ted Wood, who played three seasons in Taiwan, 1997-99, also confirms the atmosphere. "I can't take any credit for bringing Brian over, but my presence was maybe one of the reasons he came. The money was not bad: about $150–200,000, at a time when the major-league minimum was $109,000. But there was a lot of turmoil and a gambling scandal."
So Traxler returned to Somerset in 1999. He was voted an Atlantic League All-Star (12-61-.250 in 109 games). A highlight came when he hit two homers in the same inning at Harbor Yard in Bridgeport, Connecticut, on June 19.
"He was by far the best hitter we've ever had here," states Sparky Lyle. "A pure hitter. He'd work that pitcher, get him to throw his pitch. He hit the s— out of the ball. I don't think he ever took a bad swing. He never threw to a wrong base, and he was a hell of a glove man. I loved the guy, he was a throwback to old-time players. It was a real treat to have him."
Roommate John Briscoe added, "He was old school, played hard, and was an all-around professional hitter. We would always stay up late talking about (the game)." [23]
After that season, Dave Gasaway thinks, "Brian was weighing a lot of things in his personal life. Being away from his daughter, playing versus coaching, all those things started converging. His passion and desire maybe was not what it should have been." And as one can surmise from the numbers, his prodigious beer intake had also been compromising his skills.
Trax still gave it one last go; he went back to Sioux Falls in the Northern League. The Canaries signed him as a player-coach on March 22. Ted Wood also made his last stand, going to the Korean league. "But I was let go on May 31 and that was when I had enough — I decided to quit. He was pissed at me when I went into a different area! It's not easy to make that transition. But that's how I prioritized it."
On June 28, though, Brian too finally reached the end of the road as a player when the South Dakota club released him. He was batting .222 in 99 at-bats over 28 games, with 3 homers and 12 RBIs. Yet perhaps his most interesting stat was strikeouts — a mere 8, showing that he was still a contact hitter. Throughout his pro career, Brian struck out in less than 10 percent of his at-bats.
Traxler had dabbled in broadcasting at UNO and Albuquerque; perhaps he should have done more. But coaching was what he had long wanted to do. In fact, between his two seasons in Fargo, the Yankees interviewed him for an opening with their Double-A team in Norwich, Connecticut. "I don't really know anything else," he said at the time. [24]
The Dodgers found a spot in their organization as a hitting instructor. "Brian never fit the 'Dodger look,' the profile," says his sister Kelly. "But they were always there. They did right by him, and he knew that." Traxler was with Great Falls (Pioneer League, rookie-level) in 2001 and 2002, moving to Vero Beach (Florida State League, High A) in 2003. In 2004, he remained at Vero Beach, but was assigned to L.A.'s Gulf Coast Rookie League team. Many raw young pros admired Trax, who taught and helped them adjust in ways that the top brass had lost touch with. Even the major-leaguers asked him for tips, and Brian had to be reminded not to spend too much time in their dugout.
However, the Dodgers did not renew his contract after the '04 season. Joe Slusarski states, and the record shows, "They changed front-office personnel and cleared out a bunch of coaches, cleaning house." Josh Buchholz remembers, "Brian and another friend were going to the winter meetings with their résumés in hand." Wood feels, "There's no doubt in my mind, he would have caught on with someone else."
But before the December 10-13 sessions in Anaheim, Traxler fell ill. Long-term excessive beer consumption had taken a heavy toll.
"Traxler was taken to North Central Baptist Hospital in San Antonio on November 4 and subsequently slipped into a coma before dying [on November 19]… A major league source said, 'He had some problems with alcoholism. He checked into the hospital a few weeks ago, but he didn't make it through. It was something similar to cirrhosis of the liver.'" [25]
"It was not much else besides beer, just years and years of lifestyle," says Buchholz. "Brian had his demons, and they crept in. I believe the Dodgers had him in a treatment program at one point, and the last I'd heard, he'd dried out — sobriety was working." But even his close friends and immediate family can only speculate about what Brian may have been hiding. He was not a person who opened up about his inner emotions.
"He had a lot of intelligence too, but people didn't get to see that side of him," says Kelly, who joined Ruthie, Gabby, and other family members in the hospital for many long, poignant vigils. "He didn't live up to his potential that way. Brian didn't know what to do without baseball. Ted did. He realized that chapter of his life was over and moved on."
"He did not ever go back and finish up at UNO," says Ruthie. "He did not wish to go back. He said, 'My place is on a baseball field. I am not office material, it would drive me crazy.' He loved chemistry, he had great math ability, he could have been a chemical engineer. He spoke four different kinds of Spanish, he could talk and understand Japanese."
"But he chose his way, and he had a full life in his 37 years."
Traxler was survived by his mother and sisters; former wife, Gabby (they were divorced officially in mid-1999); and Ashley (who plays fast-pitch softball and also has her father's lively, headstrong nature). Ted Wood — now a stockbroker and financial planner — graciously handled the young girl's college fund.
The family chose cremation and held a memorial service on December 1, 2004. Kelly was astonished at the turnout. "All these people from everywhere came. They shared stories we didn't even know, especially Ted. He was wonderful." And as one might expect, Brian's earthly remains went to the place he loved best: the ball field. Some went to V.J. Keefe Stadium in San Antonio, while Wood brought some more back to Privateer Park.
Here Gabby and Ashley jointly honor Brian's memory. Says Gabby: "Brian was a wonderful person who was who he presented himself to be; no matter his status wherever he was playing, he always remained 'Brian.' He was a true friend, to me and many others, and was always willing to help out when and how he could."
"Brian lived for the game and it was his true love. Brian could not go a day without playing and/or talking about the game, whether it was a professional game or just playing around the house to instructing or just sharing a story about baseball. Brian was always willing to share his knowledge when asked and would often end up giving a hitting lesson just talking about the game. He played this game with all his heart and would often be upset when he felt like others were not playing for the same reason.
"Our life together revolved around baseball and I have only the fondest memories of our experiences. I enjoyed and attended every game he played in our home towns and even had the pleasure of being able to go on a few road trips. We always felt welcome wherever he played and it was easy to make those places home. Brian gave me the opportunity to travel the world and share the love of baseball.
"Most importantly, Brian gave me a gift that is irreplaceable, our daughter, Ashley. Every day that I see Ashley play, I see Brian. She has the same knowledge, talent, and love for the game. In a certain way, I feel that he is living in her and continues to share this passion through her."
And from Ashley: "My dad is remembered by the public as a man who had a passionate love for the game of baseball. I see my dad in myself sometimes, especially when I play. He may not have had the most to offer as a parent because of his busy schedule, but I believe that he gave me one of the most important gifts in the world. He gave me something that can't be taught, and that's the love of the game and a strong desire to win. He also taught me not to take anything from anyone and to stand up for what you think; which he did. I am thankful for all of this and for the person I have become because of it. If my dad were here I'd want to make him proud of me — especially on the field."
Brian Traxler was a man of the people. With one voice, so many more underscore how this gregarious character connected at every stop along his route:
"He'd talk to anybody — no airs. He was always loud and funny. People just gravitated to him."
"We'd go to a local bar, unwind, and he'd be telling stories. His personality just took over a room, everybody just wanted to be around him. The way he would talk, he would be so confident."
"His eyes lit up. There was a little smile to his voice, an impish childhood prank quality."
"He had 1,000 names in his phone book, maybe 1,500. But he'd stay in touch with you. He never talked down to anyone. From the littlest kid to the president of the organization, he'd talk to them the same way. He said what was on his mind, but never said a bad word about anyone."
"A real shirt-off-his-back guy."
"Years later, people are still asking about him."
"I truly miss him. Nobody ever enjoyed himself better on a baseball field."
Grateful acknowledgment to the following people who contributed their personal memories of Brian Traxler (in chronological order): Charlie Blaney, Josh Buchholz, Andy McCauley, Doug Simunic, Kelly Traxler Sheward, Dave Gasaway, Gabriela Aguayo Traxler, Ted Wood, Joe Slusarski, Mark Langill, Tom Schwaner, Ruthie Traxler, Ashley "A-Trax" Traxler, Patrick McVerry, Sparky Lyle.
Thanks also to Marc Russinoff, vice president of public relations, Somerset Patriots; Matt Meola, director of media & public relations, Sioux Falls Canaries; Bill Tyler, webmaster, www.nlfan.com; Josh Rawitch, director of public relations, Los Angeles Dodgers; Humberto Acosta, baseball writer for El Nacional, Caracas (Venezuelan statistics); Jorge Colón Delgado, SABR-Puerto Rico and official league historian (Puerto Rican statistics); Jorge Torres, public relations, Dominican Baseball League (Dominican statistics).
Notes
[1] Jerry Carino, "First baseman Brian Traxler a hit on and off the field," Bridgewater (New Jersey) Courier-News, unknown date, 1998. From Somerset Patriots archives.
[2] Herald-Zeitung (New Braunfels, Texas), November 28, 2004.
[3] Paula Hunt, "Ex-Mission Traxler dead at 37 years old," San Antonio Express-News, November 24, 2004, 10C.
[4] S. Derby Gisclair, Baseball in New Orleans (Charleston, South Carolina: Arcadia Publishing, 2004), 105.
[5] Bill James, The Baseball Book 1990, (New York: Villard Books, 1990), 334.
[6] Los Angeles Tribune, April 23, 1990, C10.
[7] Carino, op. cit.
[8] Ibid.
[9] Jack Gallagher, "Popular ex-Hawk Traxler dead at 37," Japan Times, December 10, 2004.
[10] Carino, op. cit.
[11] Wayne Graczyk, "Baseball Bullet-In." Japan Times, December 15, 2004.
[12] Ibid.
[13] Randy Harrison, "Fan Favorite Ex-Duke Traxler Dies at 37," Albuquerque Journal, November 24, 2004.
[14] Mike McFeely, "Traxler's death touches Hawks community," Fargo-Grand Forks Forum, December 1, 2004.
[15] Billy Bean and Chris Bull, Going the Other Way (New York: Marlowe & Company, 2003), 125.
[16] McFeely, op. cit.
[17] Mike McFeely, "Traxler fit and trimmer," Fargo-Grand Forks Forum, May 20, 1997.
[18] Mike McFeely, "Going, going, gone, Seven RedHawks find out the hard way that playing .500 ball just isn't good enough," Fargo-Grand Forks Forum, July 18, 1997.
[19] Mike McFeely, "Fan favorite Traxler can only look for answers after release," Fargo-Grand Forks Forum, July 18, 1997.
[20] Scott Stanchak, "Patriots Catch-up: Where Are They Now?" Hunterdon (New Jersey) Democrat, April 28, 2005.
[21] "Patriots Saddened by the Death of Brian Traxler, Former Player," Somerset Patriots press release, November 30, 2004.
[22] Jerry Carino, "Patriots' woes continue against Newark Bears," Bridgewater (New Jersey) Courier-News, July 3, 1998.
[23] Stanchak, op. cit.
[24] McFeely, "Traxler fit and trimmer".
[25] Gallagher, op. cit.
Sources
www.retrosheet.org
Pro Baseball Newspaper Archive
Professional Baseball Player Database, V6.0
Taiwanese statistics from http://twbsball.dils.tku.edu.tw/wiki/
Photo Credits
The Donruss Company
Kelly Traxler Sheward
Born
September 26, 1967 at Waukegan, IL (USA)
Died
November 19, 2004 at San Antonio, TX (USA)
If you can help us improve this player's biography, contact us.
http://bioproj.sabr.org/bp_ftp/images/TraxlerBrian1990.jpg
600
800
admin
/wp-content/uploads/2020/02/sabr_logo.png
admin
2012-01-04 20:34:25
2023-03-29 12:08:13
Brian Traxler