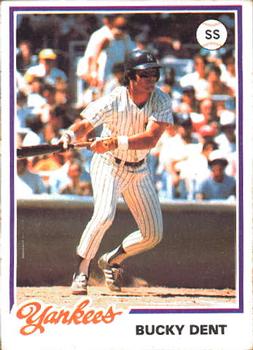 ---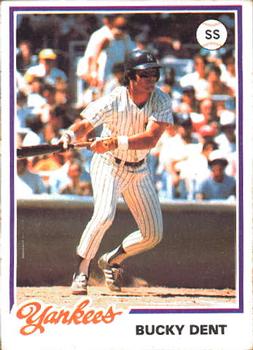 His was an improbable glory.
On October 2, 1978, baseball's fates codified heroism for a hitter with four home runs in the season. He wore Yankee pinstripes, looked like a GQ model, and, quietly, on and off the field, projected likability balancing the controversy surrounding the Yankees of the late 1970s.
Bucky Dent remains known to Boston Red Sox fans as Bucky F****** Dent.
Dent's name — without the emphatic vulgarity — sounds like it's out of a Frank Merriwell novel. The moniker comes from New England's void of hope carved when Dent went yard on a 1-1 Mike Torrez fastball in a one-game playoff to seal the 1978 American League East championship.
"Bucky effing Dent! Maybe the only time in Bucky's career that he heard 'It's a long fly ball deep deep to left!' He never hit a ball deep to left!" declared Red Sox catcher Carlton Fisk at the time.
"I tell you what. It was a great sound, too," Dent responded.1
The home run capped an epic Red Sox collapse from a 14½ game lead in the American League East in July, forcing a one-game playoff against the Yankees — a team that, to all Red Sox fans, stole Babe Ruth after the 1919 season and, in turn, cast a curse lasting until 2004, when the Red Sox swept the St. Louis Cardinals to win the World Series.
The Yankees beat the Kansas City Royals in the American League playoffs that followed, went to the World Series for the third consecutive year — their last voyage to the Fall Classic in the 1970s — and captured their second consecutive championship against the Los Angeles Dodgers. Dent continued his post-season heroics — in the World Series, he batted .417, notched seven RBI in six games, and won the World Series Most Valuable Player Award.
Dent's home run punctuated a magical game and post-season, though it overshadows a career of achievement.
Born on November 25, 1951, in Savannah, Georgia, Russell Earl Dent received his nickname from his grandmother. Born with the surname O'Dey, he lived with his aunt and uncle, James and Sarah Dent; they bestowed their name and raised him, though they did not formally adopt him. Dent attributes his athletic skill to his half-brother, Jim Beasley, who guided, challenged, and inspired him. "I was fortunate when I grew up that I had really good instruction and guidance at a young age. Jim gave me the work ethic, drive, and vision to succeed. Coaches in junior high school and high school instilled discipline," explains Dent."2
Endless practice sessions with Jim made Dent a cornerstone of the Hialeah Thoroughbreds at Hialeah High School:3 There, he won Florida's baseball championship, was named Dade County Baseball Player of the Year, All-Conference Running Back, and lettered in basketball.
The Chicago White Sox selected Dent in the 1970 draft, placing him with the Gulf Coast League White Sox (Rookie) and then the Appleton Foxes in the Midwest League (Class A). Both teams put up solid performances: 64-60 for the Foxes, 36-24 for the White Sox.
In the GCL, Dent notched a .351 average through 22 games. He played in 39 games for Appleton, hitting .258 with 42 hits, 12 RBI, and 23 runs scored. Because of his National Guard service, Dent missed the first part of the '71 season with Appleton — he played in 83 games and batted .231.
In 1972, Dent put up solid numbers with the Knoxville Sox of the Southern League (AA): .296 average, 125 games, 134 hits, 56 RBI.
In 1973, he played 95 games for the Iowa Oaks of the American Association (AAA), pounding 105 hits for a .295 average, which induced Chicago to sign him to the parent ball club. Through 40 games in a White Sox uniform, Dent batted .248.
Before the 1974 season, the White Sox signed him again. 1974 was a breakout year for Dent — he earned second place in the American League Rookie of the Year voting; Mike Hargrove of the Texas Rangers won the award.
Neither flashy nor cocky, Dent proved to be a reliable batsman during his Chicago years. In 1974, he played in 154 games, batted .274, and lashed 136 hits. In 1975, he played in 157 games, batted .264, and improved his number of hits to 159. In his final year in Chicago, he played 158 games, but his batting average dropped to .246, with only 138 hits.
He accomplished these numbers for a mediocre team: the 1973 Sox were 77-85. In 1974, they were 80-80. In 1975, the Sox fell to 75-86, and collapsed in 1976 to 64-97.
"Chicago is a super sports town. I loved playing there," says Dent. "When I first came up with the White Sox, I got paid $15,000 my first year and $16,000 my second year. We had to work in the winter, so I started doing public relations for Bell Screw Company, based in Chicago. Our mascot was Super Screw. One of our promotions was halter tops for women. I did that for one year. In Hialeah, I drove a crane. I got the job through the Ropers, a family that I was living with when I was in college at Miami Dade College – North Campus. Mr. Roper called me and asked me to come to 163rd Street in Miami. We would move a 120-foot boom, 40-ton boom all over Miami. One of our tasks was to put air conditioning in buildings with the boom."4
The Yankees, on the other hand, emerged from 10 years of struggling to compete in the 1976 World Series against the Cincinnati Reds. Although the Reds swept the Yankees, '76 proved to be a turning point for the storied team from the South Bronx.
Dent remained optimistic about the White Sox, but eyed the Yankees as an opportunity to be on a winning ball club. "The club has got to go someplace, and I think we can. But I'll be honest with you. If I were traded to New York, it would be a break for me,"5 explained Dent, who had an ally — Miami Dolphins legend Nick Buoniconti was his agent.6
Dent's performance made him attractive trade bait. White Sox owner Bill Veeck acknowledged this, but emphasized reciprocity: "We have several deals to lock together. Dent's name has been mentioned, but with a player of that caliber, you have to get more quality in return than we've been offered so far."7
Despite the uncertainty about his future, Dent headed to spring training with the White Sox in Sarasota, Florida. A Chicago Tribune story underscored that Dent's arrival happened "more than a week before his teammates are scheduled to report;" two-thirds of the other players were pitchers.8 Even more impressively, the White Sox front office did not target Dent for early workouts, so he created his own regimen. Dent said at the time, "I have my home in Chicago and I like the ballclub and want to stay with it. But if they have to trade me, I'll understand."9
Dent's admitted: "I'm not a Luis] Aparicio, or a Chico] Carrasquel, or a Luke] Appling. But you don't have to have Aparicio's range or Carrasquel's arm to play shortstop. I try to get by with what I have by using my knowledge of the hitters. I like to think that after watching any hitter bat twice, I'll know where to play him."10
Chicago tried to peddle Dent to Oakland, but owner Charlie Finley turned down the deal.
As the March 11th deadline approached for players to have a contract, a strategy emerged for Dent to play with Chicago for 1977 and then pursue opportunities as a free agent after the season. His present contract offered a renewal at $40,000; he turned down a $100,000 per season offer.11
Right before the 1977 season, the White Sox traded Dent to the Yankees in exchange for outfielder Oscar Gamble and two minor league pitchers, plus cash "estimated between $250,000 and $400,000." Dent's deal: three-year contract at $125,000 per year.12
The New York Times put the figure at $200,000 per year,13 then $150,000 per year the next day.14 Dent's trademark unflappability grounded him in a period of uncertainty. "I had come to the conclusion not to let it bother me anymore. It got a little aggravating at times. I'm not surprised at the trade. I could see things were getting serious when they started playing Kevin] Bell at shortstop."15
Dent explains, "There was no culture shock coming to New York because I played in a big city. In Chicago, the fans let you know if they were unhappy and there was more press there than for most teams. I knew how demanding it could be. Phil Pepe was my favorite reporter in New York. Bill Madden and Murray Chass were also great.
"What I always say is that the thing that helped me transition was not going through spring training. There was no time for anything but playing."16
Dent's first season in New York nearly paralleled his last in Chicago: 158 games and a .247 batting average. Willie Randolph, Dent's double play partner at second base, came to the Yankees the year prior.
A story involving Dent, Reggie Jackson, and Billy Martin during a Yankees-Red Sox game at Fenway Park on June 17, 1977 reached apocryphal territory when attributing a Post hoc, ergo propter hoc (After, therefore, because of it) logic. Dent missed a bunt signal during the game — no great sin — which prompted Martin to tell his shortstop to shake it off. Later, Martin asked Jackson's opinion, which was that a bunt took the bat out of Dent's hands.
The following day, Jackson and Martin came to blows in the dugout during NBC's Game of the Week when Martin pulled Jackson he felt the right fielder loafed on a play. There's no significant way to measure whether emotions were nearing the boiling point already or the Martin-Jackson exchange regarding the bunt signal led to the fistfight. In any case, Dent was a witness, not a trigger. Had he been at either end of the dugout when the June 17th Martin-Jackson conversation took place, the result may still have been the same.
The 1977 American League Championship Series saw the Yankees battle the Royals for the second consecutive year; it went the full five games. Dent batted .214 with two RBIs in the ALCS. In the 1977 World Series against the Los Angeles Dodgers, Dent played in all six games, knocked in two runs, got five hits, and finished with a .263 batting average.
Dent's value went beyond fielding and batting. He contributed stability to a team embroiled in controversy, stemming from conflict between Jackson — who had three World Series rings with the Oakland A's and came to the Yankees after spending one season in Baltimore — and manager Martin, a former player with several World Series rings himself from the 1950s Yankees and, to that point, a journeyman manager with the Twins, the Tigers, and the Rangers.
"Billywas a fiery type of manager. He had that passion to win. He had that fire. Mine was a quiet, passionate fire," explains Dent. "Those things burn inside you as much as someone who shows it outwardly. Chris Chambliss, Willie Randolph, and Roy White were like that. My desire to win came from when I grew up and the coaches taught you to have a passion to win without being flamboyant. You could show that drive within you by how you played the game.
"On a team, each guy has a different way of going about his business, but when you go between the foul lines, there's one characteristic in common — the goal is to win. When I came from the White Sox, the Yankees had Catfish [Hunter and other guys who were champions. There were a lot of characters who had tremendous character and a tremendous drive to not fail. There was a great camaraderie that meshed. Lou Piniella showed that fire. Thurman Munson was a constant, determined leader who played hurt. Graig Nettles was witty. Sparky Lyle kept everyone loose. We all blended in the goal to win. It stemmed from Yankees owner George Steinbrenner. He was a tough guy, so you knew the ground rules when you played for him. They needed someone at shortstop, so I tried to be the stability and solidify the infield."17
In 1978, the Red Sox vaulted to a seemingly insurmountable lead in the American League East, outpacing the Yankees by 14½ games in mid-July. The lead evaporated; at the end of the season, the rivals stood tied with 99-63 records. A one-game playoff at Fenway Park decided the AL East title; the Red Sox lost to the Cleveland Indians in the last AL playoff — 1948.
A solo home run by Carl Yastrzemski in the second inning gave the Red Sox an early 1-0 lead. In the sixth inning, Mickey Rivers singled, stole second base, and scored on a Thurman Munson double. But the Sox struck back in the bottom half of that inning, when Rick Burleson doubled, then scored from second base on a Jim Rice single.
With the score 2-1 in the seventh inning, Chambliss and White banged back-to-back singles. Jim Spencer struck out pinch-hitting for second baseman Brian Doyle. Then Dent faced Torrez. After fouling a pitch off his left foot, pain tore through him. The batboy handed Dent a new bat, courtesy of Rivers, who saw that Dent's bat was cracked. Then, history and legend were made.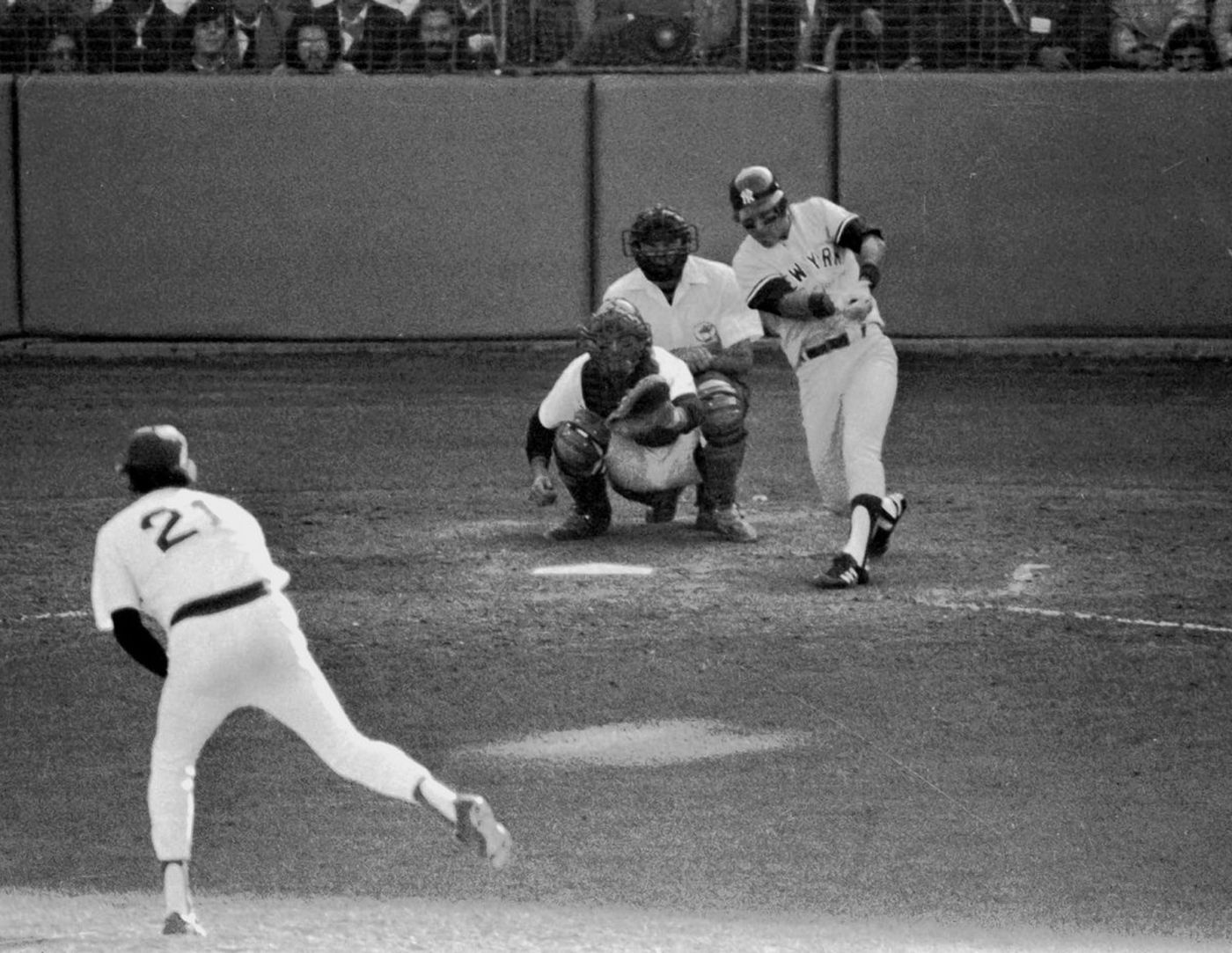 "The home run was my biggest moment. That's what sports is — a game of moments. When you're young and in the backyard, you play stickball or Wiffle Ball and dream of it happening. Mickey Mantle was my hero, so I pretended I was him in these scenarios with all the things you dream about. When I played in my first major league game, I got called up in the third inning. I was scared to death. There were 35,000 people there. A huge moment was waiting in the dugout for the announcement to take the field in my first World Series."18
Dent's home run put the Yankees up 4-2. Jackson added a run when he went yard with a solo blast in the top of the eighth inning. The Red Sox scored two runs in the bottom of the eighth, but ace closer Rich Gossage, with defensive help from right fielder Piniella, stared the Sox down in the ninth. Final score: Yankees win 5-4.
Dent batted .243 with 24 strikeouts, 92 hits, and 123 games in 1978.
In the 1977 postseason, Dent batted .214 against the Royals and .263 against the Dodgers. In the 1978 postseason, he batted .200 against the Royals, but flourished against the Dodgers with a .417 average.
Dent followed his hallmark year in 1979 with a .230 average, 99 hits and 123 games, an 83-79 season marked by the tragic death of Yankee captain Munson.
After his heroics, Hollywood called. Dent's foray into show business was brief but memorable for spotlighting a popular culture touchstone — the Dallas Cowboys Cheerleaders. With long legs, feathered hair, and smiles that could light up Dallas, the squad had become a national institution. They appeared on several television shows during the disco era, including The Love Boat.
Such was their fame that ABC aired a TV-movie based around women striving to make the squad and an undercover reporter looking for negative story fodder. Her goal was an exposé revealing that the cheerleaders posited a façade masking imperfect lives. One character, played by Lauren Tewes — Cruise Director Julie McCoy on The Love Boat — faced extortion by an ex-husband who threatened to reveal her criminal past if she didn't pose nude for photographs to be sold to a pornographer. In the end, the reporter, played by Jane Seymour, refuses to accede to her publisher's demand to write about this story, and instead saves Tewes's character in a sting operation.
Dent played Kyle Jessop, a football player near the end of his career looking for one last season with the Cowboys. Alas, he doesn't make the cut. His task in the movie is to provide support for his girlfriend, Joanne Vail, who seeks another season as a cheerleader.
"I was incredibly thrilled to be cast in one of the lead roles in the TV-movie," said Ellen Bry, who played Joanne. "I didn't realize just how popular the team was until we started shooting on location. People in Dallas absolutely revere the Cowboys. As for Bucky, I only knew that he was a baseball player for the Yankees. After all, once you hear the name 'Bucky Dent,' you don't forget it! But, all the guys [or men] on set were completely star-struck, jazzed, and amazed to be working with Bucky and, of course, they all knew about the home run. What I found particularly charming and refreshing about Bucky was his humility. He knew he was there because of his name value. We had a nice camaraderie working together, perhaps because I wasn't star struck.
"He was shy and soft-spoken, but also very focused. He took the job seriously and asked for guidance. Once I was aware of just how famous he was, I had a greater respect for his humble nature. He didn't have that kind of air about him like some people do who feel entitled. He was just authentic and low-key, very down-to-earth. It was refreshing because a lot of people foisted into that spotlight become jerks very fast.
"I think he was amazed at how many times they shot each scene and how long it took to set up. Filming is a hurry-up-and-wait process. We shoot scenes over and over and over because the director wants several angles — master, two-shot, over-the-shoulder."19
Dent's quietness did not make him less marketable as a celebrity, which is what he became after the home run against Torrez. In addition to the TV movie, Dent's roster of credits included wearing a bathing suit in a 1983 appearance in Playgirl magazine, a television commercial for Johnson & Johnson baby shampoo with his Dodgers counterpart and World Series opponent Bill Russell, and a beefcake poster, with the shortstop wearing short-shorts and a ¾ sleeve baseball shirt, torn at the bottom to reveal skin no higher than the navel. Teenage girls across New York, even if they weren't baseball fans, slapped the poster on their bedroom walls.
"Bucky had a certain sex appeal that led to women buying tickets. Mickey Mantle was loved by women, but it didn't necessarily translate into ticket sales," explains Marty Appel, former Public Relations Director for the Yankees. "Today, women buy about 40-50 percent of tickets. Efforts were made to market Bucky's image and he went along with it. I think he was flattered by it, but it was not a conscious part of developing a brand, as we call it today."20
The Yankees earned an American League East title in 1980, but lost the ALCS to the Royals in a three-game sweep. Dent batted .182. In the strike-shortened season of 1981, the Yankees swept the Oakland Athletics in three ALCS games, but lost the World Series to the Dodgers in six games. Dent did not see any postseason action in '81 because he tore a ligament in his right hand — his throwing hand — when he broke up a double play in Chicago during the latter part of the season.
It was about this time that Dent starred in a pilot for a half-hour talk show. The Bucky Dent Show featured the Yankee shortstop interviewing Dennis Werth, a fellow Yankee who played first base, outfield, and catcher; Werth shared his six-year journey from the minor leagues to the major leagues, revealed his awe at playing for the Yankees, and gave baseball tips to a Little Leaguer from New Jersey. Werth's stepson Jayson carved out his own successful career as an outfielder with the Washington Nationals.
Dent also interviewed Martin Donahue, President of Burma Castro, maker of Castro GTX motor oil. They discussed the company's history, which began with the company's formation in England in 1899; the prevalence of small cars — which reached a tipping point in the early 1980s — and vintage poster advertisements, including a 1928 poster boasting the company's oil in a car that reached 212 miles per hour. The show wrapped up with an eight-minute film about the 1955 Yankees, narrated by Mel Allen.
1982 was not, by any stretch, a pleasant tenure for Dent in pinstripes. Roy Smalley came to the Yankees in a trade for shortstop Greg Gagne and right-handed hurlers Ron Davis and Paul Boris at the beginning of the season. Manager Bob Lemon wanted Smalley in the field "at least half the time and probably more often than that," explained Jane Gross in the New York Times.21
It created a tension culminating in Dent's request to be traded; the relationship, between Smalley and Dent was distant but cordial. "It hasn't been spoken of and it's not an overt thing," described Smalley. "It's an intangible feeling of wishing the situation were different. There's a conscious effort to say 'that's just part of the game,' but when you do that it's like saying a girl has a good personality. You know in the back of your mind there's a 'but' somewhere and you'd rather it be another way."22
On August 8th, the Yankees traded Dent to the Texas Rangers for outfielder Lee Mazzilli — a New York baseball heartthrob himself once upon a time — who had emerged from Brooklyn to be one of the few marketable stars on the late 1970's Mets.
Dent's photo accompanying Murray Chass's article in the New York Times showed a combination of despair, patience, and resignation to the moment. But Dent remained in the dark about the genesis of the situation. "I don't feel bitter. I'm a little disappointed in some of the circumstances and things like that. I don't understand some things," said Dent.23
When Dent faced a reduction in playing time, he revealed his thoughts to Steinbrenner before a doubleheader with the Rangers. "He told me I probably would be used as an alternate player in a triangular situation. I told him my honest feelings, that I wanted to play. At some point in my career, I probably would accept what he wanted, but not now."24
In 1982, Dent batted .169 for the Yankees in 59 games and .219 for the Rangers in 46 games. His playing time increased in the 1983 season — 131 games. His batting average improved to .237, but it undoubtedly suffered from injury — Dent played the last half of the year with a hernia. "I didn't tell anyone about the hernia because if they knew, they wouldn't let me play. After the season, I revealed that I had it since I was traded to the Rangers."25
Injury wrecked Dent's following season, too.
"In 1983, I hit a ball deep in the hole and when I jumped for first base, there was a nerve problem. I had drop foot the next day. We had a pennant race against the White Sox and I was at about 80 percent. I told Doug Rader, the Rangers manager, that I would play hurt. I went to the chiropractor a couple of times a week. It wasn't so painful.
"I was with the Rangers through the end of 1984 spring training. They released me and I headed to Atlanta, where they were filming The Slugger's Wife. Mark Fidrych and Al Hrabosky were there. After two weeks, the Yankees called for me to play in AAA and get in shape in 20 days. Then, Kansas City called. Dick Howser was the manager and I knew him from his days as a Yankees coach and manager. He needed a shortstop."26
Dent hung up his spikes after the 1984 season, which only saw him play 11 games with the Royals, getting nine at bats and a .333 average. He also got playing time with the Yankees' AAA Columbus Clippers in the International League in 1984 — 17 games for Columbus, for a .250 batting average.
"At the end of '84, I had a big decision to make because of my leg," says Dent. "The Yankees offered me a managing job in Fort Lauderdale. I talked to Dick a lot about managing. I wanted to do it the right way and start in A ball."27
Dent's managerial career began the following year, with the Fort Lauderdale Yankees in the Florida League. After records of 77-63 and 80-59 in 1985 and 1986, respectively, Dent vaulted to the Clippers the following season. In 1987, he led the Clippers to a 77-63 record. In 1988, they fell to 65-77, but climbed to 77-69 in 1989.
After 130 games in 1989, the Yankees called Dent up to replace Dallas Green as manager of his former team.. Dent had an 18-22 record for the remainder of the Yankees' 1989 season and got fired — during a road trip in Boston, no less! — after an 18-31 record in 1990. The Yankees continued slumping for the rest of the season, ending with a 67-95 record and hitting .241, lowest in the American League. Stump Merrill replaced Dent.
Dent coached for the St. Louis Cardinals from 1991-1994 under Joe Torre, then returned to the Rangers, where he coached from 1995 to 2001. "Joe was low-key and the best I've ever seen in handling the press."28
He took another shot as a manager with Kansas City's AAA Omaha Royals in 2002, compiling a 76-68 record to reach second place in the Pacific Coast League's Central Division. After that, he rejoined the Yankees organization and returned to the Clippers, and managed the Clippers to a 76-68 record in 2003, 80-64 in 2004, and 77-67 in 2005.
Dent was the bench coach for the Cincinnati Reds in 2006; he got released midway through the 2007 season.
"To me, sports was a way out," reveals Dent. "When I was young, my mother gave me to my aunt and uncle and my grandmother. Growing up in a broken home and dealing with those life experiences, like not knowing where you're going to live, is difficult. Sports teaches you discipline, drive, teamwork. The other thing is that in baseball, it doesn't matter what size you are. Actually, I had a passion for football more than baseball.
"I always had contact with my mom. I didn't meet my dad until 1977. What had happened was when I was given to my aunt and uncle, I thought they were my parents. A lady took me to Georgia every summer. I thought it was my aunt and I asked why I had to go to Georgia. She asked if I knew who she was and then told me she was my mom. My birth certificate reads Russell Earl O'Dey, so I always wanted to find a man named O'Dey. When my uncle died, someone was looking for him. That winter, I went to see my aunt, who was living in Savannah. At the lawyer's office, I asked how I could find him. I called my mom and said that I travel all over the country playing baseball, so I'd have no problem going somewhere to meet my dad.
"I got the name Russy Stanford and went to his house. My paternal grandmother was there. I explained who I was and that I think he's my father. A next-door neighbor gave me a card where he worked. So, I went there and I ask for Shorty Stanford. Shorty was his nickname. 'Are you Mr. Stanford? My name is Bucky Dent. I have been looking for you for 25 years.' That's how I met my dad. Then, I took him to the World Series one year. I learned about that side of my family through him. For kids, you have to block out the negatives. Sports gave me the vision to go through that."29
Dent has been married twice. His first marriage ended in divorce.
A chance meeting on an airplane led to a romance that lasted nearly 35 years, until Marianne Dent's untimely death. Marianne was a flight attendant when she met the shortstop in 1981; Dent suffered a torn ligament in his hand and wore a cast on his arm. Being in the middle seat of an airplane row is never fun, but it annoyed Dent on this particular flight. He wanted to avoid the possibility of a fellow passenger bumping into his arm and causing further injury. Another flight attendant suggested moving to the back of the plane.
Settled into his new seat, Dent lowered his head. "When I looked up, Marianne, who was also a flight attendant, was pointing at me. After the flight took off, she came over to me and said, 'I'm sorry I pointed at you, but someone told me that you were Bucky Dent. I don't know who Bucky Dent is, but I know you're famous. When they told me where you were sitting, I pointed at you."30
A conversation ensued, and, after some gentle prodding, the flight attendant unknowing of Dent's baseball heroics gave the shortstop her phone number. A great love affair followed. They had twins — Cody and Caitlin — who joined Stacy and Scott from Dent's first marriage. The athletic gene was passed down. Cody played baseball for the University of Florida; Caitlin played softball for North Carolina State; and Stacy played soccer for Catawba College. In a game against Campbell University, Caitlin blasted four home runs in one game.
Dent discovered that being in the stands creates more pressure than being on the field: "I find myself up there just sweating bullets. When you're playing, you don't think about it, but now you're watching your son, your daughter play. I get nervous."31
Marianne Dent died of brain cancer in October 2015, after a battle that lasted a little more than a year and a half. During a chemotherapy session, Marianne decided to change people's lives with a simple gesture; upon realizing that her fellow chemotherapy patients were cold during the treatments, she bought blankets for them.
"Marianne wanted each cancer patient to feel more comfortable during their treatments," explains Dent. "She wanted them to feel as if they were wrapped in love, comfort and support. Instead of saying, 'Why me,' she said, 'Thank God it's me, because this is what I'm supposed to do.' This is what she believed was her legacy."32 The Dents formalized their charitable actions, calling it "Embraced with Love" and creating a logo for the blankets.
Ego is absent in Dent's psyche, a tribute to the quiet, passionate fire that was a key factor in counterbalancing the chaos on the excellent but controversial Yankee squads of the late 1970s. With graciousness, gladness, and humility indicating an appreciation for his place in baseball's annals, he'll answer questions about that era, and about the home run against Torrez.
"Nolan Ryan was the toughest pitcher I ever faced," says Dent, who is a member of a long list of players in the 1970s and 1980s who count the all-time leader in season strikeouts (383), career strikeouts (5,714), and no-hitters (7) atop their lists of pitchers. "He had a presence on the mound. Pitchers back then had a mean streak.
"For ballparks, I loved playing in Fenway Park because it was a classic stadium. When you're at Fenway for the first time, the first thing you look at is the wall. My least favorite was the Coliseum in Oakland. You felt like the foul area was so far away. It was cold at night and there was no depth perception. Throwing to first base seemed like you were throwing 500 yards away."33
The site of Dent's most memorable moment became an inspiration for the Bucky Dent Baseball School in Delray Beach, Florida. Students got tutored in the fundamentals on a small version of Fenway Park.
"Bucky and I started working for the Fort Lauderdale Baseball School in 1975 as instructors," says Larry Hoskin. "We became great friends. In 1982, I started The Baseball School with Bucky as an instructor. In 1986, we became partners and changed the name to Bucky Dent Baseball School.
"We sold it in 2005 and stayed on till 2011. The name changed to Elev8 Baseball Academy in 2012 and it went out of business two years later.
"For more than 37 years Bucky was in uniform teaching infield classes to players of all ages. He really cared that each student had a major league week at his camp. His infield classes were the best. I'm very proud to have run his school. He's a great friend and business partner."34
Dent's name and celebrity added marquee value. "I started teaching when I played with the White Sox because I didn't have the opportunity for any kind of formal instruction when I was a kid," says Dent.35 "My passion was to run the best school for kids, but not only for baseball. I wanted to give life lessons, too. We had the school for 37 years. We had it in Pompano, Boca Raton, and Del Ray Beach. In 1988, the city of Del Ray Beach was going to redo one of the fields, so we decided to do a joint venture. "We called Mrs. [Jean] Yawkey and told her what the Fenway Park replica was for. She okayed it because of the kids."36
Immortalized for one swing with a bat that wasn't his on a sunny October day in Boston, Dent will never see time heal the wounds and prevent the winces shared by New England's baseball fans when his name is mentioned or the replay of the home run in the '78 one-game playoff is shown.
"They're always going to say 'Bucky Bleeping Dent!'"37
Last revised: February 23, 2018
Acknowledgments
The essay was fact-checked by Stephen Glotfelty.
Notes
1 The Connecticut Forum, "Bucky Dent, Carlton Fisk, Yanks vs. Sox," February 17, 2005, https://www.youtube.com/watch?v=-x-RiVawtqk.
2 Telephone interview with Bucky Dent, August 7, 2017.
3 Ibid.
4 Telephone interview with Bucky Dent.
5 Richard Dozer, "Dent hears trade rumors, but doesn't want to leave," Chicago Tribune, January 16, 1977.
6 Ibid.
7 Bob Logan, "Dent dangles in Veeck web," Chicago Tribune, February 16, 1977.
8 "Uncertain fate doesn't faze Dent," Chicago Tribune Press Service, February 22, 1977.
9 Ibid.
10 Ibid.
11 Richard Dozer, "Yanks stymied in all-out bid to acquire Dent," Chicago Tribune, March 11, 1977.
12 Richard Dozer, "Dent finally dealt to N.Y.," Chicago Tribune, April 6, 1977.
13 Michael Strauss, "Yankees Finally Acquire Dent, Trading Gamble and 2 Pitchers," April 6, 1977.
14 Murray Chass, "Mets Pick Seaver to Oppose Cubs at Chicago," New York Times, April 7, 1977.
15 Richard Dozer, "Dent finally dealt to N.Y.," Chicago Tribune, April 6, 1977.
16 Telephone interview with Bucky Dent.
17 Ibid.
18 Ibid.
19 Telephone interview with Ellen Bry, July 24, 2017.
20 Telephone interview with Marty Appel, August 25, 2017.
21 Jane Gross, "Dent, Demoted and Depressed, Tries to Find His Way," New York Times, May 30, 1982.
22 Ibid.
23 Murray Chass, "Dent Goes to Rangers for Mazzilli," New York Times, August 9, 2017.
24 Ibid.
25 Telephone interview with Bucky Dent, September 25, 2017.
26 Telephone interview with Bucky Dent, August 7, 2017.
27 Ibid.
28 Ibid.
29 Ibid.
30 Ibid.
31 https://www.youtube.com/watch?v=GO45YDP6vDI.
32 Alfred Santasiere III, "Special Story on Bucky Dent — in the April Issue of Yankees Magazine," https://yankees.mlblogs.com/special-story-on-bucky-dent-in-the-april-issue-of-yankees-magazine-1bd71fc7012e, March 31, 2016.
33 Telephone interview with Bucky Dent, August 7, 2017.
34 Email from Larry Hoskin to David Krell, September 27, 2017.
35 Ibid.
36 Ibid.
37 Telephone interview with Bucky Dent, August 7, 2017.
Born
November 25, 1951 at Savannah, GA (USA)
If you can help us improve this player's biography, contact us.
https://sabr.org/sites/default/files/Dent%20Bucky.jpg
600
800
admin
/wp-content/uploads/2020/02/sabr_logo.png
admin
2018-02-23 13:04:47
2020-04-09 14:40:23
Bucky Dent