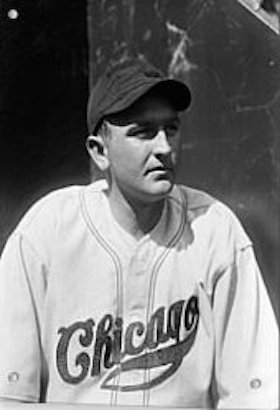 ---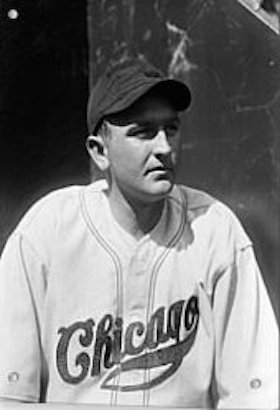 Right-hander Bud Tinning emerged as an effective reliever and spot starter in the last two months of his rookie season with the Chicago Cubs in 1932 as the North Siders captured their second pennant in four years. He won 13 games and led the NL with a .684 winning percentage the next season but battled weight problems, and never fulfilled the promise his spectacular 24-2 season with the Des Moines Demons of the Class A Western League in 1931 portended. Out of the big leagues at the age of 29, Tinning posted a 22-15 record in parts of four seasons (1932-1935).
Lyle Forest "Bud" Tinning was born on March 12, 1906, in Pilger, a town of a few hundred souls in northeast Nebraska originally founded in the early 1880s as an outpost on the Fremont, Elkhorn and Missouri Valley Railroad. Located about 85 miles northwest of Omaha, Pilger made national headlines on June 16, 2014, when it was demolished by a massive tornado with a rare double vortex. Bud's parents were Arthur Tinning, a native of Denmark who immigrated to the United States in 1882, and Della Allison, originally from Virginia. They married around 1889 and had five children, Mable, Marie, Dewey, Olger, and Bud. Two years after the birth of Lyle, as Bud was known as a child, his mother apparently died in childbirth. A precocious youngster, Bud attended Pilger elementary and high school, where he played football and basketball and established a reputation as a hard-throwing twirler on the diamond. He tossed a no-hitter in his junior year (1923), but quit school a few weeks later to help his father on the family farm.1 That summer Tinning pitched in four games for the Hastings Cubs in the Class D Nebraska State League.
In August 1925 Tinning signed with Omaha of the Class A Western League after what a local newspaper described as the teenager's "sensational pitching" in the semipro ranks, including a no-hitter for Genoa.2 Lauded as a "strike-out" artist, Tinning appeared in the last game of the season for the Buffaloes, often referred to in local parlance as the "Burch Rods" after the club's owner Barney Burch.3
Records are incomplete for Tinning's first two full seasons in Organized Baseball. He struggled in 1926 against seasoned professionals in the Western League yielding 62 runs in just 59 innings, and was farmed in midseason to the Tyler Trojans in the Class D East Texas League; however, it appears he did not play for them.4 The following season Tinning was loaned to the Western League's Amarillo Texans, but according to Nebraska newspapers, he played most of the summer for a semipro team in Chadron.5
While Tinning logged just over 200 innings for Omaha in 1928 and 1929 and posted a combined 22-25 record, club owner and occasional manager Barney Burch raised concerns about the hurler's weight and work ethic.6 Tinning was listed as 5-feet-11 and 200 pounds, though reports abound that he often weighed 30 or even 40 pounds more.
Tinning's career got a much-needed boost in 1930 when he was involved in an intraleague trade to the Des Moines Demons for first baseman Johnny Zaepfel. Described as a thrower and not a pitcher, the 24-year-old Tinning posted a 16-11 record and logged 217 innings, earning him a berth on the Western League's All-Star team.7 Loaned to the Minneapolis Millers of the Double-A American Association at the conclusion of the season, he was returned to Des Moines the following May after making only nine appearances against players most of whom had or would have big-league experience.
After Tinning's return to Des Moines, the chunky right-hander "blossomed into a phenomenal star," gushed sportswriter Sec Taylor of the Des Moines Register.8 Armed with a great curveball, a sneaky fastball, and good control, Tinning won 16 straight games at one point despite missing 10 days with a broken toe. By midsummer, big-league scouts were hot on Tinning's trail, yet his weight and the lack of a bona-fide heater scared most off. One exception was Jack Doyle, longtime scout of the Chicago Cubs. Known to take chances on players, "Dirty Jack" had signed stalwarts Charlie Root, Gabby Hartnett, Billy Jurges, and Stan Hack of the 1932 pennant-winning squad, among many others. In early September 1931, the Cubs purchased Tinning reportedly for $15,000 with the option to return him by June the following season. Once again named to the all-star team, Tinning ended the campaign by leading the league in ERA (3.14) and winning 24 while losing just twice, as the Demons defeated Wichita for the league championship.
Even before Tinning arrived at Chicago's spring-training site on Catalina Island, located off the coast of Los Angeles, Windy City sportswriter Ed Burns thought he'd challenge an offseason acquisition, 38-year-old spitballer Burleigh Grimes, and little-used 23-year-old Lon Warneke for a spot in the starting rotation. Player-manager Rogers Hornsby, who had guided the North Siders to a disappointing third-place finish in '31 despite the most potent offense in the NL, nursed Tinning along, primarily in mop-up roles as he fought to keep his skipper's job. Tinning debuted on April 20, tossing two innings of scoreless relief in a blowout loss to Cincinnati. After he made only 12 appearances in the first 3½ months of the season, Tinning's fortunes changed when good-natured first baseman Charlie Grimm replaced the dictatorial Hornsby as manager on August 4 with the Cubs in second place, five games behind Pittsburgh. Tinning responded to Grimm's promise to give his youngsters an opportunity to pitch by fashioning a stellar 1.83 ERA in 34⅓ innings in the month of August. He won both of his starts among his six appearances. His most impressive outing took place on August 17 against the Boston Braves at Wrigley Field. Hailed as an "outstanding baseball hero" by the Chicago Tribune, Tinning relieved starter Grimes in the sixth inning and tossed a career-best 12⅔ scoreless innings, yielding seven hits.9 He was replaced by pinch-hitter Mark Koenig in the 18th inning in a game the Cubs won in the next frame on Frank Demaree's sacrifice fly that drove in Billy Herman. The Cubs responded to Grimm's laid-back demeanor, winning 25 of their first 31 games under "Jolly Cholly's" leadership to overtake the Pirates and capture the pennant. Described by the Associated Press as an "exceptionally able rescue man," Tinning finished with a 5-3 record and sturdy 2.80 ERA in 93⅓ innings scattered over 24 appearances, including seven starts.
The Cubs (90-64) were prohibitive underdogs against the New York Yankees (107-47), piloted by Joe McCarthy, who had guided the North Siders to the pennant in 1929 before he was unceremoniously replaced with four games remaining in the next season. Led by Lou Gehrig's three homers and eight RBIs and Babe Ruth's two round-trippers, including the enigmatic "Called Shot" in Game Three, the Yankees steamrolled the Cubs, outscoring them 37-19 in the four-game sweep. Tinning hurled a combined 2⅓ perfect innings, retiring two batters in Game Three and five in Game Four. "Our pitchers weren't right in the Series," said a disappointed Tinning of the starts by Guy Bush (19-11), Lon Warneke (22-6), and Charlie Root (15-10), who had pitched well almost the entire season. "They are good pitchers … but they had a slump at the wrong time and as a result the Cubs didn't have a chance to show how good they are."10
On November 6, 1932, Tinning married Inez Lorraine Barnett, originally from Terre Haute, Indiana, at the North Shore Baptist Church. The ceremony was witnessed by Tinning's teammate and road roommate, catcher Rollie Hemsley, and his wife. After the wedding the two couples went on an extended hunting vacation together in Syracuse, New York.11
Expected to play a prominent role on the pitching staff in 1933, Tinning reported to spring training weighing about 240 pounds, drawing the ire of Grimm. Over the next two years Tinning was the constant target of Chicago sportswriters, who harshly scorned and ridiculed him in the press. "Still too fat to pitch," "frying in his own fat," and "weighing a few ounces under a ton" were typical comments by Ed Burns about Tinning in spring training in 1933.12 After Tinning yielded 12 runs in just five innings to the Pacific Coast League's San Francisco Missions in an exhibition game, Grimm had apparently had enough of the hurler and was on the verge of returning him to the minors. While Irving Vaughan of the Chicago Tribune reported that it was "impossible for [Tinning] to get in shape during spring training," the robust Nebraskan began the season deep in the Cubs' bullpen. Sparingly used in the first two months of season, Tinning once again emerged as one of the Cubs' most effective hurlers. After holding the New York Giants to four hits and belting a walk-off single for a 2-1 victory in the second game of a doubleheader on July 9 to win his sixth straight start, five of them by complete game, Tinning was suddenly cast in the national spotlight. While the AP ran feature stories about the hurler, who had supposedly lost 40 pounds since spring training, he also became the new, if momentary, darling of the Chicago Tribune. Vaughan opined that the Cubs discovered that Tinning "could pitch despite his weight";13 the acerbic Burns gushed, "Tinning had plenty of stuff, as usual, and in addition seems to have the grand fortune to inspire the Cubs."14 During a three-month stretch from June 11 to September 10, Tinning completed 10 of 17 starts with a stellar 2.65 ERA in 132⅓ innings and won 12 of 16 decisions, including three shutouts, as he replaced Grimes in the rotation. Chicago (86-68) finished in third place after a tough pennant battle with New York and Pittsburgh. Praised by Clifford Bloodgood in Baseball Magazine for his "baseball brains," a "liberal portion of heart," and ability to keep cool in "feverish excitement," Tinning finished with a 13-6 record, a league-leading .684 winning percentage, and a 3.18 ERA in 175⅓ innings.15 "[Tinning] has plenty of stuff on the ball and exhibits a curve that is no liability in any league," continued Bloodgood.16
Well before the 1934 season started, Tinning was in Hot Springs, Arkansas, a popular resort destination for players of his generation to get in shape in the natural hot mineral spas. Tinning was widely hailed as a budding star. He has "all the requirements for greatness," opined Philadelphia sportswriter Bill Dooly;17 Baseball Magazine suggested that Tinning is "accepted as a promising comer without opening up any stirring argument."18 But Tinning had a terrible spring (he was "blown apart," according to the Tribune's Vaughan), and was once again relegated to the bullpen as the season opened.19 In the role of spot starter and mop-up artist, Tinning (4-6) logged 129⅓ innings, with a respectable 3.34 ERA in a career-best 39 appearances, including a seven-hitter against Brooklyn for the last of his four major-league shutouts and 13 complete games.
During baseball's winter meetings in Louisville, Kentucky, Tinning's tenure with the Cubs came to a close on November 21, 1934, when he, pitcher Dick Ward and an estimated $50,000 were sent to the World Series champion St. Louis Cardinals in exchange for rugged right-hander Tex Carleton, who had averaged 14 wins and 238 innings in his three years with the Redbirds, but had also feuded with 30-game winner Dizzy Dean. Tinning was widely expected to compete for a starting spot on the staff, but made only four mostly ineffective relief appearances before GM Branch Rickey demoted him to the Columbus Red Birds in the Double-A American Association. Tinning pitched well enough (11-9, 4.22 ERA) to start regularly for manager Ray Blades's squad, but his future with an organization with 14 farm teams (which exploded to 24 in 1936) and no less than 150 pitchers under contract was bleak.
Released by St. Louis in the offseason, Tinning hung on for four more campaigns for another shot in the big leagues, which never came. Pitching for Indianapolis of the American Association in 1936, he won 13 games and logged in excess of 200 innings for the first time since 1931, and was rewarded with a demotion to the Chattanooga Lookouts of the Class A1 Southern Association. Suffering from arm problems and still battling his girth, Tinning went 7-16 in his last full season. He had an abbreviated comeback with Dallas in the Class A1 Texas League in 1938 and a one-game tryout with Louisville in the AA the following season.
After spending almost half his life in Organized Baseball, Tinning retired in 1939. In parts of four seasons in the majors, he posted a 22-15 record and logged 405⅔ innings. He batted .177 (23-for-130).
Tinning and his wife, Inez, settled in Terre Haute, their offseason home. They had no children. Tinning worked as a mechanic and recapped tires, and gradually drifted away from baseball.20
On January 17, 1961, Tinning died at the age of 54 in Evansville, Indiana. According to his death certificate, the cause was a heart attack; he also suffered from meningeal syphilis. He was buried in Pilger Cemetery in Nebraska.
Sources
In addition to the sources cited in the Notes, the author also accessed Tinning's player file and player questionnaire from the National Baseball Hall of Fame, the Encyclopedia of Minor League Baseball, Retrosheet.org, Baseball-Reference.com, Bill Lee's The Baseball Necrology, the SABR Minor Leagues Database, accessed online at Baseball-Reference.com, The Sporting News archive via Paper of Record, and Ancestry.com.
Notes
Born
March 12, 1906 at Pilger, NE (USA)
Died
January 17, 1961 at Evansville, IN (USA)
If you can help us improve this player's biography, contact us.
http://sabr.org/sites/default/files/TinningBud.jpg
600
800
admin
/wp-content/uploads/2020/02/sabr_logo.png
admin
2016-04-27 13:48:07
2016-04-27 13:48:07
Bud Tinning