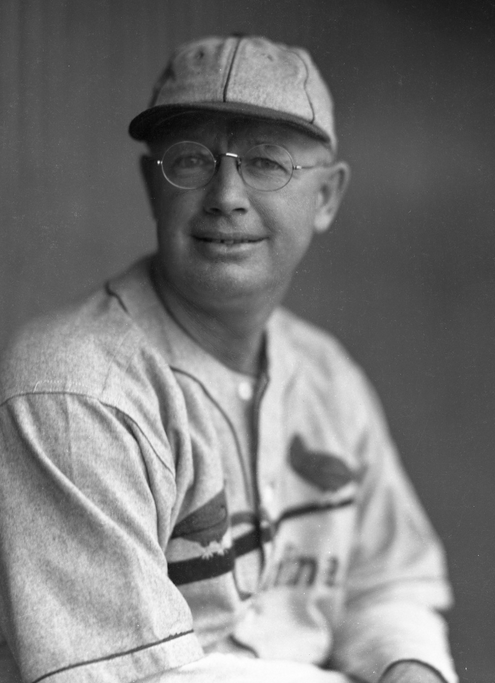 ---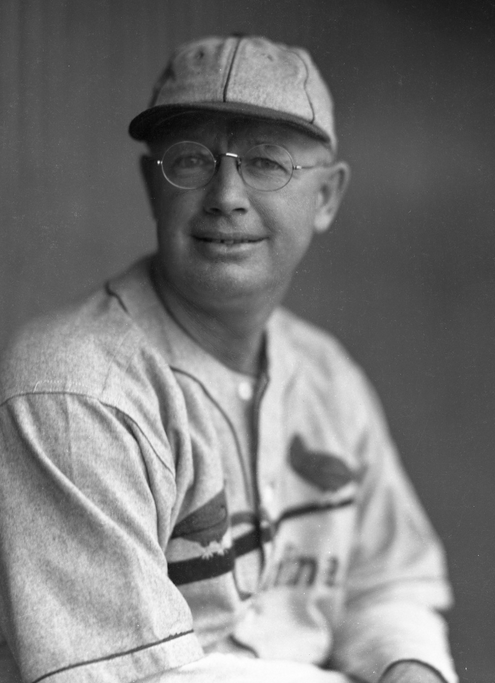 In a brief major-league career, he appeared in only 92 games. Yet Buzzy Wares played an important role in helping the St. Louis Cardinals win seven National League pennants and five World Series championships.
Clyde Ellsworth Wares was born on May 23, 1886, the younger of the two children of Rosa Wares and Frank Wares, a barber. He was born near the village of Vandalia in Newberg Township, Cass County, Michigan, about halfway between Kalamazoo, Michigan, and South Bend, Indiana.
At an early age the boy demonstrated a love of baseball. He first gained attention by playing on the Kalamazoo High School team. Later he played for a club representing Kalamazoo College, which he attended for one year. An apocryphal story maintains that Wares gained the nickname Buzzy by greeting a girlfriend with a joke electric buzzer hidden in the palm of his hand. According to the tale, the girl responded by slapping the young man's face. However, Wares claimed that he was known as Kiddo or Kid when he first broke into baseball, and the nickname Buzzy was bestowed on him years later by a teammate on the St. Louis Browns because he was always buzzing about baseball.1
Buzzy began his professional career as an infielder with Hancock of the Northern Copper Country League. A right-handed batter and thrower, the teenager stood 5-feet-10 and weighed 160 pounds. In 1906 he played for the Houghton Giants in the same league. During the seasons of 1907 through 1909, Buzzy was with Zanesville. (The Zanesville club, called the Infants, was in the Pennsylvania-Ohio-Maryland League in 1907 and moved to the Central League for the 1908 and 1909 seasons.) In 1909 Wares hit .302 for Zanesville, the only time he reached that mark as a batter.
Wares married Gertrude Jones of South Bend. At the time of the 1910 census the newlyweds were living with Buzzy's parents in Kalamazoo. Later in 1910 and 1911 Wares advanced to the Oakland Oaks in the Class A Pacific Coast League, appearing in 426 games in the two seasons, playing out the much longer PCL schedule. Then followed two years with the Montgomery (Alabama) Rebels of the Southern Association.
The St. Louis Browns used the Montgomery stadium for spring training in 1913. For six weeks Wares worked out with the Browns and thought he had acquitted himself well. When Browns manager George Stovall called the young infielder into his office on March 28, the final day of spring training, Wares was hoping to hear that he would be traveling with the club to St. Louis and the major leagues. Instead, Stovall informed him that he was leaving him in Montgomery. When Wares asked why, Stovall said, "You're the payment for our grounds rental."2 In one of the most bizarre transactions in the history of baseball, the Browns had utilized Wares to reimburse the Rebels for use of the stadium and grounds. At the end of the Southern Association season, Wares, now 27, was called up to the majors. He made his major-league debut on September 15, 1913. By then Stovall had been replaced as manager because of a dispute with club owner Robert Hedges. Jimmy Austin served as interim manager for eight games. Branch Rickey took over on September 17 and managed Wares throughout his brief major-league career. Wares appeared in 11 games for the Browns that season, playing second base in nine of them and hitting for a .286 average. He scored five runs and batted in one. In 81 games the next year, 1914, Wares played shortstop most of the time. He drove in 23 runs and scored 20. His average dropped to .209, but he worked 28 bases on balls and held a .300 on-base percentage, nearly the same as in 1913. His final major-league game came on September 27, 1914. He had played in a total of 92 games, 85 in the field. Shortstop was a challenge, as his .903 fielding average indicates. (He committed 35 errors in his 68 games at short.) The highlight of Wares' career was probably on May 26, 1914, when he successfully pulled the hidden-ball trick on Amos Strunk of the defending world champion Philadelphia Athletics during a 6-5 Browns victory over the eventual AL pennant winners.
After his major-league playing career ended, Wares returned to the minor leagues. He was a player-manager for the Wichita Witches of the Western League in 1915 and held the same position fort the Little Rock Travelers of the Southern Association in 1917. In 1918 he played part of the season back with the Oakland Oaks of the Pacific Coast League before responding to Secretary of War Newton Baker's "work or fight" order by taking a job as a shipfitter for the Moore Ship Building Company in Oakland.
After the war Wares remained on the West Coast for several years. He split the 1919 season between Oakland and the Seattle Rainiers. He managed Seattle in 1920 and 1921.
It has been reported that Wares was out of baseball from 1922 to 1929.3 Baseball-reference.com has no entries for him in the minor leagues after 1921. However, Wares was not out of baseball during all of those years. For at least four years he was player-manager of the Hanford Kings in the little-known San Joaquin Valley League.4 Apparently, his temper had got the best of him while he was managing Seattle and he left the club. The Sporting News reported that Wares was suspended from Organized Baseball for playing outlaw ball until he paid a $200 fine levied against him by Commissioner Kenesaw M. Landis.5
By 1930 Wares was back in the major leagues, hired by general manager Branch Rickey to be a coach for the St. Louis Cardinals. The same man who had managed Wares as a player in 1913 and 1914 was responsible for helping him embark on a long and distinguished major-league coaching career. Wares served as both first-base coach and batting coach. He coached for the Cardinals for 23 consecutive years, from 1930 through 1952. He coached the club before it was known as the Gas House Gang and was still coaching the team when all of the members of that classic aggregation had played their last game on the banks of the Mississippi. Wares coached under eight different managers. He coached and was part of seven NL pennant winners and five world champion clubs. While he was coaching the Cardinals, the club claimed the World Series title in 1931, 1934, 1942, 1944, and 1946.
Wares was an excellent sign stealer and a productive teacher of the art. For a dozen years he shared coaching duties with the colorful Mike Gonzalez. Although Wares was genial and approachable, sportswriters tended to ignore him in favor of the flamboyant Cuban, who frequently rewarded them with fascinating quotes. On the other hand, Wares was described by one writer as docile.6
Billy Southworth, who managed the Cardinals to three consecutive pennants (1942-1944), gave equal credit to Wares and Gonzalez. "I can't put into words the part those two play in developing young players," Southworth said. "They're my right and left arms, and if I tried to sum up the number of times one of their suggestions has won a ballgame, the sum would be staggering."7
Despite having very different personalities, Wares and Gonzalez were good friends, and ribbed each other, as friends sometimes do. Gonzalez said jokingly of his fellow coach: "Buzzy awful dumb fellow; remind me of a blind hog sometimes. You know the one I mean, the one who sometimes finds acorn just the same."8
After retiring from baseball, Wares made his home in South Bend, his wife's hometown. He and Gertrude had one child, a daughter named Elizabeth Jean, born in Kings County, California, on September 28, 1921.
Following a long illness, Wares died at his home on May 26, 1964, at the age of 78. He was survived by his widow and daughter. Clyde "Buzzy" Wares was buried in South Bend's Riverview Cemetery.
This biography is included in "The 1934 St. Louis Cardinals The World Champion Gas House Gang" (SABR, 2014), edited by Charles F. Faber.
Sources
Heidenry, John, The Gashouse Gang (New York: Public Affairs, 2007).
Lieb, Frederick G., The St. Louis Cardinals: The Story of a Great Ball Club (New York: G.P. Putnam's Sons, 1945).
Nash, Bruce, and Allan Zullo, The Baseball Hall of Shame (New York: Pocket Books, 1987).
Small, Kathleen Edwards, and J. Larry Smith, History of Tulare County and Kings County, California, vol. II (Chicago: S.J. Clarke Publishing Company, 1926).
Stockton, J. Roy, The Gashouse Gang and a Couple of Other Guys (New York: A.S. Barnes, 1945).
www.ancestry.com.
www.baseball-reference.com.
www.findagrave.com.
www.newspaperarchive.com.
Notes
Born
May 23, 1886 at Vandalia, MI (USA)
Died
May 26, 1964 at South Bend, IN (USA)
If you can help us improve this player's biography, contact us.
http://sabr.org/sites/default/files/WaresBuzzy.png
600
800
admin
/wp-content/uploads/2020/02/sabr_logo.png
admin
2012-01-04 20:42:10
2012-01-04 20:42:10
Buzzy Wares