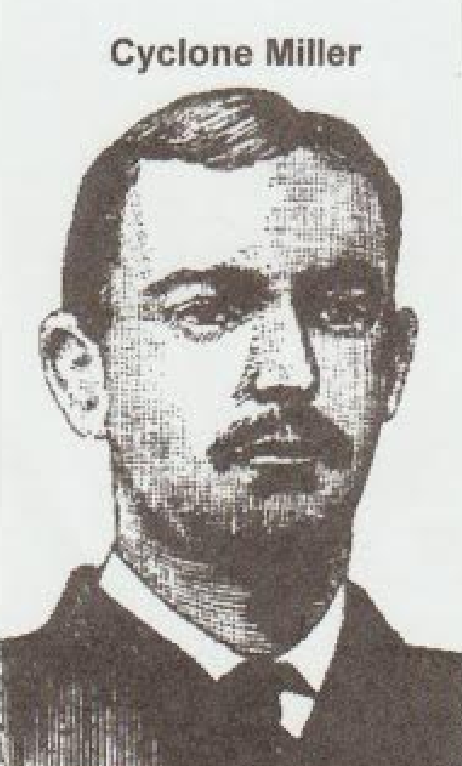 ---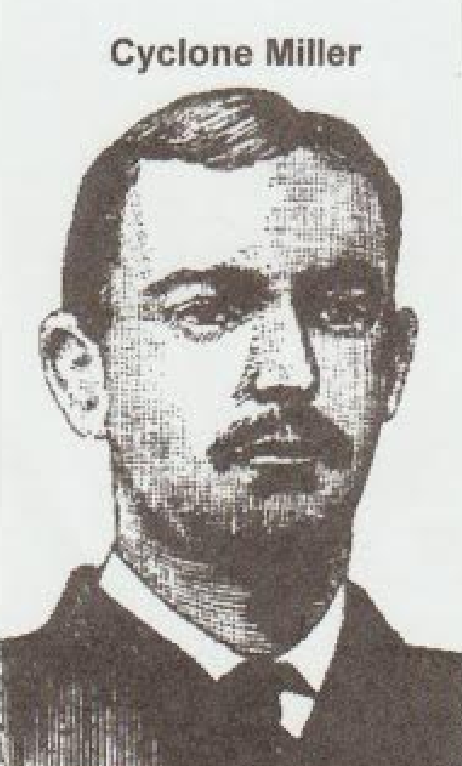 For an obscure two-season pitcher, mid-1880s left-hander Cyclone Miller had a disproportionate effect on the major league record book. For example, without Miller and his contribution to the troubles of the 1884 Providence Grays, it is improbable that teammate Hoss Radbourn would have won 60 games that year, the all-time major league single-season record. Nor would Radbourn likely have pitched a herculean 678 2/3 innings, the second-most in game annals.1 The role, mostly circumstantial and inadvertent, played by Miller in Radbourn's record-setting achievements is recounted within. The story of Miller's life, however, begins at the beginning.
Apart from the fact that he was born on September 24, 1859, in Springfield, Massachusetts, very little is known about the early life of Cyclone Miller. His birth name, Joseph Miller, was that of his father,2 a French-Canadian immigrant about whom nothing else is known.3 Massachusetts-born mother Mary (nee Rivers) is another phantom. Also unknown about Miller is the extent of his schooling and his pre-baseball occupation. All that can safely be said about the Millers is that the family was Catholic, and that it relocated to Pawtucket, Rhode Island, sometime in Cyclone's youth. This area is known for its large French-Canadian population, originally attracted by jobs in local textile mills.4
As a young adult in 1882, Miller married Mary Froman Cavanaugh (born 1859), the daughter of Irish immigrants. In time, the couple would have six children, but only two, Edward (born 1885) and Adeline (1888), would survive childhood.5
Miller first began to attract notice in Pawtucket baseball circles as a pitcher who also filled in as a left-handed position player.6 He was a member of various area amateur and semipro clubs before "coming into prominence while pitching for the famous Aetna team of Pawtucket."7 At 5-feet-9, 165 pounds, Miller was a young man of slightly above average size for his time, and an exceptionally hard thrower — but prone to wildness, hence the nickname Cyclone. He also had a sharp-breaking curve and a lethal (and probably illegal) pick-off move to first base.8
Miller entered the professional ranks in 1884, signing with the Worcester club of the Massachusetts State Association. Showing casual regard for contractual obligations, Miller abandoned Worcester in July to join the Chicago Browns of the upstart Union Association, a one-season circuit now accorded major league status. On July 11, Miller made a sensational debut for his new club, striking out 13 in a 10-2 victory over the Boston Reds. Immediately thereafter, he jumped to the Providence Grays of the National League.9 Miller was joining a pennant contender already stocked with two gifted but temperamental, difficult-to-keep-satisfied hurlers: future Hall of Famer Hoss Radbourn and the ill-fated Charlie Sweeney.10 New recruit Miller was signed as a rotation supplement, intended to ease the Radbourn-Sweeney workload.11
On July 15, Providence manager Frank Bancroft sent Miller to the box to face the Boston Beaneaters. The newcomer did well, hurling seven shutout innings and taking a 3-1 lead into the ninth. But revealing a weakness that would often handicap him, Miller could not finish the job. A Boston rally, aided by Providence fielding miscues, turned his maiden outing from triumph to a 4-3 defeat. Notwithstanding the loss, Miller's performance earned him an encore two days later. But this time, Bancroft was taking no chances on a late-game meltdown by the rookie. With Providence nursing a one-run, come-from-behind lead, Sweeney was brought in to pitch a scoreless ninth and preserve the 5-4 victory. Making his third start the very next day, Miller pitched poorly against the New York Gothams (later Giants), walking three, throwing a wild pitch, and complaining of a sore arm before being removed after two innings.
Days earlier, a discontented Radbourn had been placed on suspension by the club board of directors.12 For the time being, this reduced the Providence pitching rotation to Sweeney and Miller. Unbeknownst to all concerned, the pieces were now in place for Radbourn's record-setting heroics. On July 22, staff mainstay Sweeney started a game against the Philadelphia Quakers, while Miller manned right field. With Providence in command, 6-2, after six innings, Grays captain Joe Start, acting on the instructions of manager Bancroft who was intent on conserving his stalwart pitcher's arm, directed Sweeney and Miller to switch places. But an angered Sweeney refused. Instead, he stomped off the diamond, changed into his civilian clothes, and left the grounds. Under then-existing rules, the departed Sweeney could not be replaced. This meant that the Grays had to finish the game with only eight players, and over the final three frames, Miller's serves were frequently driven into the gaps of the Grays' down-to-two-man outfield. In the end, Providence's four-run lead became a 10-6 loss.
Summoned to a meeting with club president Ned Allen, a "very drunk" Sweeney called him "everything vile under the calendar" and was immediately terminated from Grays' employ.13 With management contemplating disbandment of the club, the canny Radbourn saw his chance to capitalize on the situation. Hoss had resented sharing pitching duties with the younger Sweeney and, given the 632 1/3 innings that Radbourn had hurled for the Grays the previous season, felt himself fully capable of finishing the 1884 campaign singlehandedly — provided he was extended the proper inducements: a doubling of his salary, plus a $1,000 bonus; elimination of the reserve clause hold on his services, and the right to become a free agent at season's end.14 With their pitching corps reduced to sore-armed Cyclone Miller and untried novice Ed Conley, club brass quickly agreed to Radbourn's terms, reinstating him to the Grays roster and forging on with the season.
Radbourn more than fulfilled his part of the new agreement. He started 41 of the Grays' remaining 51 games, winning 18 straight at one point while posting a dazzling 35-4-1 record over the entire stretch. One Radbourn victory, however, later became a matter of statistical controversy, a July 28 win in relief of Cyclone Miller. Given a start against Philadelphia, Miller labored through five innings and left the game trailing, 4-3. A four-run sixth inning rally then put the Grays on top, 7-4. In the bottom of the frame, Radbourn came in. Hoss held the Quakers scoreless over the final four innings of an eventual 11-4 Providence triumph. At the time, the winning pitcher was the hurler who, in the estimation of the game's official scorer, had pitched most effectively for the winning side. Using that criterion, Radbourn was credited with the victory, one of the record-setting 60 wins he posted in 1884.
More than 80 years later, MLB's Special Baseball Records Committee decreed that the 1950 rule for identifying a game's winning pitcher was to be applied retroactively by baseball statistical record revisers. In the case of the July 28, 1884, Providence-Philadelphia contest, this resulted in Radbourn losing credit for the victory. Because Cyclone Miller had pitched the requisite five innings by a starter and because Providence held a lead that would never be relinquished before Radbourn came in, the win was reassigned to Miller, with Radbourn getting retroactive credit for a save (but having his victory total reduced to 59).15 As might be expected, the Rules Committee decision was not well-received in many quarters. And in early 2019, it was rejected by the influential statistical site Baseball-Reference, which returned the July 28, 1884, win to its original owner, Hoss Radbourn.16 This action put Radbourn back at 60 wins for the season, while simultaneously reducing Cyclone Miller's 1884 win total by one-quarter, from four to three — at least according to B-R.17
On July 31, 1884, Miller became the unanticipated center of strife at a Polo Grounds match between the Grays and Gothams. With intermittent rain already causing a delay, few expected the game to be played. This apparently included umpire Eugene Van Court, who failed to appear for his duties. But once the weather became tolerable, Grays manager Frank Bancroft pressed to get the game in. Reluctantly, New York agreed to play, accepting Cyclone Miller as emergency umpire. If the Gothams expected evenhanded treatment from the Providence pitcher-turned-arbiter, they would be sorely disappointed. Close calls were invariably decided in the Grays' favor, prompting one New York daily to declare that "a more disgraceful exhibition of umpiring was never seen in this city than that shown by Miller."18 Another complained that "Miller was unfair, and gave every decision in favor of his club."19 With the small but vocal home crowd hooting derision at Miller, he decided to call the game on account of darkness after nine innings with the score deadlocked, 3-3. Umpire Miller then required a police escort to depart the grounds safely.20
Two days later, Miller made his final appearance as a starter for Providence, hurling a complete-game 9-2 victory over the Philadelphia Quakers. Despite that showing, the next time iron-armed Radbourn required respite, Bancroft turned to untested Ed Conley rather than Miller. The route-going shutout that the 20-year-old pitched against Philadelphia on August 8 impressed the Grays skipper. From then on, Conley pitched on Radbourn's infrequent days off.21 Miller's subsequent work was confined to a lone mop-up relief appearance. Behind the yeoman effort of Radbourn (60-12), the Grays cruised to the pennant, finishing a comfortable 10 1/2 games ahead of the second-place Boston Beaneaters. Providence then swept a three-game post-season match with the American Association champion New York Metropolitans in the precursor to the modern World Series. By that time, however, Cyclone Miller was gone from the Grays. He finished the season with Philadelphia, and took a late-September 19-7 shellacking from Chicago in a one-game tryout with the Quakers.
For the 1884 season, Miller's combined major league (Chicago Browns-Providence Grays-Philadelphia Quakers) record was 3-3 in eight games,22 with a 3.25 ERA/1.405 WHIP in 52 2/3 innings-pitched. He struck out 26, while walking 17 and throwing 16 wild pitches. As a batsman, Miller was near-helpless, his two singles in 31 at-bats yielding an anemic .065/.094/.065 slash line. His play in the field, however, was top-notch. Including four games played as an outfielder, Miller handled 26 chances flawlessly.
Cyclone completed his five-team 1884 odyssey pitching for an army team at Fort Monroe, Virginia.23 He began the following season with the Indianapolis Hoosiers of the newly-formed minor Western League. Miller's sparkling 6-0 start with a 1.17 ERA in 54 innings-pitched was representative of Indianapolis dominance of the circuit. With the Hoosiers far in front with a 27-4 (.871) record, the non-competitive WL collapsed on June 15. Even before Indianapolis disbanded, it was reported that Miller had been signed by the Macon (Georgia) club of the Southern League.24 But once the Western League folded, Miller did not head for Macon. Instead, he returned to his birthplace to play for the Springfield, Massachusetts, club of the Southern New England League. After two losing efforts as a pitcher and some substandard work in right field for Springfield, Miller capitulated to Macon's threat to place him on the blacklist if he did not report.25 In early July, Miller telegraphed Macon manager Bill Bryan seeking train fare to Georgia.26 Once he arrived in town, Miller alternated some good pitching with bad behavior. His scheduled debut against Atlanta had to be scrubbed when Miller turned up badly hung over from the previous evening's drinking spree and was deemed unable to pitch.27 A week later, he struck out 10 and hit a home run in a winning maiden outing for Macon.28 In the end, Miller pitched better than his 11-12 record, recording a microscopic 0.61 ERA, with a fine 0.801 WHIP.
Cyclone returned to Macon for the 1886 campaign and brought his bad habits with him. A dismal April effort against the Memphis Grays — a still-under-the influence Miller allowed nine runs in the first two innings — prompted the Macon Telegraph to demand that he "be immediately released and blacklisted for such work."29 Years later, a Southern League sportswriter recalled Miller colorfully, if not with pinpoint accuracy, as "a short, closely built, apple-butter Dutchman, and he had all the speed needed. He'd put 'em over the plate so fast that they'd look like a pea to the batter. Great was Miller for a time. But the poor devil went to the booze line too much."30 His fondness for drink notwithstanding, by mid-season Miller was adjudged "undoubtedly the most effective pitcher that ever played on (league rival) Savannah grounds."31 For the most part, Cyclone pitched well but with poor results for a lousy Macon team, his 6-14 record belying an excellent 1.16 ERA/0.858 WHIP.
In early August, Miller regained major league status, being signed by manager Lew Simmons of the pitching-strapped Philadelphia Athletics of the American Association.32 He got off to a rocky start, dropping lopsided decisions to Louisville and St. Louis. But Miller soon righted course, trimming Pittsburgh, 3-2, on August 11, then pitching but losing a one-hitter to Baltimore, 1-0. Four days later, Miller reaped his revenge, shutting out the Orioles, 3-0, while striking out seven. With 10 victories total (against eight defeats), Cyclone Miller was the Athletics' most effective pitcher in the season's closing months.
Philadelphia placed Miller on its reserved list for the 1887 season,33 and he accompanied the club on a post-season exhibition game tour to Cuba, where he envied the adulation accorded Havana bullfighters but was unimpressed with the caliber of local baseball.34 Miller's attitude about being reunited with Frank Bancroft, his erstwhile Providence manager recently engaged by the Athletics, is unknown. However, off-season reports suggested that his pitching style might be hampered by rule changes intended to restrict movement inside the pitcher's box.35 Miller expressed confidence that the new rules would have no effect on him, but he was hit hard in preseason exhibition games. 36 As the 1887 season opener drew near, it was reported that "Cyclone Miller … is despondent. Under the new rules, he cannot do the contortion act in the box, and is consequently wild and ineffective, and will soon be released."37
Miller made Philadelphia's Opening Day roster, but saw no game action in the early going. Rather, he made his 1887 debut in an unusual exhibition contest. With the Athletics hosting the Baltimore Orioles on May 3, manager Bancroft dispatched six of his pitchers (including Miller) and three catchers to nearby Trenton, to join a collection of local semipro players in a game against the Cuban Giants, a prominent black touring club. It was entirely no-contest, as the Giants pounded the pitching of A's front-liners Bobby Mathews, Gus Weyhing, Ledell Titcomb, and Bill Hart. The major leaguers, however, could do nothing with the slants of Cuban hurler Shep Trusty, who held them scoreless. Outfielder Cyclone Miller did his part, striking out in all four of his at-bats. Brought on to finish the game in the ninth, Miller was pounded for four runs before he could get the side out. The final score: Cuban Giants 16, "Athletics" 0.38 The game marked Miller's last appearance in a major league uniform. Days later, his contract was sold to the Lincoln (Nebraska) Tree Planters of a reconstituted Western League.39 Miller would never get a third major league chance. Indeed, his playing career would be over in months.
In his two major league seasons, Miller posted a combined 13-11 (.542) record, with a 3.04 ERA/1.309 WHIP in 222 1/3 innings-pitched. 40 He struck out 125, walked 76, and threw 51 wild pitches. As a batter, Miller was harmless, compiling an inoffensive .113/.239/.134 career slash line, with just two extra-base hits in 97 at-bats. His defense, however, was another matter entirely. Remarkably for the times, Miller never committed an error in the field. Including five games in the outfield and one as a left-handed third baseman, he handled 50 chances without an error, good for a 1.000 major league career fielding average.
With his new Lincoln club, Miller got off well, winning seven of ten decisions despite being hit liberally by Western League batters (131 hits surrendered in 90 innings pitched). In late June, however, his pitching arm went dead.41 Thereafter, it was reported that the arm was "paralyzed,"42 the exertion of pitching having caused "the blood to clot in the veins of his arm."43 With complete rest for the next several weeks prescribed, Miller was sent home to Pawtucket, his teammates collecting a modest purse to cover his traveling expenses.44 Lincoln did not release Miller, planning to call him back as soon as his arm recovered.45 But despite the rest, his pitching limb remained lame. Cyclone Miller never pitched again.46
Once back home, Miller quickly faded into the anonymity of private life. The 1900 US Census placed him and family in Pawtucket, where he worked as a freight train brakeman. Following the death of wife Mary, Miller and daughter Adeline relocated to Montville, Connecticut, where he found employment in a local paper mill. Son Ed, meanwhile, remained in Pawtucket where he attracted attention as a baseball prospect.47 In October 1906, Cyclone remarried, taking 29-year-old Estella Church Bullard, a quilt mill co-worker of his daughter, as his second wife. He was working as a factory watchman when his health began to fail in 1916. Hospitalized for two months, Joseph "Cyclone" Miller died in Lawrence Hospital in New London, Connecticut, on October 13, 1916, the cause of death being listed as "tuberculosis of the spine."48 He was 57. Several days later, a Requiem Mass was said for the deceased at St. John the Evangelist Church. Interment at Comstock Cemetery, Montville, followed. And there Cyclone Miller rests undisturbed, his name long unmentioned until Baseball-Reference revived the ancient controversy about Hoss Radbourn's record-setting 1884 win total.
Acknowledgments
This biography was reviewed by Rory Costello and Norman Macht, and fact-checked by Chris Rainey.
Sources
The primary sources of the sparse biographical information recited above are US and state census reports accessed via Ancestry.com, and obituaries published at the time of Cyclone Miller's death in October 1916. Statistics have been taken from Baseball-Reference.
Notes
1 The all-time record of 680 innings pitched is held by Will White of the 1879 Cincinnati Reds.
2 Beginning with the 1951 first edition of the baseball encyclopedia by Turkin and Thompson, modern baseball reference works have listed our subject's birth name as Joseph H. Miller. No trace of a Miller middle name or initial, however, appears in available government records or in contemporaneous reportage on Cyclone Miller's baseball career. Nor does a middle name or initial appear in Miller's 1916 obituaries. See e.g., "Died," New London (Connecticut) Day, October 14, 1916: 6; "'Cyclone' Miller Dies: Old Time Ball Player," Pawtucket (Rhode Island) Times, October 14, 1916: 4; "'Cyclone' Miller Dies in New London Hospital," Norwich (Connecticut) Morning Bulletin, October 17, 1916: 4. Same give his name simply as "Joseph Miller," as does the death certificate in the Cyclone Miller file maintained at the Giamatti Research Center in Cooperstown.
3 The maiden name and birthplace of Mary Rivers Miller are listed in the Norwich, Connecticut, record of Cyclone's second marriage. The writer is indebted to SABR colleague Brad Benedict for uncovering and passing this record along. The Miller surname may have been Anglicized from Meunier, but no conclusive proof on this has been discovered.
4 The family of Clem Labine, who grew up in nearby Woonsocket, is a prominent example. Labine's French-speaking father was a weaver, and there's a good likelihood that Cyclone Miller's father was also a mill worker.
5 As reflected in the 1900 US Census.
6 Whether Miller was a righty or lefty batsman is another unknown.
7 As per the Miller obituary published in the Norwich Morning Bulletin, October 14, 1916: 4.
8 According to the Cyclone Miller entry in Major League Baseball Profiles, 1871-1900, Vol. I, David Nemec, ed. (Lincoln: University of Nebraska Press, 2011), 134-135.
9 Miller's 13 strikeouts remained the record for a left-handed pitcher in his major league debut until 1954, per "Cyclone Miller," Major League Baseball Profiles, 135.
10 Sweeney was a singular talent, but high-strung and given to excessive drinking. After a prematurely-ended baseball career, Sweeney's life headed downhill. Ultimately, he became involved in an alcohol-fueled barroom shooting that led to a conviction for manslaughter. Shortly after his release from prison, Sweeney died of consumption at age 39.
11 Prior to Miller's arrival, it had been more than a month since someone other than Radbourn or Sweeney had pitched for Providence.
12 As reported in The (Washington, DC) National Republican, July 17, 1884, and elsewhere. For a detailed accounting of Radbourn's travails with Providence Grays management, see Edward Achorn, Fifty-Nine in '84: Old Hoss Radbourn, Barehanded Baseball and the Greatest Season a Pitcher Ever Had (New York: Smithsonian Books, 2010), 197-202.
13 As recounted years later by Frank Bancroft in the Boston Post, and re-printed in "Sweeney Was Drunk, but I Didn't Know It," Baseball History Daily, August 22, 2014.
14 Per the BioProject profile of Old Hoss Radbourn by Brian McKenna.
15 See "59 or 60?" in David Nemec, The Great Encyclopedia of 19th Century Major League Baseball (New York: David I. Fine Books, 1997), 216. The 59-win season would still be a single-season major league record, comfortably ahead of the 53 wins posted by the Chicago White Stockings' John Clarkson in 1885.
16 See "Old Hoss Radbourn: 59 or 60 Wins?," Sports-Reference blog posted April 10, 2019.
17 At this writing, Retrosheet and other baseball statistical sites have not adopted the Baseball-Reference revision. Some continue to list Radbourn's 1884 Providence record as 59-12, while Miller remains at a combined 4-3.
18 "An Umpire Threatened: A Providence Baseball Player Whose Rulings Endangered His Safety," New York Herald, August 1, 1884: 8.
19 "The National Game: The New-York Club Trying Hard To Beat An Umpire," New York Times, August 1, 1884: 2.
20 As reported in "A Base Ball Umpire Threatened," Harrisburg Patriot, August 1, 1884: 1, and elsewhere.
21 With the pennant already clinched, veteran Harry Arundel also started a meaningless October game for the Grays.
22 Per Baseball-Reference. Retrosheet gives Miller a combined 4-3 record for the 1884 season.
23 Per "Cyclone Miller," Major League Profiles, 135.
24 According to "Baseball Notes," Macon (Georgia) Telegraph, June 9, 1885: 5.
25 Per "Springfield," Springfield (Massachusetts) Republican, June 20, 1885: 6. Macon's hold on Miller was strengthened by the fact that he had apparently accepted advance money from the club.
26 As reported in "City Items," Macon Telegraph, July 3, 1885: 8.
27 Per "Baseball in Atlanta," Macon Telegraph, July 15, 1885: 4.
28 Per "Base Ball Notes," Wheeling (West Virginia) Register, July 26, 1885: 2. It was further reported that Miller was drawing $375/month with Macon.
29 "In the Diamond Field: Miller's Monkeying Causes Macon Defeat," Macon Telegraph, April 21, 1886: 5.
30 "Bruff's Stories of the Diamond," Atlanta Constitution, June 30, 1907: 7.
31 See "Diamond Dust," Macon Telegraph, July 18, 1886: 5, quoting the Savannah (Georgia) Times.
32 As reported in "Notes," Wheeling Register, August 1, 1886: 4; "The Sporting World," Cleveland Plain Dealer, August 3, 1886: 5; and elsewhere. Reportedly, A's manager Simmons made the trip to Macon to sign Miller personally.
33 "The Official Roster," The Sporting News, December 18, 1886: 5. The players reserved for the 1887 season by the Philadelphia Athletics included "Jos. Miller," the only discovered instance wherein our subject is identified by the baseball press by his actual first name, rather than as Cyclone Miller.
34 See "Back from Havana," Philadelphia Inquirer, December 22, 1886: 2.
35 The new rules were intended to restrict gyrations in the pitcher's box by requiring the pitcher's back foot to remain planted on the ground at the back of the box through delivery. For more on 1887 pitching rule changes, see Richard Hershberger, Strike Four: The Evolution of Baseball (Lanham, Maryland: Rowman & Littlefield, 2019), 174-175.
36 "Notes from the Diamond," Cleveland Leader, April 3, 1887: 11.
37 "Base Ball," Cleveland Plain Dealer, April 17, 1887: 6.
38 For a detailed account of the game, see "Five Pitchers Used Up: The Athletics Chicagoed by the Cuban Giants," Trenton Evening Times, May 4, 1887: 1. Meanwhile back in Philadelphia, the Athletics regulars were getting hammered by Baltimore, 15-6.
39 As reported in "Base Ball Notes," Philadelphia Inquirer, May 6, 1887: 3; "Base Ball Notes," Cleveland Plain Dealer, May 8, 1887: 6, and elsewhere.
40 Per Baseball Reference. Retrosheet and other statistical references still place the Miller career record at 14-11 (.560).
41 As reported in "Base Ball Notes," Cleveland Plain Dealer, June 22, 1887: 5.
42 See e.g., "Diamond Notes," Cleveland Leader, July 19, 1887: 3; "The Northeast," Hot Springs (Arkansas) Star, July 29, 1887: 3.
43 "Sporting Gossip of the Week: Baseball," Springfield Republican, July 3, 1887: 3.
44 The fund is placed at $188 in Major League Profiles, 135. Contemporary news accounts give lesser amounts: Hot Springs Star, $150; Cleveland Leader, $133.
45 As reported in "Western League Gossip," (Denver) Rocky Mountain News, July 14, 1887: 6.
46 Both Baseball-Reference and Major League Profiles indicate that Miller was given a one-game tryout in 1888 by the Jackson (Michigan) Jaxons of the minor Tri-State League. This is incorrect. The "Cyclone" auditioned by Jackson was one Richard Miller, "a local light from Mansfield," Ohio, tried out by the Jaxons in an early-season game against the Mansfield club, a Tri-State League rival. See "The World of Sport," Jackson (Michigan) Citizen Patriot, April 26, 188: 3. Later that season, Richard "Cyclone" Miller also pitched for Mansfield and Toledo.
47 Ed Miller later played for the Elgin (Illinois) Kittens of the short-lived Class D Northern Association.
48 Per the Miller death certificate.
Born
September 24, 1859 at Springfield, MA (USA)
Died
October 13, 1916 at New London, CT (USA)
If you can help us improve this player's biography, contact us.
https://sabr.org/sites/default/files/MillerCyclone.png
600
800
admin
/wp-content/uploads/2020/02/sabr_logo.png
admin
2019-05-24 10:50:32
2021-05-13 13:19:33
Cyclone Miller