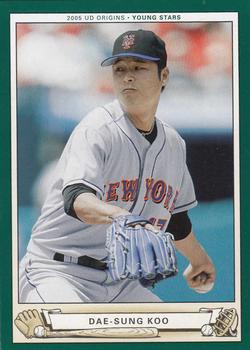 ---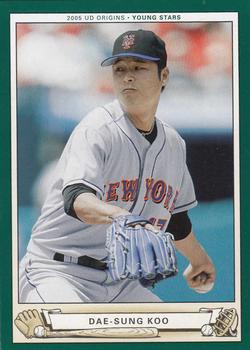 South Korean lefty Dae-Sung Koo was the 10th of his countrymen to play in the major leagues.1 He pitched part of one season with the New York Mets in 2005. Koo, who had previously played for 12 years in his homeland and Japan, was 35 years old when he signed with the Mets. In New York, he was a situational reliever; in 33 appearances, Koo pitched just 23 innings. He recorded no decisions and had no saves.
Nonetheless, in his brief time as a big-leaguer, "Mr. Koo" – as he was fondly known in New York – made a lasting impression. His most memorable game took place on May 21, 2005, at Shea Stadium. In his second of just two at-bats in the majors, Koo surprised everyone by blasting a long double off Hall of Famer Randy Johnson. He then showed himself to be a daring baserunner, scoring from second on a sacrifice bunt with a headlong dive around catcher Jorge Posada.
In 2006, Koo returned to Korea, where he played five more seasons. He then moved on to Australia for another five. Finally, in early 2015, he retired from his professional playing career at the age of 45. He then went on to become a coach and manager in Australia, his adopted homeland.
Dae-Sung Koo2 was born on August 2, 1969 in Daejeon, South Korea's fifth-largest city. It is located in the center of the country, south of the capital city, Seoul. Koo was the second of three children in his family, coming between an elder brother and a younger sister (information about his parents is not presently available).3
Although Koo was born right-handed, at the age of six he suffered a badly broken right arm and became a lefty as a result. "I fell from a two-story building," he recalled in 2016. "I was 11 years old when I started baseball. There was a school team, and we would play with other schools, not really a Little League."4
Koo first attracted broader attention for his pitching while attending high school in Daejeon. One of his feats became famous in Korea; it was reminiscent of Satchel Paige. For fun, he intentionally walked the first three batters, then struck out the next three in a row. "It was enjoying myself in the moment," he said.5
Koo then went to Hanyang University, at its main campus in Seoul. For one year there, he was a teammate of Chan Ho Park, the first Korean to play in the majors. The designated hitter rule was in effect while Koo played in college – and during his time in the Korea Baseball Organization (KBO) and Japan's Pacific League. Thus, he did not swing a bat again in a real game until joining the Mets.6
Koo first represented South Korea in international competition in 1989. That action came in the Intercontinental Cup; he played in that tournament again in 1991 and was named to its All-Star team. He was on the national team again in 1992, but South Korea did not qualify for the eight-team baseball tournament at the Summer Olympics in Barcelona after losing to Japan and Taiwan in regional preliminaries.7
After graduating from Hanyang, Koo joined the Binggrae Eagles of the KBO in 1993. This team, based in Daejeon, changed its name to the Hanwha Eagles after that season. Koo's first tenure with the Eagles lasted eight years, through 2000. During that time, he was 61-57 with 150 saves and a 2.79 ERA in 351 games. In 915 1/3 innings, although he walked 404 batters, he gave up just 658 hits and had 1,020 strikeouts. Regarding his high strikeout ratio, Koo said, "It was just my confidence and concentration while pitching."8
Koo's best season at home was 1996. He led the KBO in wins with 18 (against just three losses) and ERA (1.88) while also posting 24 saves. He was named the league's Most Valuable Player. In addition, he won a Gold Glove.9 That year South Korea made it into the Olympic baseball tournament in Atlanta, finishing last among the eight teams. The International Baseball Association did not vote to rescind its amateur-only rule for the Olympics until September 1996 – several weeks after the Atlanta Games had concluded.10
The 1999 season was also noteworthy for Koo because Hanwha became Korean champions.11 As of 2016, it is the Eagles' only title to date. Koo was named MVP of the Korean Series, which Hanwha won in five games over the Lotte Giants.12 His lasting memory of the series: "My final pitch and the moment we won."13
Another member of the 1999 Hanwha staff, righty Min-Cheol Chung, remembered Koo's habit of warming up in thick jackets during the summer and in shorts during winter. Koo commented, "It was my way to wear a long jacket to warm my body up fast and get used to the heat when I took it off for the game. And for the winter, because it was off-season I wore shorts – I also was not weak in cold weather."14
The KBO shut down for a few weeks during the 2000 season so that its best players could go to Sydney to compete in that year's Summer Olympics.15 Koo was a key member of the South Korean team. He brought honor to the nation by pitching a 3-1 complete-game victory over Japan with the bronze medal at stake. Koo, who struck out 11, outdueled another future big-leaguer, Daisuke Matsuzaka. The game was scoreless until the bottom of the eighth inning, when South Korea scored three unearned runs.16
Korea and Japan have an intense rivalry, so this win was especially sweet for the Koreans. Koo earned the nickname "Japan-Killer." He remarked, "I think it was the people and baseball community that started to call me that." He didn't view himself as any more patriotic than his teammates, simply "a good pitcher for the team" – but acknowledged, "I liked to win, especially against Japan. I think it gave me good strong performance against other national teams." He also won another nickname – Dae-sung bool-pae, or "Dae-sung never loses" – which he liked better than "Japan-Killer."17
On a separate note, Koo fell in love with Australia while playing in those Olympics. He later came to live there permanently with his family.18
A new opportunity then arose for Koo in Japan. He pitched for four seasons with the Orix Blue Wave of the Pacific League. In 2001, Koo pitched mostly in relief, starting nine times in 51 appearances. After that, however, Orix made him a starter. From 2002 through 2004, he did not relieve in any of his 59 outings. All told in Japan, Koo posted a record of 24-34 with a 3.88 ERA and 504 strikeouts in 503 innings pitched. His control was about the same as it was in the KBO; he walked 3.8 men for each nine innings pitched. Orix was a poor team during most of Koo's time in Japan. The club finished a little over .500 in 2001, but was last in the six-team Pacific League during each of the next three seasons, with an aggregate winning percentage of .367.
Following the 2004 season, Orix merged with the Kintetsu Buffaloes. Koo chose to leave Japan rather than fight for a position.19 The New York Yankees had reportedly expressed interest, but according to Koo, they waited too long with their offer, and so he went with the Mets – who'd offered him a contract five years previously.20 They signed him on January 8, 2005. General manager Omar Minaya said, "I was in Sydney for the Olympics in 2000 when he beat Japan to win the bronze medal for Korea. He's a veteran pitcher who can help our staff in a variety of ways."21
The day Koo signed was also his 10th wedding anniversary. His wife, Hyun-Jung Kwon, was there for the ceremony, along with his agent, Dong-Yoon "Douglas" Jo.22 The Koos have two children: Alice and Eric.
The Mets gave Koo a one-year major-league contract with an option for the 2006 season. In spring training, he got the nickname Mr. Koo. As he explained through an interpreter, "For Americans, my first name is very hard to pronounce. Over here, I will go by my last name only. My teammates can call me Koo." That article in the New York Times also described his motion. "Koo's three-quarter delivery is just as confusing. He ducks down and leans forward when he throws so that it looks as if the ball is popping out of his shoulder."23 Koo described the development of his motion by saying, "I threw similar to others, but as time passed, I started not to show my ball so that it was harder for the hitter to see and read."24
The Times piece added a touch about Koo's personality too. "When he is finished with his bullpen sessions, he removes his cap, raises both hands and takes an exaggerated bow toward his catcher as a show of thanks."25
The 2005 Mets had a broadly international flavor, something that Minaya had actively sought. Despite language barriers, there was a lot of camaraderie. One of the ways this became visible that spring was in clubhouse poker games. In his book about the team that year, author Adam Rubin observed, "In Florida [Koo] dominated his teammates at poker, which he claimed not to have played before, while raising on odd hands not in his favor."26 The New York Times also reported, "Koo plays Texas Hold 'em with fellow relievers even though he only knows how to bluff."27
Koo pitched well in camp, winning the John J. Murphy Award, the trophy that has been presented each year since 1972 to the top Mets rookie in spring training.28 It was obviously a stretch, though, to call the international vet a "rookie." The same is true of other experienced Asian imports, as well as various Negro Leaguers and Latino players of the past.
Several winners of the Murphy Award, both before and after Koo, did not go north with the Mets – but he won a bullpen job with the big club despite crowded competition. He thus became the first Korean player to perform in the KBO, Nippon Professional Baseball, and the majors.29 He also became the second Korean to play for the Mets. The first was Jae Weong Seo, another pitcher, in 2002. Seo was still with New York for parts of 2005, so that staff became the first in big-league history with two Korean members. "We were close to each other during that time," said Koo.30
New York City has the biggest Korean population of any U.S. city after Los Angeles, and Flushing – the part of Queens that's home to the Mets – is the center of the city's Korean community. Koo said, however, "I stayed for only a year, so there isn't a particular memory, but I have heard the Korean community is still very good now."31
Koo's debut with the Mets on April 4 – Opening Day at Cincinnati – was very sharp. He entered in the eighth inning with the Mets leading, 6-4. He struck out D'Angelo Jiménez and Ken Griffey Jr., catching both of them looking. He then retired Sean Casey, fielding a grounder himself and throwing to first. In the bottom of the ninth, however, Braden Looper blew the save, giving up a single and back-to-back homers.
Overall, Koo was a moderately effective pitcher for the Mets. He averaged one strikeout per inning, although he also walked or hit 0.65 per inning. His 3.91 ERA is somewhat deceptive; opponents scored against him in just six of his 33 outings, and in one of those the runs were unearned. However, he also allowed 11 of 24 (46%) of his inherited runners to score, which is subpar for a middle reliever. Opponents hit just .135 (7-for-52) against him when nobody was on base. It was a different story with men on, though: .417 (15-for-36). With runners in scoring position, the difficulty was more pronounced: .476 (10-for-21). He also had a hard time retiring the first batter he faced – 14 of 33 got on base.
The best opportunity Koo had to earn a save came on May 17. It was Asian Night at Shea Stadium, and again Cincinnati was the opponent. The Mets took a 2-1 lead into the ninth; with three lefties due up for the Reds, manager Willie Randolph went with southpaw Koo. After Casey grounded out, however, Griffey singled and Adam Dunn walked. Looper was called into to close, and did so without further ado.
Koo's finest hour in the majors came four days later. It merits full discussion. For detail of his most improbable batting and base-running exploits before a full house and national TV audience, see "Mr. Koo's Wild Ride" on the SABR Baseball Games Project site.
It turned out that Koo hurt his pitching shoulder on his dive into home that sunny Saturday afternoon. He went through a bad patch – in four appearances after May 21, he got three outs while allowing five hits, two walks, a hit batter, and six runs (four earned). He gave up a game-turning, three-run homer to Florida's Carlos Delgado in a Mets loss. In that stretch, his ERA rose from 3.38 to 5.65. An MRI revealed a bruised rotator cuff; he went on the disabled list on June 2.32
Willie Randolph said, "Sometimes it's tough with communication; sometimes different cultures have different ways of approaching things. You assume guys are relatively healthy when they take the ball. But who knows? It's a little disappointing if he did hurt himself and he didn't give us a heads-up on it." Koo admitted to lingering pain and thought his shoulder was at about 80-90%. Yet he had no regrets, saying, "I was doing what I could to help my team win. That was most important."33 And in 2016, when asked to pick between his "Wild Ride" and the 1999 championship with the Eagles, he responded, "I have more memory of the Randy Johnson hit, and because of that, more people got to know better who I am."34
Koo returned to action on June 22. He appeared in 11 more games in the majors, the last coming on August 20. Although he had pitched well since coming off the DL, the Mets sent him down to their Triple-A team in Norfolk on August 22, recalling righty Heath Bell to take his place.35 Koo pitched in just two games for the Tides over the rest of the regular season, plus two more in the International League playoffs.
The Mets designated Koo for assignment that September.36 In November, they declined to exercise their option on his contract for 2006.37 Nonetheless, when 2006 rolled around he was a non-roster invitee to spring training.38
On March 2, however, New York sold Koo's contract back to the Hanwha Eagles. He took part in the first World Baseball Classic, which started the very next day. It featured a dramatic chapter in the long-running competition between South Korea and Japan. Emphasizing the rivalry, before the WBC began, Japanese star Ichiro Suzuki said, "I want to beat South Korea so badly that they won't want to play Japan for another 30 years."39 That remark incensed the Koreans. Indeed, Koo's most prominent memory of the tournament was "when one of my teammates threw a beanball at Ichiro."40
South Korea reached the semifinals, and Koo contributed out of the bullpen, allowing just one run in eight innings pitched.41 On March 5 at the Tokyo Dome, he got the win over Japan, pitching two perfect innings in relief. He said, "I was most nervous about the batters who I knew, because I knew they knew me as well. I tried to pitch the opposite of what they expected and it worked. I have a lot of international experience against them and I have never allowed more than three runs. So I always have confidence against them. I don't think their hitters can hit my pitches."42
Ten days later, in the second round, Korea faced Japan again at Angel Stadium in Anaheim. Koo came on in the ninth to try to save a 2-0 lead for Byung-Hyun Kim (then a member of the Colorado Rockies). He gave up a homer to Tsuyoshi Nishioka (who played for the Minnesota Twins in 2011-12) and a single. However, Seung-Hwan Oh preserved the Pool 1 championship for the Koreans by striking out the last two batters.
The Koreans had a perfect record in the first two rounds. In the semifinals, however, they lost to the eventual champion – Japan. Koo did not pitch in that stinging 6-0 defeat.
From 2006 through 2010, Koo pitched in 218 games in the KBO, making just one start. Though his won-lost record was just 6-14, he posted 64 saves, including 37 in 2006. He pitched 214 innings, striking out 201 and notching a 3.22 ERA. (He was not on the roster for the 2009 World Baseball Classic, in which South Korea finished second to Japan.)
In August 2010, Koo – aged 41 – announced his retirement from the KBO. He said, "The past few years have been tiring for me both physically and mentally. Although I have some regrets and lingering feelings, I think it's time for me to leave my career in Korea. My children are studying in Australia, and I learned that Australia is starting a professional baseball league. I sent a letter to the league, and they have accepted me. I have turned down a salary. Instead, I asked the team to let me play for at least two years."43
That team was the Sydney Blue Sox, and joining them was a win-win situation. The presence of a large Korean community in Australia's biggest city was a secondary factor in Koo's decision.44 In turn, the Blue Sox hoped that he would attract fans from that community, which supports more than 10 recreational baseball clubs. In addition, Koo was not just a marquee name – he still had value as a player. Blue Sox pitching coach Chris Oxspring (an Aussie who had also played in the KBO, Japan, and the majors) said, "Koo's experience and just his presence late in a tight game will be massive for us."45
Oxspring was right. Koo wound up playing five seasons for Sydney, appearing in 86 games (all but one in relief) and posting a won-lost record of 3-8 with 35 saves. In a total of 104 2/3 innings pitched, he struck out 107 and posted a sparkling 2.15 ERA. The Australian Baseball League named Koo its Reliever of the Year twice, in 2010-11 and 2013-14.
Assessing the caliber of competition in the ABL, many of its players are prospects in the U.S. minors at levels ranging from Rookie League to Class AA. Koo admitted too that his velocity had diminished.46 Yet, like so many veteran pitchers, he was crafty. One opposing batter said, "It's tough because he's got all the deceptions, and the ball comes from an angle behind his eyes – he can put the ball wherever he wants." Koo's conditioning helped as well. "You need to have a lot of stamina," he said of pitching in his forties. "You need to keep running if you want to pitch for a long period of time." 47
When asked to compare baseball across the four nations in which he had played, Koo said, "I think the USA is the prime baseball place. Japan was more elaborate in baseball skills. Korea had a strong view towards baseball like the USA. Australia was similar to the USA but more enjoyable with the team. All of them had a good strong view towards baseball and you can see everyone with passion and skills."48
In November 2012, Koo traveled back to his homeland with the Perth Heat, ABL champions in the 2011-12 season. The occasion was the Asia Series, held that year in the city of Busan. That tournament brought together league champions from South Korea, Japan, Taiwan, China, and Australia (plus the host team, Busan's Lotte Giants). The Heat made a special exemption to add him to their roster, telling the KBO that including Koo would help promote baseball Down Under.49 Koo appeared in the second of the two games the Heat played, against Japan's Yomiuri Giants. He allowed three runs (two unearned) while retiring one batter.50
The third World Baseball Classic was held in March 2013, but despite rumors the previous fall, Koo was not one of the 14 pitchers on the Australian roster.51 However, he did become a member of the Australian national baseball team – dubbed the Southern Thunder – in 2014. That squad played two exhibition games at the Sydney Cricket Ground on March 20 and 21 against the Los Angeles Dodgers and the Arizona Diamondbacks.52 Koo appeared in the Dodgers game, pitching one scoreless inning.53 With Los Angeles was Korean pitcher Hyun-Jin Ryu, a former teammate of Koo's with Hanwha. Ryu said, "He had a huge influence on my career, not only that he taught me a pitch or two, but that he taught me a lot of different things as a mentor." In particular, Koo taught Ryu his change-up. Ryu made it a point to call Koo sunbae, a Korean term used to show deference to a senior or more experienced person.54
Later in 2014, Koo joined the Penrith Panthers in the NSW (New South Wales) State Baseball League, Australia's top amateur circuit. He provided pitching depth and was an elder statesman for the team. "I've always been coaching and helping younger players in Korea," he said. "So although my English isn't that good, I just want them to trust in me and follow through with their training."55
Koo added, "When the players can hit my ball, that's when I'll stop playing baseball."56 He pitched his last 15 games as a pro with the Blue Sox in the 2014-15 season. The feisty veteran showed that his competitive drive remained strong. He was ejected from a game on November 9, 2014, after objecting to the umpire's call on a pitch by drawing a line in the dirt at home plate.57
Penrith repeated as NSW state league champions in 2016, and Koo remained a helpful presence. He still pitched on occasion too. Head coach Shane Summersford said, "When Koo is on the mound everyone just seems to relax … he is loved by all his teammates and everyone that comes to watch him."58 Koo also stayed in shape with the Marrickville club in the Sydney Winter Baseball League, as he had in previous years.
Koo kept up with the Korean League and Hanwha, although the Eagles have struggled in recent years. "I also sometimes watch Major League baseball and the stats," he added. Teaching adults and kids the game in Australia remained his occupation. "Baseball was my only job since the beginning and therefore it was the most major and special thing in my life. All of the memories I have towards baseball are special and I respect it all. Baseball is me and what I love."59
Koo returned to the Blue Sox as pitching coach in the 2016-17 season. The ABL added two expansion teams for the 2018-19 season, and Koo was a fitting choice as manager of one of the new clubs. Geelong-Korea, whose roster was composed of Koreans, played its first game in November 2018. Koo didn't rule out the possibility that he could serve as a player-manager, although he wasn't sure if he'd be able to because of lingering back problems. "I'd love to step on the mound," he said, "but first and foremost my job will be to manage the team."60
Indeed, Koo – at the age of 49 – did make one appearance as a pitcher, tossing a scoreless ninth inning on January 19, 2019 to end the season. Geelong-Korea posted a record of 7-33, and Graeme Lloyd replaced Koo as manager for the 2019-20 season. Koo has not been in the news since. 
Last revised: November 7, 2021
Acknowledgments
Grateful acknowledgment to Dae-Sung Koo for his input and to Shane Summersford for enabling the Q&A exchange (via e-mail, responses received October 13, 2016). Special thanks also to Kyle Kim and Jin Choi for their help with translating the questions into Korean and supplying additional questions.
Sources
YouTube.com
ibaf.org (currently defunct)
homeplate.kr (Korean baseball website)
japanesebaseball.com
worldbaseballclassic.com
theabl.com.au (official site of the Australian Baseball League)
asiaseries2012.com
swbl.baseball.com.au
Notes
60 "Ex-MVP pitcher to manage all-Korean team in Australian league," Yonhap News, July 24, 2018.
Born
August 2, 1969 at Daejeon, Daejeon (South Korea)
If you can help us improve this player's biography, contact us.
/sites/default/files/Koo-Dae-Sung.jpg
600
800
admin
/wp-content/uploads/2020/02/sabr_logo.png
admin
2016-11-09 23:50:14
2021-11-07 08:11:05
Dae-Sung Koo