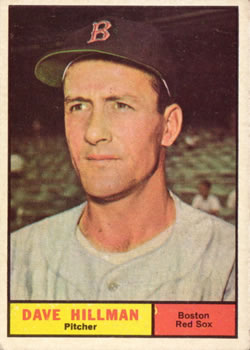 ---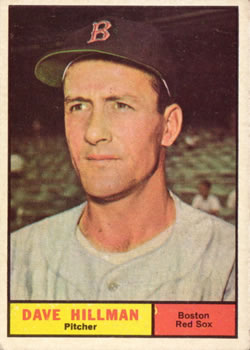 It was only after a stint in the United States Air Force that right-hander Dave Hillman entered professional baseball.
Named (indirectly or otherwise) after Darius the Great, king of Persia from 550-486 BC, Darius Dutton Hillman was born on September 14, 1927, in the small southwestern Virginia town of Dungannon. The population of Dungannon at the time of the 1930 United States census was 282. As of 2010, the population had grown to 332. Dungannon is part of the Johnson City–Kingsport–Bristol, TN-VA Combined Statistical Area.
Dave, as he later became known, grew up in Dungannon and went through the Dungannon schools, playing baseball and basketball, and captained the Dungannon High School basketball team for three years.
He was the fifth of seven children born to Carmel and Ollie (Peters) Hillman. Carmel Hillman worked as a foreman on the Clinchfield Railway, a line that ran from Spartanburg, South Carolina, to Elkhorn City, Kentucky. The Dungannon Depot was added to the Virginia Landmarks Register in 2010.
Upon graduating from Dungannon High in 1945, Dave joined the Air Force that September and served until April 1947. In August 1947, he married Imogene Turner. For the next couple of years, he kept busy "working and playing ball on weekends. I was a parts man in a Chevrolet garage."1
On the next-to-last day of 1949, the Chicago Cubs announced the signing of five amateur ballplayers, one of whom was Darius Hillman of Coeburn, Virginia.2 SABR's Scouts Committee attributes the signing to Cubs scout Tim Murchison.3
Hillman was assigned to the Rock Hill (South Carolina) Chiefs of the Class-B Tri-State League. He pitched there in 1950 and again in 1951. In 1950 he was 14-11 with a 2.86 ERA. In 1951 he was a 20-game winner (20-10, with a 3.13 ERA), and in a scheduled seven-inning game against Greenville, he retired all 21 batters, earning a perfect game. He was named a league all-star in 1951 and his 203 strikeouts led the league.
In 1952, Chicago promoted Hillman to Single-A Des Moines where he was 6-8 (3.70) in 27 games. He also got a taste of Triple A, throwing five innings in two games for the Springfield Cubs. He played the full 1953 season for Springfield, with a record of 2-12. (Springfield finished in last place, 45 ½ games out of first.) His earned run average for the season was 4.42. A bruised finger and the death of his mother both negatively affected his summer.
There was one bright moment, however, accounting for the first of his two wins: he threw a no-hitter in Toronto on August 10. Springfield won, 5-0; Hillman walked two.
Hillman spent 1954 in Beaumont in the Double-A Texas League (16-11, 3.32 for the seventh-place Exporters). This year earned him a contract with the Cubs and brought him to spring training in Mesa to vie for a spot with the big-league team.
He made the team and debuted under Cubs manager Stan Hack on April 30, 1955, taking the Ebbets Field mound in relief in the bottom of the seventh, with the Dodgers holding a 5-2 lead. Roy Campanella singled, Hillman got the next two, but then Jackie Robinson hit a two-run homer to left-center. Hillman got through the eighth, retiring the side on three infield grounders.
He pitched the very next day in Philadelphia, and got through two scoreless innings, But in the bottom of the seventh he gave up another two-run homer, this time to Stan Lopata, giving the Phillies a 7-6 lead. He was replaced, and was pleased that the Cubs put up two more in the top of the ninth, winning the game 8-7.
On May 9, the Cubs optioned Hillman to the Pacific Coast League's Los Angeles Angels; there he was 1-1 (2.22) in 24 1/3 innings over three games, before being recalled to Chicago on June 3. His one win for the Angels came that day, when he beat Sacramento, 3-2, at Wrigley Field, Los Angeles.
Although he stuck with the Cubs for the rest of the season, he neither won nor lost a game. His first game back, he did earn a hold. He appeared in 25 games (three starts) for a total of 57 2/3 innings. An ERA of 5.31 partially reflected that he walked more batters (25) than he struck out (23).
Hillman spent most of 1956 with the Angels and had a superb 21-7 (3.38) season, only brought up to the big leagues at the very end of the year. He appeared in two games — both starts — and lost them both, 3-2 to the Giants on September 19, and 5-1 to the Cardinals on September 25 (in the latter game, all four runs he gave up were unearned).
It took him a long time to get his first major-league win. He began 1957 with the Cubs, losing a game in relief when Brooklyn's Don Zimmer homered in the bottom of the 10th. About a week later, he was optioned to the Portland Beavers for a few weeks, then recalled in time to lose four more games, all in a row, in June. The first was a 1-0 heartbreaker. He was at that point 0-7 in the majors, but he earned his first win on June 25, throwing 7 1/3 innings of four-hit, one-run relief and beating the Pittsburgh Pirates, 5-3. The win pulled the Cubs out of last place, percentage points above the Pirates.
He lost two more games, and then reeled off three wins in a row. By the end of the 1957 season, he was 6-11 (4.35). He appeared in 32 games, 14 of them starts.
"Dave Hillman is a pitcher who has to put the ball where he wants it," said Cubs manager Bob Scheffing in early 1958. "He doesn't have as much stuff as most of the others on the club. He doesn't throw as hard. After all, he's a little guy."4 He wasn't that little; Hillman was 5-feet-11 and listed at 168 pounds. Control was key, and in both 1958 and 1959 he struck out more than twice as many batters as he walked.
The Cubs finished in fifth place both years, but Hillman's good ERAs weren't well-reflected in his wins and losses. He was 4-8 (3.15, best among Cubs pitchers with 100 or more innings) in 1958, with his team only scoring 17 runs in his eight defeats. His most satisfying win was likely the 10-inning complete game win over the Giants, 3-1, on August 15; he almost had a shutout but gave up a homer in the bottom of the ninth. Fortunately, the Cubs scored twice in the top of the 10th and he closed the deal. In 1959, he was 8-11 (3.53). In three of his losses, the Cubs were shut out, and in two others, they managed just one run. The lack of support was noted by the Chicago Tribune's Richard Dozer who started one game account thus: "When the Cubs send Dave Hillman to the mound, they expect trouble."5
His best game of the year? On May 6, Hillman shut out the Pirates on two hits.
After the season, the Cubs traded Hillman and left-handed-hitting first baseman Jim Marshall to the Boston Red Sox on November 21 for slugger Dick Gernert. Sox GM Bucky Harris said he liked that Hillman could either start or relieve.
His Red Sox career almost ended before it began. A spring training headline out of Scottsdale read: "Hillman Career May Be Ended By Car Injuries."6 Early in the morning of March 10, the automobile Marty Keough was driving reportedly hit a soft shoulder and rolled over five times before coming to a stop. The AP report said the accident occurred at 1:15 AM but the two players claimed it happened at 12:35 AM and that they would have otherwise made it back to the Safari Hotel before the 1:00 AM curfew. They were traveling 70 mph in a 45-mph zone, and the car was demolished after skidding over 600 feet and landing on its roof. Keough was shaken up, but Hillman required seven stitches in his head and badly bruised his right shoulder. Manager Billy Jurges chose not to penalize them. Hillman showed up later that day, his arm in a sling.7 He returned to action on April 16.
He pitched three scoreless one-hit innings against the Yankees on April 21, but then was not used again for almost a month. He pitched in 15 games for Boston, through July 4, and was 0-3 (5.05). Then, bunting against Hoyt Wilhelm, a knuckleball tore the fingernail off the index finger of his right hand. He returned to the disabled list (which created an opening for Earl Wilson).8
He returned only long enough to pitch once more, for an inning and a third on September 27, giving up three runs in a game the Orioles won, 17-3.
In 1961, Hillman posted a winning record. On April 27, the AP praised the "hard-luck right-hander" for picking up his first win since 1959 by pitching "6 2/3 innings of brilliant relief" at Detroit.9 He went to 2-0 on May 20, with 2 2/3 innings of hitless relief, Boston winning the game in the 10th. He lost a couple of games but went to 3-2 with six innings of scoreless relief in the second game of the July 16 doubleheader against the White Sox, the Red Sox winning the game in 12.
On August 19, hard luck hit again. Hillman was struck by a batted ball and suffered a broken left thumb, ending his season. He finished 1961 with the 3-2 record after 78 innings of work in 28 games, all but one in relief, and an excellent 2.77 ERA.
The Red Sox finished in sixth place. Boston placed Hillman on the roster of the Seattle Rainiers. On October 13, his contract was assigned to the Cincinnati Reds on a conditional basis, the Reds having until 30 days after the 1962 season opened to decide if they wanted to keep him.10 The consideration the Red Sox would have received is not known. Cincinnati did not keep him. He appeared in two April games for them but gave up four runs in 3 2/3 innings. They returned him to the Red Sox on April 17, who asked they instead send him to the Syracuse Chiefs, though he was on a Red Sox contract.11 Before he played a game for Syracuse, the New York Mets purchased his contract on April 26. One newspaper unkindly called him a "shopworn veteran."12
He pitched in 13 games for the Mets, with no decisions but one save. His ERA in those games was 6.32. On June 27, the Mets optioned him back to Syracuse. He does not appear to have pitched for Syracuse, or for any other professional team, from that point forward.
Dave and Imogene had two children — Sharon and Ronald — and lived in Kingsport, Tennessee, where he worked as a clothing salesman for the firm of Fuller and Hillman, Inc.13 The store, he said, "belonged to my uncle and that's who I worked for. I worked there in the offseasons from'53 through '62, and then from '62 I worked six or seven days a week for 28 more years. I retired in 1990. That's 38 years since '53, selling clothes. I'm retired now and not doing a thing in the world except running around the house and mowing the yard and that's about it. I lost my wife in '11. My daughter Sharon lives in Nashville, Tennessee, and my son Ron lives in Blountville, Tennessee."
Hillman lost his son in 2017. Dave Hillman himself died at age 95 in Kingsport, Tennessee, on November 20, 2022. 
Last revised: November 21, 2022
Sources
In addition to the sources noted in this biography, the author also accessed Hillman's player questionnaire from the National Baseball Hall of Fame, the Encyclopedia of Minor League Baseball, Retrosheet.org, and Baseball-Reference.com.
Notes
Born
September 14, 1927 at Dungannon, VA (USA)
If you can help us improve this player's biography, contact us.
https://sabr.org/sites/default/files/HillmanDave.jpg
600
800
admin
/wp-content/uploads/2020/02/sabr_logo.png
admin
2017-08-31 13:59:26
2022-11-21 09:09:51
Dave Hillman