---
"Every time I see his name on a lineup card, I feel like throwing up." — Mickey Mantle1
The pitcher who made the great Mickey Mantle reluctant to step into the batter's box was the one and only Dean Chance. Mantle uttered his memorable quote during Chance's remarkable 1964 season. As sportswriter Phil Pepe wrote that year, "It's Chance, not CBS, who owns the New York Yankees. Lock, stock and barrel."2 Chance pitched 50 innings against the Yankees that year, allowing only 14 hits and one run, a homer by Mantle. In five starts he threw four complete games and three shutouts, going 4-0 with a 0.18 ERA. In his only no decision, on Saturday, June 6 at Chavez Ravine, Chance was matched up against Jim Bouton. The two aces matched zeros for 13 innings, before Bouton was removed. Chance pitched one more inning before departing after the 14th inning. The Yankees scored twice against the Angels bullpen in the 15th and won 2-0.
For the record, Mantle went 13-53 against Chance over his career, a .245 average with a .403 on base percentage and a .415 slugging average, though he did homer three times. Chance's years of stardom were few, but he had many memorable moments while they lasted.
Wilmer Dean Chance was born on June 1, 1941 in the farming community of Wooster, Ohio, where his family owned a 166-acre dairy farm. When he wasn't milking cows, Chance was playing sports — as a gangly pitcher and basketball forward, he made his name at Northwestern High School. One report said that Chance pitched 18 no-hit games during high school and lost only once. He was also an all-state basketball player who received 100 college offers.3 The Baltimore Orioles were building up their farm system in those days, and in 1959 they signed Chance out of high school for $30,000.
Chance pitched for two seasons in the Orioles farm system, for the 1959 Bluefield Orioles of the Class D Appalachian League, and in 1960 for the Fox Cities Foxes of the Class B Illinois-Indiana-Iowa League, winning 22 games in total. After the 1960 season American League teams had to make decisions on which players to expose in an expansion draft, hastily put together to stock the two new teams being formed in Washington and Los Angeles. The Orioles considered Chance too brash, and they ultimately chose to protect fellow pitcher Arne Thorsland instead of Chance. On December 14, 1960, the new Washington Senators selected Chance with the 48th pick in the draft. Chance did not have long to get comfortable with his new team, as that same day the Senators traded Chance to their fellow expansion team, the Los Angeles Angels, for outfielder Joe Hicks.
Soon after the draft he married Judy Larson on January 14, 19614, with Thorsland serving as his best man. (Thorsland hurt his arm the next spring and did not win another professional game.5) Dean and Judy had a son Brett Dean, born in 1962. The couple later divorced.
Chance was a big man at 6'3" and weighed 204 pounds, with striking blue eyes and brown hair. On the mound, Chance threw a sinking fastball, a sweeping curve, and a slider. He had a good fastball and could also throw a changeup screwball.6 During his delivery he turned his back to the hitter. Over his career, right-handed batters hit .223 and left-handed batters hit .248 against him. He had particularly wonderful control against the Yankees. Author Arnold Hano said that Mickey Mantle had a hard time hitting him because Chance threw pitches low and outside at the knee. At that point in his career, Mantle could not get under the ball. Chance had a swing arm motion, a three-quarters delivery. He never threw pitches above the waist. He was able to pitch like a smaller man, pitched with a bent body.7
Chance began the 1961 season with the Dallas-Fort Worth Rangers in the Triple-A American Association, posting a 9-12 record with a 3.66 ERA. The team included Jim Fregosi and Bob Rodgers, and all three of them were called up to the Angels later that season. Chance pitched five games, losing his two decisions and recording a 6.87 ERA in just 18 1/3 innings.
Dean Chance met Bo Belinsky for the first time in spring training in Clearwater, Florida, in 1959. Chance had a car and he let Belinsky use it. When the Angels selected Belinsky from the Orioles in the Rule 5 Draft on November 27, 1961, and the two subsequently made the Angels in 1962, they became teammates and then roomed together during the 1963 and 1964 seasons.
Belinsky grew up poor in Trenton, New Jersey, and became a pool hustler at a young age, but his strong left arm eventually got him into organized baseball. At 6'2" and 191 pounds, Belinsky was movie star handsome, with a winning personality and charm that made him quite successful with the opposite sex.
Belinsky, with zero big league experience, immediately made a splash by holding out for more money, an announcement he made at a poolside press conference. He settled, and won his first five starts, including a no-hitter against the Orioles on May 5. He was soon big news, pushing Sandy Koufax and Don Drysdale off the front pages of the Los Angeles sports section. He made the acquaintance of gossip columnist Walter Winchell, who attended the no-hitter, and soon got to know much of the Hollywood jet set.
Belinsky and Chance were often seen driving around town in Belinsky's candy-apple-red Cadillac, a gift from a car dealership after his no-hitter. Bo soon slumped and finished with a 10-11 record. "Dean and I were a marriage made in heaven or hell," Belinsky later said. "I saw Chance in spring training in 1962 with a wife and kid. Some guys belong with a wife and kid. Dean and me just didn't belong with a wife and kid, especially in Hollywood."8 Chance said of Belinsky, "Nobody made it with girls the way Bo did. I never learned his secret, but I enjoyed trying."9
Belinsky made the rounds in Hollywood, dating stars like Ann-Margret, Tina Louise, Juliet Prowse, and Connie Stevens, among others. He had a much-publicized engagement with Mamie Van Doren, then broke it off. He married Jo Collins, Playboy's Playmate of the Year for 1965, and later paper heiress Janie Weyerhauser.10 In the meantime, his career never lived up to the success he enjoyed over his first five big league starts.
On the other hand, Dean Chance, the other half of the playboy twosome, became a star. Chance was a workhorse starter, who pitched over 200 innings a season for seven straight years beginning in 1962, twice leading the American League in most innings pitched. In their maiden season of 1961 the Angels finishing a surprisingly strong 70-91, finishing 8th in a 10-team league. The Angels played in hitter-friendly Wrigley Field in Los Angeles and swatted out 189 homers.
When Dodger Stadium opened in 1962, the Angels became tenants of the Dodgers and played their home games there through the 1965 season. When the Angels played their home games the park was referred to as Chavez Ravine.
The season of 1962 was a great one for both Chance and the Angels. At the end of August, the Angels were in third place, only three and a half games behind the league-leading New York Yankees. The Angles remained in third, winning 86 games and finishing 10 games behind, a remarkable season for a second year expansion team. Several expansion franchises have experienced many losing seasons before becoming competitive but the Angles bucked that trend and Chance was one of the main reasons why. He led the team in victories with 14 and posted a 2.96 ERA. He pitched in 50 games and started 24. He finished third in the American League's Rookie of the Year balloting.
The 1963 season was one of growing pains for both the Angels and Chance. The team won 70 games and dropped to 9th place in the 10-team league. Chance finished 13-18 with a 3.19 ERA. He pitched in 45 games with 35 starts, one behind team leader Ken McBride.
Chance put it all together for the 1964 Angels, who won 82 games and moved up to fifth place. Due partly to a blister on his pitching hand, Chance started slowly, starting only three games as of May 15 and he sported a 5-5 record on July 1st. Beginning on July 11, he pitched three consecutive complete game shutouts and never looked back, finishing 15-4 over the remainder of the year. His first half ERA was an excellent 2.18, but he topped that with an astonishing 1.29 in the second half.11 Of his 20 victories, 11 were shutouts, including five games by a 1-0 score. He finished 11-3 at home with a 1.07 ERA. After the season Chance was rewarded with the Cy Young Award, at the time given out to only one pitcher in baseball.
After the 1964 season the Angels traded Belinsky to the Phillies, partly due to his fight with a Los Angeles Times reporter. Full of promise two years earlier, the Angels decided that his performance did not justify all the off-field problems. The Angels slipped to 75 wins and 7th place in 1965, and Chance dropped to a respectable 15-10 with a 3.15 ERA in 226 innings. In 1966 the Angels moved into their own ballpark, Anaheim Stadium, and led the league with an attendance of 1.4 million. In their new digs the Angels won 80 games, while Chance finished 12-17 with a 3.08 ERA.
Chance remarked after the season, "I think it is only natural for any man who has enjoyed a great year in any business to attempt to come back to it. However, it is not until the breaks start going against you that you begin to press. Sure, I've been pressing but I wasn't at the start." Angels pitching coach Marv Grissom said, "I still believe Dean is capable of throwing a shutout every time he starts. If I knew why he doesn't, I'd retire a millionaire." Chance earned an annual salary of $47,000 in 1965 and 1966. The Angels offered a cut of 23% to $36,000 for 1967. He reflected, "I deserve and expect to be cut the full amount. All I've done this season is qualify for comeback-of-the-year honors. Maybe a salary cut will give me a greater incentive."12
On December 2, 1966, the Angels traded Chance and shortstop Jackie Hernandez to the Minnesota Twins for pitcher Pete Cimino, outfielder Jimmie Hall and first baseman Don Mincher. Angels Manager Bill Rigney said of the trade: "I'm not sure we'll find another arm like Dean's, but we had to do something about our first-base situation and overall hitting." Chance allowed, "I'm not surprised to be traded, but I am shocked that the Angels would trade me to an AL club. I'm shocked that they'd run the risk of letting me come back to haunt them."13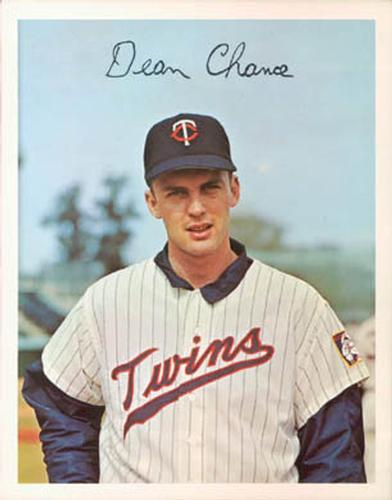 In 1967, as he had prophesied, Chance was named the American League's Comeback Player of the Year.14 Chance finished 20-14 with a 2.73 ERA and led the league in starts, complete games and innings pitched. He started his second All-Star Game (he had also started the 1964 game). Pitching on the familiar mound of Anaheim Stadium, Chance pitched three strong innings, allowing only a home run to Dick Allen in the second inning. The National League won the game 2-1 on a home run by Tony Perez in the top of the 15th inning off Catfish Hunter. Chance also pitched two no-hitters, a rain-shortened five-inning perfect game against Boston on August 6, and a nine-inning gem against Cleveland on August 25.
The Twins were one of four teams involved in an historic pennant race, and Chance was on the mound for the final game of the 1967 season, matched against the Boston Red Sox and Jim Lonborg, with a chance to at least clinch a tie for the pennant. The Twins led the Red Sox 2-0 heading into the bottom of the 6th inning, but the Red Sox rallied for five runs to drive Chance from the game and ultimately won the contest and the pennant.
Chance had another excellent year in 1968 but with less luck, winning 16 and losing 16 while pitching 292 innings with a 2.53 ERA. Prior to the 1969 season, Chance hurt his back rushing himself into shape and never pitched as well again. Chance spent 54 days on the disabled list15 and finished 5-4 with a 2.95 ERA. He did make it into his first post-season, as the Twins won the new AL West and faced off against the Baltimore Orioles in the playoffs. The Orioles swept the series, and Chance was ineffective in his two innings, allowing four hits and three runs.
After three seasons as a Twin, Chance was traded to the Cleveland Indians on December 10, 1969 with Bob Miller, Graig Nettles and Ted Uhlaender for Luis Tiant and Stan Williams. Chance grew up 50 miles from Cleveland and he and his parents were all Indians fans. "Just say that I couldn't be happier, and say that I have been trying to get to Cleveland for six years, and say that I hope that this is my last move. I want to finish out my career here." Indians manager Alvin Dark was elated. "Dean is a winner," he said. "I've always liked him. I'm sure he can help us plenty." Dean's mother said after the trade "Now I can root for the Indians all the time." Dean's parents were frequent visitors to Municipal Stadium.16
In his first start of the 1970 season, Chance faced New York in Yankee Stadium on Saturday, April 11 and pitched seven innings of shutout baseball to earn the win. Relievers Mike Paul and Dennis Higgins completed the shutout, with the Indians winning 3-0. But the season proved to be a struggle, as Chance finished 9-8 with a 4.24 ERA. On September 18 Chance was sold to the New York Mets, who were locked in a division race. He pitched only two innings, and the Mets finished third.
Prior to the 1971 season Mets manager Gil Hodges said, "I'm thinking now of trying him in the bullpen and using him as an occasional starter. But it will depend on how the rest of the staff shapes up."17 Instead, in late March Chance was traded to the Detroit Tigers. He pitched in 31 games in 1971 and started 14, finishing 4-6 with a 3.51 ERA. Chance won his final game on July 28 when Al Kaline hit a game-ending homer to make Chance the winner in relief. Chance pitched his final game in Boston's Fenway Park on Monday, August 9th. He relieved starter Les Cain, allowed singles to Luis Aparicio and Reggie Smith and was replaced by Fred Scherman. The Tigers released him on October 6, 1971.
For all his pitching success, including 128 wins and a stellar 2.92 ERA, not everything came easily. Four times he led his league in pitcher errors. He was also a very unproductive hitter. For players with at least 500 plate appearances during their career, Chance has the lowest batting average at .066. In 662 at bats, he struck out 420 times. Allowed Chance, "I am a horrible hitter."18
How did Chance do overall against the Yankees? He finished 18-11 with a 2.34 ERA against, comparing favorably to notable Yankee killer Frank Lary of the Tigers, who was 28-13 with a 3.32 ERA against the Bronx Bombers.
Since his retirement from baseball, Chance has tended to his real estate holdings, worked for a carnival, worked with a poster company and managed boxer Ernie Shavers. He is president of the International Boxing Association. He is also a world-class gin player.19 He works with former Angels clubhouse assistant Bob Case. His hobbies are bowling and basketball.20
Belinsky and Chance remained lifelong friends. Chance refused to attend an autograph show unless Belinsky was also invited. In a 1991 interview, Belinsky said that he was at a benefit with Hall of Fame pitcher Steve Carlton when two kids came up and asked for an autograph. Carlton reached out to sign and one of the kids says, "No, my dad said to get Mr. Belinsky's autograph." Belinsky remarked: "I told Steve that he did it the easy way, by winning 300 games. You just try to get all this notoriety on 28 victories. Now that takes a lot of work."21
Through the years, both Chance and Belinsky made peace with God. Belinsky remarked a year before his death: "Can you imagine? I had to come to Las Vegas to discover Jesus Christ." After Belinsky's death in 2001, Chance observed, "We made mistakes, tried not to hurt anyone. We were kids in a different time, pitching in a great city. It was like feeling that you had the world at your feet, like it would never end and I think about those good times a lot and often talked with Bo about them. I can also tell you that if I had a dollar for every time somebody asked me where Bo was and what he was doing, I'd be a wealthy man. Everybody remembered him and I'm just glad he got his life straightened out and he knew in his last year where he was going."22
Chance arranged a memorial service for Belinsky in Dodger Stadium. He also handled the arrangements for his burial in Las Vegas. "Bo was a one-of-a-kind guy and there won't be another one like him," said Chance. "He was full of cancer, his heart was bad and his hip was hurting him terribly at the end. He had slipped and fallen and it was really tough on him. But he made his peace with the Lord and he is probably better off today than he was last week. He's not suffering terribly any more."23
As Chance told author Robert Goldman, "Everybody, by the time they're 50, they're selfish as hell. Everybody thinks only of himself or herself. Then, when they hit 60, they want to return to religion and want to forgive everybody. They want to go to heaven, and that's the stage I'm in."24
Chance died at age 74 on October 11, 2015, in Wooster, Ohio.
Sources
For statistics, the author used Retrosheet.org and Baseball-Reference.com.
Notes
Born
June 1, 1941 at Wooster, OH (USA)
Died
October 11, 2015 at Wooster, OH (USA)
If you can help us improve this player's biography, contact us.
http://dev.sabr.org/wp-content/uploads/2012/10/ChanceDean.png
600
800
admin
/wp-content/uploads/2020/02/sabr_logo.png
admin
2012-10-18 11:27:01
2012-10-18 11:27:01
Dean Chance