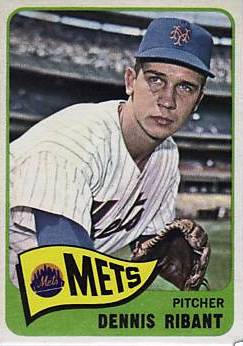 ---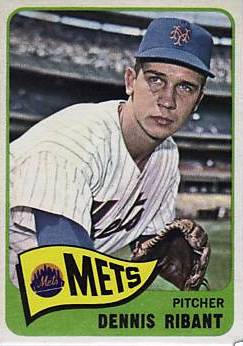 Somewhere, back in the swirling mists of time, there existed a magical and wondrous age when aspiring athletes did not commit their lives to the fanatical and single-minded pursuit of one sport by the time they were five years old. Take, for instance, the 1968 Detroit Tigers, who were notable for having a number of extremely versatile sportsmen on their team. Joe Sparma and Jim Northrup were both college football quarterbacks (at Ohio State and Alma College, respectively), Mickey Stanley was a multisport high school star, and Willie Horton won a Golden Gloves boxing tournament at age 17, to name just a few. But perhaps the most remarkable of all these athletes was an unheralded journeyman reliever who was traded from the Tigers to the Chicago White Sox midway through the 1968 season—Dennis Joseph Ribant.
Born on September 20, 1941, Ribant, catcher Bill Freehan, and outfielder Lenny Green were the only three members of the 1968 Tigers actually born in Detroit. His mother and father, Helen and Arthur Ribant, raised Dennis and his brother and sister in the East Forest-Chene area of Detroit's near east side. Long before the era of personal trainers, video analysis, and sports gear as a fashion statement, Ribant honed his baseball skills at a nearby school the old-fashioned way. He and a few of his buddies would outline a strike zone on the wall and then use rubber balls to pitch and hit for hours, with younger kids from the neighborhood assigned the task of chasing down balls hit into the field. In addition to this, Ribant's father would come home from his job as a foreman for the Farmcrest Baking Company and spend time teaching Dennis how to throw a curveball.
The lessons paid off, because as a teenager Ribant became known as the best pitcher in the city. He never bothered playing baseball for St. Joseph High School because the season was too short and the quality of the play was too low. Instead, he lived on the sandlots, playing with and against players like Horton, Freehan, Alex Johnson, and Carmen Fanzone. He played in the Pony League in Hamtramck, the Colt League, and the Firemen's League, finally ending up on an extremely good team sponsored by Herbert Smith Roofing in 1960. They were ultimately beaten in the city championship by Lundquist Insurance, which entitled Lundquist to travel to Altoona, Pennsylvania, to compete in the Class D National Baseball Federation Tournament for kids 19 years old and under. However, Lundquist (which already had Freehan on its team) was allowed to cherry-pick three extra players from other teams to take with them, and with an unerring eye for talent they chose Horton, Johnson (who would win the American League batting title in 1970), and Ribant. This team, loaded with future major leaguers, went on to win the championship in Altoona against a team from Cincinnati featuring future Tiger Eddie Brinkman and future NBA star John Havlicek.
But as gifted as Ribant was as a pitcher, it wasn't the only sport in which he excelled. In the winters he played hockey, often skating out on Belle Isle. As he says, "I had a good shot and I was a good skater, and not popping off or bragging, but I certainly held my own." As a 17-year-old, he found himself playing for the Teamsters' hockey team, with none other than James Hoffa Jr.—son of the legendary Teamsters leader and a future Teamsters president himself—playing goalie. By the time the 1960–1961 hockey season rolled around, Ribant was playing left wing and center for the Hamilton Red Wings (a farm team of the Detroit Red Wings) in the Ontario Hockey Association. Playing on the same line as future National Hockey League star Pit Martin, the team also featured future 1972 "Summit Series" hero Paul Henderson and future NHL coaches Pat Quinn and Nick Polano. Up against the St. Michael's Majors in a semifinal playoff game at Maple Leaf Gardens, Ribant was checked into the boards and dislocated his left elbow. This in itself was bad enough, but even worse, Ribant was scheduled to report to spring training with the Milwaukee Braves and showed up with his left arm in a sling.
Just how did a teenage phenom from Detroit wind up with the Milwaukee Braves? That was the work of Ray Garland, a Milwaukee scout who had seen Ribant pitch on the Detroit sandlots and arranged for him to try out for Milwaukee during the 1961 season. As Ribant relates:
"[Tigers General Manager] Jim Campbell told me before I went to Milwaukee, 'Dennis, before you sign, we'd like to talk to you. We're really interested in having you join the Tigers.' But I'm 19 years old, I'm happy as can be. The Milwaukee Braves fly me out there and I'm in County Stadium with my dad, throwing batting practice to Eddie Mathews and Joe Adcock. I see Warren Spahn walking by and they say, 'Dennis, we want you to sign, otherwise we don't know if we'll make any offer.'"
The Braves' stratagem worked beautifully and they had Ribant's signature on a contract before he left town. In 1961, Ribant joined the Class D Quad Cities Braves in Davenport, Iowa, and proceeded to overpower the entire league. He went 17–2, with a league-leading 1.86 ERA, five shutouts, and 17 complete games. His most memorable outing was the first nine-inning perfect game ever pitched in the Midwest League, shutting down the Clinton C-Sox 1–0 on July 2, 1961. As Ribant recalls, "The thing I remember was that ten thousand people were in the stands and the last batter, with two outs in the ninth inning, tried to bunt to get on base. I wouldn't say it was unethical, but it was a little weak. Anyway, I picked up the bunt and threw him out."
Voted Midwest League Rookie of the Year, the Braves moved Ribant all the way up to their Double A team in Austin, Texas, for the remainder of the 1961 season, where Ribant went 4–2. This was the year that determined Ribant's athletic future: "After my first year in baseball, when I was 21–4, the Braves said, 'Dennis, you'd be foolish to continue playing hockey. Look what happened to your left arm. You have a good chance to be a big league ballplayer.' So that was the last year I played hockey."
In 1962, Ribant began the year at the Braves' Triple A affiliate, the Louisville Colonels, but a tired arm and a 0–3 record (along with a 13.05 ERA) got him sent back to the Austin Senators in the Texas League. By the time 1963 rolled around, the Braves decided to send Ribant to another one of their Class AAA teams, the Toronto Maple Leafs, where he was used in relief. This worked for the manager of the Maple Leafs, but it didn't work for the Braves' front office, who were grooming Ribant to be a starting pitcher. He was told to pack his bags once again to join yet another AAA affiliate of the Braves, the Denver Bears in the American Association, where Ribant went 14–9. When the 1963 season was over, Ribant headed down to Puerto Rico to play winter ball, pitching for Lobos de Arecibo (the Arecibo Wolves), but also developing some arm problems in the form of calcium deposits in his right elbow. Still, Ribant was back in Denver in 1964 and crafted an 8–2 record to go along with a respectable 3.53 ERA. This drew the attention of the New York Mets, who traded Frank Lary to the Braves for Ribant on August 8, 1964. The very next day, Ribant made his major league debut, pitching two-thirds of an inning in relief against the Philadelphia Phillies.
In 1965, Ribant spent the majority of the year with the Triple A Buffalo Bisons, going 3–12 for a farm team every bit as woeful as their parent club. But gradually, Ribant made his way into the Mets' starting rotation, where he soon became the best starting pitcher the Mets had ever had during their short history. In 1966, Ribant achieved folk hero status among Mets fans when he became the first full-time starting pitcher in Mets history to actually record a winning season, going 11–9. Even more remarkably, this was the first season that the Mets didn't wind up in last place. While Ribant would later declare, "I loved playing in New York," his glory days as a Mets pitcher were short-lived. At the end of the 1966 season the Mets brought up a young fireballer named Nolan Ryan, and in 1967 Tom Seaver appeared on the scene, followed by Jerry Koosman in 1968. But Ribant wouldn't be there to see any of these pitchers blossom, because he was traded to the Pittsburgh Pirates along with Gary Kolb for Don Bosch and Don Cardwell after the 1966 season.
As Ribant recalls it: "I remember Bing Devine [de facto GM of the Mets] called me up and said, 'Dennis, sit down.' I mean, I wasn't crying, but God, I couldn't believe it. I really had a good year, but then I thought, well, get over it. You're going to a good ballclub with Roberto Clemente and Willie Stargell."
In Pittsburgh for the duration of the 1967 season, Ribant had a decent but unspectacular year. Used both as a starter and a reliever, he went 9–8, but his ERA ballooned to 4.08 in a year when the ERA for the entire National League was 3.38. Still, he had the distinction of taking the mound for what could be considered a historic major league game. On June 17—aside from Ribant—every other member of the Pirates starting nine was either black or Hispanic, a fact that wasn't lost on anyone. To this day, Ribant can rattle off his teammates in that particular game, and as Bruce Markusen relates in his book, Roberto Clemente: The Great One, Pirates pitcher Dock Ellis observed what was going on and joked, "We got to find a way to get Ribant out of there early and get Alvin O'Neal McBean in there so we have nine brothers playing." Another ephemeral bit of baseball trivia that season that had to do with Ribant: On July 19, Ribant and Mike McCormick of the San Francisco Giants combined to issue a total of seven intentional walks during the game—one for Ribant and six for McCormick. It was an 11-inning contest; no game before or since of that length or less has had more intentional passes. A 17-inning Giants-Cubs tilt May 2, 1956, featured 11 such free passes, but only a Mets-Pirates games June 27, 1979, and a 16-
inning Phillies-Orioles marathon July 3, 2004, matched the Ribant-McCormick number of seven.
But as was becoming a pattern in his career, Ribant didn't stay too long in Pittsburgh. After one year with the Pirates, Ribant was traded to Detroit, with Dave Wickersham going to Pittsburgh to complete the deal. Tigers GM Jim Campbell, who had once coveted the teenaged Ribant, now brought in the versatile right-hander as insurance for the economical salary of only $24,500 for the year. For Ribant, the adjustment of moving from the National League to the American League was eased by the fact that he already knew several Detroit players, having played with or against Horton, Freehan, Stanley, and Jim Northrup. He wound up rooming with Mickey Lolich and appreciated being in a clubhouse with the likes of Al Kaline ("number one, one of the best ever to play the game"), Freehan ("a class guy, a good person") and Denny McLain ("pretty good golfer, a hustler, a fun guy…he was cocky, but he stood behind what he did.").
In the 1968 Detroit Tigers Yearbook, a short article entitled "Welcome Home, Dennis Ribant" declared, "He is expected to add stability to the Tiger bullpen and double as a spot starter when needed." But those starts never came. While other relief pitchers like John Hiller and Pat Dobson started 12 and 10 games, respectively, days and days would go by as Ribant sat in the bullpen cooling his heels. He was used sporadically in relief, winning two games and losing two, but despite his glowing 2.22 ERA, Mayo Smith apparently had little use for the hometown boy. As it turned out, the number 14 on Ribant's back was a portentous sign, as he pitched in only 14 games for the Tigers. Looking back on 1968, Ribant remembers, "I was happy to be coming back to Detroit, but I didn't get much of a chance to pitch. Only 24 innings in three-and-a-half months." While respecting Mayo Smith's knowledge of the game and the players, Ribant concluded, "I wasn't crazy about him, because I didn't pitch much for him."
Ribant's final appearance as a Detroit Tiger would take place in the Hall of Fame game, played July 22 at Doubleday Field in Cooperstown. Ribant collected the win in this exhibition game over his former Pirate teammates, with future Hall of Famer Jim Bunning taking the loss as the Tigers romped to an easy 10–1 victory. Four days later Ribant was gone, traded to the Chicago White Sox for veteran reliever Don McMahon. Why had the Tigers made the trade? In The Tigers of '68: Baseball's Last Real Champions, author George Cantor claims it went back to a May 26 brawl the Tigers had in Oakland. A day after Al Kaline had his arm broken by a pitch, Jim Northrup got beaned by Oakland's  Jack Aker and both teams rushed onto the field for what umpire Ed Runge described in Jerry Green's Year of the Tiger as "the best fight I have ever seen on a baseball field." As the Oakland A's fans pelted the Tigers with garbage and verbal abuse, one of the Tigers hurled a ball into the stands, striking a middle-aged woman who subsequently sued the Tigers. In Cantor's account, he writes: "No one would say who had thrown the ball. But pitcher Dennis Ribant was discreetly traded and the Tigers settled the case. Some of the players privately said that it was the hardest pitch Ribant had thrown all year."
Ribant denies the charge, pointing out that a full two months elapsed before he was traded and offering the more mundane explanation that the transaction took place because "they were in a fight for a pennant and they wanted an experienced relief pitcher in Don McMahon, which he was."
Being moved from the Tigers to the White Sox in the middle of the season hit Ribant hard. Not only was he leaving his hometown, but the Tigers were in first place by 6.5 games when he was traded. Reflecting on his brief and unhappy tenure with Chicago, Ribant says, "My head really wasn't into it. I was really depressed to go from a team that's going to the World Series to Chicago. It knocked the stuffing out of me." When the season was over, the Tigers reacquired Ribant, but then sold him to the expansion Kansas City Royals. Ribant spent the winter in Puerto Rico, playing winter ball for Leones de Ponce (Ponce Lions) and compiling an 8–1 record. Hopeful of moving into the Royals' starting rotation in 1969, he was instead told that they were sending him to the minor leagues to begin the season. Having spent $175,000 for each of their players in the expansion draft, the Royals wanted to see what their drafted players could do before using a pitcher they had acquired for a paltry $25,000.
After five years in the majors and being bounced from team to team, Ribant had had enough, telling the Royals, "If I can't be on this ballclub now with the way I pitched in spring training, trade me." The Royals duly sold him to the St. Louis Cardinals, who promptly sent Ribant to their Triple A farm club, the Tulsa Oilers. They brought him up to their major league roster where he pitched just once—and pinch-ran for Joe Torre once—before trading him to the Cincinnati Reds for Aurelio Monteagudo. The Reds sent Ribant to their Triple A farm team, the Indianapolis Indians, before finally calling him up late in the season. Ribant subsequently appeared in seven games in relief and proved his worth by posting a sterling 1.08 ERA. As he walked off the field on September 27, 1969, Ribant could have been excused for looking forward to what the next year might bring. He had just turned 28 years old, he had finished the season strong, and maybe 1970 would be the year he would be able to put his vagabond baseball days behind him and stick with one club. He had no way of knowing that he would never again appear in a major league uniform.
After the season, the Reds traded Ribant to the Pirates for Bo Belinsky. And in a pattern that had become dismayingly familiar to Ribant, the Pirates immediately sent him to the Columbus Jets, their Triple A team in the International League. After laboring in the minors for the entire season, Ribant once again pitched winter ball in Puerto Rico for Lobos de Arecibo, hoping to recapture the form that would allow him to return to the majors. As Ribant noted of his three seasons playing winter ball, "It was fun to play in Puerto Rico. Good baseball. At least as good as AAA and maybe a little bit better, because they had all the major leaguers like Orlando Cepeda, Jose Pagan, Juan Pizarro, Roberto Clemente, they would all play."
Despite his best efforts, Ribant failed to make a major league roster in 1971 and joined the Hawaii Islanders, the Triple A minor league affiliate of the San Diego Padres who made their home at Honolulu Stadium and played in the Pacific Coast League. Even with a geographical location that required alternating three-week road trips and home stands, Ribant philosophically observed that "if you had to be in the minor leagues, Hawaii was awesome." Unfortunately for Ribant, his contract was owned by the Islanders, not the Padres, and they were disinclined to sell him unless the price was right. Ribant continued to pitch for the Islanders in 1972, but his dream of returning to the majors was drifting further and further over the horizon. At the conclusion of the season, Ribant stepped back and assessed his situation.
"I was 31 at the time and I figured if I'm not going back to the big leagues after the way I've been pitching the last three years in AAA, then I'm not going back. Especially when I found out that I had a chance to go to the Chicago Cubs for $25,000, but the deal never materialized because Hawaii wanted $50,000 for me."
He would give professional ball one more shot, appearing in ten games for the Triple A Eugene Emeralds in the Pacific Coast League in 1973, going 0–0 with a 7.36 ERA, before packing it in for good. All told, he had appeared in 149 major league games as a pitcher and another 16 games as a pinch-hitter or pinch runner. He had started 56 games and come on in relief on 93 occasions. This was one of the aspects of his career that Ribant found most exasperating, because in his view, "I've always been a better starting pitcher than in relief. I put everything into every pitch and after pitching a few innings or so, I need three or four days to be strong again."
Looking back on his career, Ribant can point to several highlights: his perfect game in the minor leagues, getting called up to the big leagues from Denver, and his first win in the majors, a 5–0 shutout of the Pittsburgh Pirates on August 19, 1964, where he struck out 10 men. He felt he had good success against Pete Rose and Ernie Banks, and lists Willie Stargell, Willie McCovey, Frank Robinson, Lou Brock, and Hank Aaron as among the toughest hitters he faced. His biggest regret in baseball is refusing to report to the minor leagues for the Kansas City Royals in 1969: "I should have shut up and gone to AAA because they were bringing up pitchers left and right and I'm sure I would have been called up by them during the course of the summer."
Just what sort of pitcher was Ribant? After his career year with the Mets in 1966, Ribant described his pitching approach in the January 1967 issue of Baseball Digest: "I got away with my curve in Class D, but I use a slider now instead of a curve. I'd throw maybe three good curves, then one wouldn't break and would really get tagged. I've always had control. Now I have a sinker, a fastball and a change-up taught to me by Warren Spahn when he was a Met in 1964 [actually, 1965] and polished up by Harvey Haddix, who is Met pitching coach now. Control does it up here. I'm not overpoweringly fast. My slider's good when I'm able to keep it down…I go for the corners, using my slider to break low for the 'out pitch.'"
What Ribant doesn't mention is the dark rumors that he had another very special pitch in his arsenal as well. On four separate occasions in 1967 and 1968, The Sporting News published articles on pitchers suspected of throwing spitballs, and Ribant's name appeared in all of them. As if to confirm the rumors for American League hitters, in Ribant's very first appearance as a Detroit Tiger in a spring training game in Lakeland (against the Minnesota Twins on March 9), Ribant faced only two hitters before being ejected for throwing a spitball. Subsequently, when Newsweek ran an article entitled "The Soggy Art" in its April 1, 1968, issue, it was Ribant's name that once again floated to the surface. Despite the passage of forty years, Ribant is reluctant to go into the details of this aspect of his career, saying, "I don't know if I really want to talk about the spitball. Let's just say I experimented with it."
What happened to Dennis Ribant following his peripatetic baseball career? After bouncing from Toronto to Puerto Rico to Hawaii and seemingly every town and state in between, it should come as no surprise to learn that once he had the chance to put down some roots, Ribant was both eager and grateful for the opportunity to stay in one place. He had met Bette Neelands in Ontario while attending business college and playing hockey for the Hamilton Red Wings and they got married in 1962. In 1970 they decided to settle in Newport Beach, California, where they live to this day. They have two children, Tracy and Deron (named after former major leaguer Deron Johnson) and Ribant took up a career in the insurance business. This isn't to suggest that he gave up sports completely. He began playing tennis with the same passion he had once devoted to hockey and baseball, and in 1983 the father-daughter team of Dennis and Tracy Ribant won the Equitable Family Tennis Championship held at the National Tennis Center in Flushing Meadows, New York. Even at age 65, Ribant still hit the tennis courts three times a week, and played in the occasional celebrity golf tournament as well.
With the various tantalizing peaks and demoralizing valleys of his baseball career long behind him, there is a bittersweet quality to his reminiscences. There is regret that he was never able to fully reach the potential he felt he had, mingled with relief that it's all over. As Ribant himself says, "It was frustrating, because after 1969 I did have good years in the minor leagues, and not getting called up was a little bit maddening. But in the business that I'm in now, the life insurance business, no one can trade me. I like it here."
All told, Ribant contributed only two wins to the 103–59 season of the 1968 Detroit Tigers. And just as he was one of the best all-around athletes on that team, he is one of its most forgotten members as well. But the hometown boy was here. From swatting rubber balls on the playground, to the sandlots, to taking the mound in Tiger Stadium for the most legendary team in Detroit sports history—Dennis Ribant was here. And that's a slice of Detroit sporting history that most definitely should be remembered.
Ribant died at the age of 81 in Newport Beach, California on April 23, 2023.
Last revised: May 8, 2023 (zp)
Sources
Cantor, George. The Tigers of '68: Baseball's Last Real Champions. Dallas: Taylor Trade Publishing. 1997.
Green, Jerry. Year of the Tiger. New York: Coward-McCann, Inc. 1969.
Markusen, Bruce. Roberto Clemente: The Great One. Champaign, Ill.: Sagamore Publishing.1998.
Middlesworth, Hal, ed. Detroit Tigers 1968 Official Yearbook. Detroit: Detroit Tigers. 1968.
Palmer, Pete, and Gary Gillette, eds. The Baseball Encyclopedia. New York: Barnes & Noble Books. 2004.
www.robneyer.com/book_04_extras3.html (accessed June 10, 2007)
Interview with Dennis Ribant, June 17, 2007.
Ray Nemec for minor league stats, basebalray@aol.com
Note
This article originally appeared in the book Sock It To 'Em Tigers–The Incredible Story of the 1968 Detroit Tigers, published by Maple Street Press in 2008.
Photo Credit
The Topps Company
Born
September 20, 1941 at Detroit, MI (USA)
If you can help us improve this player's biography, contact us.
http://bioproj.sabr.org/bp_ftp/images3/RibantDennis.jpg
600
800
admin
/wp-content/uploads/2020/02/sabr_logo.png
admin
2012-01-04 20:03:32
2023-05-08 19:21:07
Dennis Ribant