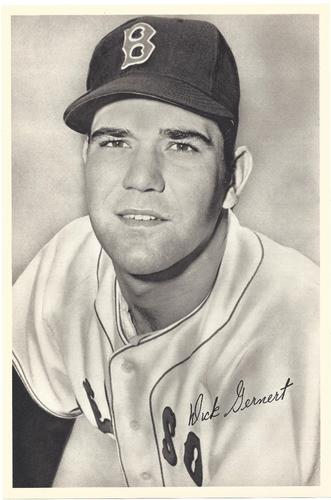 ---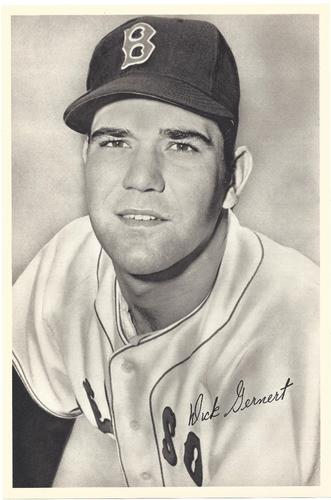 Reading, Pennsylvania, which calls itself Baseballtown, has been the home of professional baseball since the late 19th century. In the 1920s it was a thriving city of more than 100,000 people, the home of the Daniels Motor Company and one of the first railways in America, the Philadelphia and Reading Railroad (established in 1833). It was into this environment, on Friday, September 28, 1928, that Richard Edward Gernert was born. His parents, Edward and Evelyn, both worked in the full-fashion hosiery business in Reading. Edward knitted the women's stockings and Evelyn worked pairing them together. Richard was their only child.
Growing up in Baseballtown, it would seem natural that any young boy would play the game and so it was for young Dick Gernert. He excelled playing for Northeast Junior High School and later for Reading High School. He also played for the Gregg Post American Legion team in 1944 and 1945, which captured the Pennsylvania State Championship in 1944. He also lettered in football and basketball. Gernert's overall athletic prowess was such that he won the John Smith Memorial Award as the school's most outstanding athlete.
This ability earned Gernert an athletic scholarship to Temple University for basketball upon his graduation from high school in 1947. Measuring 6-feet-3 and weighing 210 pounds, Gernert played basketball, end on the football team, and baseball for Temple.
In the spring of 1948, at the end of his freshman year, his baseball ability took him north of the border to Nova Scotia, where he played for the Kentville Wildcats in the Nova Scotia Senior Baseball League. The league was then a very strong semipro circuit. Gernert played two summers in the Annapolis Valley town of Kentville and became a local sports hero. He recalled two moments in particular. During one game he hit a mammoth home run over the left-field fence that landed in an open boxcar that was traveling to Halifax, more than 65 miles away. The other was during an exhibition game against the traveling House of David team. On the first pitch, he blasted a home run over the left-field wall but was informed by the umpire that time had been called just before the pitch was thrown. Undeterred, Gernert proceeded to homer on the very next pitch … and that one counted.
Gernert told an interviewer in 2008 that all his memories of Nova Scotia were not quite as positive as those two. This was especially true in regard to the issue of travel, an issue of natural and manmade difficulties. One time, in a game against a team from the neighboring province of New Brunswick, he had to wade through mud to board a boat to make the 45-mile crossing of the Bay of Fundy. On another occasion, the car he was traveling in broke down shortly after leaving the ballfield where his team had played. It was discovered that the vehicle had been sabotaged by an irate fan who had stuffed a harness racing form into the gas tank.
It was in Nova Scotia, however, that Gernert began to convince many that he had a future in baseball. Although he was not yet 21, he hit a lofty .368 in his two summers in Nova Scotia. During his second summer, in 1949, his team enjoyed a wide margin atop the Central Division of the Nova Scotia League. Kentville went on to win the Central Division playoffs with Gernert hitting .421 in the series. The team then advanced to face Dartmouth, winner of the Halifax and District Division in the Nova Scotia semifinals. That series went seven games and in what should have been the final game, Kentville trailed 7-1 in the late innings when it staged a remarkable comeback to tie the contest and force extra innings. The game was the delayed by rain, and when play resumed it went on to the 11th inning, when the umpires called the game due to darkness.
The game was never completed as several of the Kentville players, including Gernert, had to return to their colleges. Dartmouth won the series by forfeit. Gernert had several hits in that series, including a home run. On that same Kentville team was another standout young American collegian, Jack Kaiser of St. John's University, named by Varsity magazine as the outstanding player in U. S. college baseball that season. Both Kaiser and Gernert were asked to try out with the Boston Red Sox the following spring, and Gernert was signed to a contract by scout Charlie Wagner, Reading native and former Red Sox pitcher. Gernert started the 1950 season with San Jose, a Red Sox farm team in the Class C California League. After about a month, he was moved up to Scranton in the Class A Eastern League, then for the last month of the minor-league season, he played for the Red Sox' top farm team, Louisville of the Triple-A American Association. He batted a combined .284, playing first base and hitting eight home runs. Gernert spent all of 1951 with Scranton, where he batted .306 but still hadn't developed as the power hitter he was expected to become, hitting just nine homers.
When the 1952 season began, manager Lou Boudreau began a "youth movement" bringing up a number of younger players. The 23-year-old Gernert debuted on April 16. He played sporadically at first, having his first big game on June 15 in the second game of a doubleheader. He was batting .174 before the game, but he knocked out a couple of hits including his first big-league home run, a two-run eighth-inning homer off Chuck Stobbs that was the game-winning hit. Playing in 102 games in his rookie season, sandwiched around 19 games in Louisville mostly in May, Gernert batted .243 but hit 19 home runs and drove in 67. His home run total placed him 11th in the American League in that category. He garnered six votes (25th place) for the American League Most Valuable Player award, while playing for a sixth-place team.
In 1953, Gernert was named as the starting first baseman for the Red Sox. For the first three games he struggled at the plate, but on April 20 broke out with five hits, including three home runs, and six RBIs in a doubleheader sweep of the Washington Senators. On June 18, the Red Sox scored a record-breaking 17 runs in one inning in a 23-run outburst against the Detroit Tigers. Gernert had a home run and four RBIs in the 17-run inning.
By September of that season, however, manager Boudreau was expressing disappointment with Gernert's overall performance, believing he was developing a habit of taking too many pitches. He may have been ahead of his time, given today's emphasis on on-base percentage. His OBP was often 100 points above his batting average. Boudreau often benched him and or pinch-hit for him. Nevertheless, Gernert ended the season with 21 home runs, tied with Mickey Mantle for seventh in the league. His 88 walks ranked fourth and 82 strikeouts were placed him third. He drove in 71 runs while raising his batting average 10 points (.253) from his rookie season. Throughout his career, he was a very good fielder and finished his 11 seasons in the majors with a .990 fielding percentage.
As the 1954 season began, Gernert was celebrating the completion of his bachelor of education degree from Temple. He was also in a battle with a young Boston sports hero, Harry Agganis, for the first-base job. Despite getting on base 12 times in 30 plate appearances, and hitting .300, he just wasn't getting playing time, so was sent to Louisville, where he continued to struggle, hitting just .161 in 20 games. He was reassigned on loan to Buffalo, Detroit Tigers International League (AAA) affiliate, where he rebounded to hit .272 with 13 home runs. By June of that season, Gernert was being mentioned in trade rumors. He maintained in a 2008 interview that his coming down with hepatitis was one of the major factors in this overall disappointing season. In fact at the end of the baseball season he was diagnosed with that illness and spent two weeks in the hospital.
When the 1955 season began, Gernert was still suffering from the effects of hepatitis. He had lost over 40 pounds and now weighed just 165 pounds. He spent most of that season in Louisville regaining his strength. He ended up hitting .287 with 24 home runs, his career high, and 86 RBIs. He returned to the Red Sox late in the year and managed to get four hits in 20 at-bats. On Christmas Eve 1955, Dick Gernert and Patricia Turner were married.
At the beginning of spring training in 1956, press reports speculated that as Gernert had used up his minor-league options, he would likely be traded. Within a couple of weeks, however, the press was changing its tune as Gernert delivered some big hits in exhibition games. He had eight hits in 24 plate appearances, four of which were extra-base hits. He also delivered five RBIs.
Perhaps belatedly benefiting from Boudreau's counsel, Gernert attributed his success in the spring of 1956 to being more aggressive at the plate: "You can't do much with the bat on your shoulder!" By the end of August, the Lowell Sun was calling him one of the most improved hitters in the American League1. This was quite a turnaround from the previous season, when his name did not even inspire a nibble on the waiver wire. Looking back, it is easy to believe that his illness had a significant effect on his strength and stamina for the previous couple of seasons. He finished the 1956 season with a .291 batting average a .399 on-base percentage, 16 home runs, and 68 RBIs. Gernert's value was enhanced by his ability to draw a walk. During the season he reached base 56 times on bases on balls in 370 plate appearances in 106 games. He played 50 games in the outfield, often replacing the injured Ted Williams, but was not an everyday player.
This strong comeback led to Gernert's being the 1957 Opening Day starter at first base. During the spring, he made a public appearance in Chelmsford, Massachusetts, at a Father-Son Night. The theme of his presentation was the importance of education, a central theme to Gernert throughout his career. His season, however, was one of disappointment as his offensive numbers including batting average, power numbers, and on-base percentage all declined. Due to his offensive struggles, he was platooned at first base with Mickey Vernon.
When the 1958 season began, Gernert was once again involved in a struggle for a position. During spring training, manager Pinky Higgins was suggesting that the left-handed hitting Pete Runnels would alternate at first with the right-handed Gernert. Runnels started the season at first and played 42 games at that position before Higgins decided to move Runnels to second, where he played 106 games. Gernert played 114 games at first base that year and was able to show that he was more than a one-dimensional player by leading American League first basemen in several defensive categories including putouts (1,101), assists (93), and double plays (118). His power numbers were better than in 1957 and he finished the season with 20 home runs and a somewhat lower 69 RBIs, still not up to the promise he'd shown back in 1953. Gernert's season, however, came to an end September 13 when he was sidelined with a badly sprained wrist.
The next season proved to be Gernert's last one in Boston. Newcomer Vic Wertz, acquired from Cleveland in a trade for Jimmy Piersall, started the season at first base and, although the two shared duties throughout the year, by season's end the Red Sox decided to bank on Wertz for the following year. Dick hit the 100th home run of his career, a solo shot, on August 19 off Cleveland's Bud Daley. Home run number 101 was memorable too; it was of the walk-off variety on August 28 against the Orioles and reliever Billy Loes. The dramatics were not enough however. On November 21, 1959, the Red Sox traded Gernert to the Chicago Cubs for first baseman Jim Marshall and pitcher Dave Hillman.
In 1960, playing for the woeful Cubs, Gernert appeared in just 52 games before being sold to the Detroit Tigers on August 31. With the Cubs, he had just 96 at-bats and did not hit a home run. In 21 games with the Tigers, he came to the plate 50 times, hitting .300 with a single home run.
On May 10, 1961, Gernert was traded by Detroit to Cincinnati for infielder and career minor-league Jim Baumer, who would never play another game in the big leagues. Before his trade, Dick had appeared in just six games and had one hit – a home run – in five at-bats. The 1961 Reds won 93 games, the National League pennant, and thus a berth in the World Series. Playing in a reserve role for the Reds, Gernert managed 63 at-bats in 40 games and a .302 batting average. The Reds fell to the New York Yankees in five games in the World Series. Gernert was hitless in four pinch-hitting appearances, including one memorable one. In Game One, Yankees third baseman Clete Boyer made a diving stop to his left on a hard smash and threw Gernert out from his knees. It was the second outstanding fielding play of the day for Boyer.
During the offseason, the Reds made Gernert available in the expansion draft and he was chosen by the Houston Colt 45's. But after just 10 games in 1962, he was released by the Texas team. He had five hits in 24 at-bats at the time of his release. For the rest of the season, Gernert played with the Tacoma Giants of the Pacific Coast League, putting up very respectable offensive numbers including a batting average of .289 along with 20 homers. Gernert's major-league totals after 11 seasons showed 103 homers and 402 runs batted in, with a batting average of .254.
In 1963, Gernert returned to his home town and played with the Reading Red Sox of the Eastern League. He hit .297 with 15 home runs. He returned to Reading for the following season and slipped to .254 with nine home runs in 71 games. For his two years in the Eastern League with Reading he had played in 182 games and compiled a batting average of .283 with 24 home runs and 125 RBIs. Nonetheless, he was 35 years old and decided it was time to retire,
Gernert began a new career as a junior high school physical education teacher, but by the April after he retired, he became involved with baseball again, accepting a position as a scout with the Cincinnati Reds. He held this position until 1969, when he managed the Wytheville Senators, Washington's team in the rookie Appalachian League. Within a couple of months, the Senators' top draft choice, Jeff Burroughs, was praising Gernert for helping him in his development as a professional ballplayer.
During the offseason, the Senators announced that the 41-year-old Gernert would be promoted to take over as manager with the Pittsfield Senators in the Eastern League. This change of duties forced him to seek a leave of absence from his teaching duties at Reading Junior High School, where he also coached the basketball team and refereed. The job in Pittsfield lasted until June, when Washington promoted him to their top farm team, the American Association Denver Bears. Denver won the Western Division of the American Association but lost to Omaha in the league championship series.
Although successful, the move to the West had been difficult for Gernert, who was married with a young daughter, Heather. At the end of the season, he told Washington he would not be coming back, deciding instead to return to his teaching duties in the Reading public school system. On January 21, the Berkshire Eagle of Pittsfield, Massachusetts, reported that Gernert had accepted a position with the Washington organization to scout around his home area in Pennsylvania2. He remained in this position until 1976, when the organization, now the Texas Rangers, hired him as a coach. He held this position until the end of that season, when the Texas organization offered him a new position as a "super scout" which included a raise in pay.
On December 28, 1976, however, the New York Mets hired Gernert as their new director of player personnel. He held this position for three years. He then worked from 1981 to 1985 as a scout and cross-checker for the Rangers. In 1986, he once again went to work with the Mets as an advance scout and held this position until 2000, when at the age of 72 he retired from an active, everyday role in professional baseball.
In 1994, Gernert was inducted into the Reading Baseball Hall of Fame. In 2005, he received the ultimate sports honor for a Reading resident when he was named the King of Baseball Town. He was the third person to receive such an honor. Charlie Wagner had been the first. The title honors a person whose contributions to the game are "above and beyond." It also is vital that the honoree embody the true spirit of the game.
Until his death at the age of 89 on November 30, 2017, Gernert and his wife, Patricia, continued to live in Reading and he made occasional appearances to help out various causes such as Seniors Helping Seniors. Their daughter Heather married and presented her parents with three young grandsons.
Perhaps the final word on Dick Gernert should be given to the late Ted Williams who, in a conversation with Nova Scotian author Jim Prime, said of his former teammate: "He is kind of a hero up there in Nova Scotia, isn't he? A hell of a guy, a pretty good hitter… just a great guy!"3
Sources
Dick Gernert, interviews, November 2008 and December 2009.
Berkshire Eagle.
Cumberland Sunday Times (Cumberland, Maryland).
Daily Courier (Connellsville, Pennsylvania).
Lowell Sun (Lowell, Massachusetts).
Press Telegram (Long Beach, California).
http://www.baseballtown.org/index.htm
Notes
1 Lowell Sun, August 29. 1956.
2 Berkshire Eagle, January 21, 1970
3 Jim Prime, interview, November 2008
Born
September 28, 1928 at Reading, PA (USA)
Died
November 30, 2017 at Reading, PA (US)
If you can help us improve this player's biography, contact us.
https://sabr.org/sites/default/files/GernertDick.jpg
600
800
admin
/wp-content/uploads/2020/02/sabr_logo.png
admin
2012-01-04 20:42:58
2012-01-04 20:42:58
Dick Gernert