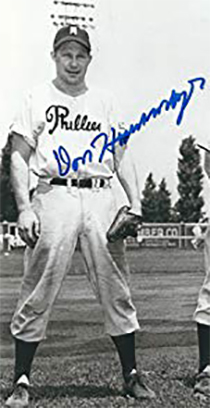 ---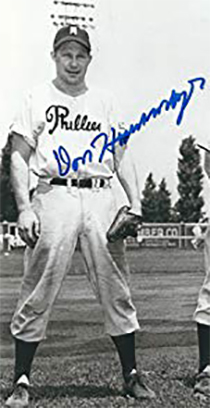 As 2019 drew to a close, Don Hasenmayer was one of 23 surviving major-leaguers to have served in World War II. In May 1945, the 18-year-old infielder squeezed in five major-league games for the Philadelphia Phillies before joining the United States Navy. He collected a pair of base hits– both singles — in 18 at-bats and drove in one run, the only run in a 10-1 loss on May 5 to the Brooklyn Dodgers.
On May 11, 1945, he reported to the U.S. Navy Training Station at Bainbridge, Maryland. His service at sea was on the USS Kearsarge, an aircraft carrier and the third of four Navy ships named for Kearsarge Mountain in New Hampshire. The ship itself had been launched on the day Hasenmayer collected his lone RBI. He was separated from the service on July 8, 1946, also at Bainbridge.
In September 1946, Hasenmayer was back with the Phillies and got into six more games, his last in the majors. He played on in the minors through 1951.
Donald Irvin Hasenmayer was born to William G. and Alberta Hasenmayer on April 4, 1927, in Roslyn, Pennsylvania. Alberta's maiden name, Irvin, became her son's middle name.1
The family lived in the neighboring township of Abington, Montgomery County, a dozen or so miles north of Philadelphia. William Hasenmayer worked as a plasterer. Don had two older siblings, Mabel and William G. Jr., and a younger one, Wayne.
Hasenmayer was signed by Phillies scout John "Jocko" Collins.2 Don's first foray into professional sports began in 1944, shortly after he turned 17. He played for two teams, the Bradford (Pennsylvania) Blue Wings in the Class-D Pennsylvania-Ontario-New York (PONY) League and then for the Class-B Interstate League's Wilmington (Delaware) Blue Rocks. He appeared in 97 games for Bradford, batting .337, and in 39 games for Wilmington, batting .288. His biggest day was likely the 5-for-5 outing he had for Bradford on June 4, all five hits being singles.3 He hit 23 triples for the team that year.4
On "Mischief Night" — Halloween — 1944, Don met Theresa Humes. They married on April 19, 1947 and remained together for 70 years until Theresa's death in December 2017. They had two daughters, Barbara (Morris) and Linda (Boylan) and a son, Donald.
Major-league rosters were, of course, depleted during the war years. This gave Hasenmayer an opportunity to reach the major leagues sooner than he otherwise might have. On April 13, 1945, Phillies GM Herb Pennock announced a trade — really, within the organization — that moved pitcher Hilly Flitcraft from Class-A Utica to Wilmington, and brought Hasenmayer to the higher-level club.5
Hasenmayer's big-league debut came on May 2 when the Phillies hosted the New York Giants at Shibe Park. He started the game at third base, batting sixth in the lineup. He hit a foul popup to the first baseman his first time up, grounded out his next two times, and then flied out to center field. With the Giants leading by one run, 9-8, he was due up with two outs in the bottom of the ninth. Manager Ben Chapman sent up Andy Seminick as a pinch-hitter, but Seminick grounded out.
The Dodgers came to town for a May 5 doubleheader, and Hasenmayer saw duty in both games. He entered the first game in the top of the fourth, playing second base. His first time up came in the fifth, facing Curt Davis. He lined a single to left field, driving in Jimmie Foxx from third base. It was his first big-league base hit and only run batted in. It was also the first (and only) run the Phillies scored in a 10-1 defeat. He grounded out his only other time up.
In the second game, he played the full game at second. He was intentionally walked his first time up, then grounded out twice. In the bottom of the ninth, he singled and later scored his only run in the majors. It was the second of seven for the Phillies that inning. They nonetheless lost, 12-8.
The following day, once again he played in both halves of a doubleheader, also against the Dodgers. Brooklyn prevailed in both games, 7-5 and 10-7. Hasenmayer went 0-for-9 at the plate, bringing his average to .111. He did work one walk in the second game, though, so his on-base percentage was .200. In 32 fielding chances, he committed two errors, both at second base, in the second game on May 5 and the first game on May 6.
Five days later, he entered the Navy. SABR member Bob Harley interviewed Hasenmayer in November 2019. He asked if there was any particular reason why Don had enlisted in the Navy, rather than one of the other branches of the service. "Never should have done that," Hasenmayer said lightheartedly. His son-in-law Ron Morris quipped, "He chose it and he still can't swim." Older brother Bill Hasenmayer had previously gone into the Navy, and Don's daughter Barbara asked if that may have influenced his decision. Don said he did not think so, and that he didn't really recall just why he chose the Navy. "I enlisted because I thought I should be in there." He served as a seaman. "We were on the very rear of the deck. I was just in there, but not for a very long time. By the time I got in there, the war was just about over."6
The Kearsarge did travel to Cuba, and he recalls playing some baseball against a Cuban team. "I don't think we got much further," he said, noting again that the war was nearly finished.
Ron Morris joked, "You scared the Japs into surrendering." Don played along, responding, "They knew I was coming."
Hasenmayer's service continued in peacetime for nearly a year after V-J Day. On separation, he still held the rank of seaman. "I wasn't in long enough to be anything." He did receive two medals upon his discharge. "I don't think he was in a full year," said Barbara Morris. "He qualifies for veteran's benefits, so he was in long enough for that."7
On July 24, newspaper readers learned that Hasenmayer had been re-signed by the Phillies and assigned to the Utica Blue Sox in the Class-A Eastern League.8 Two days later, he played both games of a doubleheader against Wilkes-Barre, doubling once in the first game and tripling twice in the second. Overall, however, he hit for a disappointing .184 batting average in 56 games.
Yet the Phillies still gave Hasenmayer — who was still just 19 years old — another look in the majors. As of August 31, the club was in sixth place, 9 1/2 games out of the first division. He pinch-hit on September 14 and pinch-ran on the 15th and 18th. Manager Chapman then started Hasenmayer at third base on September 22, 28, and 29. He doubled against the Giants' Bill Voiselle on the 28th but was left stranded. All told, he went 1-for-12, bringing his major-league career batting average down to .083.
Hasenmayer kept at baseball for five more years, 1947 through 1951. The first four years were all with Phillies affiliates. He had a solid season for the Terre Haute Phillies in 1947, hitting .277 with 10 home runs in 124 games in the Class-B Three-I League.
In 1948, he played for the Wilmington Blue Rocks again, this time batting .305 in 132 games. One game stood out, when he went 7-for-7 against Hagerstown on May 14, with two triples, a double, four singles, and nine runs batted in.9
In 1949, it was back to Utica again for another full season. This time, however, he batted just .258 in 134 games. The record indicates that he played very well in Class-B ball but found it difficult to stand out at Class A and above.
In 1950, Hasenmayer dropped down to Class C and became a player-manager at age 23 for the Middle Atlantic League's Vandegrift (Pennsylvania) Pioneers. He recalls simply being given a handful of money and needing to pay the players, and for meals and hotels. He even drove the team bus.10
Playing shortstop, he started the season with 18 hits in his first 36 at-bats. Overall, he hit .370 with 18 home runs in 72 games. The team folded after 72 games, however (with a record of 31-41), and he became available. He was acquired by the Portsmouth (Virginia) Cubs and hit .254 in 54 games. The Piedmont League team was not affiliated with a major-league team. They finished first in the standings and Hasenmayer had a big moment in the playoffs, winning the first game with a two-run homer against the Roanoke Red Sox.11 Roanoke won the series, however, four games to three.
In the offseason, Hasenmayer returned to Roslyn to work with his father in the plastering business.12
In his final season, 1951, Hasenmayer played for three teams in both the Boston Red Sox and New York Yankees systems. His time with Portsmouth and Norfolk in the Piedmont League was apparently brief, because no records could readily be found. On May 8, he was acquired by the Birmingham Barons (Double-A Southern Association, a Red Sox affiliate).13 In 28 games, he hit .224. On June 22, his contract was sold to Tampa in the Class-C Florida-International League circuit.14 Birmingham's general manager Ed Glennon apparently felt that his fielding was deficient, that (not Glennon's words) he "couldn't move at all."15
Hasenmayer had a growing family; it was time to devote his full attention to them and his father's plastering business, William G. Hasenmayer and Sons. Don retired in 1992.16
Don spent some time coaching Babe Ruth League baseball and Connie Mack Baseball. When his daughter Linda was 18, he coached her team. He also coached American Legion ball in nearby Hatboro, Pennsylvania.
"His big passion has always been golf, outside of baseball," said son-in-law Ron Morris. He used to live on a golf course and get around on a scooter, visiting other residents.
Before his death in Warrington, Pennsylvania on January 28, 2020, Hasenmayer lived in a retirement home, Chamonix Manor. At age 92, he spent much of his time in a wheelchair. "I can walk, but not long distances," he told Bob Harley. He had not suffered from any major illnesses and died in his sleep of natural causes. He is survived by his three children, eight grandchildren (Clinton, Dawn, Eric, Laura, Christian, Kimberly, Allison, and Meredith), and 11 great-grandchildren with another on the way at the time of his passing.
Hasenmayer was so humble that Ron Morris said he had been married to Barbara for two years before he truly realized that his wife's father had played for the Phillies.17 He knew there were times that Don and Theresa had gone out for dinner on an occasional evening that seemed a little special. Theresa had some other event on one such evening — a wedding shower or something of the sort. "So I went with him, to a game at Citizens Bank Park. I didn't think anything of it. but we pulled into a special lot. They got his name on a list, and he takes me over to the VIP entrance. I'm looking around, like 'What's going on here?' I thought we were just going to a ballgame. We got in an elevator and we went upstairs. We went through a gauntlet of fans into the Hall of Fame Room, and there's Bob Boone, Steve Carlton, Mike Schmidt. As little as he played, they treated him like everyone else who came through there."
Don Hasenmayer admitted to some embarrassment because he played so briefly in the majors.18 Yet he still made it to the top-level back when there were only 16 teams — and he still received autograph requests from time to time.
Acknowledgments
This biography was reviewed by Rory Costello and Joe DeSantis and fact-checked by Chris Rainey.
Sources
In addition to the sources cited in the Notes, the author also consulted Baseball-Reference.com and Retrosheet.org.
Notes
1 William G. Hasenmayer Sr. obituary, Philadelphia Inquirer, December 9, 1973.
2 Thanks to Rob Nelson of SABR's Scouts Committee for this information. Rod cites an April 2, 2002 interview that member Joe McGillen did with Don Hasenmayer.
3 "Hasenmayer Has Five for Five as Blue Wings Win 16-0 from Lockport Cubs," Bradford Evening Star, June 5, 1944: 7.
4 "Bradford Holds Six PONY Batting Marks," Era (Bradford), January 31, 1946:10.
5 Associated Press, "Phillies Trade Flitcraft for Donald Hasenmayer," Advocate (Baton Rouge), April 14, 1945: 10. See also Jim Sweetman, "Hilly Flitcraft," Marc Z. Aaron and Bill Nowlin (eds.), Who's on First? Replacement Players in World War II (Phoenix: SABR, 2015).
6 Interview of Don Hasenmayer, Barbara Morris, and Ron Morris by Bob Harley on November 1, 2019.
7 November 1, 2019 interview.
8 Associated Press, "Phils Get Hill, Middie Ace," Newark Star-Ledger, July 24, 1946: 13.
9 Daniel W. Scism, "Sew It Seams," Evansville Courier and Press, May 27, 1948: 19. Boxscore and a more detailed game story is offered at: Frank Colley, "Roberts Hurls One Hit 23 to 1 Victory Over Hagerstown," Morning Herald (Hagerstown), May 15, 1948: 10. The Roberts in question was future Hall of Famer Robin Roberts. Both he and Curt Simmons were post-playing days friends with Don Hasenmayer.
10 November 1, 2019 interview.
11 "Hasenmayer Homer Gives Cubs 5-4 Victory Over Roanoke Sox," Roanoke Times, September 19, 1950: 12.
12 Buddy Hughes, "Extended Wait Becoming Disgusting to Portsmouth Cubs Baseball Players," Roanoke Times, September 30, 1950: 8.
13 Associated Press, "Barons Get Two Infielders," Atlanta Constitution, May 9, 1951: 9.
14 Associated Press, "Sports in Brief from All Alabama," Huntsville Times, June 22, 1951: 6.
15 Orville Henry, "Verne Was Easy on Official Scorer," Arkansas Gazette (Little Rock), August 4, 1951: 10.
16 http://www.baseballinwartime.com/player_biographies/hasenmayer_don.htm
17 November 1, 2019 interview.
18 November 1, 2019 interview.
Born
April 4, 1927 at Roslyn, PA (USA)
Died
January 28, 2020 at Warrington, PA (USA)
If you can help us improve this player's biography, contact us.
https://sabr.org/sites/default/files/HasenmayerDon.jpg
600
800
admin
/wp-content/uploads/2020/02/sabr_logo.png
admin
2020-02-25 14:24:07
2022-04-04 13:52:19
Don Hasenmayer