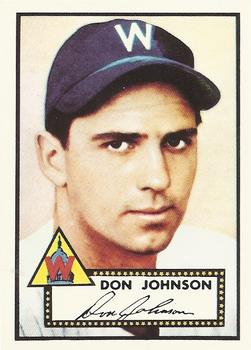 ---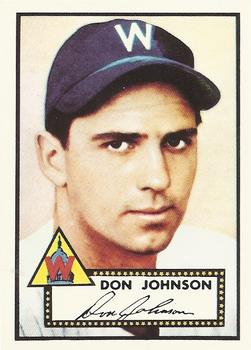 "They've made a simple game complicated," Don Johnson said as he reflected on the changes he's seen in baseball. "When I was on the Yankees, we had a few trainers. If you got hurt on the mound, they said, 'Here have a beer, you'll feel better.' That's all they told you. We didn't have video. We had a whirlpool. It's changed, baseball has changed. Now, you throw 100 pitches; they want to get you out of there."1
Donald Roy Johnson was a product of humble beginnings. He was born on November 12, 1926, in Portland, Oregon, the only child of Swedish immigrants Gus and Judith (Bjorklund) Johnson. "I got my start playing ball in high school. I couldn't afford any baseball shoes or gloves. My dad got old pieces of leather and cut holes in it for a glove for me," Johnson said. "After a while, I finally got a pair of baseball shoes."
Johnson's patchwork equipment had little effect on his performance. He excelled at Jefferson High School and in American Legion ball, attracting the attention of Major League scouts at the age of sixteen. "I threw hard, I could fire that ball. I played high school ball and pitched six no-hitters in high school and American Legion ball. That's where Joe Devine, the Yankees scout, along with five or six others, came after me."
A bidding war for Johnson's services ensued and, in 1943, he accepted the Yankees' offer of $10,000. In 1944, the seventeen-year-old Johnson leaped the lower classifications of the Minor Leagues, debuting with the Kansas City Blues of the American Association. Despite his 3-11 record with the Blues, the Yankees moved him to the Newark Bears, where he did better, winning six games and losing two in International League play. "I won two playoff games (for Newark). Then I went into the Army."
Johnson was sent to Fort Lewis, Washington, where he played for the base team, the Warriors, which was loaded with Major Leaguers, "guys like Danny Litwhiler of the Cardinals and Dom Dallesandro of the Cubs. We won forty-six and lost none!"
Johnson spent a little over two years in the military, moving to the Army of Occupation in Japan. Discharged before the 1947 season and still only twenty-one-years old, he reported to Yankees spring training on a plane carrying celebrities Joe DiMaggio and Jack Dempsey, and another rookie, Yogi Berra, who was wearing Navy fatigues because "he didn't have any other clothes."
The upstart Johnson made the 1947 Yankees out of spring training. During the season he was befriended by DiMaggio, whom he called "the best player I ever saw in my life." The six-foot-three, 200-pound Johnson made his Major League debut in the second game of a doubleheader on April 20, starting against the Philadelphia Athletics in Philadelphia. It was a memorable appearance; the Yankees won in ten innings, 3–2, and Johnson pitched all ten innings to earn the victory. "I was throwing good," he remembered.
Six days later Johnson followed his debut with another complete-game victory, this time 3–1 over the Washington Senators. The good fortune did not last, however. On May 3 Johnson yielded six runs in just four innings while losing to the Chicago White Sox. After that, manager Bucky Harris used him sparingly, with mixed results. Following a June 29 win, he pitched only eight more times during the season and finished with a record of 4-3.
Johnson blamed his limited usage in the second half of the season on Charlie Dressen, one Harris's coaches. "Charlie Dressen went and said, 'Don, you're lifting your leg too high.' I said, 'Stick it man! I've got four wins.' I didn't pitch much after that. If you talk back to some of these big shots, you don't pitch anymore. That's it."
Johnson did not appear in the World Series against the Brooklyn Dodgers. In a sad turn of events, he said, he had to pawn his World Series ring the next year to fix his car after it broke down in Wyoming.2
During the spring of 1948 Johnson developed a sore arm and was sent back to the minors, where he moved around in the upper levels of the Yankees farm system. Playing with the Portland Beavers of the Pacific Coast League, as well as returns to Newark and Kansas City, he had a combined record of 7-17. He spent another season in the PCL to regain his arm strength, going 8-14 with the Sacramento Solons in 1949. Despite his losing record, he shaved nearly a full run off the previous year's ERA. Johnson felt good about regaining strength in his arm. "I threw hard and we had a pretty good club" at Sacramento, he said.
Johnson returned to the Yankees in 1950, only to be sidelined with a skin disease, eczema.3 "I went to the doctor and he couldn't cure me." With Johnson pitching ineffectively, the Yankees sought pitching help elsewhere. They traded Johnson, along with infielder Snuffy Stirnweiss, outfielder Jim Delsing, pitcher Duane Pillette and $50,000 to the cash-strapped St. Louis Browns for pitchers Tom Ferrick and Joe Ostrowski, plus infielder Leo Thomas.
"What a place!" he recalled. "We didn't win many games but we had a lot of fun." Johnson appeared in twenty-five games including twelve starts for the seventh-place Browns; overall, he finished the season at 6-6, with a 6.09 ERA. Johnson hurled four complete games, all with the Browns, including a 6 0 shutout against Cleveland on September 8.
In 1951 Johnson was sold to the Washington Senators, managed by his old Yankees manager, Bucky Harris.4 "We had a bad club," Johnson remembered. He won seven games and lost eleven, with his best outing coming on July 14 at Briggs Stadium in Detroit. The big right-hander delivered a three-hit, no-walk shutout of the Tigers, while going 2-for-3 at the plate with two RBIs and a run scored.
Poised for a fresh start with the Senators in 1952, Johnson was injured again, this time in spring training. "I pulled a hamstring down in Orlando in 1952. Those hamstrings are tough. They don't get better. I was out practically all year. I didn't win a game that year." The Senators won sixteen more games in 1952 than the previous season, but Johnson went 0-5 in twenty-nine games, mostly in relief.
In 1953 the Senators sold Johnson to Toronto of the International League for $15,000.5 He won fifteen games and lost twelve for the Maple Leafs and led the league with a 2.67 ERA and 156 strikeouts.6 His performance attracted the attention of the Chicago White Sox, who purchased his contract. He pitched in forty-six games for the White Sox in 1954, both as a starter and reliever. For the first time since his debut with the Yankees, Johnson had a winning season, posting an 8-7 record with three shutouts and seven saves. "I had my best year in Chicago. We had a good team! We won 96 [sic] games and came in third. That's the year Cleveland won all those games and Willie Mays made that big catch on Vic Wertz."7
While Johnson was pleased with his performance, White Sox general manager Frank Lane was looking for help behind the plate. Lane shipped Johnson to the Baltimore Orioles in a seven-player deal that brought catcher Clint Courtney to Chicago.
Johnson was unhappy about the move. "I didn't want to go to Baltimore; I wanted to stay in Chicago. I had good friends on the White Sox, guys like Nellie Fox and Virgil Trucks." Johnson's memories of Baltimore are dark. "I got in trouble while I was over there. I got into a scrap at a hotel bar. You have to stay on the straight-and-narrow if you play big-league baseball." He also faced suspension by the team for missing a game against the Kansas City Athletics after discovering he was being sued for an accident he was involved in during the off-season.8
The 1956 season found Johnson back in a familiar place, Toronto, after the Orioles sold his contract to the Maple Leafs. The return to Toronto rejuvenated Johnson's flagging career. He rolled off two consecutive winning seasons, going 15-9 in 1956 and 17-7 in 1957, and winning the league's Most Valuable Player Award in the latter year. Leafs owner Jack Kent Cooke went out of his way to give Johnson a little extra incentive during the season. "After every game there was an envelope for me in the clubhouse," Johnson remembered." I was making pretty good money, about $4,000 per month."
Cooke was generous with his cash but took a hard line over Johnson's off-the-field antics. "I was with Toronto and got picked up for drunken driving. They threw me in jail in Vero Beach, Florida. I was in jail for six days with three murderers. They took good care of me. They put me on the chain gang with the snakes, cutting grass. Cooke told me to stay there until I changed my life and sobered up."
Cooke's patience with Johnson started to run thin after his MVP season. He had disappeared from the team four times in two seasons and was fined heavily upon his return.9 In July 1958, after the fourth escapade, the Maple Leafs got rid of Johnson by selling him to the San Francisco Giants in exchange for pitcher Ray Crone.
"[Manager Bill] Rigney and I didn't get along. I didn't pitch. I mopped up games," Johnson said of his tenure in the Bay Area. He was used exclusively in relief and was ineffective in that role, with an ERA of 6.26 in seventeen games. He also had a run-in with Willie Mays.
Johnson pitched with Toronto again in 1959 and closed out his career in Portland in 1960 after hurting his arm. After retiring from baseball, Johnson drove a cab in Portland, which provided at least one hair-raising—and almost fatal—experience.
"(The dispatcher) sent me to this rough place in Portland. The guy looked like Yul Brynner. He told me to take him to the hospital as he had to start his wife's car. I sensed something suspicious. I took him to the parking lot and he pulled that Beretta on me. He put it right in my neck and said, 'I want your money.' I had nineteen dollars cash and the bastard shot me right through the head, the neck, and the clavicle tube of the spine. I fell out of the cab and he came around and tried to shoot me again and fortunately the gun misfired. Then he ran across the parking lot and the cops caught him up the street. I almost died."
Luckily for Johnson, a few good Samaritans stepped in to save his life. "These two people that picked me up saw me lying on the street and thought I was drunk. They had a 1962 Buick with white seat covers. They took me to the emergency room only a block away. They called the priest. They read me the last rites in the hospital; they thought I was going to die as they couldn't stop the bleeding. Finally, they got this young doctor that came in and stopped it for me. I made a full recovery, but I get some little shocks in my system all the way up my neck and back."
Someone must have been trying to send Johnson a sign to change careers because his first day back driving a cab, another attempt was made on his life. "A guy held me up again," he said. "The guy pulled out something you cut grass with and said, 'I want your money or I'll cut your head!' Fortunately there were two big ol' Irish cops and they took him out and beat the crap out of him. A week later I got hit over the head with a wine bottle from a (drunk) and I said it was time to quit!'" Johnson worked in the parks department for a while and then began to draw his Major League pension, while spending time with his wife Betty and children Steve, Don, and Lori.
In 2010 Johnson was honored at a Yankee Stadium old-timers day as part of a 60th-anniversary tribute to the 1950 Yankees team. He was featured in an article in the New York Times and once again was able to hear the cheers of the Yankee faithful. "I'm grateful I got to go back to the old-timers game. It was a hell of a deal. I saw some of my old cronies, Whitey Ford and Jerry Coleman, who I used to room with. I was the first one on the field from the 1950 team. I can't believe how New York has changed. It's a wall of people."
Despite the long travel from Portland, Johnson would welcome one more return to the Bronx. "If they have another one, I'd go. You walk out the elevator; there were five hundred people that wanted your autograph. I said, 'Hey, I ain't famous.' They said, 'Yeah, you played with the Yankees.' "
A version of this biography is included in the book "Bridging Two Dynasties: The 1947 New York Yankees" (University of Nebraska Press, 2013), edited by Lyle Spatz. For more information, or to purchase the book from University of Nebraska Press, click here.
Notes
1. Unless indicated otherwise, all quotations are from a telephone interview conducted by the author with Don Johnson on April 20, 2011.
2. LaPointe, Joe. "60 Years of Adventures on Way Back to the Bronx." New York Times, July 18, 2010.
3. Hand, Jack (Associated Press). "Yankees Casting About for Pitching to Bolster Outfit." Prescott (Arizona) Evening Courier, June 12, 1950: Section 2:1
4. "Nats Obtain Don Johnson." Youngstown (Ohio) Vindicator, May 31, 1951: 23.
5. Leafs, Chisox in Ball Trade." Saskatoon (Saskatchewan) Star-Phoenix, October 10, 1953: 20.
6. "Leaf Pitcher Tops League." Regina (Saskatchewan) Leader Post, December 8, 1953: 19.
7. The White Sox won 94 games in 1954.
8. "Don Johnson Fails to Show and Faces Suspension." Modesto (California) Bee, August 23, 1955: 16.
9. "Disappearing Act Costly to Pitcher." St. Joseph (Missouri) News-Press, July 6, 1958: 30.
Born
November 12, 1926 at Portland, OR (USA)
Died
February 10, 2015 at Portland, OR (USA)
If you can help us improve this player's biography, contact us.
https://sabr.org/sites/default/files/JohnsonDon.jpg
600
800
admin
/wp-content/uploads/2020/02/sabr_logo.png
admin
2012-01-04 20:03:48
2021-09-24 08:19:47
Don Johnson